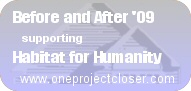 For our next Before and After, we venture back outside. Nicole from This D*mn House completed the "hardest, longest and most dedicated" DIY project she's undertaken. She's extremely proud of this accomplishment and it's easy to see why. Nicole completely bricked her front porch and replaced her walkway with brick too!
For being selected this week, Nicole gets a $25 gift card to Home Depot, Lowes, or Amazon, and we'll make a $35 donation to Habitat for Humanity in her honor. Read on about this great Before and After, this week's Habitat quick fact, and an opportunity to make your own donation.
Brick Porch and Walkway Renovation by Nicole
Until we recently started a major overhaul of the kitchen and bathroom, last year's work on the porch and walkway was the largest, most strenuous, and time-consuming job I've ever taken on at This D*mn House.
The task: completely brick the front porch, remove the ailing sidewalk that winds down and around from the porch to the driveway, and replace said sidewalk with brick, too. It sounded like a fairly straightforward job. I thought that I could start during the first half of May and wind up by July 4.
Yeah. Right. Fool.
The first challenge: I've never done brickwork. I read and watched everything I could find. I started hoarding bricks in April.
The second challenge: Early May came and went but Mother Nature would cut me no slack. Rain. Rain. Rain. (This would be a recurring theme for much of the summer of 2008.)
The third challenge: During the latter half of May, a freak accident found me with a severely smashed middle finger, rendering my left hand virtually useless. It would be another week or two before I could even think about moving bricks again. I finally started one day in June. The porch looked like this.
Before: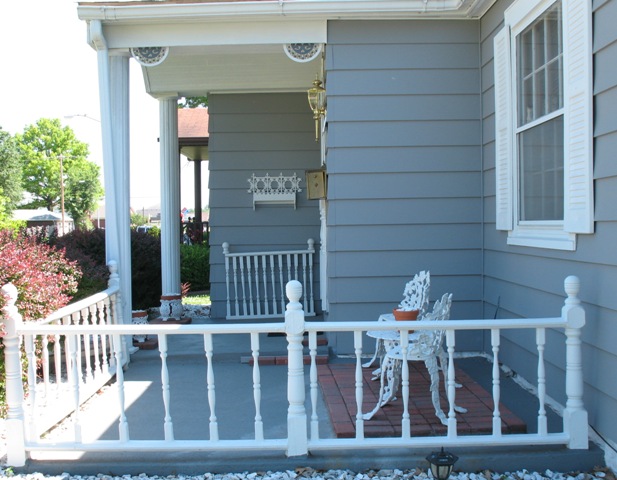 And then, a few days after the Fourth of July, I was here –the entire walking surface of the porch was completely covered!
During: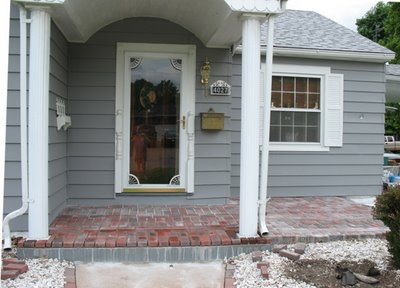 And that brought me to the fourth challenge: the sidewalk. I couldn't finish out the front of the porch OR start the walkway without first removing the sidewalk. Five-inch thick sidewalk about 24-30 inches wide and curving about 30 feet out to the driveway. Based on these dimensions, I called to get a bid to have it removed. They wanted $600. To keep this entry rated "G," I'll spare you my response.
I'm not a big person. (I'm barely 5'2 and go back and forth between a size 6 and a size 8.) But I managed to swing a 14-pound sledge and yield a pickax – in 100-degree heat – and started doing this.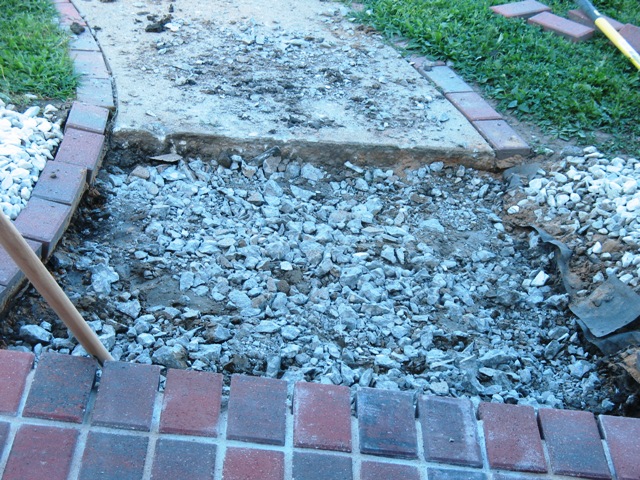 It took a while, especially considering that breaking up the sidewalk was only part of the job. The other part? Clearing out all the debris and hauling it out back where my wonderful and darling cousin would ultimately come and take it away. This was one of the toughest jobs I've ever done and it lasted for most of two days (days of about 12 hours work each).
After that, I started digging. And digging. And digging. (Conventional wisdom says you should put bricks down on a bed of 3-4 inches of gravel topped by 2-3 inches of sand.) Before I started that, I finished putting facing bricks on the porch – after digging deep enough to put down a two-brick high foundation.
I neglected to mention that in between the busting up of the sidewalk and the start of the facing and walkway work, I helped Lawrence, my handyman, install a privacy fence and, continued to dodge torrential downpours on my days off. It was slow-going.
I put metal landscape forms in as soon as I'd dug deep enough and pared down the curves. Then, I filled with gravel and sand and tamped it all down. It was FINALLY ready for bricks! This was also where my friends came into play.
The Monkeygirls came and removed Hell's shrubbery for me. (I can't remember what they're actually called but a few of them were so big they actually covered up the view of the porch.)
My friend CD regularly helped me haul sand and gravel and even spent a morning with me digging. It was about that time things were starting to look like this. It was mid-August and rain still kept plaguing me. I had to keep the walkway covered in plastic or else I ran the risk of having a mudpit to work in.
I worked before dawn. After dusk. By porchlight. After work. On vacation. On holidays. And finally, during Labor Day weekend 2008, I put the last brick in place. This is the end result.
It was a lot of work. It took all summer, hundreds and hundreds of bricks, about a ton and a half of gravel and at least half that much sand. The total cost was between $900 and $1,000. The total ROI though, in compliments from everyone who has seen it both live and on the blog, and just the way it has changed the look of the house, is priceless. It looks like it has always been there.
And I get to enjoy it every time I leave or come home!
After: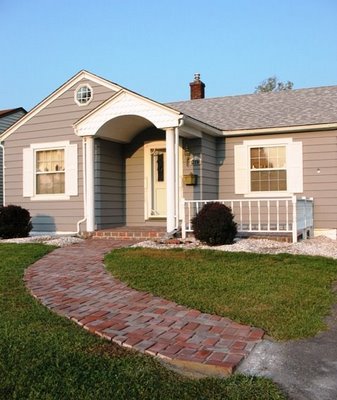 Thanks from One Project Closer
This is an amazing project. Thanks so much Nicole for sharing it with us! The walkway and porch look beautiful.
Habitat Quick Fact
From the Habitat site:
Social media is a great way to connect with friends and family on the Web, and it's also a great way to connect with Habitat! Visit the links below to stay up-to-date on Habitat happenings and help us spread the word.
We're making a $35 donation to Habitat in Nicole"s honor. If you're interested, visit Habitat's online donation page to make your own contribution.
Submit Your Project?
Are you proud of your latest home improvement? Submit the before and after photos and a story to beforeandafter@oneprojectcloser.com.