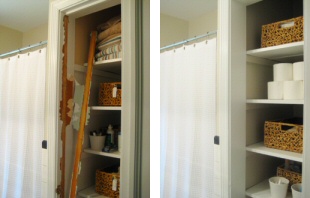 Last June we kicked off our first annual Before and After event, a Summer long festival designed to showcase the accomplishments of our fellow online home improvers and raise awareness and support for Habitat for Humanity.
In case you weren't with us back then, here's how the festival works: readers submit before and after pictures of their best home improvement projects from the past year.  We pick the best submission each week and showcase it on our site, and we make a donation of $25 to Habitat for Humanity in that reader's honor.   At the end of the Summer, the community picks the best submission (last year's winner here) and they receive a great home improvement related prize!
Last year, we picked fourteen reader submissions–one for each week of the Summer–for their great pictures and stories.  (One of our favorite B+A pics from Young House Love is in the upper right of this post.  Take a look at the whole collection here!)
Before and After 2009 – Get Ready!
This year, we're switching things up a bit.  Don't worry, we'll still be featuring great Before and After stories, and we'll still be donating money to Habitat.  But it's going to be even better!  We've got a lot brewing, but here's what we've come up with so far… (we wanted to let you know early so you can start capturing your best before and after pictures and stories for submission!)
Prizes Every Week! Instead of just one grand prize, we'll have prizes each week!  The prizes will be

at least a $25 gift card

to the home improvement store of the winner's choice.  We'll still select a grand prize winner at the end of the Summer.  We haven't finalized plans for what that person will get, but trust us, it'll be big!
Two (2!) Winners Each Week! Instead of just one winner, we'll be picking two winners each week of the Summer (one featured on Wednesday, and one on Sunday).
We're Doubling Our Donation to Habitat! Two times the stories means two times the donation to Habitat – $25 for each submission we publish.  We also hope you'll commit time or money to Habitat this year.  They are a truly great organization and we love their philosophy of helping others.
When Do Submissions Start?
We'll start taking submissions on May 21, 2009 with our first feature story on the first day of Summer, June 21, 2009.  So start taking pictures of your projects!  They could be worth $25, or a whole lot more if you're the grand prize winner!
We'll Be Asking for Your Help Again!
Last year, we asked a bunch of our blogger friends to let their readers know about the event.  (We even made neat little graphics in a bunch of different colors to match any layout).  Lots of you let others know about the event.  Thanks so much and we hope you'll tell your readers again this year.  Stay tuned for more information!  We'll be posting more throughout the Spring and Summer as we start to line things up.
Here's the link love for everyone who helped last year.  We hope to see your projects again!
What do you think? What projects do you have in store for us this year?