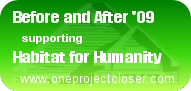 It's with some sadness that I announce our last Before and After of 2009. But enough with the frowning- today's inspiration comes from Sarah @ Thrifty Decor Chick. Her blog is dedicated to showing folks how to make their home more beautiful without spending a lot of money. Sarah took an ordinary kitchen island and created something spectacular, all at a great price.
For winning, Sarah gets a $25 gift card to Lowes, Home Depot, or Amazon. And, we'll make a $35 donation to Habitat for Humanity in her honor. She is also the last entry in our end-of-Summer contest for a $150 gift card (stay tuned for details).
Kitchen Island Makeover by Sarah
Excerpts from original post
The before…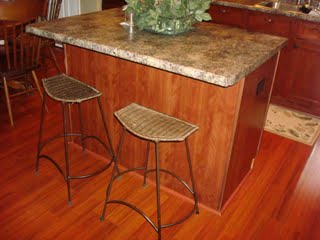 I really love islands that look like furniture, so I thought I would change it up and decided to add molding: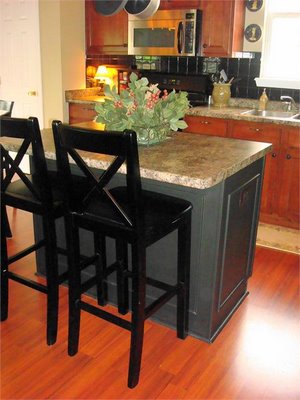 I added faux panels to the sides and back and painted the whole thing out in black. This began my deep-seeded hatred of laminate. Laminate and I are not bffs. I actually had thought of doing beadboard, but I think it was impatience that got the best of me at the time. But as you know, I love me some beadboard, and I got an itch a few months ago to redo my redo with it: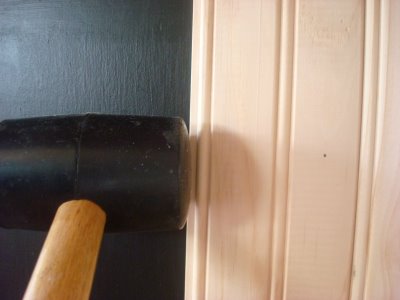 Sigh. You just can't go wrong with beadboard — really. Reheheally. The addition of corbels finished off the furniture-look I was going for. Lastly, I cut down the chair legs by two inches with my compound miter saw (they were too tall) and upholstered my chairs to add a pop of color and cush for the tush.
The after…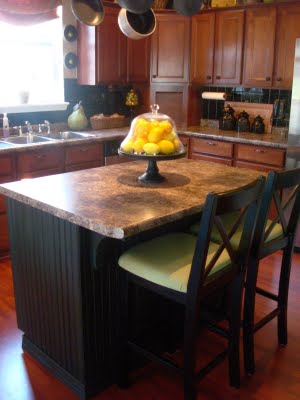 Best of all, this project was less than $50 to complete!
Thanks from One Project Closer
Sarah, this is a great DIY project, and it looks fantastic. Plus, everyone loves a beautiful transformation that doesn't break the bank.
Habitat Quick Fact
Even the President and first lady are volunteering with Habitat. From the Habitat site…
National Day of Service and Remembrance
"We are honored that President and Mrs. Obama spent part of the National Day of Service and Remembrance working with Habitat for Humanity," said Kent Adcock, executive director of Habitat for Humanity of Washington, D.C. "The visit highlights the dedicated volunteers who work in partnership with communities worldwide and enable Habitat to provide affordable housing with families in need."

September 11 was officially recognized as the National Day of Service and Remembrance as part of the Edward M. Kennedy Serve America Act. The mission of the day is to honor the victims and those who rose to service in response to the terrorist attacks on September 11, 2001, by encouraging all Americans and others throughout the world to perform at least one good deed on September 11 each year.
The End of our Before and After Contest
This marks the end of our Before and After series for 2009. Stay tuned as we still need to select a grand prize winner!