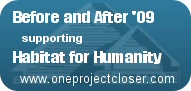 Last year we kicked off our first annual Before and After event, a Summer-long series of articles designed to showcase the work of our fellow bloggers (and readers), and to raise money and awareness for one of our favorite charities, Habitat for Humanity.*
With the official first day of Summer only seven days away, we're a little late on the uptake getting the event coordinated and kicked-off for this year, but we're sure it will still turn out a success!  Read on for how you can participate (… did we mention that this year there are prizes for each week's winner… and a grand prize?)
*Please note that we are not affiliated with Habitat, but we believe in what Habitat does for communities across the United States and the world, and that's why we continue to support them through this event.
How our Before and After Event Works
The event is pretty simple:  you send us before and after pictures and a story of a project you completed at your house.  While we prefer the project be a recent accomplishment, it doesn't have to be.  The only rule: the project must be more than 75% do-it-yourself.  (So, if you remodeled a whole kitchen, but paid a tiler to do the backsplash, that's still acceptable… but if you had the whole thing redone, that isn't).  If you want to see some examples, check out this summary of last year's winning entries.
Each week, we'll select at least one winner and we'll showcase their accomplishments beginning Saturday evening and leave it on the front page of our site until Monday morning.
A Donation In Your Honor, and Cool Prizes
If your Before and After is selected to run on our site, we'll make a $35 donation to Habitat for Humanity in your honor, and you'll get to choose one of the following prizes shipped right to your door:
$25 Gift Card to Lowes
$25 Gift Card to Home Depot
$25 Gift Card to Amazon
… other tool prizes as they become available throughout the Summer…
At the end of the Summer, we'll open it up to community vote.  The grand prize winner will get $150 to the home improvement store of their choice!
Pretty cool huh?  We think so!  And here's the best part for all of you reading this right now… We expect submissions to be light for the first few weeks as we get the word out.  So, submit your project early and it'll be your name on the donation (and your gift card in the mail!)
How to Submit an Entry
Send an e-mail in any format to beforeandafter@oneprojectcloser.com.  Please attach the pictures individually to the e-mail so that it's easier for us to incorporate them into the articles on the site.
When Does the Event Start & Finish?
An article will run each Sunday from June 21, 2009 – Sept. 20, 2009.  You can submit entries anytime!
What Else Can I Do to Help?
Before and After 2009 will only be successful if folks from the community participate. There are at least five ways you can get involved:
Submit an article. This event will be fun if lots of folks submit articles.
Write an article on your site telling your readers about the event.
Add a Before and After 2009 graphic to your web site and link back to this article.
Make a monetary or volunteer donation to Habitat for Humanity in your area.
Tell your friends about the event and the prize.
Our hope is that we will generate many submissions, inspire dozens of people to support Habitat along with us, and prepare to make even larger impacts in the future.
Before and After Graphics
Help us raise awareness for the event by adding a badge to your site for the Summer!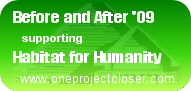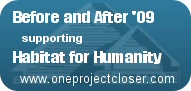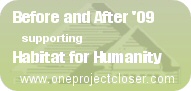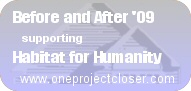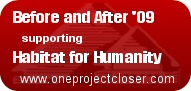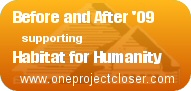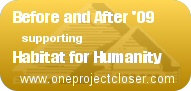 What do you think? Let us know what you think of the idea… Please feel free to help us make it better. Either leave a comment below, or e-mail us at oneprojectcloser@gmail.com!