Our next Before and After comes to you from Kate @ Centsational Girl – a blog all about "fabulous, for less, one DIY project at a time". Kate and her husband transformed a blonde oak staircase from dated and dreadful into a dramatic entryway. I think her amazing pictures speak for themselves.
For winning, Kate gets a $25 gift card to Lowes, Home Depot, or Amazon. And, we'll make a $35 donation to Habitat for Humanity in her honor. And, of course, she's also entered into our end-of-Summer contest for a $150 gift card.
Check out Kate's great Before and After and this week's Habitat Quick Fact. At the bottom, you'll find details for submitting your own entry.
Staircase Remodel by Kate
Where to begin?  First, I must explain the problem.  The staircase was natural blonde oak.  Dated and dreadful.  NOT the first impression I ever wanted to give my guests.  What was a girl to do?  Replacing it with European style iron railing was the cost of an automobile.  Fixing it seemed too daunting.  Enter Rhoda.  I love Rhoda!  Rhoda at Southern Hospitality blog stained her entire oak staircase a lovely dark shade, from top to bottom, and planted a big seed in my inquisitive brain.  Why if Rhoda could do it, then perhaps I could too.
The before…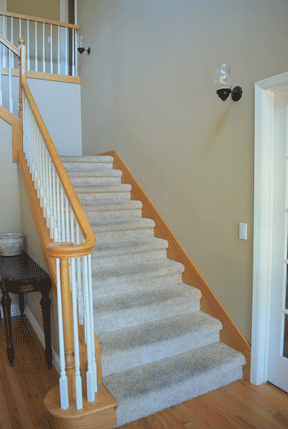 Step One: After all the prep work, taping off the balusters and laying down carpet protection, I stripped the existing varnish off the staircase with Klean-Strip.
Step Two: Sand, sand, sand, then sand again. I spent about 4 hours just sanding until my fingers cramped and refused another stroke.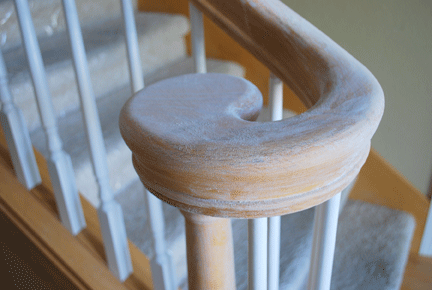 Step Three: I cleaned off the sanding residue with wet wipes, then stained the upper hand rail with Minwax Gel Stain in Walnut. When the stain was applied to the oak, it gave me too much of a stripe-like effect. Darker was much better, but the product only took me half way to the look I desired.
Step Four: I did something unconventional, and a bit daring. I glazed the wood with two coats of semi-opaque Burnt Umber acrylic craft paint. Using the glazing effect with the semi-opaque craft paint, rather than latex paint, helped to preserve the visible grain of the wood.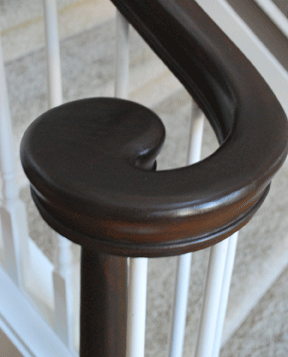 Step Five: With the help of a dear friend, and professional painter, we primed the bottom of the stairs with oil based primer, then finished it with two coats of 'Swiss Coffee' oil based white paint for durability.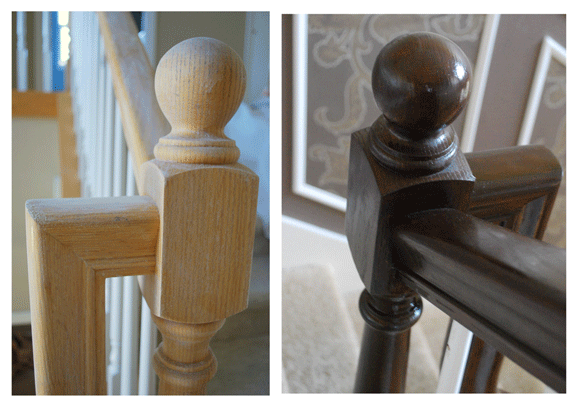 Step Six: To the upper railing only, I applied one coat of Minwax Wipe On Polyurethane.
The amazing after…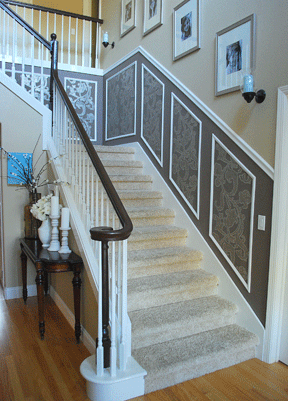 I am loving the dramatic deep finish of the railing up against the white balustrade. We also added the wallpaper paneling, a chair rail and molding ourselves.
Thanks from One Project Closer
Kate, this is a beautiful remodel! Thanks so much for sharing it with us and supporting our Before and After series.
Habitat Quick Fact
From Habitat's site:
Gulf recovery effort
Within weeks after Hurricane Katrina barreled across the Gulf Coast, Habitat for Humanity International and its affiliates had started building houses and rebuilding lives. Still, there is much work to be done. Each month, Habitat affiliates and volunteers start working on 52 more homes. For perspective, consider that before the storm, Habitat built 57 homes a year along the Gulf Coast.

Three years later, people still talk about what was lost. But most often, they also talk about what's possible. If you are interested in volunteering, please visit our Volunteer Opportunities page, and contact a Habitat affiliate directly to volunteer.
How to Enter our Before and After Contest
There's still time to submit an entry. Send us an e-mail at beforeandafter@oneprojectcloser.com.