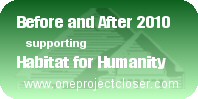 This week's Before and After shows us that even a small basement space can be transformed into a cozy modern family room and office.  Greg MacLellan over at GroogsBlog remodels his basement, changing it from an old storage area with a spare refrigerator into a modern entertaining space complete with plasma TV and leather sofa and ottoman. Despite the smallness of the space, Greg still manages to squeeze in a work area nook that is looks ready to house his small business right from the comfort of his own home.
For winning this week's Before and After contest, Greg gets a $50 gift card to Lowes, Home Depot, or Amazon.  We'll also make a $100 donation to Habitat for Humanity in Greg's honor.  Read on below Greg's article for this week's Habitat Quick Fact and instructions for submitting your own entry (we still have 8 more winners to select this Summer!)
Small Basement Remodel with Office and Family Room
My fiance and I moved into our first house in August 2008. The house was built in 1974, and we bought it from the original owners, so everything was in fairly decent shape. The basement was partially finished, with cement floors, wood paneling, and the old upstairs kitchen cabinets (a reno they did at some point) hung everywhere. The wood paneled half of the basement was insulated, but the laundry room side was not. The crawlspace was also only half insulated – I'm not sure why.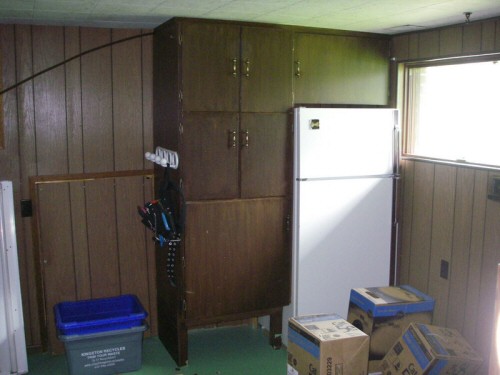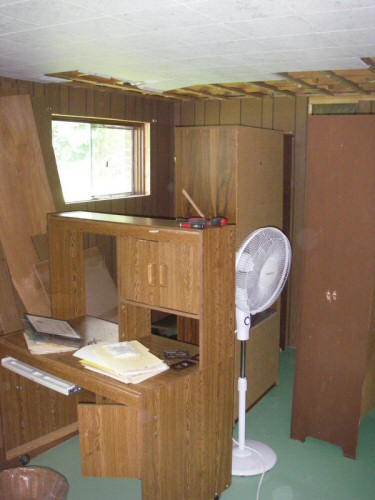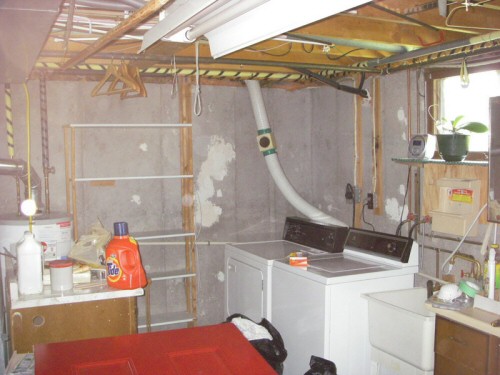 I started by ripping everything down to the cement walls. I added a sub-floor using DeltaFL and OSB plywood, and had closed-cell spray-foam insulation installed. These two things have worked out very well: even during the winter, the floor feels like an upstairs floor, and the basement is actually the warmest part of the house now.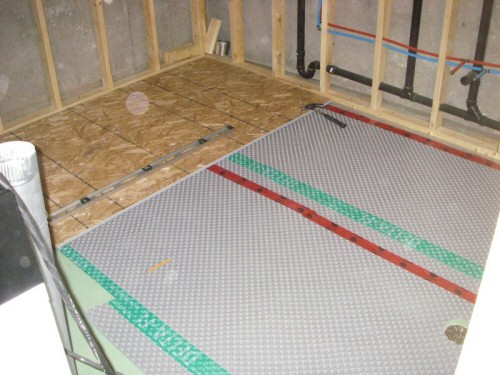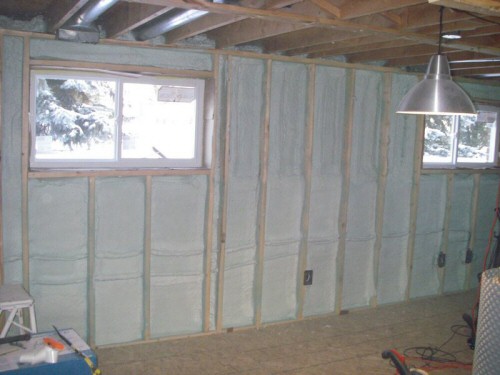 The house had three bedrooms and one bath, so I added a second half-bathroom which should help increase the value quite a bit, and at the least has made our lives a bit easier. I had a pro hook into the sewer line for me but otherwise I did the work of cementing the floor and putting together the rest of the bathroom.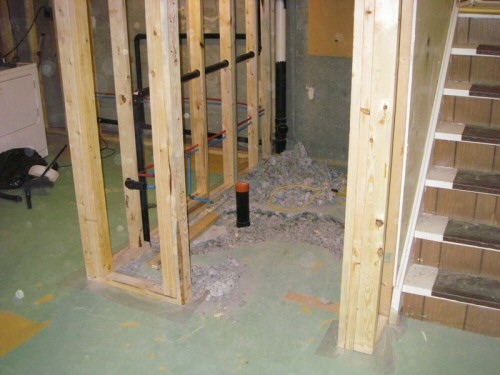 I also added a lot of media wiring, including network/phone/cable jacks, surround speakers, hookups to connect my computer (audio and video) to the TV/receiver, and routed everything so there are no visible wires going to the TV mounted on the wall.
Although I've done some framing (and lots of electrical/plumbing) in the past, this was my first full reno, and I did most of the work myself with ocassional help from friends and family. I did have pros do some of the work though: replacing the electrical panel (going from fuses to breakers), hooking into the main sewer line, mudding and taping the drywall, and installing the carpet. The worst for me was the drywall: I did actually do the first coat, but then after a couple months of procrastinating, I paid a pro to get it done – who came in and re-did my terrible job in a matter of hours, and had the whole thing completed a couple days later.
I'm pretty proud of the end result, and we make very good use of it. In total, it took me about 15 months working nights/weekends (with the occasional period of inactivity).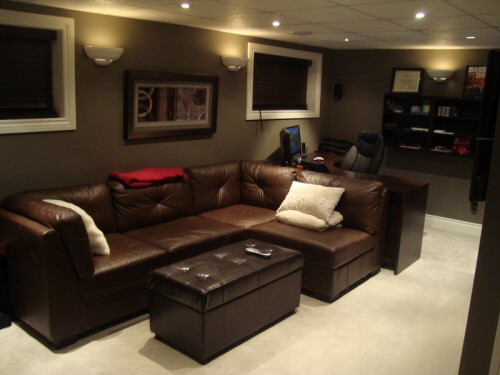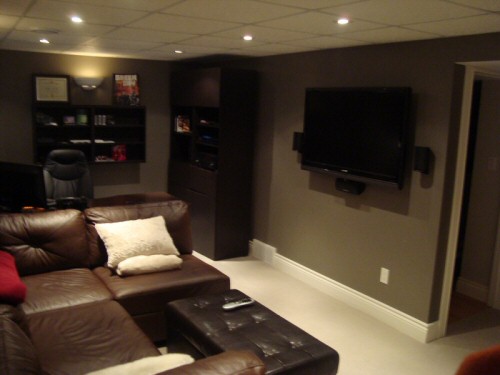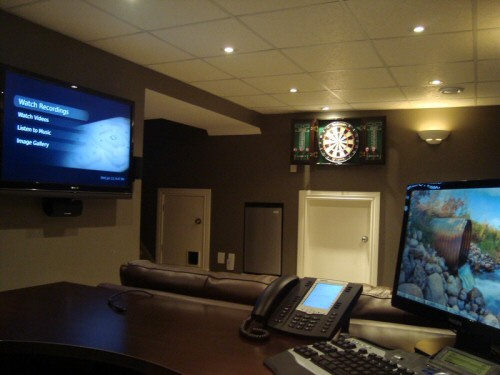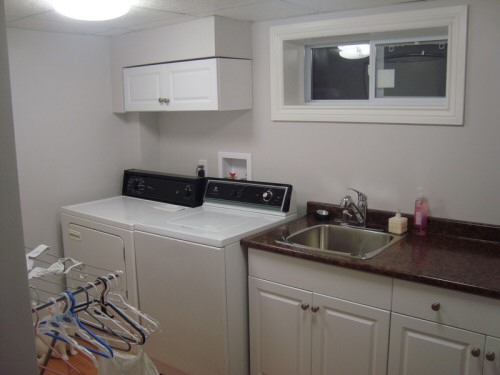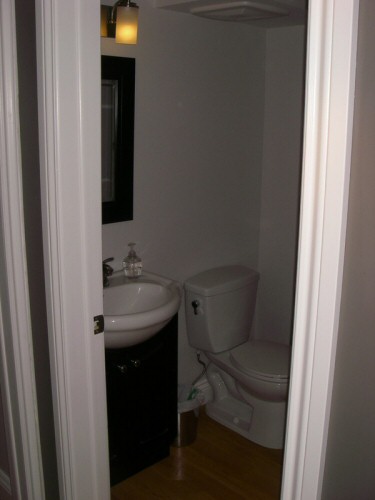 Thanks from One Project Closer!
Greg, this is an amazing transformation, thanks for sharing it with us!  We can particularly relate to your experience taping and mudding drywall. When we removed walls on our first floor, we patched the removals ourselves but it didn't look really good.  We ended up hiring a contractor to finish them and they look great.  Drywall is really hard to get right if you don't do it all the time.
Habitat for Humanity Quick Fact
Did you know that Habitat helps builds home in more than 15 countries in Central and South America?  While much less publicized than the terrible disaster in Haiti, this last year many in El Salvador have lost their homes due to torrential rains, mudslides, an earthquake, and a severe tropical storm.
If you are inspired to donate to this region, we suggest donating through habitat.org's online donation page and earmarking the money from the country you want to support.  This ensures you get a tax deductible receipt, while donating to the individual branches may not.
How to Enter Your Own Before and After
Want to win $50 and help a good cause? Send your entry to: beforeandafter@oneprojectcloser.com.