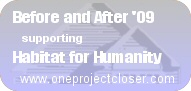 After three weeks of indoor before and after projects, we thought it about time to highlight a fantastic outdoor makeover.  After all, it is the season to be outside!
So we looked through a bunch of outdoor entries to find this week's winner, Julie and Mike @ Pacha Mama!  J+M win for their amazing patio transformation, taking a plain concrete slab and moving it a few big steps toward outdoor zen.
For winning this week's contest, Pacha Mama gets a $25 gift card to Home Depot, Lowes, or Amazon, and we'll make a $35 donation to Habitat for Humanity in her honor.  If they want to make more of it, they can couple our gift card with a Home Depot Online Coupon to save get even more! Want to match our donation, see the Habitat Quick Fact section below.
Without further ado, here's her (brief) submission…. Read on beneath it for this week's Habitat Quick Fact.
Concrete Patio Before and After by Pacha Mama
We are so excited to enter your before & after contest! We have supported Habitat for Humanity for a while now and have both shopped at and donated to our local Habitat Restore – we've even convinced neighbors to do the same.
Florida has been one of the states hardest hit by the housing crash, so we felt lucky last summer when we rescued a small 1960s waterfront ranch. Despite a year of neglected foreclosure, we saw the DIY potential right away. With some of the indoor work completed, we were able to focus on creating an outdoor space for enjoying our views of the water (we even spotted manatees from our yard!).
With a little hard work and a lot of laughing at ourselves, we took our blah concrete slab and turned it into our relaxing waterfront retreat. This is a project that almost anyone can do and we wanted to encourage others to give it a try, so we chronicled our process over at our house blog…
We hope you like our before & after phatty-oh!-patio!
The Boring Before: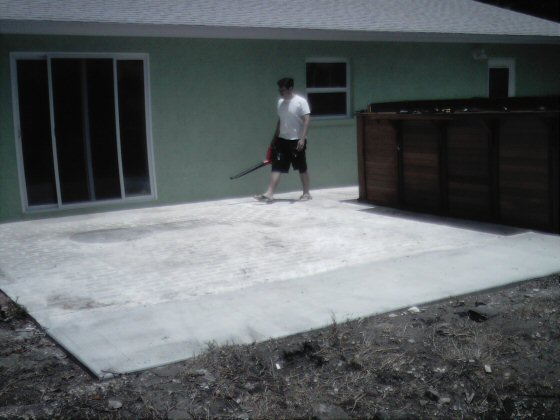 And the Amazing Afters: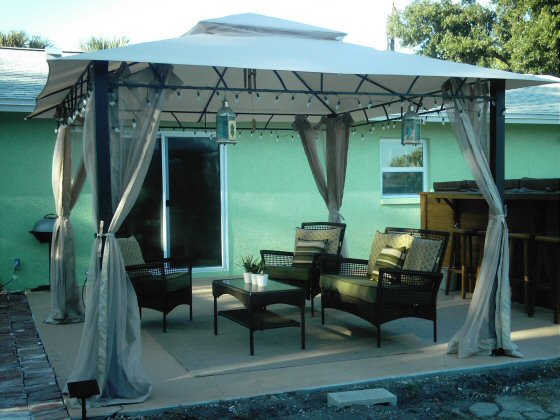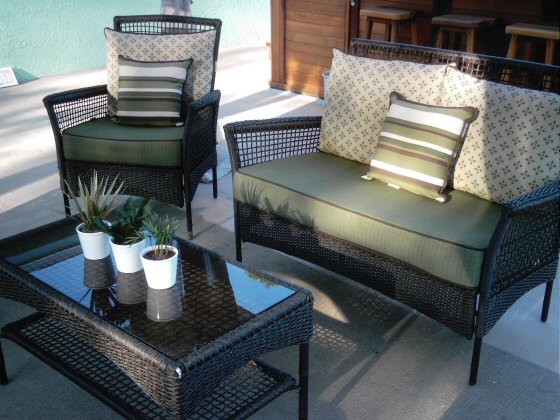 Habitat for Humanity Quick Fact
We're making a $35 donation to Habitat for Humanity in honor of Pacha Mama… Want to join us?  Simply follow this link for Habitat's online donation page.  Have you ever wondered what Habitat's houses are like?  From their site:
Simple, decent and affordable.
Habitat for Humanity houses around the world are built according to the same guiding principles:

Simple.
Habitat houses are modestly-sized. They are large enough for the homeowner family's needs, but small enough to keep construction and maintenance costs to a minimum.
Decent.
Habitat for Humanity uses quality, locally-available building materials. Habitat house designs reflect the local climate and culture.
Affordable.
The labor of volunteers and partner families, efficient building methods, modest house sizes and no-profit loans make it affordable for low-income families to purchase Habitat houses.
What to Join the Fun?
There's still a lot of time left this Summer to submit your project for a chance to win our weekly competition for a $25 gift card, or the grand prize for a $150 gift card!  Send your entries to beforeandafter@oneprojectcloser.com.