This weeks Before and After is brought to you by Rhoda from Southern Hospitality. Rhoda is a long-time blogger who also supported last years OPC Before and After event. Check out her blog for great posts about DIY projects, design tips, and cooking ideas.
Not long ago, Rhoda transformed her dining room by adding picture frame molding and repainting the walls. These two simple, inexpensive DIY projects resulted in an amazing transformation.
As promised, we'll make a $35 donation to Habitat for Humanity in Rhoda's name. And, she'll receive a $25 gift card to either Lowes, Home Depot, or Amazon. Be sure to let Rhoda know what you think of her fabulous, new dining room.
There's still plenty of time to enter our Before and After contest, just send your entries to beforeandafter@oneprojectcloser.com!
A Classic Dining Room by Rhoda
Excerpts from Rhoda's original post
I think we all fell in love with the Something's Gotta Give dining room, with the dark table, beautifully slipcovered chairs, and that wall of white china against the creamy beadboard. Swoonworthy, if anything could be described as that. Now, I wasn't trying to copy this room completely, but I did have this in mind for the feel and look I wanted in my dining room if I was going to the trouble to repaint and add all that picture molding. And I'm happy to say, I got just the feel I wanted.
The Before Picture…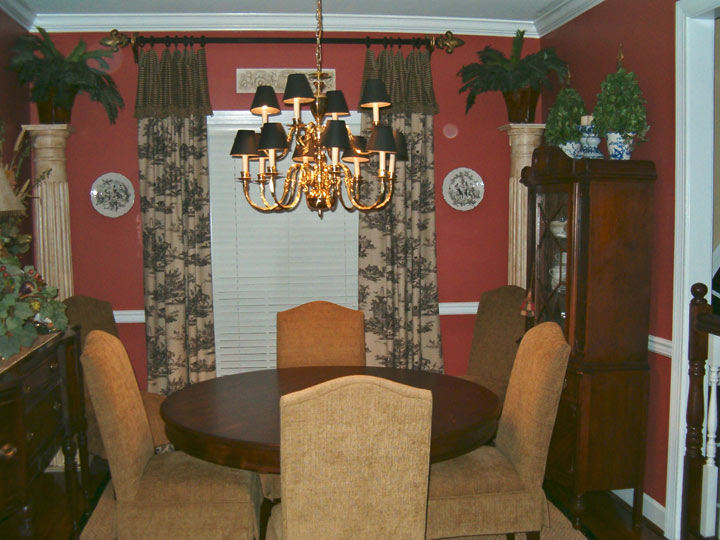 I'm in love with it! I don't think I'll miss the red at all now. It's a neutral creamy vanilla color, with a hint of yellow/gold. If anyone really wants the paint color, since I used leftover paint from Grandma's house & the color had been tweaked, I'll tell you that it's dead-on with Sherwin Williams Antique White, which is the lightest color on the strip I used in most of our house, the Whole Wheat color strip.
The After Pictures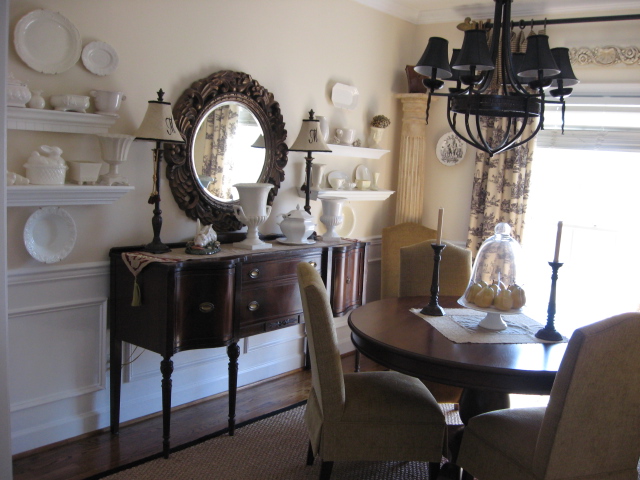 I'm SO glad I did the picture molding. It's such a nice detail to this room now. Look out…I'll be adding more of the stuff around here now.
Picture Molding…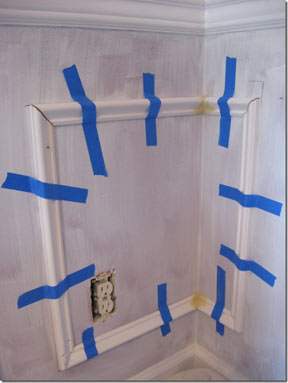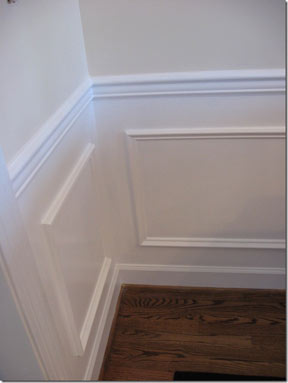 If you're contemplating making a paint change, just do it. That's the easiest way to get an update and you'll be glad you did. As much as I loved the red, I know I'm going to enjoy this one a lot longer.
Habitat for Humanity Quick Fact
We're making a $35 donation to Habitat in Rhoda's honor… want to join us? You can make your donation at Habitat's online donation page. Here's this week's quick fact about Habitat, from their site:
Habitat ReStores are retail outlets where quality, used and surplus building materials are sold at a fraction of normal prices. Proceeds from ReStores help local affiliates fund the construction of Habitat houses within the community. Many affiliates across the United States and Canada operate successful ReStores—some of which raise enough funds to build an additional 10 or more houses per year.

Materials sold by Habitat ReStores are usually donated from building supply stores, contractors, demolition crews or from individuals who wish to show their support for Habitat. In addition to raising funds, ReStores help the environment by rechanneling good, usable materials into use.
To purchase or donate materials, find a local Habitat ReStore near you.
Enter Your Project!
What to enter your own Before and After? Send your submissions to beforeandafter@oneprojectcloser.com in any format. See our official Before and After page for details!