This Before and After from Jenny @ Anything Pretty ran in the 2009 Before and After contest and was one of our finalists.  It's one of the top transformations of a fireplace we've received. Jenny uses paint, accessories, and materials available at the big box stores. We hope you enjoy reading it again, or if you're new here, for the first time.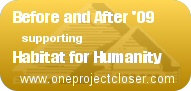 This week's Before and After is brought to you by Jenny @ Anything Pretty.  Jenny, Hubby, and Dad-in-law transform a so-so family room into an amazing, refreshing space.
For her submission, Jenny wins a $25 gift card to Amazon, Lowes, or Home Depot, and we'll make a $35 donation to Habitat for Humanity in her honor.  Jenny's also entered into our end of Summer contest for a $150 gift card to the home improvement store of her choice.
As with most of the DIYers who read here, Jenny's house is one big before and after project. You can't beat that… read on for her story and the oh-so-awesome pics.
Fabulous Family Room by Jenny @ Anything Pretty
Our entire house is an entire before/after so it was difficult to just pick one thing to submit.  But since I am the queen of going 90% and then moving onto a new project, the family room is the only one that is close to being "submission ready".  The kitchen is my biggest DIY pride and joy but since we are still missing three cabinet doors because I have been slow on the painting, it will have to wait to be submitted.  Hopefully this will be my motivation to get it done:).
Anyway the family room was one the first projects we tackled when we moved in the house (about a year ago).  And by first project I mean that when I left to get some supplies after we closed, I came home to a demo-ed fireplace and a husband with a hammer in his hand and grin on his face.  But after the joy of knocking it out, reality set in- the previous tile was set in cement and was now incredibly uneven.  We were officially over our head.
Luckily it was nothing that phone calls and pictures emailed to my husband's step father couldn't fix.  So we worked with cement for the first time and lived to tell about it.
The following weekend I had to go out of town and explicitly told my husband not to tile without me….because you know I needed to supervise his first solo tile job.
Well the same guy who could not wait to demo also could not wait to tile.  When I got home a couple of days later there the newly tiled fireplace stood.  I am sure the new neighbors loved the tile saw whirring until 1 am.
We priced out new doors to replace the brass, but ultimately decided that black high heat spray paint was our friend….
Obviously the fireplace was not the only change in this room.  We replaced the brass fan and painted or repainted all the trim including the windows and doors.  New paint also went up on the walls.  The previous owners thought that putting one sloppy coat of primer was adequate in covering honey oak so that turned into a huge project as well.
The pictures…
Before…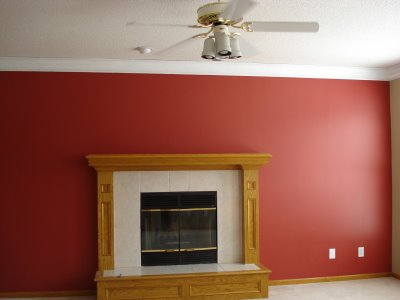 …During…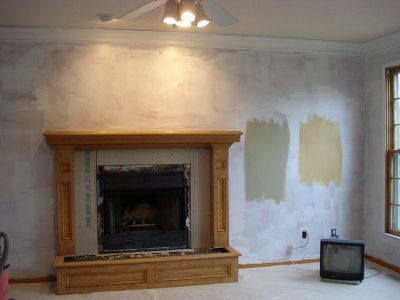 …and After!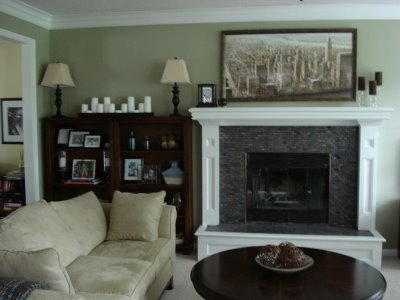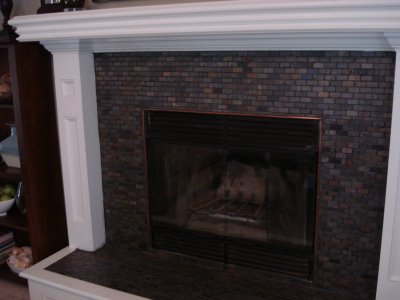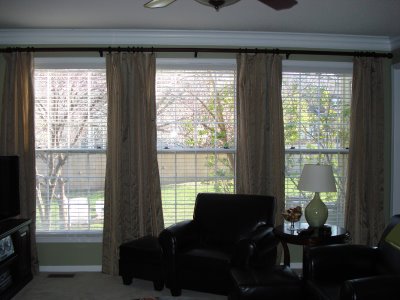 Habitat Quick Fact
The Home Depot Foundation and Habitat for Humanity today announced the national expansion of Partners in Sustainable Building, a $30 million building program dedicated to greening more than 5,000 Habitat homes across the country.

In celebration of the program, The Home Depot Foundation and Habitat for Humanity are sharing some quick tips that everyone can use to green their homes and decrease the cost of living. Below are five simple, inexpensive tips courtesy of The Home Depot Foundation and Habitat.
We're making a $35 donation to Habitat.  Want to match our donation? Click over to Habitat's online donation page.
Enter Your Project!
Got your own before and after story?  Tell us at beforeandafter@oneprojectcloser.com.