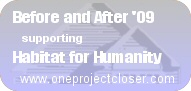 With Summer's unofficial end this weekend, we're just three Before and Afters away from the end of our contest! (Can you believe how fast it's gone?)
This week's entry is brought to you by Christy at Beachbrights. Christy updated her laundry room with new cabinets and a great stackable washer and dryer. We were impressed that she finished unfinished cabinets to get the very cool look you'll see below.
For winning this week, Christy gets a $25 gift card to Home Depot, Lowes, or Amazon, and we'll make a $35 donation to Habitat for Humanity in her honor. Without further ado, Christy's story…
Laundry Room Upgrade by Christy @ Beachbrights
This is a picture of the "Before" laundry room. I took this picture when we were house hunting and seriously considering buying this house. Can you believe that someone selling a house would leave their dirty laundry all over the place. This house was a "hot mess"!!
You can't see it in this picture, but there is a free-standing utility sink on the right side (next to the washer. It's one of those simple plastic-deep-4-leg sinks and those are typical melamine cabinets w/ trim.
Before…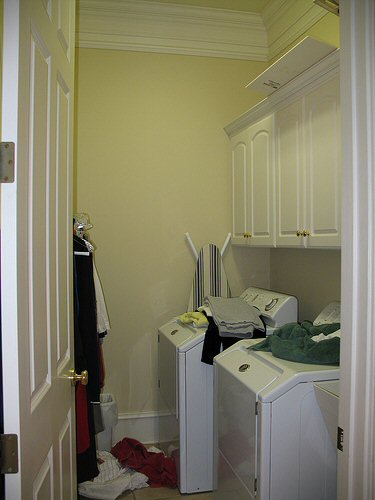 We moved the melamine cabinets to the garage (yes, we recycle when possible!). We bought those unfinished cabinets from Home Depot and stacked smaller cabinets on top to create a higher look for those tall ceilings. The cabinets measure 44″ tall (not including trim). I distressed the cabinets and painted them black (see below for formula). We ordered a formica countertop from Home Depot (custom order with sink cut-out). This took several weeks and cost about $150 (my mind is sketchy on the actual cost). So plan accordingly for time. Of course, the old sink was donated to Habitat and we added a self rimming utility sink (~$85 from Home Depot). The faucet has one of those pull-out sprayer handles (~$30). We tiled the backsplash with white subway tiles, also from Home Depot and added cabinet hardware. The rug is from Ikea (thanks Mom!). The dog/cat print's are from artist Burns. They look exactly like our animals!! Washer & Dryer are Whirlpool Duet. They can be stacked or side by side. We did everything ourselves but the electrical. Of course, no project is ever simple. When we stacked the washer & dryer, we had to move the electrical plugs and I wanted to add a plug under the cabinets. Due to the dryer plug being a higher wattage, we paid someone. The electrician did several other things for us that day so I don't know the exact cost. If I had to guess, I'd say between $150-$200. Nothing is ever as easy as it seems!!
… and After!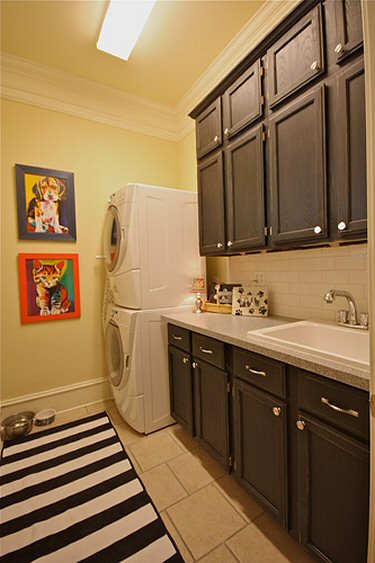 Thanks from One Project Closer
Christy, thanks so much for your entry! (Want to come over and fix up our laundry room?!). The cabinets, especially, look great.
Habitat for Humanity Quick Fact
Looking to donate an old car? Habitat's gotcha covered… Check out their online car donation page:
By donating a car to Habitat's Cars for Homes™ vehicle donation program, you help your local Habitat for Humanity affiliate build and rehabilitate houses in partnership with families in need of a hand up, not a hand out.

It is quick and easy to recycle your used cars, trucks, boats, RVs, motorcycles, construction equipment or other vehicles—running or not! Plus, you may be eligible for a tax deduction if you itemize. (Consult the IRS or your tax advisor for details.)
There's still time to Enter!
Got a great project to show off? There's still time to enter in 2009! Just e-mail your submission to beforeandafter@oneprojectcloser.com.