Well, we're a little late in running our second before and after article, which should have made it out last night.  Unfortunately, a series of events (including a hard drive crash) conspired against us this last week to delay the post.
… Perhaps you can think of the delay as a really long drumroll, because this week's before and after from Kara @ Made 2 Create is absolutely amazing.  Take a look at her stunning bathroom makeover that turns a traditional mid-80s era bathroom into a black and white modern marvel.
Based on Kara's submission, we'll make a $35 donation to Habitat for Humanity in her honor.  Kara will receive a $25 gift card to either Lowes, Home Depot, or Amazon.  If she chooses Home Depot, she can add the gift card to one of our Home Depot Coupons for even bigger savings! Congrats, Kara!  Thanks for the submission!
There's still plenty of time to enter our Before and After contest, just send your entries to beforeandafter@oneprojectcloser.com!
Black and White Bathroom Upgrade by Kara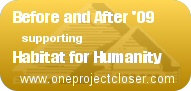 My husband and I gutted everything and came up with a new layout.  I chose a sophisticated color palette of black, white, chrome, and slate blue.   I used brazilian black slate and white subway tiles to create a classy look.  2 shower heads and 2 sinks are sure to keep harmony between my husband and I while the stylish and functional floating shelves add to the spa like feel.   Lastly the glass shower screen allows this somewhat small bathroom to appear much bigger!
The Before Pictures…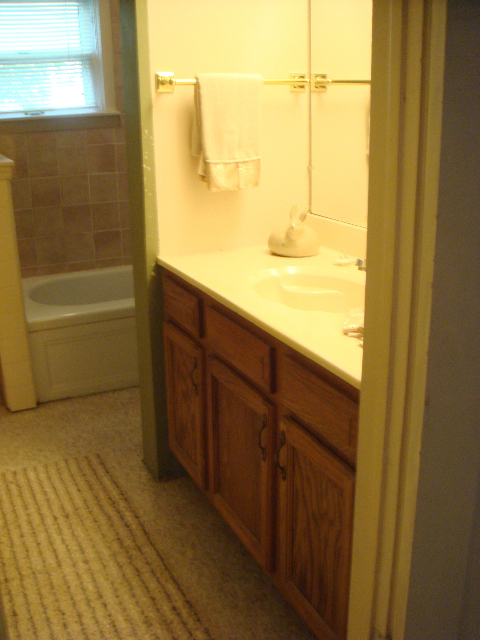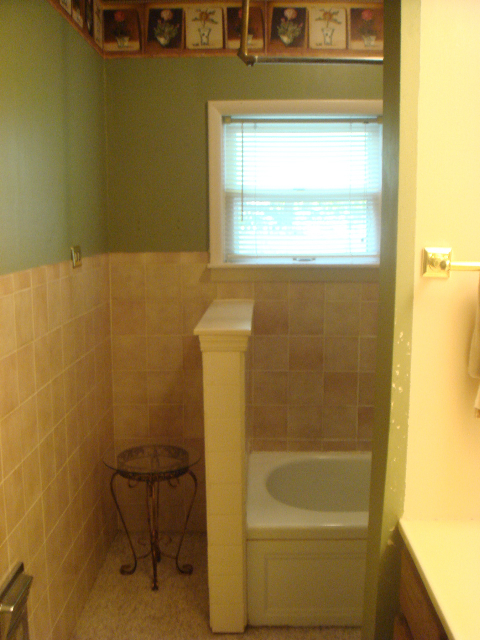 The (Amazing!) After Pictures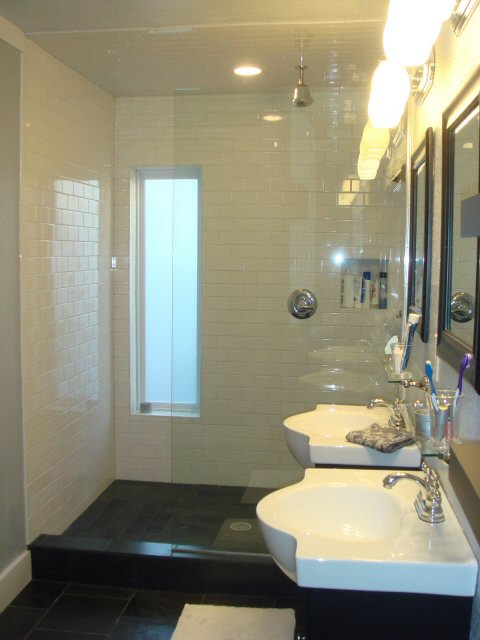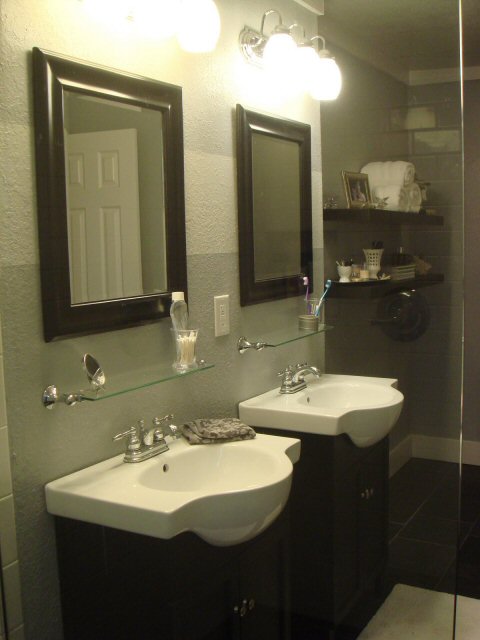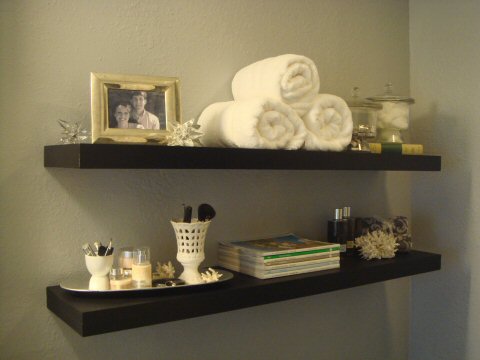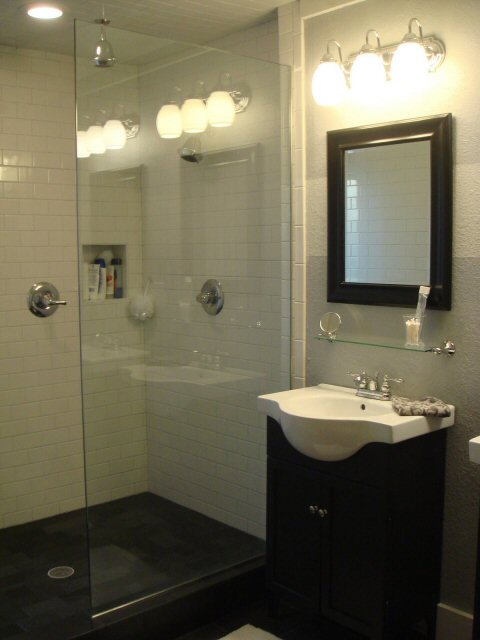 Details, details. details!  I have to admit my husband is usually the one focused on fine tuning, I am more of a "big picture" kind of girl.  However, there are times when I see the difference the slightest change can make and I remember that truly GREAT design is in the details!
Take our bathroom for example!  It was finished, fully functional, and in my mind- fabulous!!  But one day I got the itch to do some design work and decided to replace the vanity door insets with frosted glass!! I also traded the brushed nickel pulls for chrome ones to match the rest of the finishes in the room.  The whole project cost me less than $20, and only took a couple hours!! The result: a custom look for next to nothing!
After (the After) Picture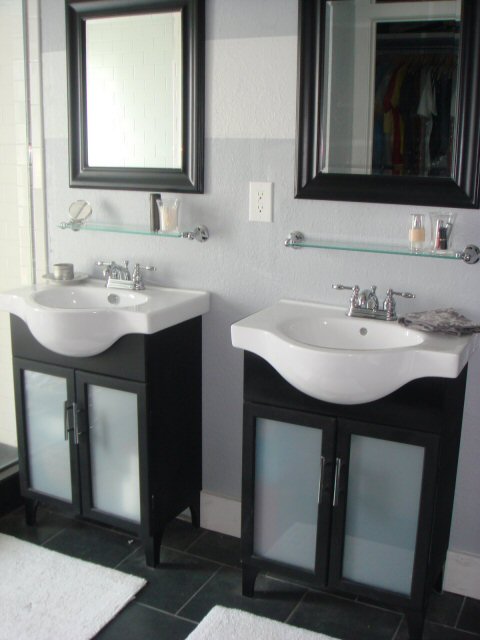 Thanks for One Project Closer
Kara, this is a truly inspiring transformation.  We love the black and white modern touches, and the frosted glass really is the perfect finishing touch!  Very nice indeed…
Habitat for Humanity Quick Fact
We're making a $35 donation to habitat in Kara's honor… want to join us?  You can make your donation at Habitat's online donation page.  Here's this week's quick fact about Habitat, from their site:
Women Build is Habitat's volunteer program for women who want to learn construction skills and make a difference by building homes and communities.

Women Build projects are regularly held by Habitat affiliates across the United States, and by Habitat organizations around the world. Women at these builds have furthered Habitat's home-building mission by helping to construct more than 1,500 houses.
For more information, see Habitat's Women Build Home Page…
Enter Your Project!
We're just getting warmed up in our Before and After challenge… Send your submissions to beforeandafter@oneprojectcloser.com in any format.  See our official Before and After page for details!