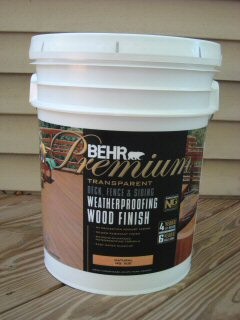 Two Summers ago, we wrote a review of Behr Premium Weatherproofing Sealer. The general sentiment of our initial review was positive. The color wasn't exactly what we had hoped for (it was too orange), but if the sealer held up over time, we'd be OK with the results.
When we were considering different deck sealers, Behr's product was advertised as guaranteed for four years on decks, six years on fences.  If you look closely on the picture on the right, you'll see the 4/6 on the lower right of the container. Our primary reason for purchasing this sealer was its expected long life, as our deck is large and sealing it is a multi-day project.
Over the past 22 months, we've been monitoring the sealer's performance and periodically taking pictures of it. Unfortunately, we're unhappy with the results, as are many others (read the comments on the initial review–there are many).
Before we show you these pictures, I'd like to say that we're generally very happy with Home Depot. In fact, we publish Home Depot's Coupons on our site and we do about 1/2 of all our home improvement shopping there. Just like many of you, we don't spend a lot of time singing the praises of our good experiences, which outnumber the bad ones 10 to 1.
Behr Sealer at Time of Application
Here's what the sealer looked like two days after application of two coats: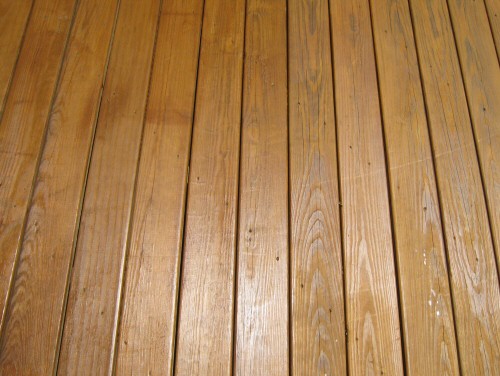 As you can see, the color is pretty uniform and dramatic. While we weren't a fan of the orange tone, it grew on us overtime (and actually turned out to darken a bit within a few months).
Behr Sealer @ 7 Months
Here's a picture of the sealer at 7 months. To be fair, this shot is taken in the late Fall with different lighting and just after rainfall. You'll notice that the color has faded quite a bit. Perhaps more concerning is that the sealer is no longer universally beading water.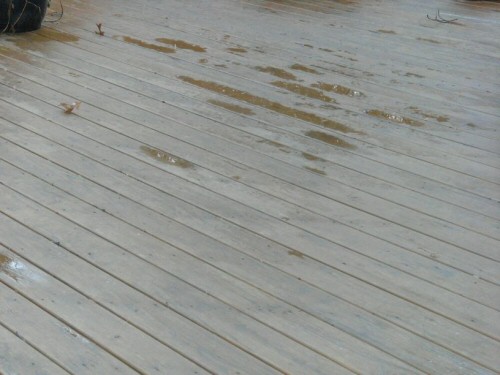 Behr Sealer @ 22 Months
Finally, here's the sealer just 22 months later. You'll notice that the color is no longer uniform and water beading is a thing of the past. We'll definitely need to refinish this deck with a new sealer.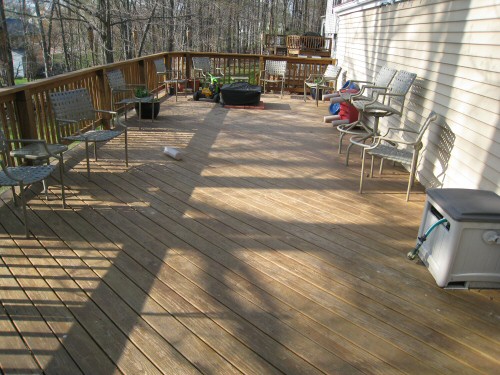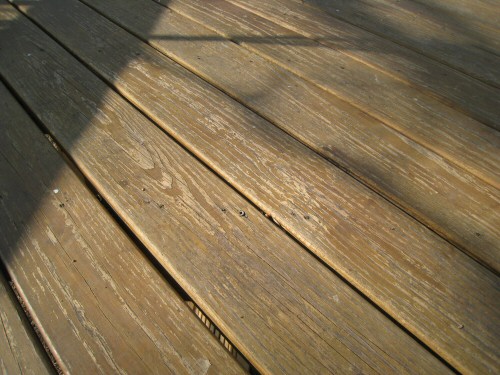 How Long Does Deck Sealer Last?
After doing an extensive amount of research online, the general consensus is that every deck sealer lasts about a year, even when they claim a longer wear time. With that prognosis, composite materials are looking pretty attractive.
What do you think? Do you have a good or bad experience with Behr or another deck sealing product? Let us know about it in the comments.