Two weekends ago we sealed our deck for the first time.  At the recommendation of friends, we chose Behr Premium Transparent Weatherproofing Wood Finish for Decks, Fences, and Siding.  Our primary goal in sealing the deck was to prevent cracks and splinters from developing.  A secondary, yet still important goal was to maintain the deck's overall natural southern yellow pine look.
After reading through Behr's weatherproofing pamphlet, we decided their Premium Weatherproofer line was the best value for our job.  Behr claims their Premium Weatherproofing Wood Finish lasts up to 4 years on decks, and 6 years on fences when two coats are applied. After examining Behr's color choices, we decided to go with Behr's Natural Finish (#500 in premium, #400 in non-premium).  As you can see from the picture on the right, Behr Natural #500 promises a relatively light, natural color that preserves the authentic look of a pine deck.
Editor's Update, November, 2010: This article was originally published on June 16, 2008. We published a follow-up review on April 6, 2010 that detailed our experience with this product over time. We ultimately stripped Behr off this deck in November, 2010. The remainder of this article is contains our original review.
Preparation Experience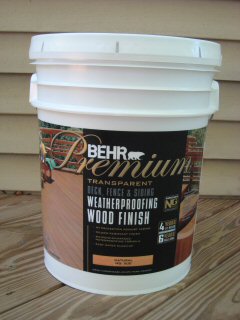 Behr Premium weatherproofer requires the deck to be completely clean of foreign debris, mold and mildew, and previous sealers.  Our deck was built 8 months ago, had never been sealed, and was relatively clean.  Kim powerwashed the deck to remove a minimal amount of residue and to restore its natural yellow pine color.  She did this without using a chemical stripper or cleaning agent.
For new and older decks that were previously stained or sealed, Behr recommends their own #64 Premium Stain and Finish Stripper.   To brighten the finish, they recommend Behr No. 63 Premium 2-in-1 Wood Prep.  For serious stains, they offer a heavy-duty stain remover: Behr #62 Premium Mildew Stain Remover.  We opted not to use any of these preparation products as our deck was in extremely good, clean condition after Kim finished powerwashing.  As a result, preparation was tedious only to the extent of the power washing.
Application Experience
Environment Requirements: Behr requires that the sealer be applied when outside temperatures are between 40 deg. and 90 deg., and when no rain is expected within 24 hours of the application of the final coat.  We applied the sealer over a 48 hour period.  All three days were in the mid-80s, and rain free.
Coating Requirements: Behr recommends two coats for complete protection.  Behr also recommends that the second coat be applied within 48 hours of the first coat.  We started the second coat at the 46th hour.   We believe that because we waited 46 hours to apply the second coat, it took much longer to dry.  As a result, the deck remained sticky for the next 3 weeks.  Fortunately, it did eventually dry completely.  We recommend applying the second coat on the same day (between 2-12 hours after the first coat).  For large decks, this may mean working only half the deck the first day, and half the deck at a later date.
Application Method: We tried 4 different application methods, with the following results:
Airless Sprayer: the instructions indicate that an airless sprayer with a .015 tip may be used to apply the sealer.  We used our Wagner Airless Sprayer and found that it was simply too eratic.  The sprayer was very efficient at putting weatherproofer on the deck, but it created a stain cloud between our house and our neighbor's.  Fortunately, it didn't damage their house.  We had to discontinue use of the sprayer.  Even if you use an airless sprayer, Behr still requires that you back brush every area to ensure even coverage.  This substantially reduces the efficiency of a sprayer.
Pump Sprayer: we also tried a pump sprayer (similar to what you would use to apply bug repellant or weed killer).  The sprayer worked, but we still had to back brush and it never misted quite as well as we would have expected.
Flat Sponge Brush: this method was the fastest method to apply the Weatherproofer.  Unfortunately, the sponge brush was inefficient at applying the weatherproofer around the edges of decking boards (which have curved edges, unlike traditional 2x6s).
Polyester Paint Brush: the traditional 4″ brush turned out to be the most efficient method of applying the stain.  We ended up dipping our brush into a pan and sealing the old fashioned way.  We had hoped to find a faster method; unfortunately, it just wasn't in the cards for us.  Looking back, a larger brush on the end of a pole may have worked as well.
Coating/Coverage Experience: The first coat is quickly absorbed into the boards and thus much more tedious to apply.  The second floats on top of the first and is thus much easier to spread.  Behr claims 300-360 sq. ft. coverage for the first coat and 600-700 sq. ft. coverage for the second.  Their estimates were accurate.  We used about 4.5 gallons to cover 1000 sq. ft. + railings.
Behr Natural No. 500 Color Experience (It's Orange!)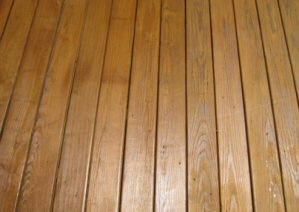 The color on the side of the 5 gallon container of Behr Natural No. 500 shows a very authentic yellow-pine wood look. This is simply incorrect. Behr Natural No. 500 dries an auburn / orange color that gets incrementally darker with the second coat. This was a major disappointment to us. When we first started applying the sealer, under a bright sun and with only a small area covered, we did not realize how auburn / dark orange it would look. We've since grown accustomed to the color and have gotten over the "un-natural" look. Behr certainly needs to update their color on the 5-gallon container to more accurately reflect the resulting color.
Price Per Gallon
We bought Behr's Premium Weatherproofer for $125 / 5 gallon container (or $25/gallon). This was about 30% more expensive than comparable weatherproofers, but most of those sealers only provide 2 years of protection.
Overall Experience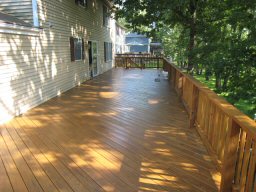 When we purchased Behr Premium Transparent Weatherproofer, we were shopping for three things: durability, authentic color, and a reasonable price. In this case, we haven't had enough time to evaluate durability, but assuming Behr meets it's claim of 4 years of protection, it will be very good. Behr clearly fails for color. The Natural No. 500 simply isn't true to the color on the container. The price was high, but reasonable for a product that protects for 4 years.
Bottom line: If we had to do it again, we wouldn't choose Behr Natural No. 500. Since Behr doesn't make a more transparent/yellow color, we would be forced to choose another brand.
What do you think? Have you had a good experience with Behr or another deck sealer?