About three years ago, we applied two coats of Behr Deck Stain and Sealer (the Premium, Natural No. 500 color) to our then-newly-built wood deck. The product cost $125 for a 5 gallon bucket, and our deck required two full buckets to complete.
After covering the whole deck, we were immediately dissatisfied with the orange-tinted hue (we were expecting a more natural, yellow look). But, like good reviewer citizens, we held off on passing judgment on the product until we could see it's long term performance. Here's a picture of the deck immediately after applying the Behr sealer.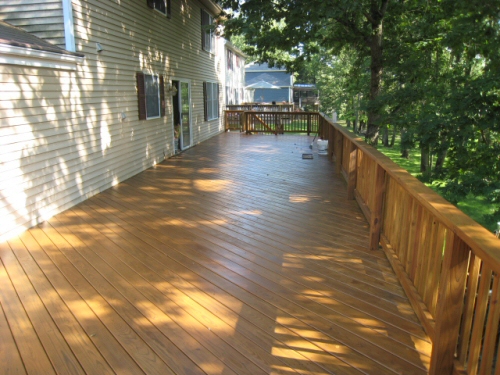 About two years after we snapped this picture, Kim wrote a follow up to our initial review that detailed how the Behr Deck Sealer was falling short of our expectations. The surface stopped beading water only 7 months after application, quickly becoming uneven and dingy looking. At two years, it looked pretty bad all around. This might not have been a problem had our expectations been set appropriately. At the time we purchased the sealer, Behr claimed this product worked for 4 years on decks and 6 years on fences. After talking to many folks in the community over the last two years, the consensus is that no semi-transparent product will last that long and still look good. Here's a picture of Behr deck stain 2 years after application.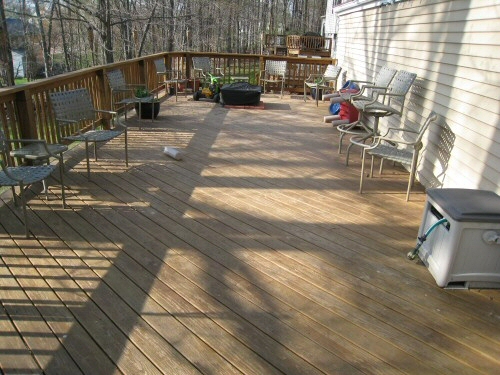 Our experience with Behr's deck sealer product isn't unique… If you read through the 80+ comments on our initial review, you'll see dozens of other folks who are looking to remove this product from their decks. Hopefully, if that's you, this article will provide some help.
Strip Behr Deck Stain / Sealer
We got a tip from a friend who was equally dissatisfied with Behr and hired a professional to strip and reseal the deck. The pro recommended a gel product called Strip-It-All from American Building Restoration Products (ABR, for short). The closest dealer we could find for the product was about 50 miles away in Fairfax, Virginia. The dealer company's name: Virginia Chemical and Equipment. Unfortunately, they don't have a web site for us to point you to, but their phone # is: (703) 560-9599. If you're in the Washington D.C. Metro area and you're looking for some help, Bill is very knowledgeable. If you're outside of the area, ABR has a where to buy page you can consult with a phone number.
Bill recommended that rather than going with a straight Strip-It-All solution, we should use a combination of Strip-It-All and another product from ABR called Fast Finish Remover. The reason he routed us this direction is that Strip-It-All retails at $42/gallon, whereas Fast Finish Remover is a thinner liquid that runs only $26/gallon and is designed to be diluted with water. Bill recommended that we make the following mix, put it in a pump sprayer, and spray it on the surface of the deck for best results:
1 Gallon Strip-It-All
1 Gallon Fast Finish Remover
3 Gallons Water
Because Strip-It-All is a gel, you really have to mix this good (using a drill and mixer blade), otherwise the gel will just sink to the bottom. Once it is mixed, though, it stays mixed and you can just stir it occasionally as you're working.
Warning: Both Strip-It-All and Fast Finish Remover are pretty strong substances. They can quickly burn skin. They can also cause serious damage to eyes, irritate lungs, etc. You should follow all the safety instructions on the bottles, which includes wearing a protective suit. If you aren't up for the safety precautions, you'll be better off hiring a pro to strip your deck.
If you read the product sheets from ABR, you'll see that the key to making the solution work is keeping the surface wet while you are working. If the surface starts to dry, the stripper stops working altogether. We tested a small area of the deck first, and then worked across the entire surface. The solution took an average of three hours to completely strip off the Behr from the horizontal surfaces. This included reapplying the mixture about every 40 minutes, whenever a spot started to dry. You can tell when the product has finally worked because it lifts the existing stain/sealer out and will take on its color. Since we were pulling out an orange/brown stain, we could tell when the stripper was successful when it turned a milk-chocolate look.
Here's a picture of the stripper solution working on one section of the wood. The adjacent, dry section at the bottom has not been stripped. You can see in this picture how the liquid on the surface has not yet turned the color of the stain it is drawing out. It is still clear, which means it needs to sit longer.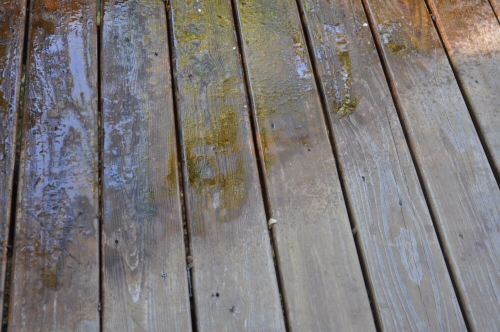 Once the mixture turns brown, you can lightly pressure wash the surface. Don't over-pressure wash. If you do, you'll start to damage the fibers of the wood. Stick with approximately 500 PSI. If the stain/sealer doesn't come off, you'll probably need to use more stripping solution and retry.
Stripping Behr Stain off Fences and Railings
When we turned our attention to the railings, we found that the mixture that included 3 gallons of water was simply too loose to really adhere. So we reduced the mixture to include just 2 gallons of water. The resulting solution was then thick enough that it adhered better to the vertical surfaces. It also likely stripped a little more aggressively, since it was less diluted.
Brightening a Stripped Deck
After the deck was completely stripped, we applied a brightener to remove the gray from the wood and neutralize the stripper. We decided to go with ABR's X-180 Weathered Wood Restorer product. This is simply pump-sprayed on, and then pressure-washed clean. It really brightens up the surface of the wood.
Here's two pictures of the deck after working the entire thing, railings and all. You can see that the Strip-It-All / Fast Finish Remover solution worked pretty well, however in some spaces it is still splotchy. To get it absolutely perfect, you will spend twice as much time working those areas, and we decided not to spend the time on this project.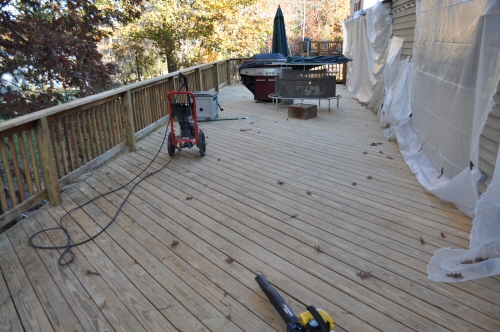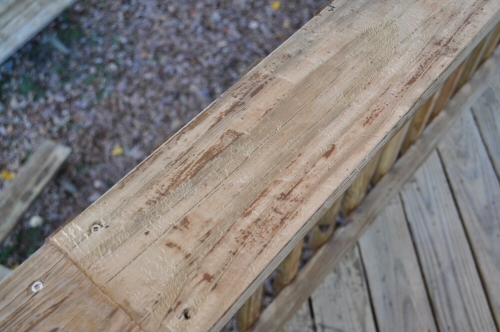 Time and Cost for Stripping the Deck
It took 50 man-hours to completely strip this 1000 sq. ft. to a fairly uniform consistency. That included some learning time. If we had to redo it, it would probably take about 35 hours. To get the deck 100% uniform, you would have to hit the individual areas repeatedly.
It took 6 gallons of Strip-It-All, 6 gallons of Fast Finish Remover, and 2 gallons of X-180  to completely strip and brighten the deck. Total cost for 1000 sq. ft: about $600.