Many of you read Fred's review of BEHR's Premium Deck and Fence Weatherproofer. Ultimately, he wasn't so pleased with it. It's already faded and looking a little dingy after just a few years. Another friend also used BEHR Premium Weatherproofer but on his fence. So far, it's a totally different story.
Preparing the Fence
This fence was featured in one of our Before and After posts. The fence was about 20 years old and had taken on that grayish, dirty appearance. By using a pressure washer, my friend was able to remove the dirt, mold and years added by weather.
Be careful whenever you pressure wash. Make sure it's not set too high or it will damage the wood. Generally, 1500 PSI is adequate for most wood surfaces. Try out the pressure washer in an inconspicuous area before you get started. Pressure wash as much as you can. Often tight corners won't be accessible and you may need to do some hand sanding. BEHR also recommends several products to help get your fence ready. Read the label and make sure to follow manufacturers directions for each.
BEHR premium stain & finish stripper # 64 to remove loose wood fibers.
BEHR premium 2-in-1 wood prep # 63 to brighten the wood and clean away moderate stains.
BEHR premium premium mold & mildew stain remover # 62 to clean up severe stains.
Applying BEHR Weatherproofer
Weatherproofer is best applied under these conditions (per BEHR's website).
Outside temperature is between 40°F and 90°F
No rain is expected within 24 hours of the final coat
Fence may be dry or damp but be sure to remove any excess water
Weatherproofing can be applied with a roller, pump sprayer, airless sprayer or a brush. In our experience, a brush works best. You get even coverage without any excess. Plus, you're able to tackle any tough-to-reach areas. Apply the weatherproofer one board at a time to avoid any lap marks. BEHR recommends two coats for "optimal appearance and durability". My friend only applied one coat.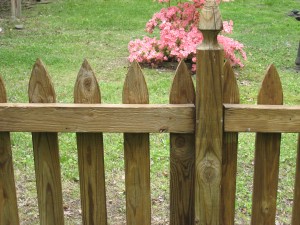 BEHR Premium Weatherproofing Cost per Gallon
My friend's fence doesn't have too much surface area. He was able to seal his entire fence with one gallon (plus he only applied one coat). Big Orange sells this weatherproofer for $29.95 per gallon or $125 for a 5 gallon bucket ($25 per gallon). It's not the cheapest option, but alternate sealers claim less durability.
BEHR Fence Weatherproofing One Year Later
My friend is still pleased with his fence even after more than a year later. The color (Redwood) became a little lighter over time, but the mildewcide seems to be working well and none of the grayish color has returned. I think the big difference is that fences don't have the foot traffic that decks do. Decks have to withstand feet, toys, food and pooling water while fences don't.
What do you think? How did you seal your fence? Any experience with BEHR premium weatherproofer?