You may have noticed that Blaklader is making the rounds on home improvement / tool sites to help get the word out about their workwear. Even Bosch got in on the action, announcing an official partnership a couple weeks ago at the Bosch media event we covered. It's always a slight annoyance when every blog you read is posting about the same topic so we've delayed publishing to give you a break.
Well, we've held out as long as possible cause these pants are amazing! It's readily apparent that Blaklader put a lot of thought into their work pants. They have features you'd expect like reinforced seams and a heavy-duty hammer loop, but they also included things you won't notice until you're on the job site.
Yes, they do make kilts, and no, we didn't get one to try out (but we would ;)). To see more pictures and my modeling career debut, visit the Facebook album.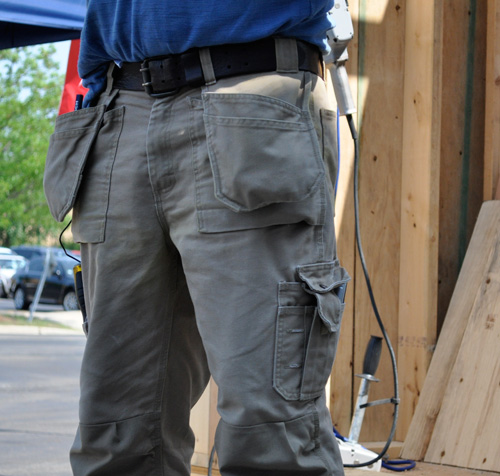 Blaklader Brawny Pants Review
We're going to dissect these pants so you can really get an idea why we like them so much.
Brawny Pants are Made to Last
When you grab a pair of Brawny pants, the first thing you notice is that they're heavier, and that's because they're made of 100% heavyweight cotton. The seams are triple stitched, and they included a metal fly zipper. The pockets are lined with Cordura, and, if you Google that, you learn that it's an uber-strong nylon / cotton blend. There's seven total belt loops, and that important because they keep your pants on your hips. Needless to say, these pants are tough!
Lots of Pockets
We count 14 pockets all together, plus the webbed hammer loop. These pants completely replace your average tool belt making for one less thing to wear. The real advantage is that none of the pockets have a bottom seam. The material is folded over and the seam is located a few inches up on the backside. This design is way stronger and will help prevent sharp objects from tearing through.
There's two utility pockets in the front- great for holding a speed square, wire nuts, screws, etc. And, these tuck into the traditional front pockets when you're not using them. The corners are angles to make it easier to grab those last few nails.
Both pant legs have accessory pockets made for holding pencils, utility knife, painters tool, pliers, etc. The underside is unattached (bellowed) to prevent you from stabbing yourself when the crouch.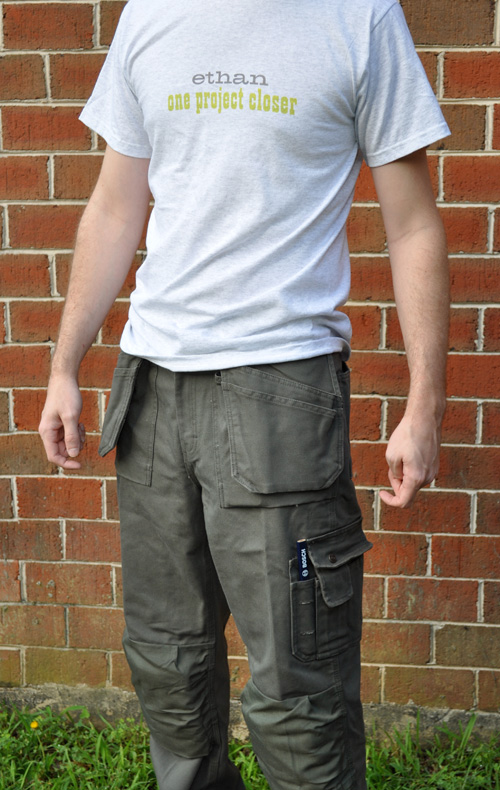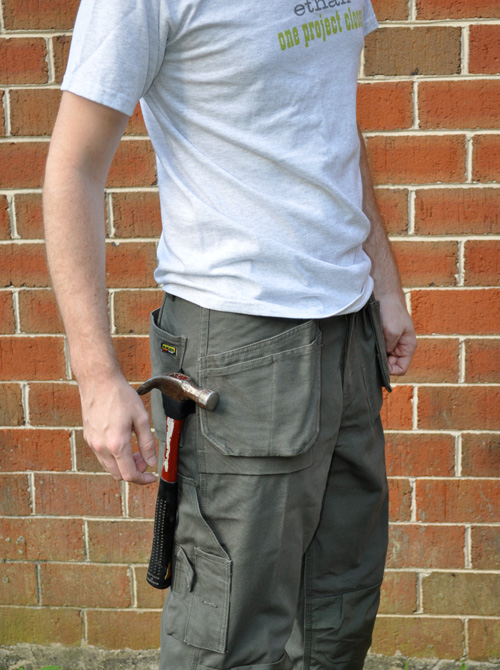 Kneepads
Do you like spending time on your knees? Yeah, me neither, but it's better with cushy knee pads. Brawny work pants have pockets positioned just under the knee joint for holding gel or foam inserts. We prefer this style over kneepads that you strap onto your leg because they don't restrict your motion. The foam inserts are lightweight enough to wear even if you don't expect to need them. The pads go in from the bottom to prevent dirt and debris from accidentally falling inside. You might think the pads would eventually end up sliding out of place, but Blaklader (ingeniously!) put a small overlap on the inside of the pocket so that's not even a possibility. Do yourself a favor and put in the inserts before you put on the pants.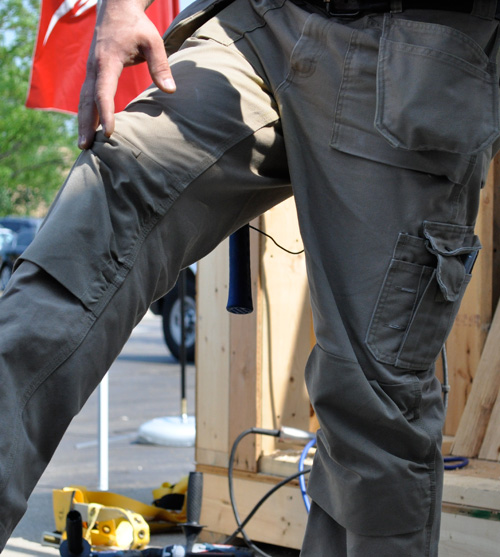 You might think work pants really aren't that important, but isn't it nice to work with good equipment? Everyone realizes the benefits of a good pair of boots. We'd encourage you to consider a good pair of pants too. We were really impressed with the Brawny work pants, and the ingenuity Blaklader put into them. Prices we've seen run about $55 or so.
About Blaklader
Blaklader started in 1959, and is based out of Sweden. They make pants, shorts, vest, shirts and outer wear designed to protect you from the elements or on the job site. If you read up on their About Page, you'll see they offer a "lifetime" warranty on ripped stitches (torn by sharp edges doesn't qualify). They distribute worldwide, and can be found on various online venues.