In our on-going first-floor reconstruction (following our hardwood flooring project last summer), our powder room recently got a major upgrade:  a Brizo brand faucet and all matching Brizo accessories.
I mentioned Brizo when I reviewed Delta Faucet's products, following my visit to their headquarters last August.  Delta sells great products, so a Delta faucet is a wise purchase.
And Brizo is their designer line.  Great quality with more customized looks, the results of hours of research and idea-gathering by (literally) world-traveling designers whose entire job it is to anticipate future trends in interior design and craft faucets and other kitchen and bath accessories to fit those looks.  It's fun just looking through their product lineup, from their ultra-modern Siderna collection to the glass and crystal touches in their RSVP line, there are plenty of choices and a lot of available customizations within each line.  And those are just the bath collections!
They also have over a dozen kitchen collections!  (My favorite is Belo, but as we don't even have countertops and a sink yet, I don't have to nail that one down, yet.)
But back to our Brizo bath.  It's a very small powder room, so we wanted to make up in "architectural impact" what we lack in square footage.  While I love a number of Brizo's larger faucets, they would be out of scale for the space.  We also want this remodel to hold up for a while, since we have so many other rooms in our house that need work!  So we went with a more traditional and smaller faucet – the Baliza mini-widespread in Venetian Bronze.  Still pretty, though, is it not?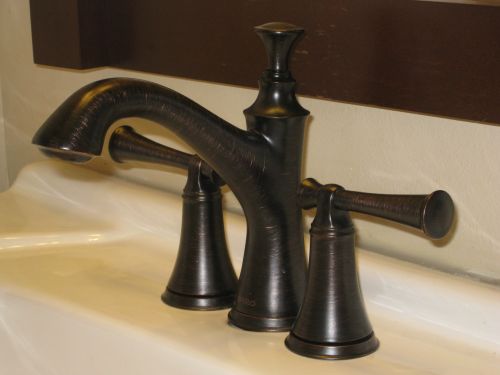 And then, since the Baliza line does not (yet, at least) offer all the matching accessories, we plucked the towel ring, toilet paper holder and toilet tank lever from the Providence Classic collection.  Close enough that only those of our houseguests who read this post will probably ever know they're two different collections.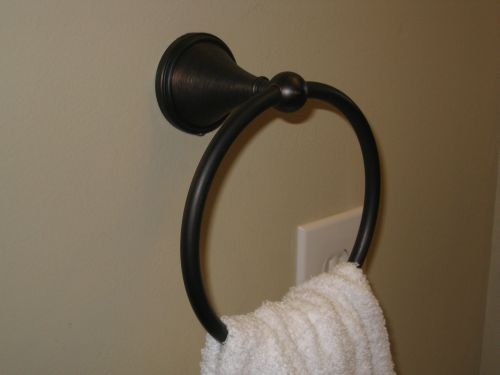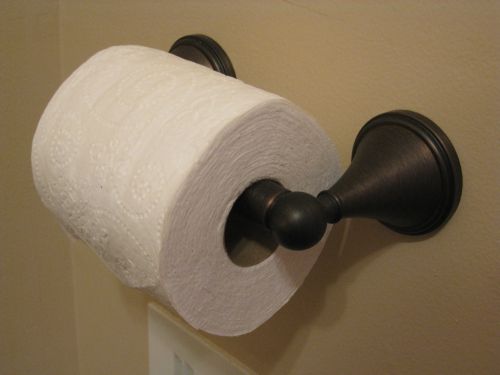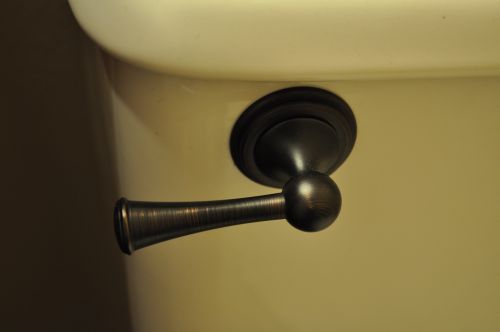 We were very happy with the finished look, and I meant to write this post a couple months ago when the bathroom was finished.  But we were plugging away at all our other sub-projects and time got away from me.  I'm glad it did, though, because now I can report on how happy we are with the durability of the Brizo products.  We knew when we received them that they were sturdier than what we had before.  They're hefty to the touch (though easy to install), and even our very destructive high-energy six year olds haven't managed to put the slightest mark on any of them.
The bathroom still looks as good today as it did back in September: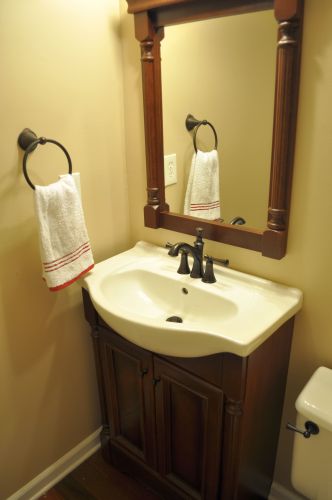 This is great news for me, because another reason I'm hoping to make this remodel last a while is that this is the second remodel of this bathroom I've done.  I wrote about the first powder room renovation as part of our Before & After series.  That time, I used inexpensive accessories and a faucet I picked up from on of the local big box stores.  Great for a re-model on a small budget, which was what we needed at the time.  But the faucet was surrendering less and less water as time went by (some internal problem; I was happy to pitch it!), and the boys had the t.p. holder and the towel ring dangling off of the walls within a couple of months.
Not so, this time!  Lesson learned: it's worth paying for the upgrade, so you only have to think about the items in positive terms for many years into the future!