We are well into our summer Before & After series, and the weekly winners have been spectacular! For the past four years we've run this series to help raise support and awareness for Habitat for Humanity (be sure to check out this weeks fun fact), and this year is off to a strong start. If you'd like to participate, there are a couple different ways to get involved. We need to fill up the entire summer with before and after stories, and yours could be next. See the link above for details about submitting your project. We'd also greatly appreciate if you'd help spread the word. If you have a website of your own, consider telling your readers about us.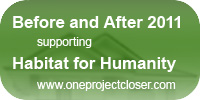 I am uber-impresed with this weeks winner. Vanessa from Life at our House shares a tremendous kitchen makeover, and like the headline says, she did it all for only $300!
In 11 years of marriage, my husband and I have lived in 7 cities and sometimes have moved multiple times in each city. Needless to say, I have become a pro at making each house a home. One thing I have always wanted to do, but been too chicken to tackle it- is paint my kitchen cabinets. Now, in our 7th home, I finally decided to do it. All. By. Myself. When we moved in, our kitchen looked like this:

Once I decided to tackle the project, I was pumped! I began by numbering the insides of my cabinets and making a diagram to remind myself of where each door belonged! Then I removed all the doors and began the grueling process of priming and painting! (I didn't sand.)

One thing I had always hated about my kitchen was the apron that connected the two cabinets on either side of my sink. This is the one part where I needed a little help. My awesome husband took down the piece along with the cabinet molding. He recut the molding to fit around the two cabinets.

It is amazing how much more light came in with that simple fix. We created another problem, however. You see that wire protruding from the wall? Well, previously there was a fluorescent light attached to the inside of that apron. We planned to add a cool aluminum outdoor sconce, but unfortunately, the wire was not centered over the window and it was impossible for us to move it because it was in a stud. We would have had to call in a professional. We came up with a solution that you will see later, however.

After priming and painting several coats, I rehung the cabinet doors and began sanding the edges. I then used some distressing oil around the corners where I'd sanded. After letting the oil sit on the door for a minute or so, I simply wiped it off.

I love the way the oil brought out all the little scratches in the wood and created a sealer of sorts. Once all the cabinets were distressed, I replaced all the knobs that I bought for a steal! I chose an antique pewter to be a nice contrast against the cream, but to tie in with the stainless appliances.

In addition to refinishing the cabinets, I also made new window treatments. I used a tutorial from thelittlegreennotebook.com for some awesome pelmet boards that were so easy to make!

As you can see, this is the window over my sink with that pesky light issue. Well, our solution was to mount the original fluorescent light under the window treatment!

It worked like a charm! I only use this light for a few minutes at a time when I am doing dishes. Although I really wanted a rustic sconce over the sink, there wouldn't have been room for my valance and then there's the cost of paying an electrician. So this was the
perfect fix!

So, on to the after pics:

Source list:

Paint- Valspar cream oops paint $5, Danish oil for distressing $11
Primer- Zinser Oil based $14
Cabinet hardware- Resale shop $10.50 (21 @ $.50 each)
Valances- P. Kauffman fabric (Old Time Pottery) for $20, other supplies $11
Accessories- Yellow step stool (Hobby Lobby) $12, small yellow pitcher (Goodwill) $1, 3 glass jars (Target) $6 each

That's $102.50!! Woo hoo!!

I had previously painted the walls HomePlace Mushroom Taupe before starting the cabinet makeover. The kitchen chairs and blue table were both Goodwill finds that I got a new life for less than $100 for all 5 pieces. The kitchen table was a black one originally from Target that I already owned. I simply stripped it and restained it for less than $20. All the other accessories, I already owned. If you consider these previous projects in the final total, the makeover still comes in around $300. I say, that's not too bad for a full kitchen makeover!
Thanks Vanessa!
Woo hoo is right! That's an amazing kitchen makeover on a super small budget. I am very impressed, especially with how beautiful everything turned out.
Habitat for Humanity Factoid
Did you know that most Habitat chapters don't spend every weekend working on homes? In fact, if you check out their calendar of events, you'll see events like the "Voltswalk" walking tour in Americus, Georgia. Maybe you're better at swinging a golf club than a hammer. In that case, check out the charity golf tournaments that benefit Habitat. These make for easy ways to play a part in what Habitat for Humanity is doing, and you can have some fun too.
Where's Your Before and After Story?
We hope you'll consider submitting a Before & After story. Email your pictures and a "how to" description to beforeandafter@oneprojectcloser.com to join in.
Help Us Spread the Word
Are you a blogger? If you'd like to support us, please write an article on your blog about the contest, and consider adding one of our buttons to your sidebar. You can find the buttons and more information on our main Before and After article.