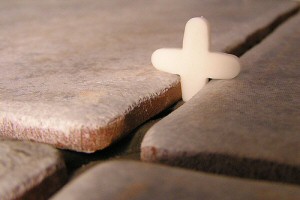 Ceramic tile is a very popular upgrade for kitchens, bathrooms, patios, and foyers. It is resistant to water and scratches, making it more durable than hardwoods or vinyl tile for these areas.
We've installed a number of ceramic and stone floors. The job isn't difficult when it's done right… But done wrong, it can leave a homeowner with a feeling of defeat. A poor ceramic installation will delaminate from the subfloor, split at the grout lines, or worse–crack directly across the tile.
One question that folks new to ceramic tile frequently ask is whether they can lay the ceramic directly on top of a plywood or OSB subfloor, using a thinset cement or liquid nails to glue down the tile to the wood.
Problems with Ceramic Directly on Plywood or OSB
The basic answer to whether you should lay ceramic directly over plywood or OSB is simple: you shouldn't do it. Here's why:
Plywood and OSB expand and contract with humidity and temperature much more than ceramic tile. Regular seasonal humidity shifts are significant enough to make the average 10′ x 10′ wood subfloor floor expand or contract as much as 1/2″. Ceramic tile doesn't expand/contract nearly as much. As the plywood or OSB expands, the ceramic won't. You'll begin to see hairline cracks in the grout, then the grout will crumble a bit. Eventually, after several seasonal cycles, tiles will begin to come loose or crack.
Plywood and OSB have surface imperfections. This concern is significantly less important than the first; but it is nonetheless still a concern. Plywood and OSB frequently have imperfect joints and surface textures. While these could be smoothed over with thinset, they are much harder to manage than the correct solution.
Proper Way to Lay Ceramic on Plywood or OSB
There are two materials commonly used for laying ceramic on plywood or OSB that are applied before the tile:
Concrete Board – Concrete board, also called Backer Board comes in 1/4″ and 1/2″ thicknesses and is usually sold in 4′ x 6′ sheets. It should be fastened to the subfloor using thinset, and then screwed down every 10″ square. Screws should be kept at least 2.5″ from the edge of the board, since it is prone to split. You should use a 1/4″ slotted trowel to apply the thinset. Leave 1/4″ gaps between each board.
Concrete board has similar expansion properties to ceramic tile (it doesn't expand/contract much at all). The combination of thinset and screws prevents the plywood or OSB from expanding beneath the concrete board, thus creating a strong bonding surface for the tile that doesn't shift with thermal or humidity changes.
Once the concrete board is down, you fill in the 1/4″ gap with thinset and a special mesh tape available anywhere ceramic products are sold.
There are a number of concrete board manufacturers including the popular hardiebacker. Check your local home improvement store or ceramic tile shop.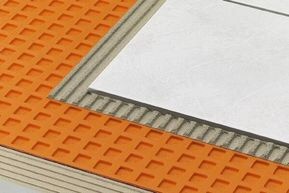 Ditra – This is a special plastic material made by Schulter (official site). The unique geometric design decouples the subfloor from the surface of the Ditra, effectively serving the same function as concrete board. Ditra should be set with thinset using a 1/8″ trowel.
Once laid, the surface of the Ditra is suitable for ceramic installation. You can either use a 1/4″ trowel and apply enough thinset to fill in the gaps, or you can skim coat the Ditra first using the flat side of the trowel and then use a 1/4″ trowel to lay ceramic in a two step process.
Good Results From Proper Tiling
Using backerboard or Ditra to mediate the expansion and contraction of the subfloor will lead to a much longer lasting and professional-looking tile job that is much less likely to cause trouble in the future.