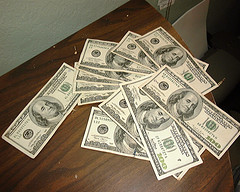 If you did your homework before accepting a tenant, chances are late rent payments will be few and far between for you.  If you rent long enough, though, some renter will eventually be late on a payment.  Even the best tenants aren't perfect all the time.  This article is a compilation of a few thoughts on late rent payments, what fees you should charge, and how to make the most of late fees when they're appropriate.
If you decide not to read all the points, there's only one key take away to get from the article: renting a property for the long term is about a relationship between the landlord and tenant. Jumping on opportunities to charge your tenants late fees might not be the best strategy.  Sometimes, a grace period beyond the "standard grace period" written into most contracts is a good strategy to show your tenants you appreciate their otherwise steady payment history.  So, here's the thoughts, in no particular order.  Feel free to weigh in with your own!
Don't Jump at the Opportunity to Charge a Late Rent Fee
All of us have forgetten to pay a bill.  Every adult I know has forgotten to make a payment on something, sometime.  It might be utilities, credit cards, a mortgage, cable, telephone, a friend, etc.  Until recently, people had to write checks for each bill.  Nowadays, we have online bill pay, automatic drafting from checking accounts, credit card payments, etc.  All of these mechanisms are there to help us pay the myriad of bills we face.  Why? Because it's easy to miss a payment, even for the most responsible among us.
If your tenant has been renting from you for some time with no late payments (we think 6 months with no late payments is a good rule of thumb), you should cut them a break for being late.  The day after their payment is late, give them a call on the phone and remind them (gently).  Tell them you're happy to waive the late fee if they bring the payment over in the next 2 days.  People like to know that they're doing business with reasonable people. Its reasonable for someone to make an error every once in a while and need a reminder, even though they are otherwise very responsible. Good tenants will recognize the gesture, and they're more likely not to hound you every 6 hours if their air conditioning goes out 🙂
When to Charge Late Fees
There are times when late fees are appropriate.  Late fees should be imposed when tenants are chronically late on payments (more than twice in a 4-6 month period) or when tenants are very late on payments (more than 7 days after the grace period ends).  The extra motivation that a fee provides may be just the thing that makes your tenant more responsible.
That said, if you're in a situation that merits charging tenants late fees, you've probably got a bigger problem.  People who pay their bills late on a regular basis do so because bigger issues are present in their lives:
They may not have the money in their budget to make rent payments.  Perhaps they stretched to make the first few payments and are now struggling to make ends meet, or there was a change in employment status.  If not repaired, this problem will escalate quickly into an eviction situation.
They may be irresponsible with their money, and possibly in other areas of life as well.  For instance, they may be more likely to damage your property, which could cost thousands more than mere late payments.
How to Charge Late Fees
If you decide to impose a late fee on your tenants, you should notify them in writing of the delinquency of their account/payment and the need to charge them a late fee.   The late fee must be consistent with the terms you agreed to in the original lease agreement (see below).
You should send the notice via registered mail and retain a copy of the letter you sent for your own records.  If you find yourself in an eviction situation down the road, a paper trail will be essential to ensure you don't end up on the wrong side of the law.
One last thing on this point: the letter you send should be based only on fact, not opinion.  There is no need to accuse the tenant of anything more or less than being late on their rent.  If the issue ever goes to court, you want to have clean, appropriate documentation to support your case.
Potential Late Fees Must be Written into the Lease Agreement
You must clearly lay out potential late fees to your tenants in their lease agreement.  Your jurisdiction may allow you to charge a late fee or interest even if you don't have this clause, but it will dramatically simplify your situation if you do.
Make the terms under which a late fee can be charged, and the amount of the late fees very clear in the lease agreement.  This lease agreement includes some example language.
Late Fees May Be Limited by State, County, or Local Law
Many jurisdictions have limits on the amount of late fees you can charge.  Some districts limit the fees by a percentage of the amount due, others limit it to a flat fee like $50.00 for late payment.  For instance, Maryland limits late rental charges to 5% of the amount due.
Jurisidictions will also limit the amount of interest you can charge in addition to any late fees that are levied.  In general, these limits are lower than limits imposed on credit cards, so you should check with your county/state Government to determine the actual limits on late fees.
The Bottom Line
Charge late fees only when they make sense for the situation.  Write the terms of late fees into the rental agreement, and always communicate adverse information clearly, concisely, and in writing with your tenants.  Best of luck to all the independent landlords out there!
What do you think? What's your late fee strategy?  Have you dealt with chronically late renters?  What strategy do you use for your own properties?
Photo courtesy of PacDog.