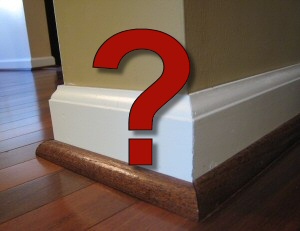 We recently received this question on our painting vs. staining quarter round article that seemed fit for a whole new article.  So here you have it.  Mike writes:
I am struggling to figure out what to do. I have already made a deposit on Brazilian Cherry hardwood. My living room is paneled with dark paneling – probably the color of walnut. The living room merges into a foyer that is a painted sheetrock wall. What do I do in this situation?  Lets take the living room first – what color of quarter round and baseboard should I use there? Now the adjacent area that is painted sheetrock – what color of quarter round and baseboard should I use?  How about one more question: The living room goes into a kitchen that I plan to tile and a dining room is off of the kitchen. The dining room will be in the same Brazilian Cherry hardwood. This is a painted sheetrock room. What quarter round and baseboard would be good here?  Thanks very much. I have been putting off getting the job done because of this issue.
Walnut paneling!?!
If I were old enough to flashback to the 70s, it would have happened right then.  But seriously, anytime we see paneling our inclination is to replace it or paint it.  Believe it or not, paneling will take paint quite well.  We painted ours using two coats of Kilz Primer and Behr Eggshell Latex.  The process is simple:  lightly sand the surface with 120 grit paper.  Apply two coats of primer, and paint.  Choose a roller with a mat thickness that works with the depth of the ridges between the paneling  (e.g., deep gaps between the panels requires a thick mat roller).
If you choose not to paint the paneling, you're going to have a major design clash on your hands.  It's hard to make the dark browns of a walnut paneling look good with the red hues of Brazilian Cherry.
Keep it Neutral
As far as trim colors, we think that trim colors should be uniform throughout the house (except perhaps for certain accent situations).  We've got pretty traditional tastes, so a shade of white would be our preference.  If we were to lay new Brazilian Cherry Hardwoods ourselves, we'd definitely go with a soft white trim and likely a matching soft white shoe molding as opposed to quarter round.  We'd also choose relatively neutral paint colors that would allow the floors, wall decor, and fabrics to carry the day in the space.
What do you think? What would you do in this situation?  Weigh in an help Mike solve his design challenge.