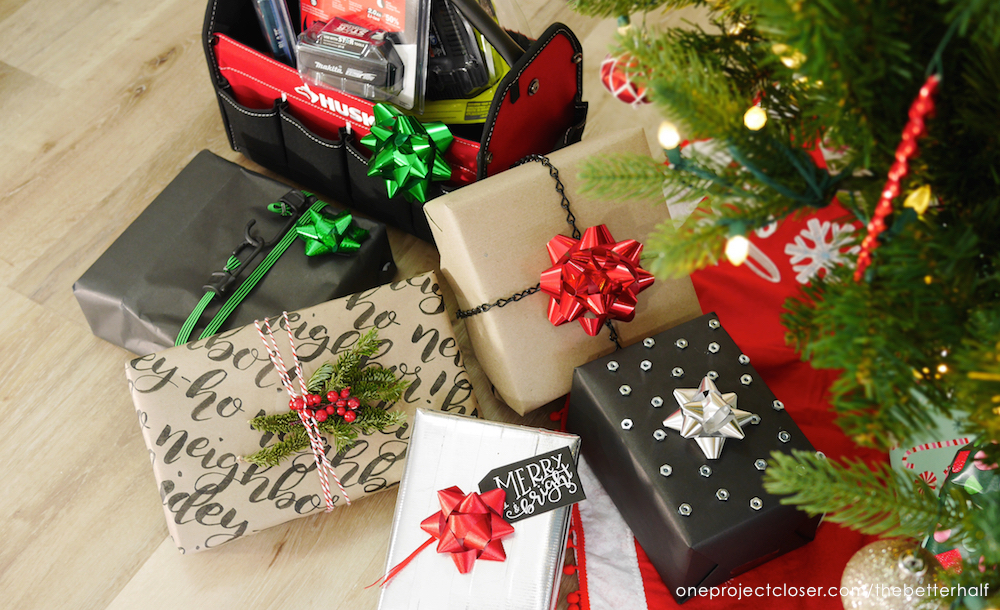 Thank you so much for reading about these AMAZING Creative Gift Wrapping Ideas for Tool Lovers. This post in sponsored by the Home Depot Prospective Campaign. We're partnering with The Home Depot to provide candid reviews of tools from a wide variety of manufacturers. The Home Depot is both providing the tools for free and compensating us; however, the opinions we express here are our own. Remember, we'll always be up-front with you when we're receiving a free product, compensation, or both. And of course we always strive for objectivity in our reviews.
I don't know about you, but I love wrapping presents in a beautiful and meaningful way. But my creative wrapping ideas, with twine and hand lettered gift tags tend to be lost on my tool loving husband, Ethan. A few years ago, my brother-in-law, who also happens to be a tool guy, gave Ethan a gift wrapped in duct tape. Now I can't remember what the gift was, but what a funny and memorable gift wrapping.
This Christmas, I decided to take a page out of my brother-in-law's book and get creative with my gift wrapping. So here are 5 creative Gift Wrapping ideas, along with a few tools that your tool lover may enjoy this holiday season!
Five Ways to Wrap Tools!
Here's a quick video showing you five different ways to wrap gift for the tool person in your life!
Duct Tape Wrapping
First up, my brother-in-law's genius idea – Duct Tape Wrapping. He gave Ethan a gift bag, covered in duct tape with a chain attached. But I decided to wrap the actual gift, which is kinda mean, because its gonna be TOUGH to open (but also funny to watch, LOL).
There's not much to this technique, but I would highly suggest wrapping the gift with paper first, then covering it with duct tape. You could even get creative and use different types of duct tape, but I went for the classic look.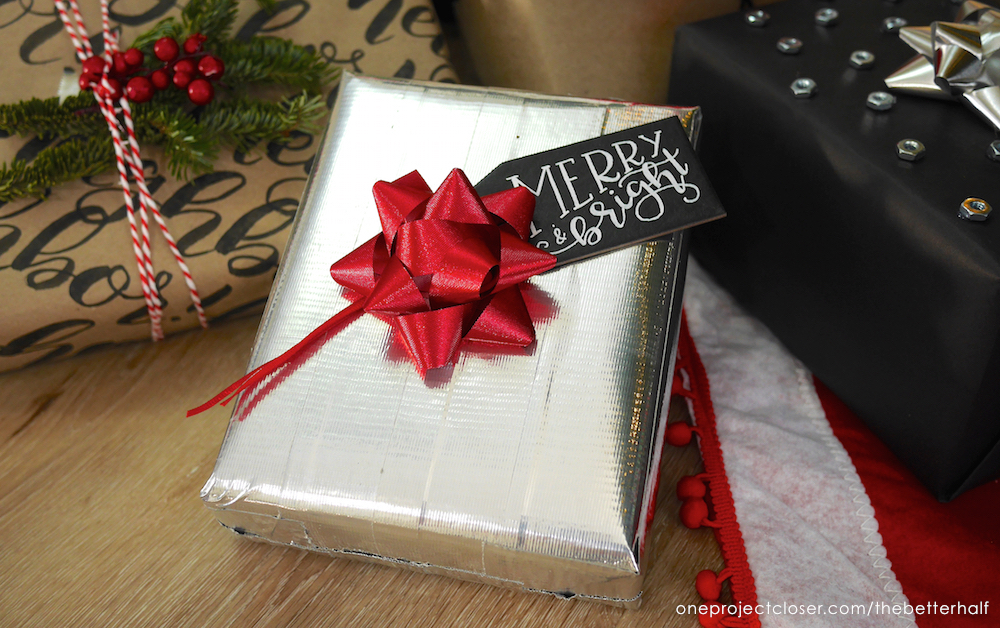 Bosch Laser Measure
This laser measure will measure up to 135 ft. and accurate up to 1/8 inch and is easy to use. It has a larger backlit color display than other models and the screen rotates vertically or horizontally for easy readability. It makes for a great and functional present!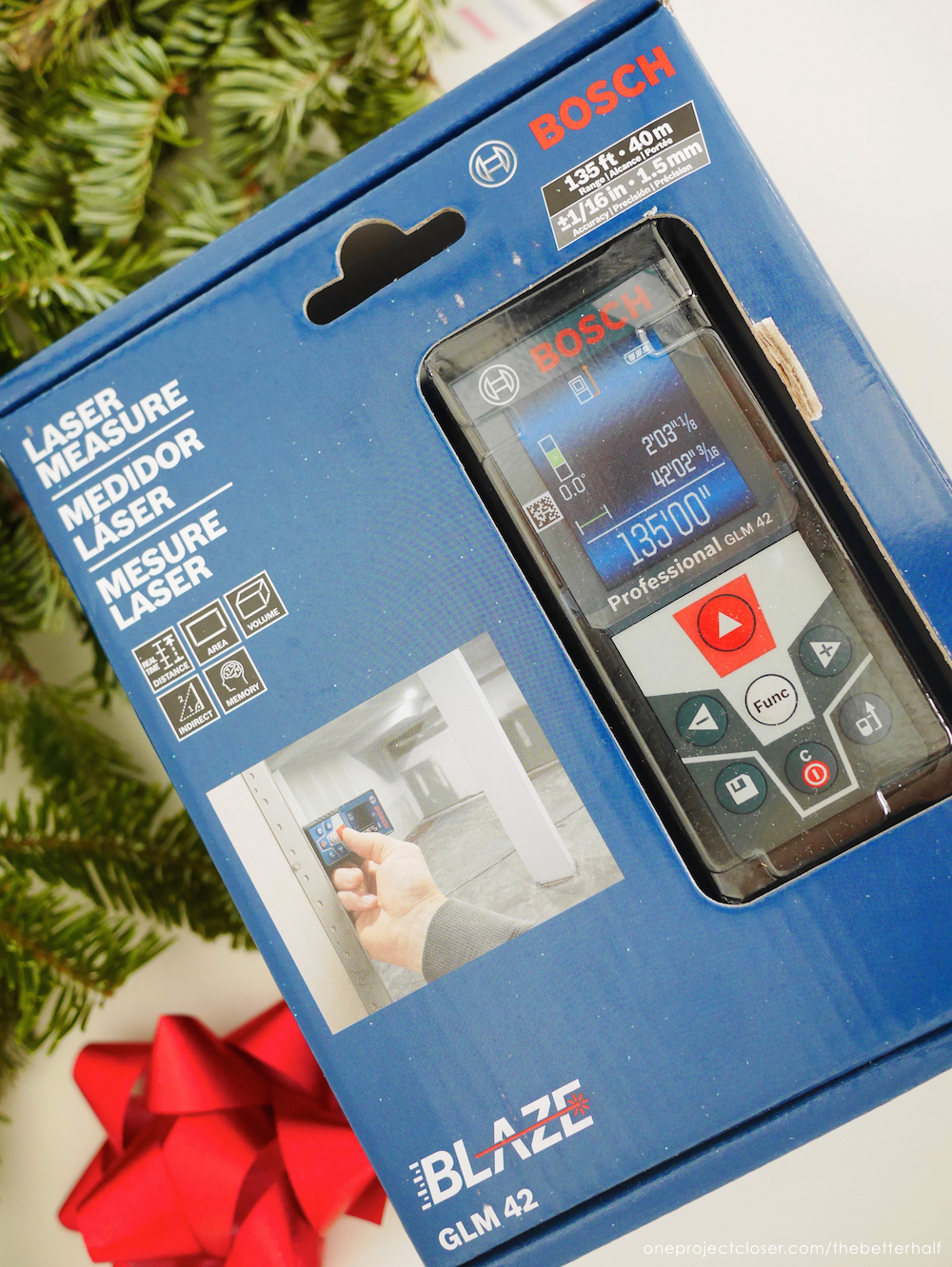 Bungee Cord Wrapping
I think this is a pretty fun idea, and even my girls were excited when they saw this one. Again, nothing difficult or time-consuming, but a great way to spice up the gift wrapping while also giving your tool-lover something practical. I used a flat bungee cord and it worked great!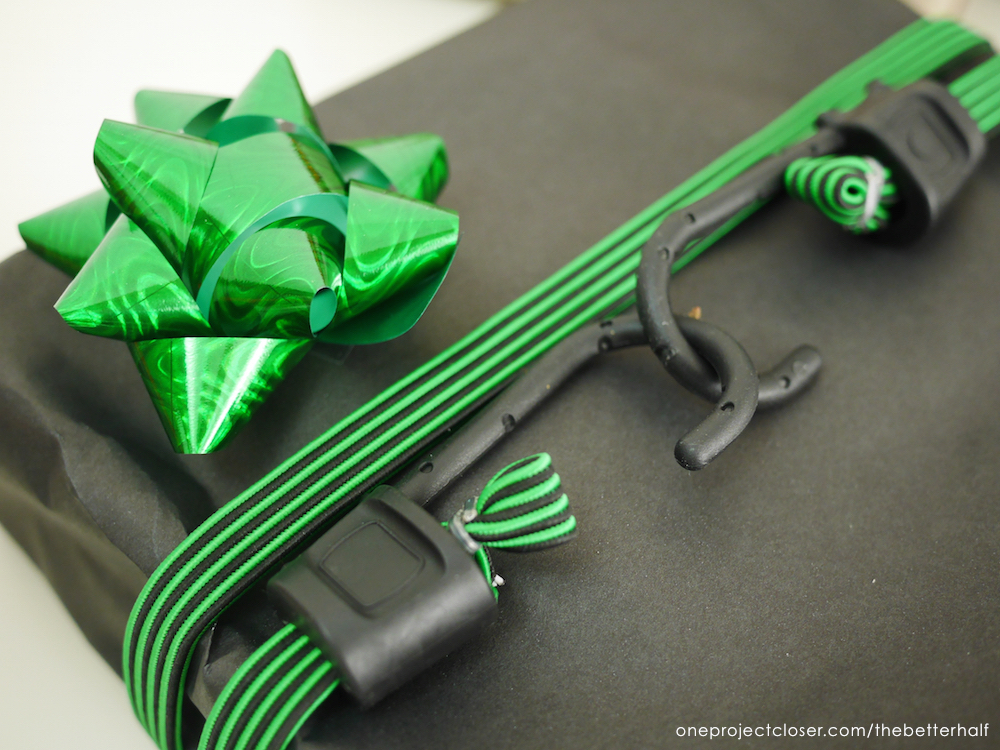 Husky Ratchet Tie-Down (4 pack)
These tie-downs are a steal and something the hubs is super excited for! The set includes four 1 in. x 12 ft. ratcheting tie-downs that are quick and easy to use. At only $9.97 this makes the perfect stocking stuffer.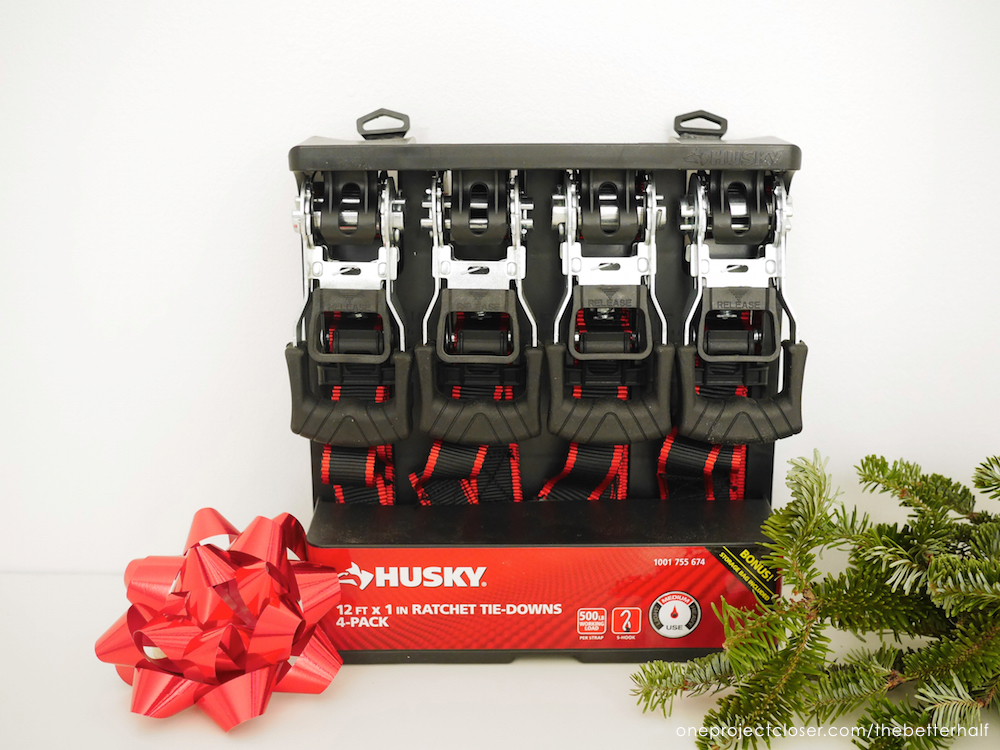 Polka Dot Nut Gift Wrapping
Polka wrapping paper is super popular – I think I have at least three different variations in my gift wrap collection. This is a fun take on a classic, using hot glue to attach the nuts to the paper. Any washers or nuts would do nicely and you can use what you already have on hand!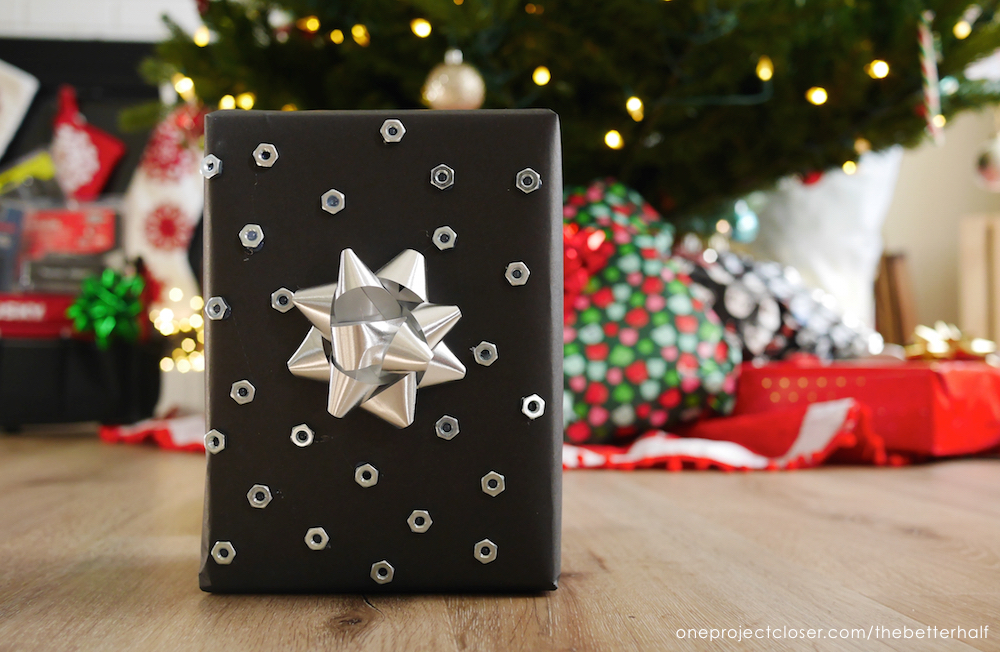 Chain Gift Wrapping
I guess you've caught on by now that most of these ideas are pretty easy to execute and not very expensive, right? I used Everbuilt #14 Black chain on this, which only costs 57 cents per foot (woot!). Once I wrapped the chain around the gift, I affixed the two ends together with a small bit of black string. Then, I attached the bow with hot glue, for extra staying power.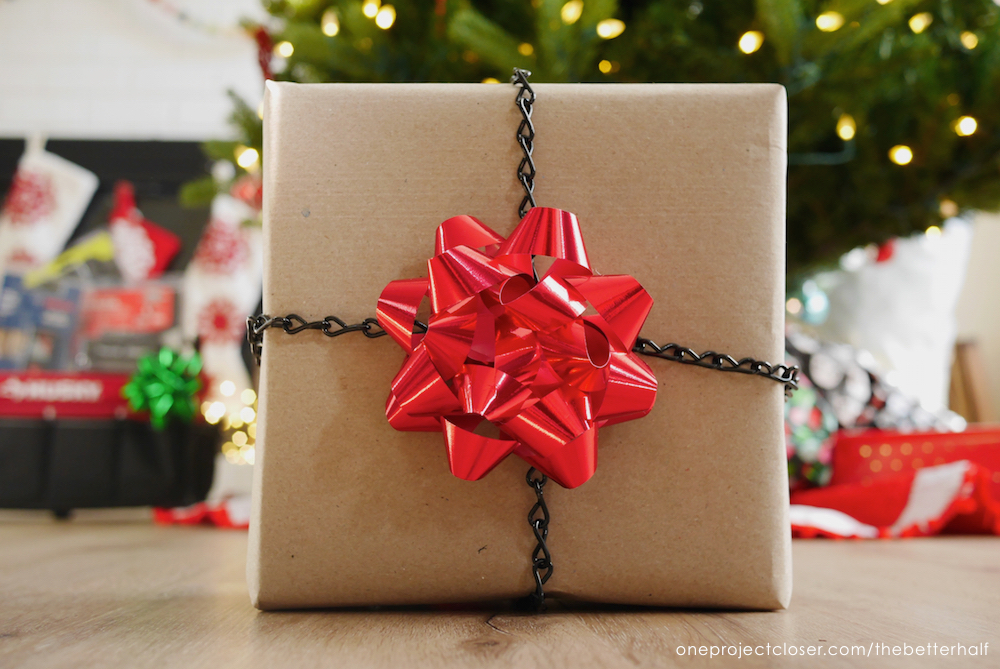 Bosch GLL 2 Self Leveling Cross- Line Laser
I'll admit it, I'm kinda the worst at using a level, mostly because they are big and heavy, and it too much when I'm trying to level something single-handed. But this Self Leveling Laser takes all the work out of it! Laser lines are visible up to 30 feet, which means this bad boy can handle the biggest of jobs.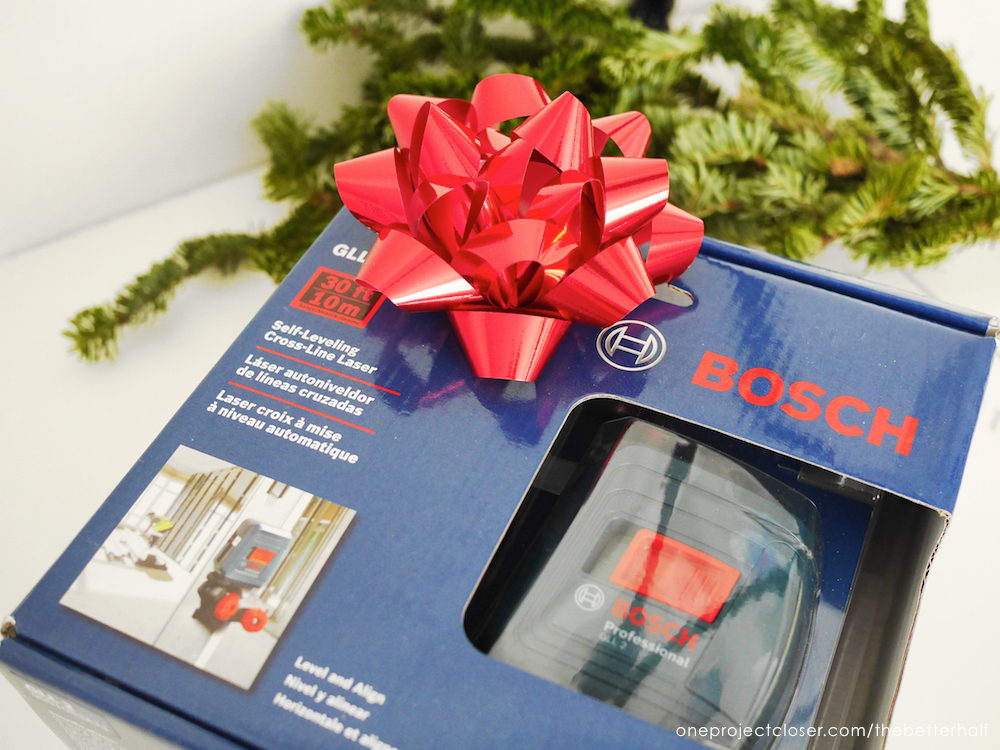 Home Improvement Hand Lettered Gift Wrap
So here's where things get a little more time-consuming, but its by far my favorite, after all, my goal in life is to hand letter all the things! As I thought about what I wanted to letter for my tool lover and I immediately thought of my favorite show as a child, Home Improvement. I even married my own Tim "the tool man" Taylor! Do you remember the neighbor, Wilson, whose face we never saw, who greets Tim with a cheerful "Hidey-ho, neighbor"? He was such a great character.
For this gift wrap, I used a #4 brush with Dr PH Martin's Black India Ink. If I were doing it as a piece of art I would have taken more time with the lines and consistency, but I like that it looks a little imperfect and was in love with how it turned out.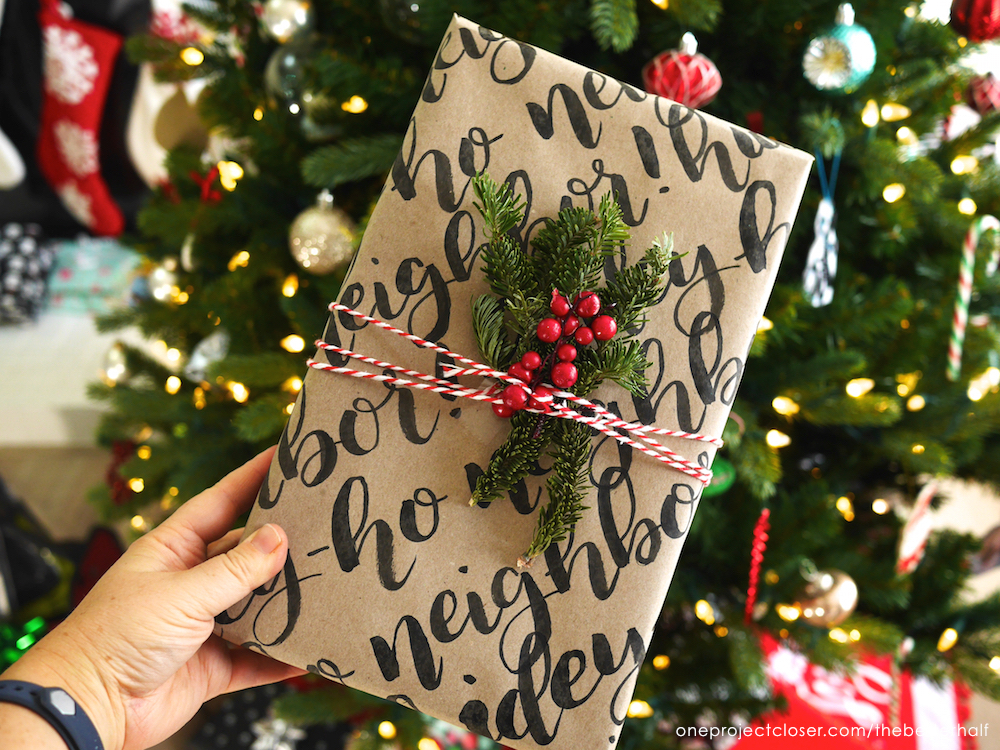 Tool Tote Gift Basket
So here's my problem with wrapping tools – sometimes they are freaking heavy OR too big to throw in a bag. But a tool tote, now that's where it's at! No work, no mess, just easy and big impact!
Husky 15in. Tool Tote with Rotating Handle
This Husky tool tote is great for the guy or gal who has all the tools because it's always great having an extra sturdy tote to carry tools from here to there! It's made of heavy-duty, water-resistant material so can be used in all-weather and all projects. It includes 10 reinforced external pockets and a large main opening making it a functional and organized accessory. At only $14.97, it makes for the perfect gift "basket."
Bosch GLM 20 x BLAZE 65ft Laser Measure
This laser measure makes for a great stocking stuffer at under $40. It measures distances up to 65 ft. and is accurate up to 1/8 in, and is perfect for on the go (Hello, next IKEA trip!)
Pin for Later!
Did you enjoy this project but don't have time to make it today? No problem! Pin it for later. 🙂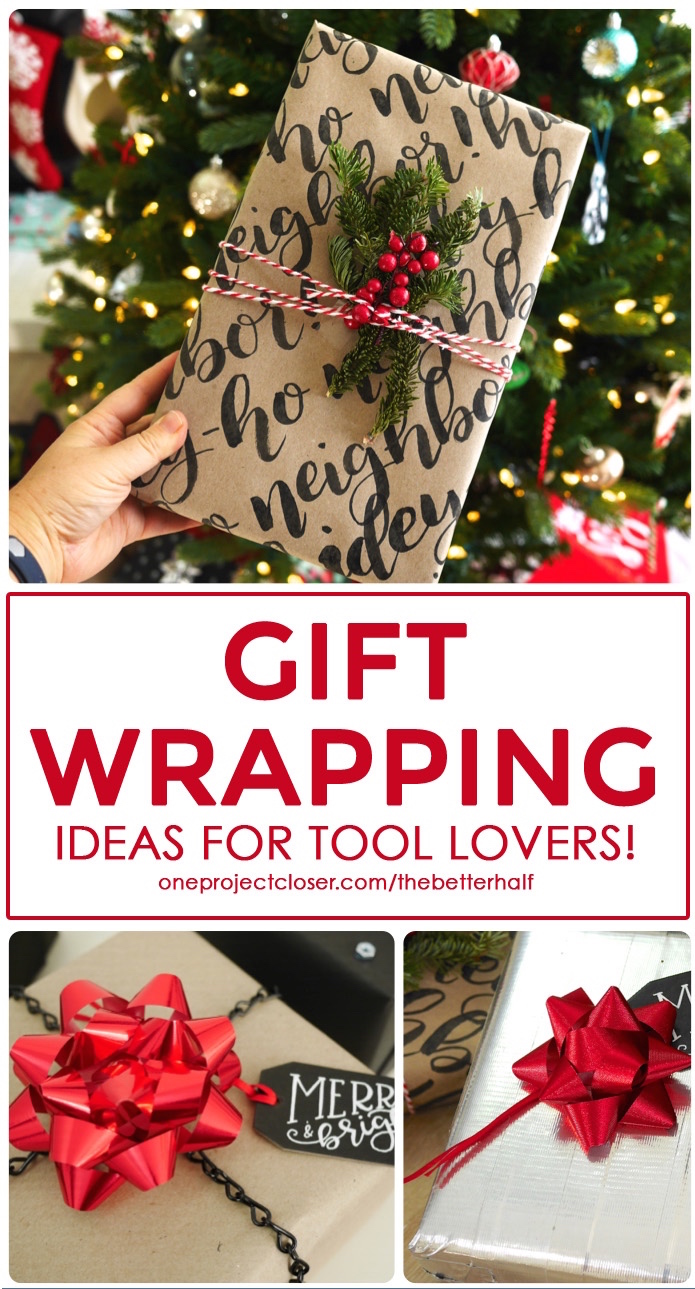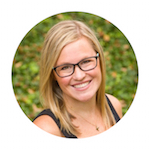 Jocie Hagan
One Project Closer
Come say hi on Facebook, Instagram, & Pinterest!