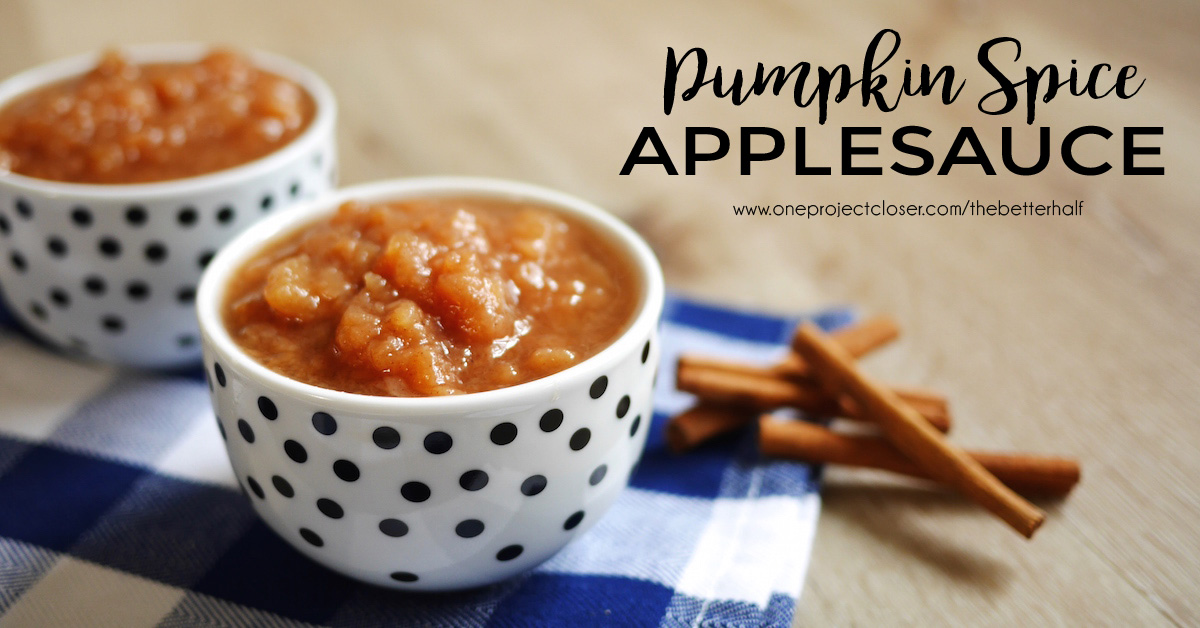 There is little in this world that my kids love more than applesauce, especially homemade apple sauce. A few weeks ago, we had brunch with my husband's family and my brother-in-law (henceforth referred to as "Uncle Nathan") made applesauce. The kids literally ate the entire bowl within minutes. Ever since they have been going on and on about Uncle Nathan's amazing applesauce. Enough already, right? I am not to be outdone by Uncle Nathan. So, this week at the farmer's market, I got a half bushel of apples – I always scoop up the "seconds" when they have them, which they did this week. They were almost perfect! So this was a particularly cheap batch of applesauce, spending only $3 for all the apples. High five, Me!
I love using my TJMaxx Apple Peeler-Slicer-Corer in the fall for making applesauce. It's the best ten bucks I ever spent. I was able to peel and cut a half bushel in under 15 minutes. Throw it all in the crock pot with some water and lemon juice. BOOM! Here comes Uncle Nathan's secret ingredient: Pumpkin Pie Spice. *head slap* Why didn't I think of that???? It's genius. Usually I just use plan cinnamon but this took it to the next level. Next time, I'm going to throw in a can of pumpkin and THAT is going to be legit.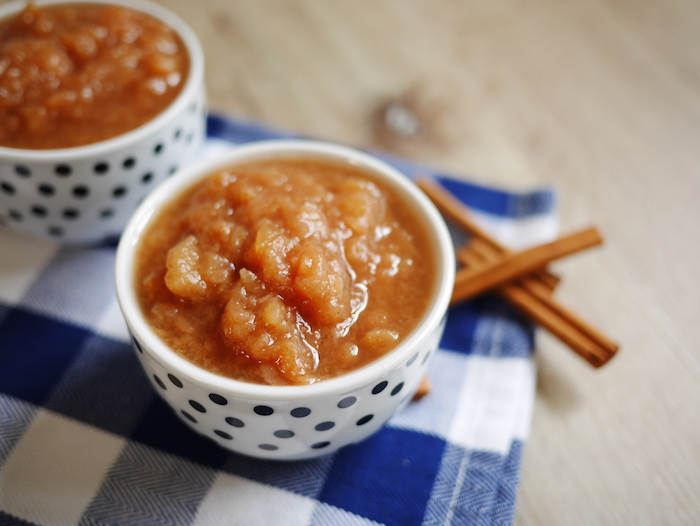 The applesauce has spent the day cooking in the crock pot, slowly building in sweetness and filling the house with the most delightful smells of fall. The children, thrilled that I've made applesauce, are sitting around the dinner table to enjoy dinner as a family. Everyone takes their first bite. My eyes filled with joy and anticipation as I just KNOW they are going to sing my praises. I taste it and DAMN, I'm amazing. It's amazing. After inhaling her giant bowl of warm applesauce, Lucy looks up and says "I like Uncle Nathan's better." Well, doesn't that just sum up parenthood. Yup, kid. I like it better when someone else cooks too. LOL Despite the digs of my 6-year-old, it really was a hit and everyone had another giant bowl for breakfast this morning. In fact, that's the only thing Lucy wanted to eat for breakfast. So I'll take my victory where I can get it.
Without further ado, here's an amazing and simple recipe for Crock Pot Pumpkin Spice Apple Sauce!!! I should tell you that I'm an "ish" girl. I rarely use a recipe and usually just throw things together to taste. Feel free to play with it a little because this is a recipe that's hard to mess up! Let me know how you like it.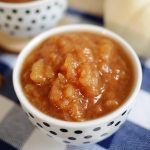 Pumpkin Spice Applesauce
2017-10-13 22:19:54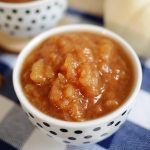 A fast, easy crowd please apple sauce recipe perfect for Fall!
Ingredients
12- 15 medium to large apples
1 Tablespoon Pumpkin Pie Spice
½ cup water
1 Tbsp. lemon juice
Optional: 15 oz of Pumpkin Puree
Instructions
Peel, core and slice apples and place in crock pot. Pour lemon juice and water over top of apples and toss. Cover and cook on high for 3-4 hours or low for 6-7 hours. Half way through cooking, stir apples and add spices and puree. Cover and continue cooking.
Depending on how smooth you like your applesauce you can reduce cooking time for a chunkier sauce, or extend cooking time for a smoother sauce. You can also use an immersion blender for a smooth consistency.
One Project Closer https://www.oneprojectcloser.com/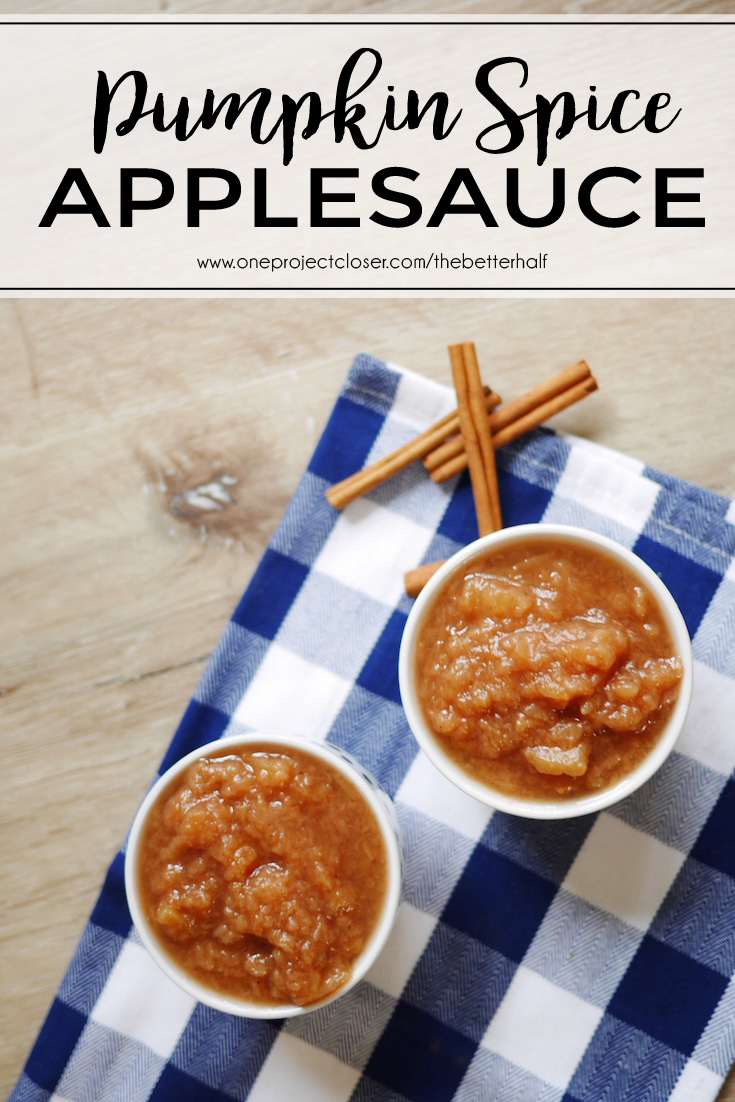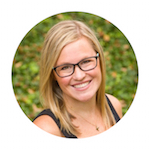 Jocie Hagan
One Project Closer
Jocie (pronounce jah-see) is an editor at One Project Closer. A blog almost 10 years strong, OPC is a DIY site for the whole family, sharing everything from how to refinish your had wood floors, to DIY necklaces and home improvement coupons. Jocie lives in Baltimore with her husband and blog partner, Ethan and their two super cute (and a bit crazy) kids, Isabella and Lucy. Blogger by day, mom by night, she enjoys crafting with the kids, beating everyone she knows at cards, and practicing hand lettering to relax.
Come say hi on Facebook, Instagram, & Pinterest!