Thank you so much for joining us again this month for another Dollar Store Design Squad, where we team up with a few of my bloggy friends to bring you Dollar Store inspiration. This month, I'll be sharing my Dollar Store DIY Hand Lettered Flip Flops! My girls love rocking flip flops all summer long and why not give them a pair for every outfit when it only costs $1. These custom flip flips make wonderful gifts for teachers, kids, and bridesmaids. They go great with my last Dollar Store project – Dollar Store Cinch Sack with HTV Tutorial PLUS a free SVG!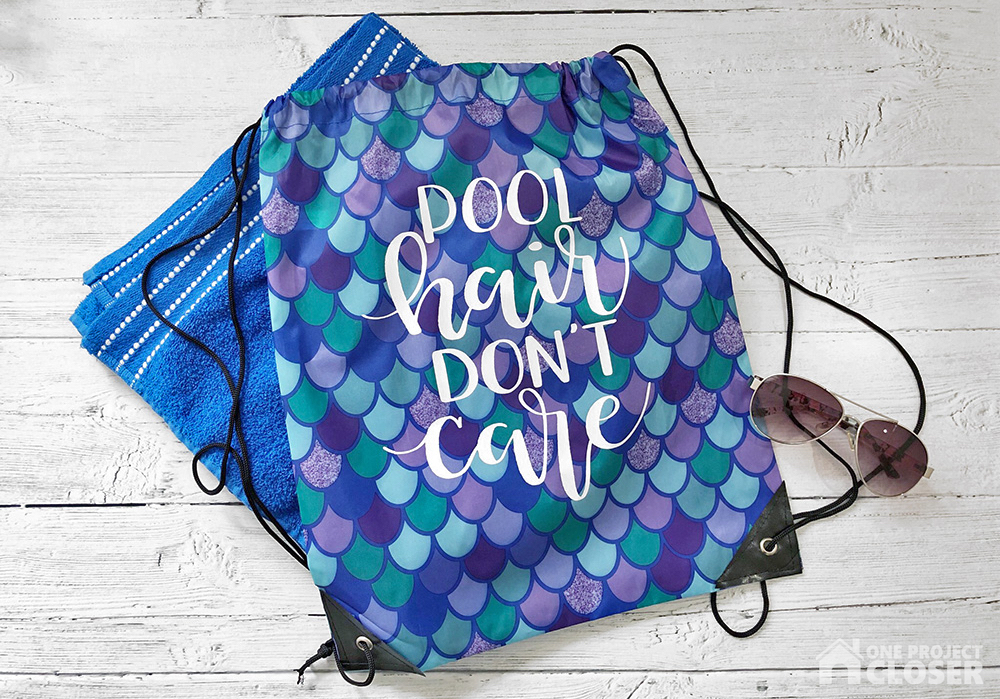 How to Make Custom Flip Flops
Make Time: 15 minutes
Cost: $1
Difficulty Level: Easy
Materials Needed:
Dollar Store Flip Flops
Rubbing Alcohol + rag
Acrylic Paint Pen
Chalk Paint Pen (optional)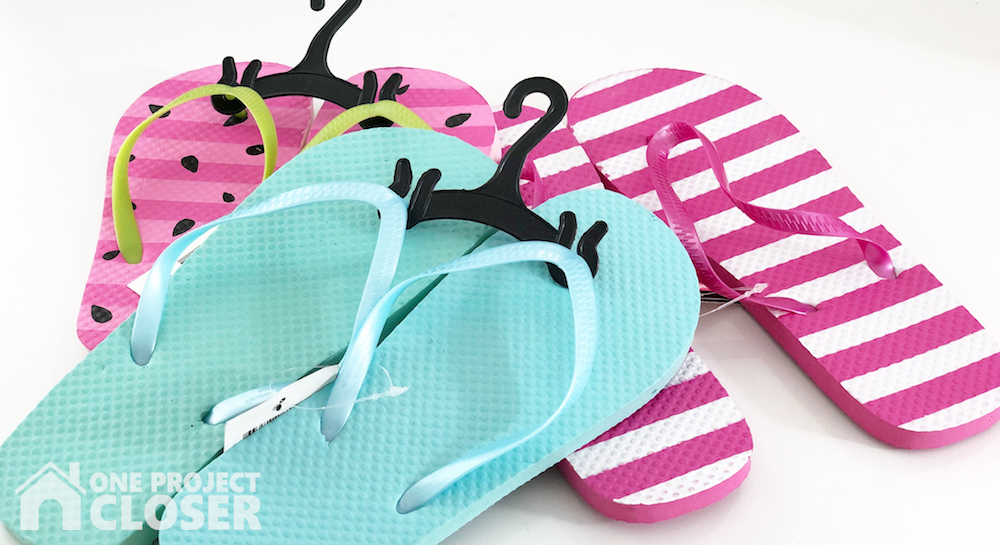 STEP ONE
Pick out your favorite colors and patterns of flips flops at your local Dollar Store. Our store had sooooo much options and they were all so cute! Once you have them home, give them a good cleaning with rubbing alcohol and a lint-free rag.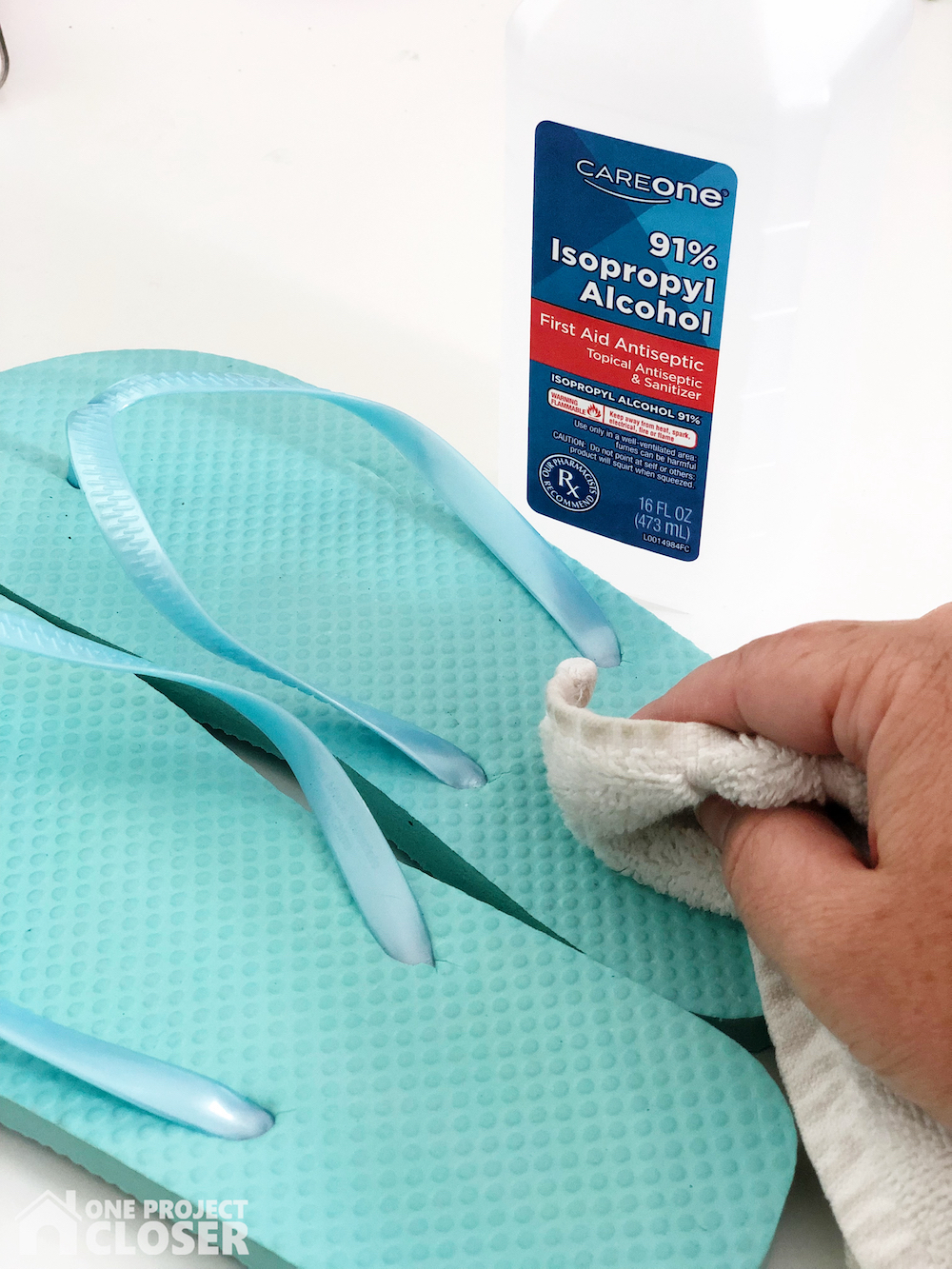 STEP TWO
Sketch out your design (or feel free to copy mine!). I took a picture with my iPad then drew my design over the picture using Procreate.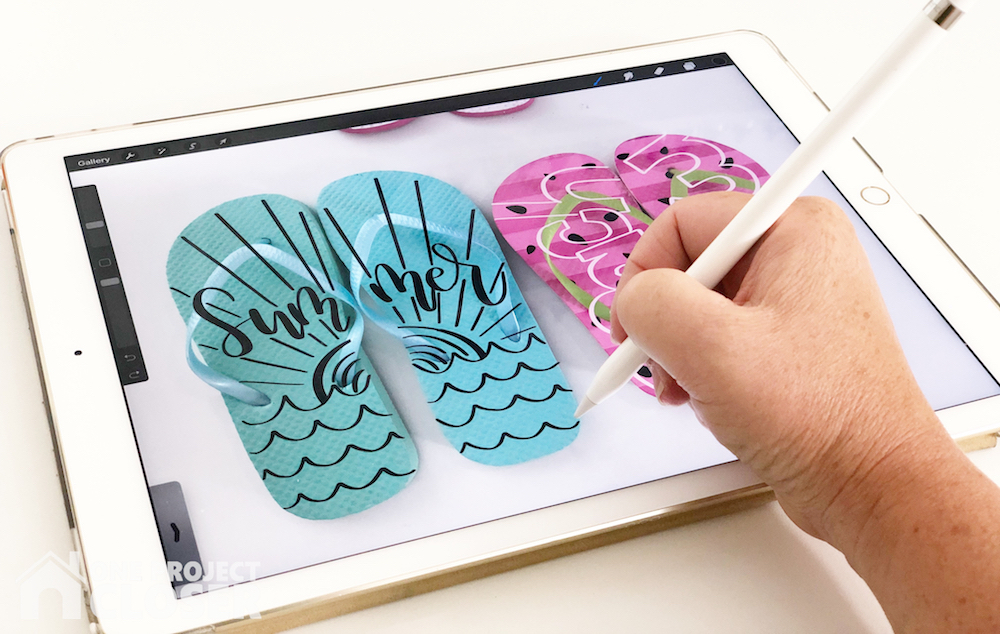 STEP THREE (optional)
I usually enjoy transferring my designs using carbon paper or chalk, but I found that difficult with the flip flop straps. So instead I drew simple designs and drew them free hand using chalk first so that it could be easily removed.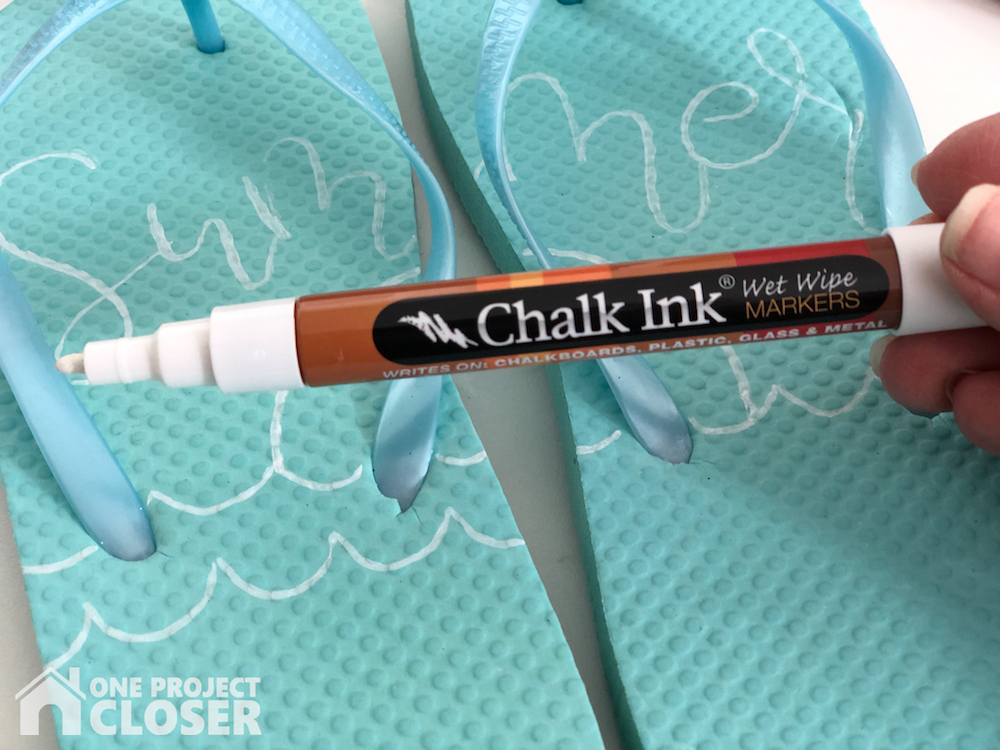 STEP FOUR
Once I had the design on the flip flops in chalk, I traced the design in acrylic paint pen. I really love Posca Paint Pens, but honestly, for this project, Painters Paint Pens, found at Walmart also work really great. The black paint only needed one coat of paint, but the white needed two or three.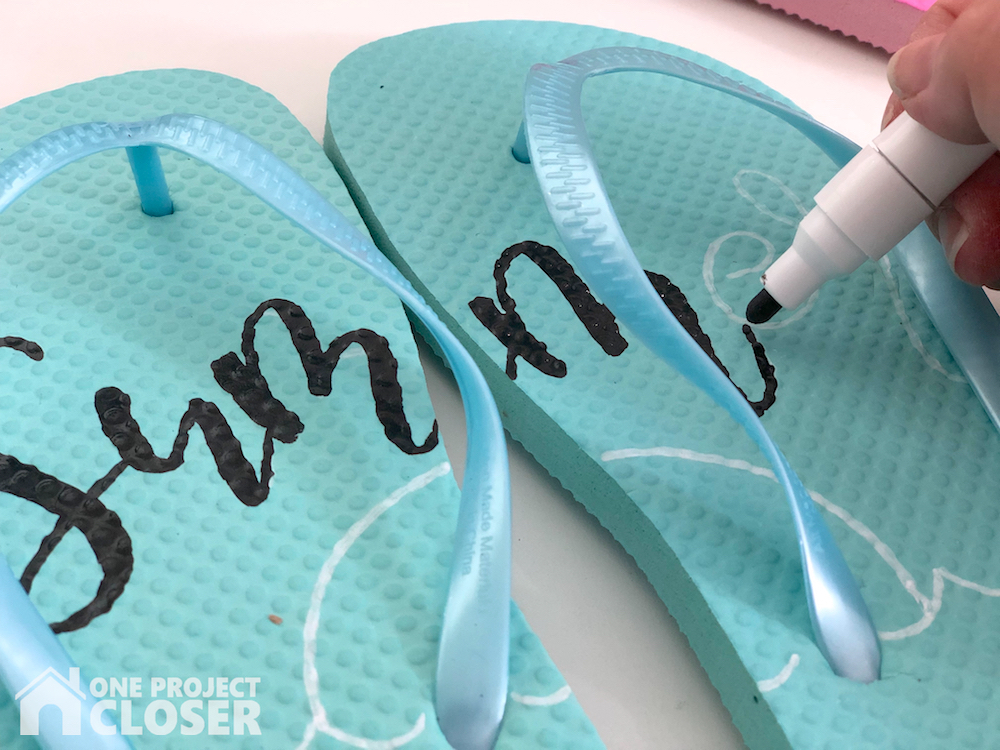 STEP FIVE
Lastly, I used Q-tips dipped in a little rubbing alcohol to remove any chalk marker that was showing. Let the paint cure over night before wearing and ENJOY!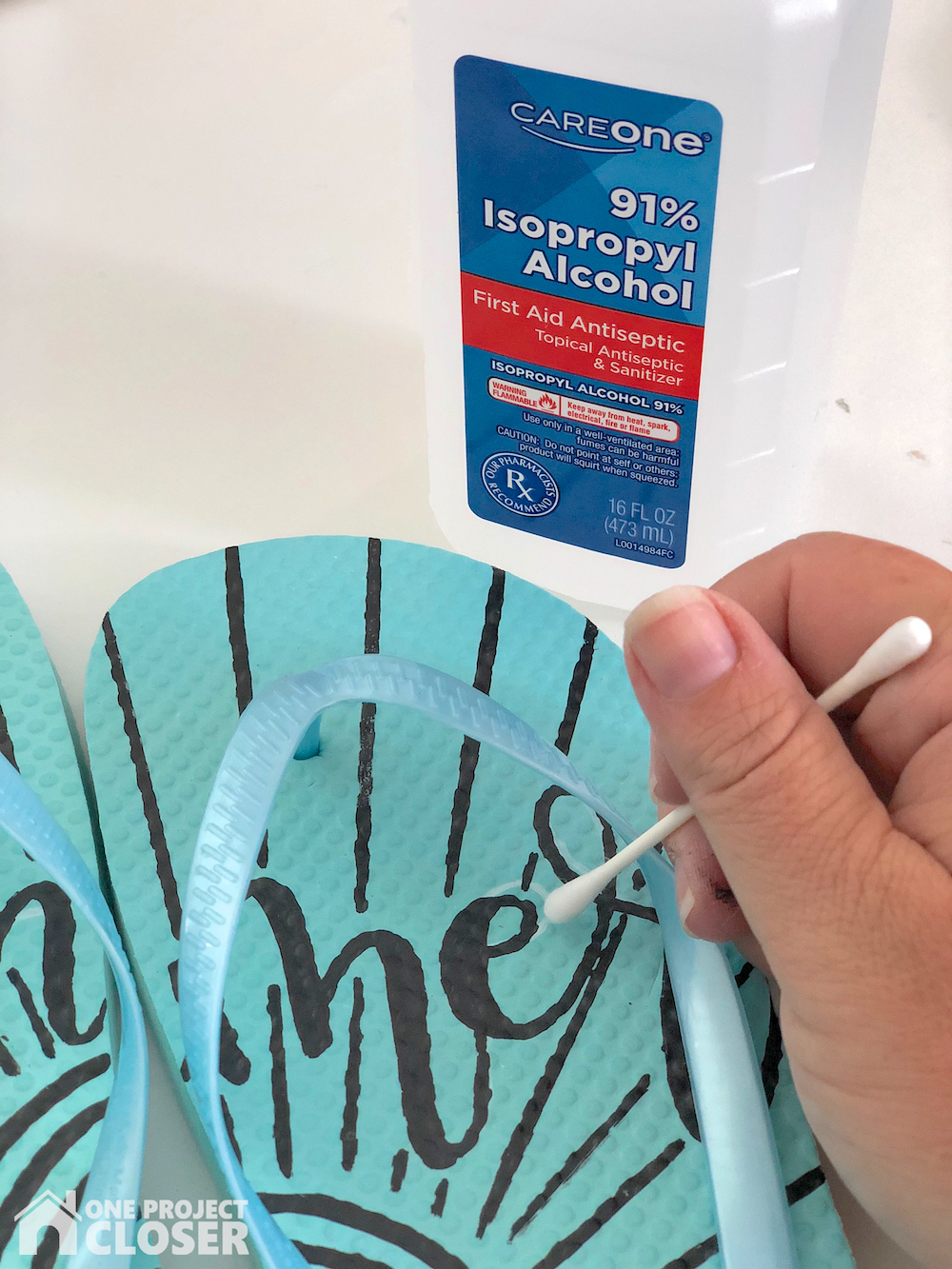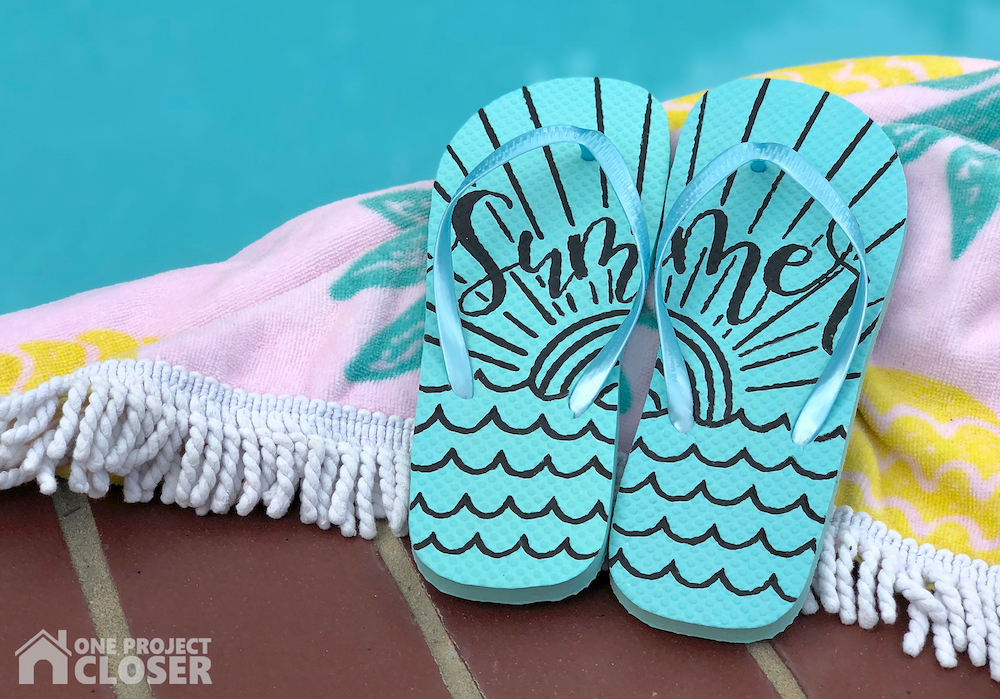 And another cute pair I lettered, but kinda wish I had it say "beach vibes" instead. Oh well. 🙂
More Dollar Store Projects
I hope you enjoyed my Dollar Store DIY Hand Lettered Flip Flops tutorial. If you're feeling inspired for Dollar Store crafts, we've got you covered with four other great projects!
Zinc Look Locker Baskets The Kim Six Fix
Painted Book Stacks Refresh Restyle
Hanging Solar Lights | Small Lanterns My Repurposed Life
DIY Hand Lettered Flip Flops One Project Closer
Colorful Snarky "No Soliciting" Sign The DIY Village
Pin for Later!
Love this Dollar Store Cinch Sack with HTV tutorial and want to share it with your friends, or save it for later?? Pin it!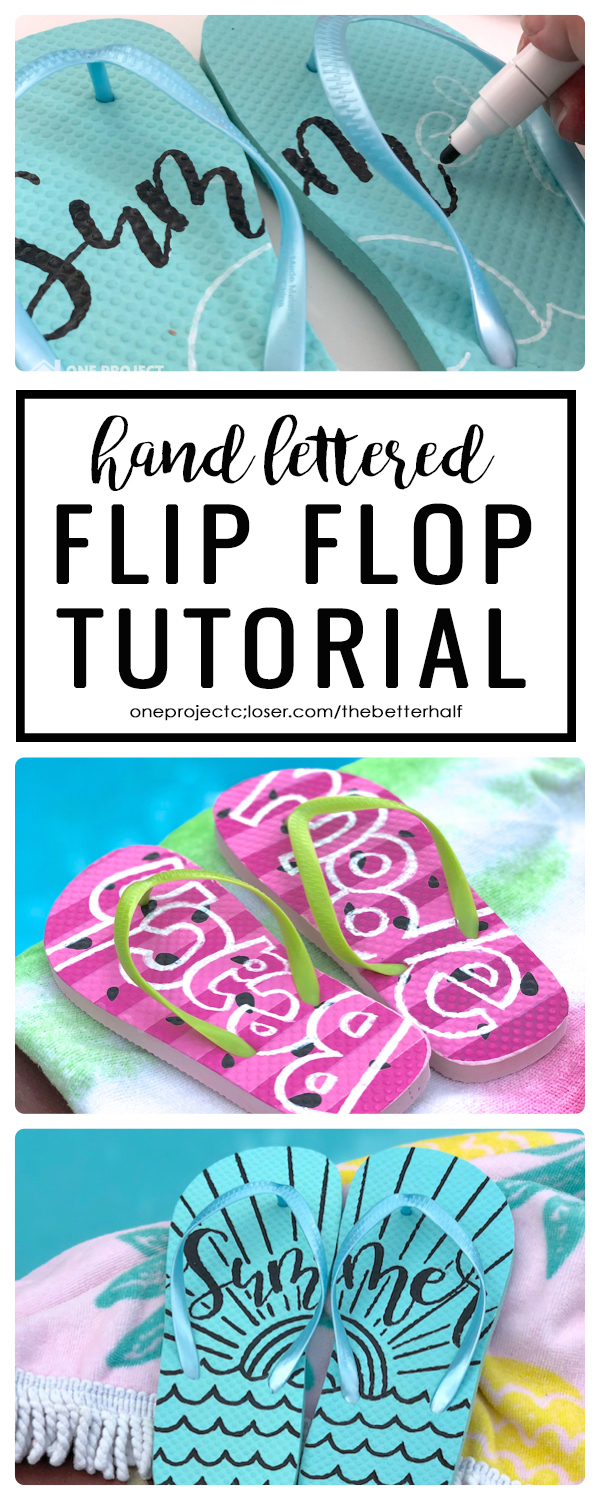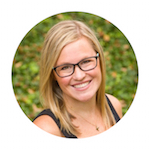 Jocie Hagan
One Project Closer
Come say hi on Facebook, Instagram, & Pinterest!

Want to learn to hand letter and make amazing, personal decor for your home?
Learn now with Busy Girl's Guide to Hand Lettering!
**Use the code HAPPY5OFF to get $5 off the course price**