This past year, I have tried to join the cool kids in making seasonal mantels. This is my very first Easter mantel and honestly, I've been so busy that I didn't put too much time into it. Haha!
All in all, it turned out kinda cute, plus I only spent about $20 in total! I used a couple of my 5 Minutes or Less Dollar Store Easter projects, plus a few other little crafts I made just for this mantel. My theme was bunnies and pastels – okay, not really a theme, it just ended being that way. Yeah, I'm fancy, and I know it. lol.
Paper and ModPodge Canvas
The first decor element I made was a ModPodge canvas at Liz, a.k.a. Naptime Decorator's monthly Craft Night. Liz made an amazing tulip grapevine wreath that you should totally check out.  I used my Silhouette to make the cutouts and then applied them to the canvas using my homemade ModPodge. It turned out really cute, but I was little worried it looked kinda baby-ish, but when using pastels and bunnies, its hard to get away from that.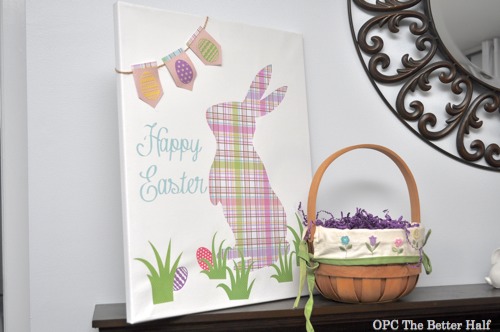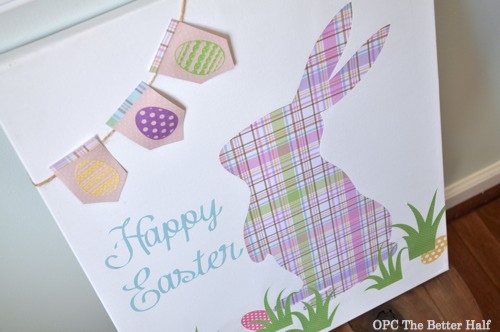 Framed Nesting Chicks
At craft night, I also made a little frame using left over scrapbook paper, twine, jellybeans, and cardboard. For the record, this one turned out wayyyy better than I expected – it started out looking a bit special.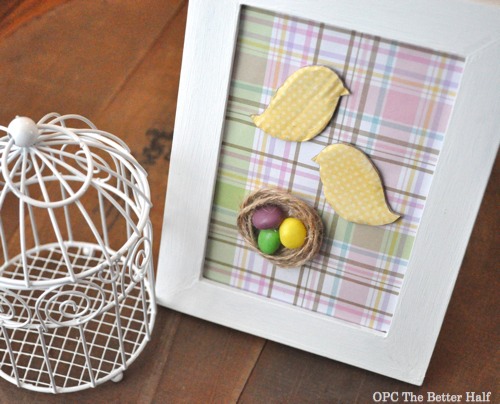 DIY Apothecary Jars
I added my Dollar Store DIY Apothecary jars to the mantel. One started out with jelly beans inside, but I got desperate during nap-time one day, and now it is home to colorful paper instead. lol.
Glittery Easter Egg Tree
The floor in front of my mantle is home to my $20 DIY rope vase that Izzie decorated with glittery eggs from the Dollar Store. This was by far the highlight of the mantel for Izzie. Although every time the girls brush against the branches, glitter goes everywhere. But everything looks better with glitter, right?
Birdcage with Ceramic Eggs
I also added some paper grass and eggs to my cute little Michael's Dollar isle birdcage. I love this the best!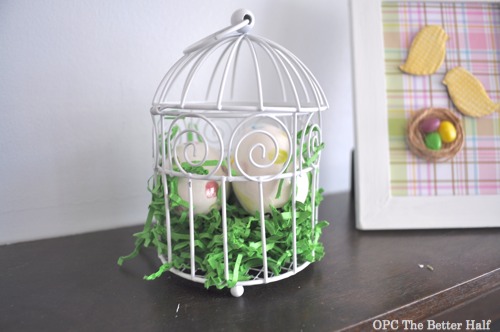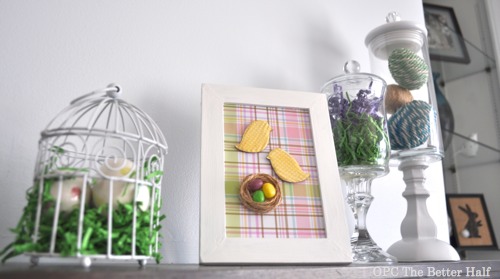 Burlap and Wood Banner
Finally, I had been stalling on making a banner, mostly because the excitement of the mantel had worn off and I have too many other projects going on! But, as I was LOVING the Target Dollar isle yesterday, I came across these cute glittery, wooden ornaments – 5/$1! Yes, please. 🙂 So I glued them to burlap squares, affixed them to twine, and called it a day. Not my most creative banner, but definitely the quickest and cheapest!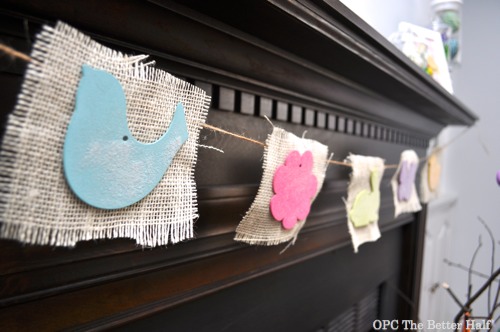 My Easter/Spring Mantel
And now, all together!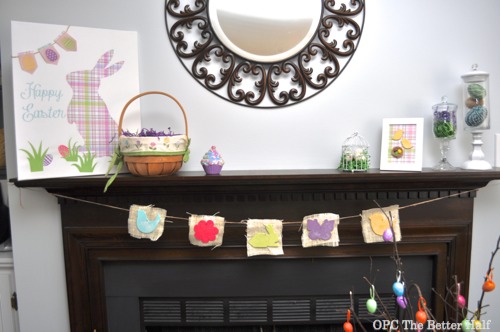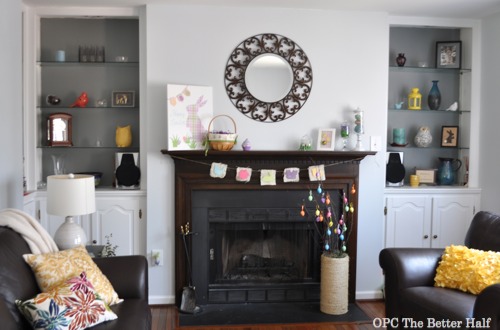 What do you think? What do you have on your Spring Mantel?
Thanks so much for following along on my Easter/Spring Mantel!