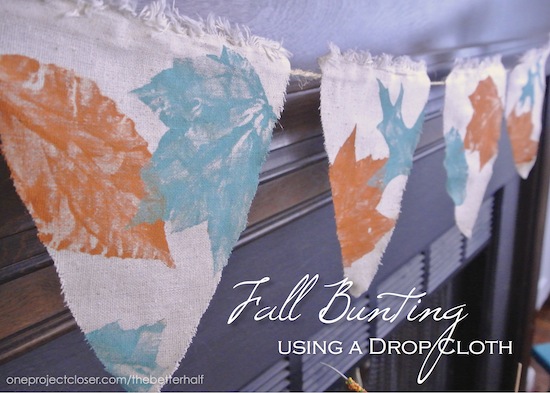 I know, it's not quite Fall and I'm already making drop cloth bunting. But, in all fairness, football season had started and really that should mark the beginning of Fall. Regardless, Fall is my favorite season so I couldn't stop myself from getting started.
Here was my mantel last Fall – I made another easy burlap bunting using scraps and craft paint. As you can tell, last year I hadn't painted or started my living room makeover, so decorating this year is going to look very different! 🙂
There was nothing wrong with last year's bunting, but I wanted to incorporate some of the blues in the room…also, I'm not exactly sure where my burlap bunting got to…probably in the bottom of the Christmas decorations bin. lol. So, I decided to make some new decorations for my "new" living room. This drop cloth bunting takes 5-10 minutes to make (not including the prep time for gathering materials) and costs very little to make.
Materials Needed:
Drop Cloth
Scissors
Multi-Surface Craft Paint
Paint Brush
Leaves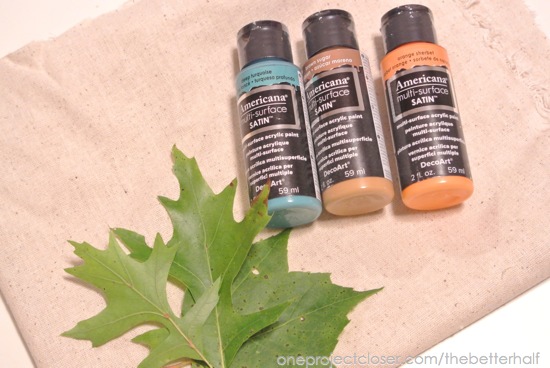 First, I went out and gathered a bunch of leaves, directly from trees. Do not use fallen leaves, they will be too dried out and will break.
Then, I cut out triangles from the drop cloth, leaving the frayed edge at the top.
Quick tip: I folded the material in half length-wise and cut a straight line from the bottom point to the side of the bunting. This is much quicker than tracing and cutting. You can even cut more than one triangle at a time.
Using multi surface craft paint, I painted a generous amount of paint onto the leaves.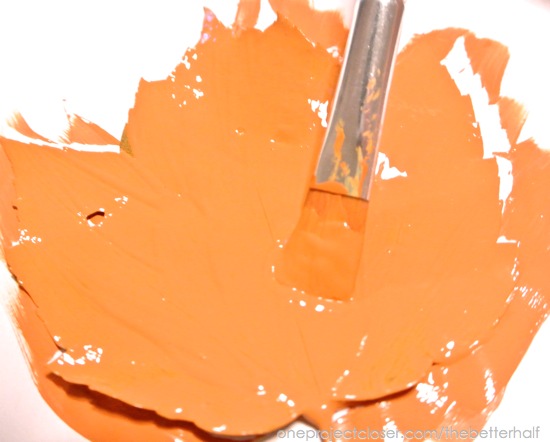 Then, I pressed the leaves face down onto the drop cloth triangles. I placed a piece of paper on top so that I could be sure to press down evenly.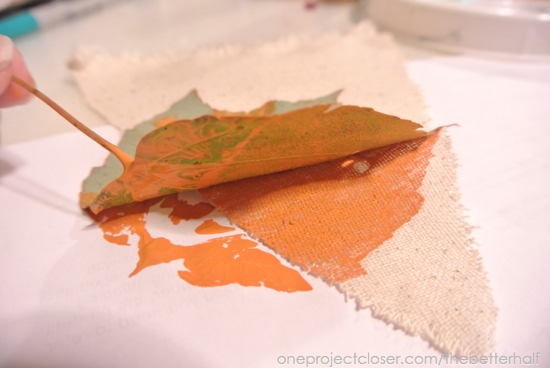 I used several different types of leaves and different colors of paint to create variation.
Finally, I hot glued twine to the back of the bunting and hung it on the mantel.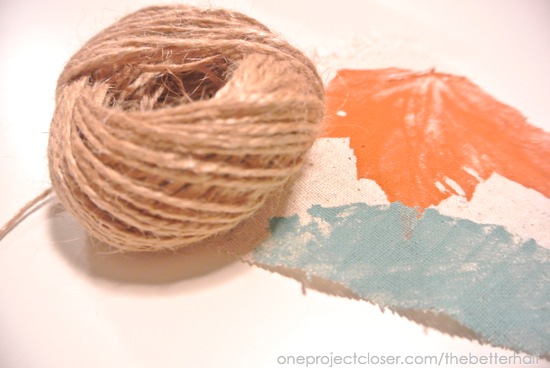 And here's the living room all spruced up for Fall!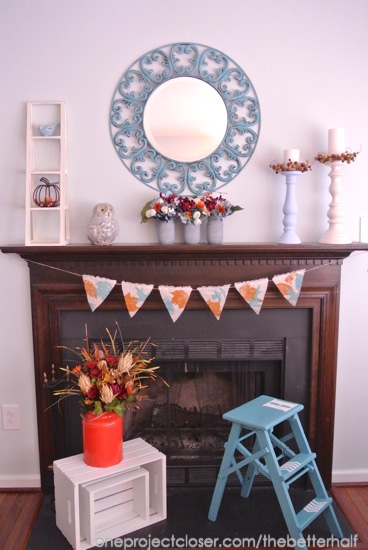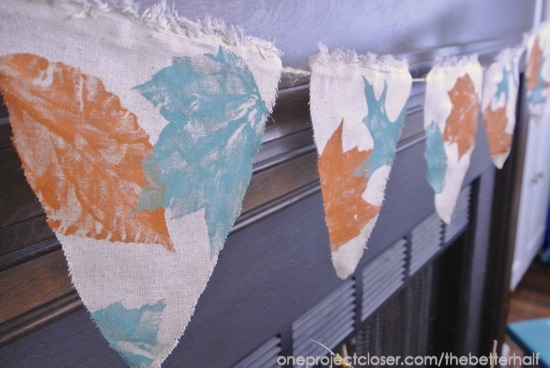 And a little orange and red added to my painted Ball jars.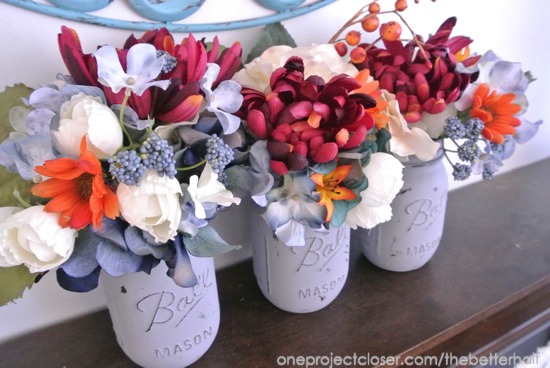 My friend got me this canister for my birthday and I added some flowers and placed it on top of my painted crates. So pretty!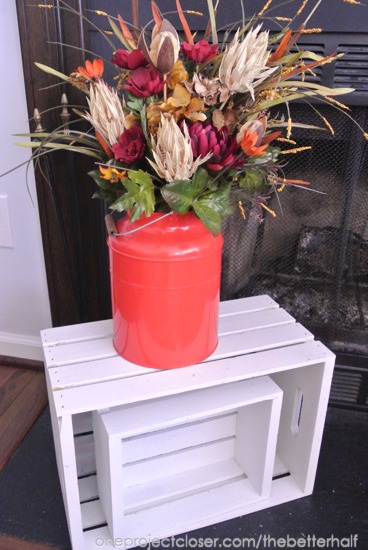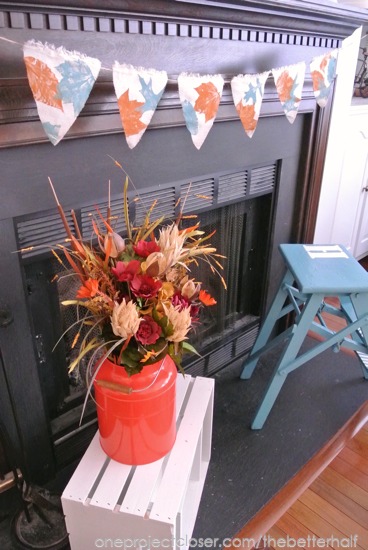 And a few more Fall accents…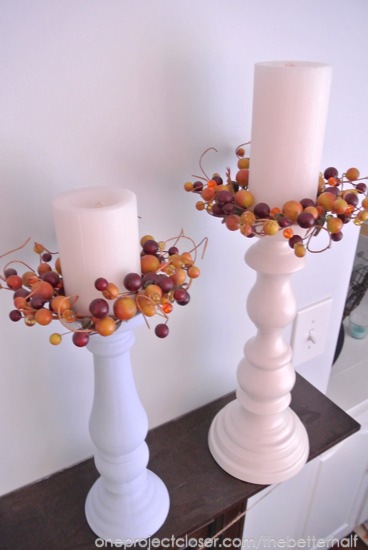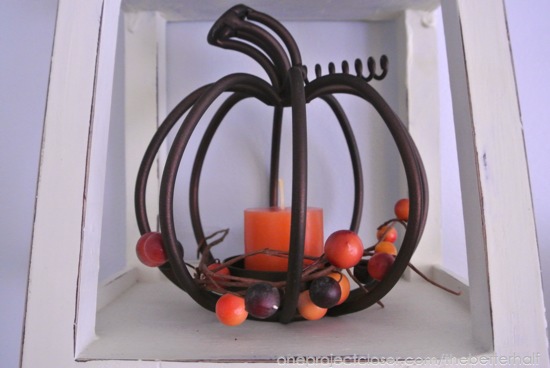 One more view of the whole room!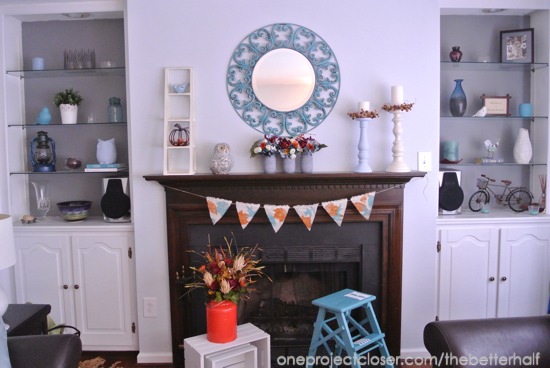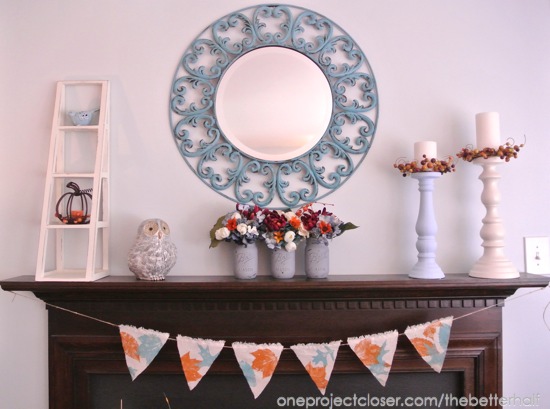 What do you think? How are you decorating for Fall?
As always, thanks for reading!