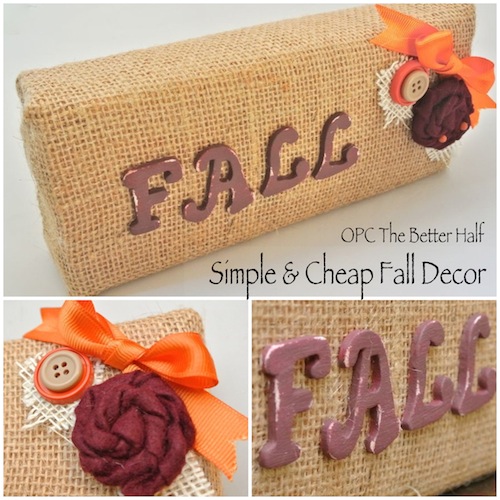 Last week you may have read that after 31 years, I decided to act like a grown up and create my first fall mantel. Yeah, so every other woman in my family has been doing it forever, and yeah, it's not that hard, but it sure did feel like kinda a big deal. I guess it wasn't that hard, and it does look really cute.
Burlap is kinda the essence of fall…okay, maybe not the essence. Most would say that pumpkin and football are the essence of fall, but burlap is so hot right now.
So I wanted to incorporate burlap into my mantel in a big way. I started first with a multi-color burlap bunting that I made. Super cute, although I learned later from a reader that my head is crooked, or the bunting is….  hahaha All fixed now! 🙂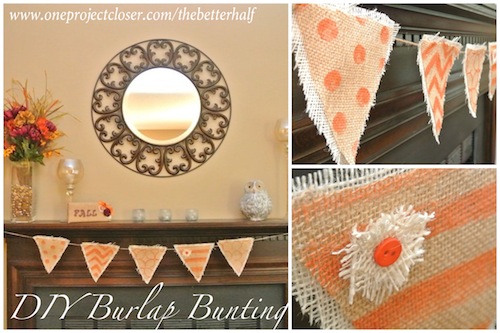 Next, I thought about doing a cute picture frame with burlap on the inside, maybe some flowers or a wooden letter. But….I couldn't find a cute frame the right size in the back of my basement (you know, that stock pile of frames I hold on to, just in case).
Instead, I decided to wing it using supplies I had on hand. I'm not sure what I should call it, but its a cute little decorative block that adds some color and festiveness to the mantel and it was SUPER cheap.
Fall Burlap Block
Materials:
2×4 block
Burlap
Wooden Letters
Fabric Flowers
Hot Glue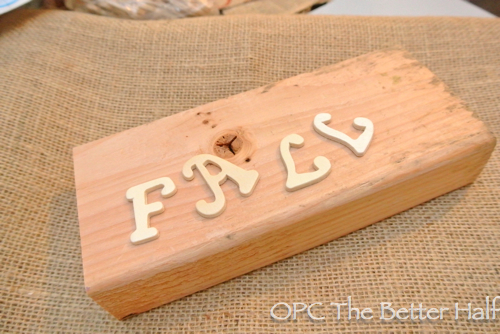 Step 1: Cut It Up
We have a ton of scrap 2×4 sitting around the workshop and Ethan was more than happy to bring me home a block about 8 inches long. It isn't a real pretty piece of wood – kinda dirty, knocked around, but perfect for what I needed.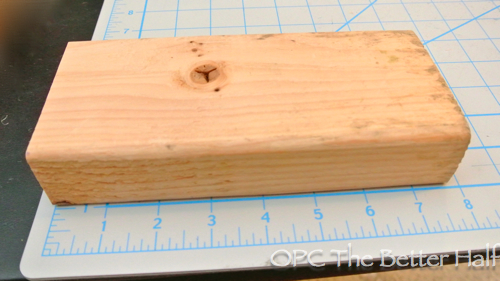 Step 2: Wrap It Up
I wrapped the wood with burlap, much like I would wrap a present. Instead of tape, I fastened the burlap to the wood using hot glue.
The sides were somewhat difficult to get to lie flat, but after A LOT of hot glue the sides looked taught and tight. 🙂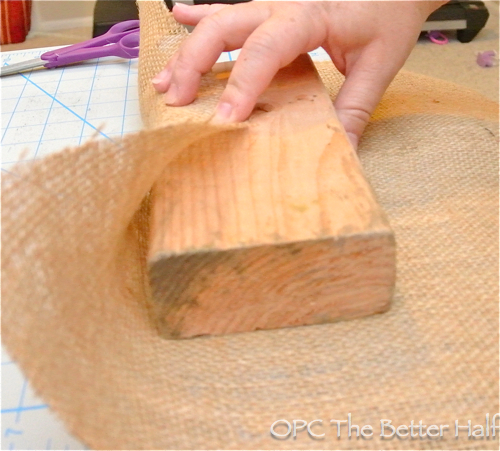 Step 3: Fancy It up!
Time to get creative! I painted a few wood letters left over from some letters I bought for our bedroom makeover, but they are a great thing to have on hand anyway.
Quick Tip: Use tape facing up to hold your wooden letters in place while you paint.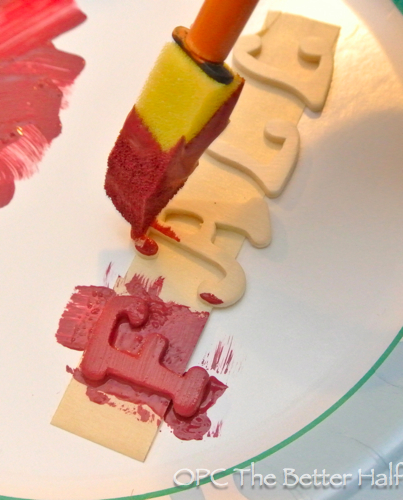 After the paint dried, I lightly sanded the letters to make them look more rustic.

Then, using hot glue, I added some fabric flowers, ribbon, contrasting burlap, and buttons for color and interest. Be sure to check out my awesome fabric flowers tutorial, if you haven't seen it.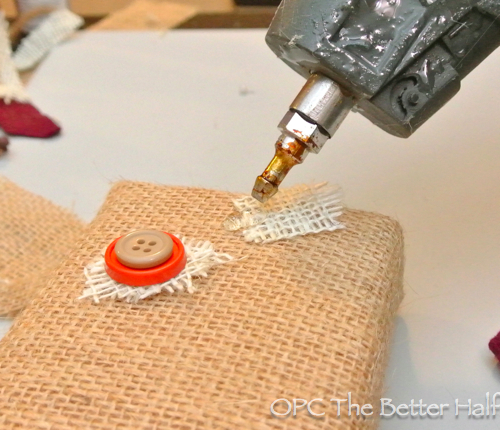 I used felt for the one flower and I love it. I'm not always a fan of felt flowers, but now that fall is almost here – bring it on! I also added some small orange balls to accent the flowers to balance the color better.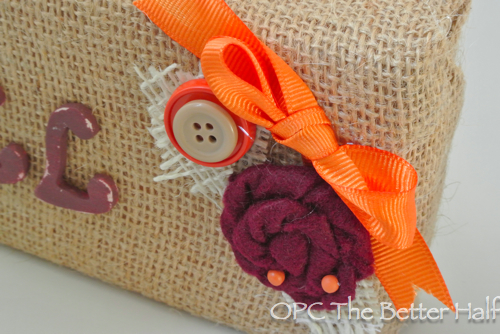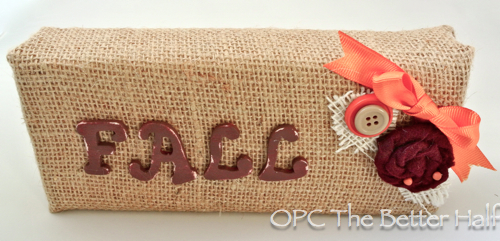 What do you think? What would you put on your burlap block?
As Always, thanks for reading!

Don't forget to check us out on Facebook and Pinterest!
We linked up at: Southern Hospitality, DIY Show Off