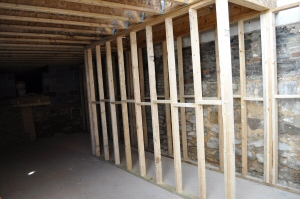 All modern American building codes requires fire stopping devices be incorporated in certain walls, floors, and attics. These fire stops prevent fire from moving too easily up a wall to the room above or into another area of the house. In modern residential home design, this is most commonly achieved in walls by continuous 2×4 or 2×6 top and bottom plates that separate studs from the joists above. In fact, it is so common, we rarely even think about the fire-stopping benefit of the design anymore. It seems like these top and bottom plates are there just to hold the wall in place.
This wasn't always the case. In old balloon framed homes, the walls ran straight up from the basement to the top of the house (such that you could look all the way down the wall from the attic and theoretically see the basement foundation). This is a disaster waiting to happen in the event of a fire, as a fire that starts in the basement cane race through the whole house in a matter of just a few minutes. During a remodel of this type of house, it is wise to install fire blocking at the top and bottom of the stud walls. Since the space between the studs may vary, each reinforcing fire block may need to be individually cut.
Fire Blocking Between Studs
In the Habitat house we worked in Baltimore City two weekends ago, the project team installed additional fire blocking in the studs of the house, by nailing a 2×4 half way up on the wall. This provides some additional fire protection benefits and will slow the spread of a fire up a wall by limiting the amount of oxygen available to the fire and forcing the fire to burn through the stud first. As we understand it, this additional fire blocking is actually part of the code requirements for town home renovations in Baltimore City.
Installing this type of fire blocking is relatively simple. Simply snap a chalk line across the studs about 48″ off the ground, and install tight-fitting 2x4s in between these studs.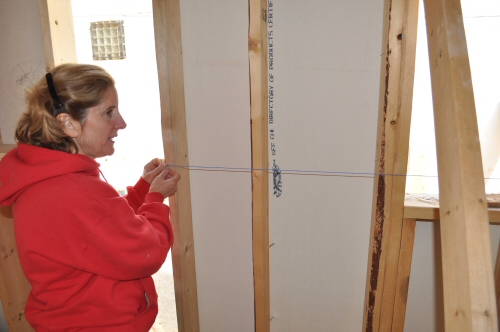 The 2x4s alternate above and below the chalk line to enable nailing.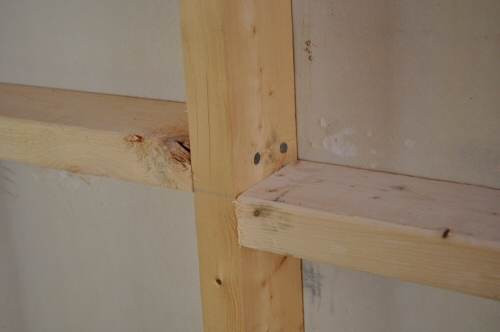 And here's what the finished product looks like: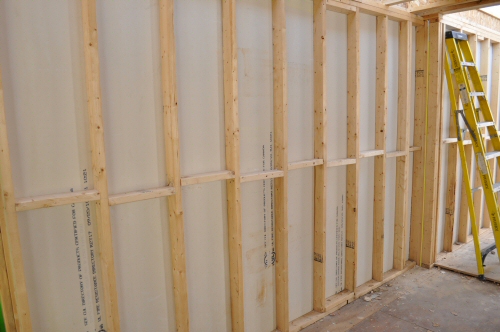 Fire Blocking Code
The code requirements for fire blocking vary by locale, whether the house is stand-alone or attached to other houses, whether the property is residential or commercial,  etc. You should check with your local building inspector to determine what code requirements are in effect for your area. Sometimes this can be achieved with a simple phone call to the office.