December's workbench construction project generated a good number of comments and questions from many of you. Based on the great ideas from the conversations on that article, we upgraded our existing bench and constructed two new benches for our workshop. We haven't had a chance to address all your ideas yet (there were many good ones!), but rest assured we continue to make improvements.
1. Bench-Mounted Power Strip
Icarus suggested adding a power strip to the benches for more convenient power access. This quick and simple addition made it much easier to manage the (ever growing) number of battery chargers we have lying around. We purchased a typical workshop-grade power strip from Home Depot and mounted it to the back side of the bench.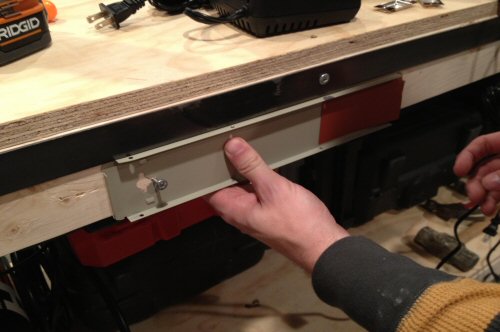 It's interesting to see that the inside of this power strip is a simple electronic breaker with three typical household receptacles mounted one next to the other, connected together with standard 14 gauge wire.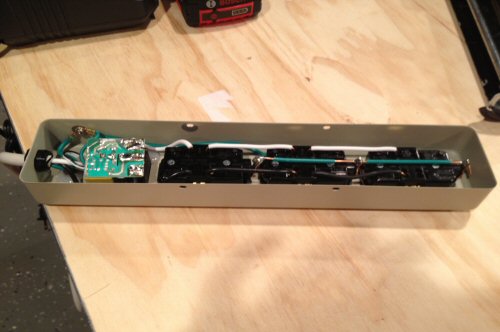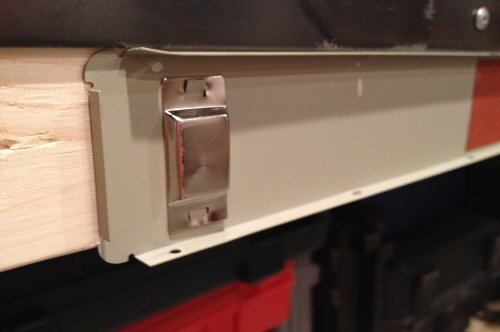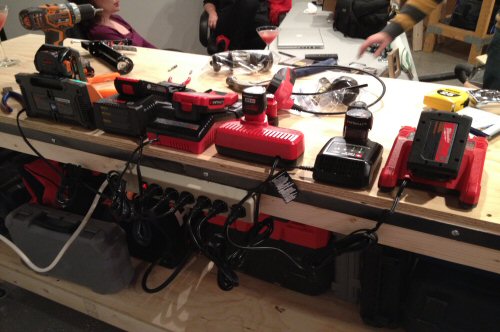 For benches that sit fairly snug against the wall, mounting to the back side of the bench might restrict placement. In our shop, the perimeter foundation keeps our mobile benches four inches off the wall already, so this posed no problem. An alternative mounting location would be on the surface of the bench (we don't recommend, in case of spills), or upside-down underneath the top shelf.
For convenient hand tool access, a front or side-mounted strip might also be desirable, but with outlets lining three sides of our workshop, convenient power hasn't been an issue.
2. Box Beam / Torsion Box Top Shelf Design
Sean @ SLS Construction chimed in almost immediately after we posted the original workbench article, suggesting we add further rigidity on the top shelf by gluing the top piece of 3/4″ plywood (which was already fastened with screws), and also gluing and screwing a second piece of 3/8″ plywood to the bottom of the shelf, creating a torsion box. This modification had such a huge impact on the stiffness of our work surface, we've decided to build all future benches using this technique.
Here's the pictures using this technique on the bottom of the top shelf of our second bench (the top is already glued and screwed to the surface). (Note: The bench is flipped upside-down for these pictures).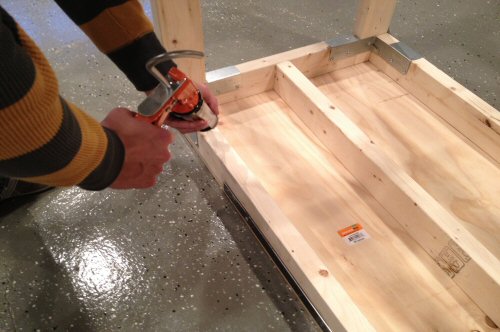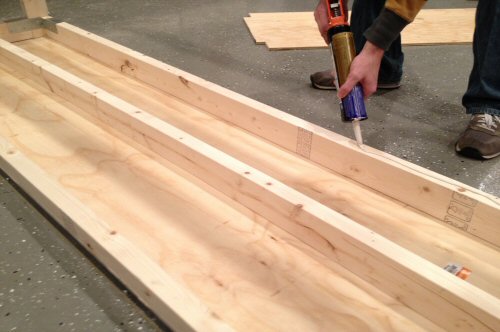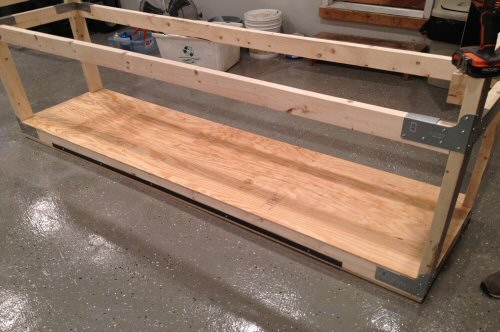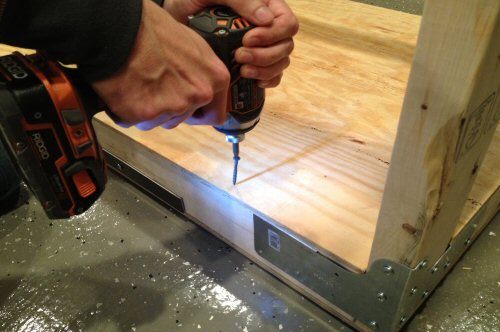 The strength and rigidity of the top shelf surface is notably improved over our first bench, and can easily hold my 250 lb. frame without any perceptible deflection. Now that's impressive!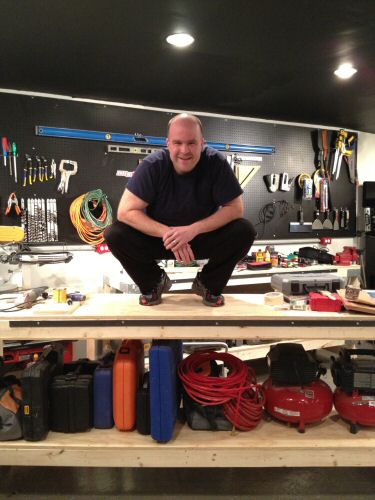 3. Mitre Saw Bench with Height-Matched Work Surface
After considering a wide range of designs for mitre saw and table saw workbenches (including ideas as elaborate as an adjustable-height table), we settled on a plan for building two mobile free-standing tables, one for each saw. We constructed the mobile table for our mitre saw first, designing it to put the mitre saw cutting surface at the same height as our other mobile benches. This allows the others to be used as support tables. Here's some shots of the new mitre saw table.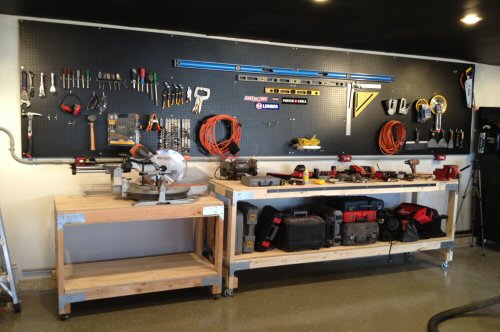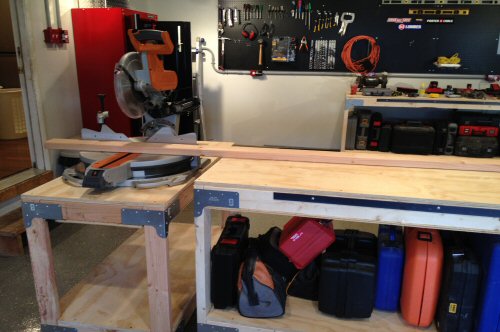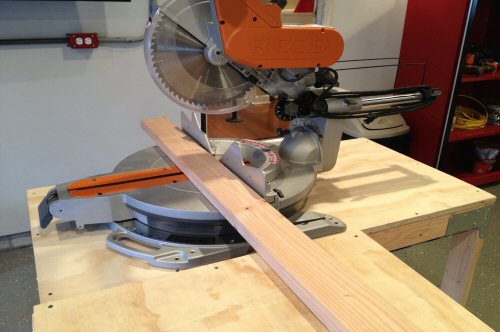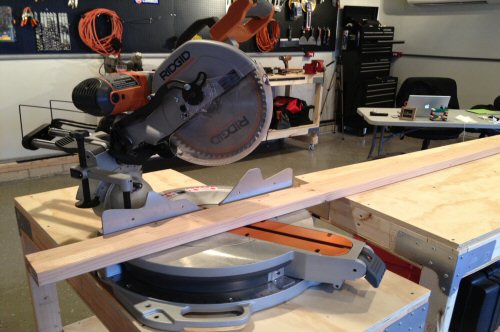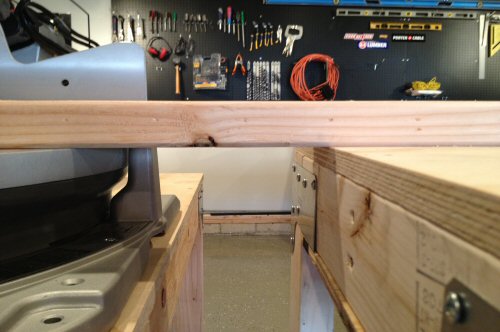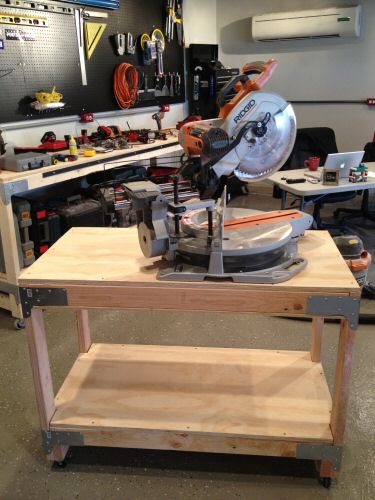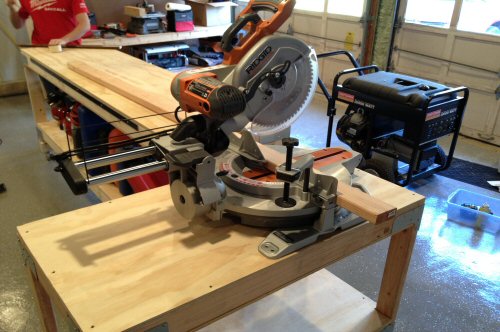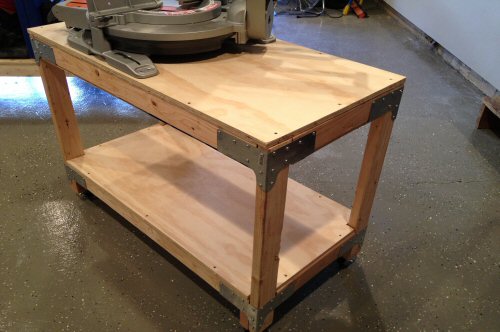 4. All Purpose Lego-Prototype Bench for Idea Generation
The holidays around our house always bring fresh Lego sets, inspiring all types of creativity in our boys. My son, Bear, decided he needed to build a bench just like ours using the spare pieces bucket. After a few iterations, I think he did pretty well. Clearly it's built with the torsion box design, because it's holding Ethan and me without noticeable deflection 🙂
(I'm the one with the fabulous hair. Ethan's still bald.)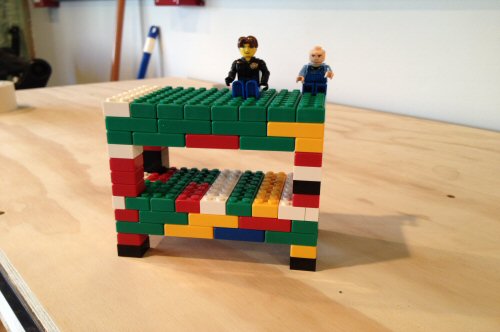 Up Next for Our Workshop?
We're going to build a fourth mobile table for our table saw using the same technique as we used for the mitre saw.
We're looking at various router table designs. With little experience in this area, we'll be looking to the experts for help.
Insulated garage doors are forthcoming. We're experiencing biting cold weather here in Maryland, and our old wooden doors just aren't cutting it anymore.