This weekend we built the first of four heavy duty workbenches for the OPC workshop! This project was very simple, and the design works not only for a workbench (as we're using it), but also for sturdy storage shelves in a basement or garage. We built a two-shelf bench, but this design can be easily modified for three or four-shelf models.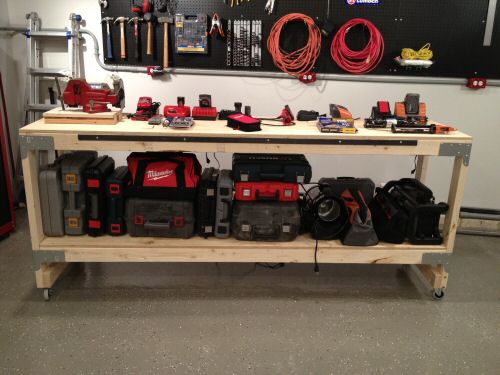 Our goal for each workbench is an inexpensive, free-standing, movable table that can support a lot of weight (400+ lbs. total), with no perceptible deflection along the entire 8′ length of the upper shelf. We intend to use the lower shelf for tool storage (where deflection issues are less important), and the upper shelf for a combination of storage and work space (where deflection issues are more important).
All of the materials for this table came from our local Home Depot, and we spent a little over $120 total. After getting everything to the shop, it took about three hours to cut the wood and assemble the parts.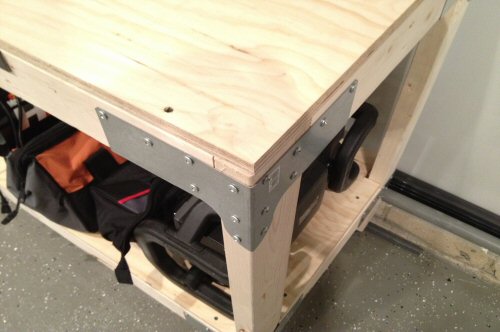 Design Overview: The general plan for this workbench is to create a reinforced frame of 2×4's with a lower and upper plywood shelf. This might not sound very original, but I'd challenge you to find a sturdier design at this price point. The directions we provide build a workbench with a shelf measuring 2′ wide x 8′ long x 40″ tall. We strongly suggest keeping the width and length the same, because then you'll need only one sheet of plywood, and you'll minimize the number of cuts.
Materials List
Here's the shopping list. All the materials can be found at your local home improvement center.
(1) sheet of 3/4″ sanded plywood
(9) 2×4's
(8) Simpson rigid tie connectors (see below)
(200 count) #8 x 1-1/4″ screws
(4 count) 3″ screws (see below)
(2) 6′ flat, iron bar (see below)
(1) tube of heavy-duty construction adhesive
(4) 3″ locking casters (150 lb.+ rating per caster recommended)
Plywood: We chose cabinet grade 3/4″ plywood for the surface. Remember, 3/4″ plywood is actually 23/32″ thick, and that's how it's listed in the store. Cabinet grade plywood provides a relatively smooth surface that will be mostly free of splinters. At 3/4″ thick, it will easily absorb deflection over a 12″ wide span. Look for a sheet of plywood with no damage or marring.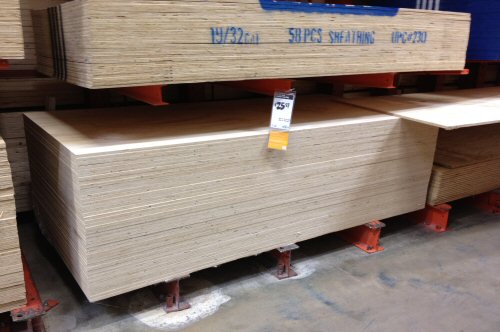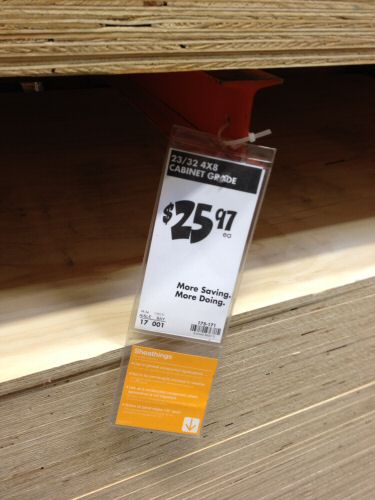 We also decided to let Home Depot rip the sheet using their panel saw rather than cutting it ourselves. In our area, both Lowe's and Home Depot will cut a sheet of plywood twice per sheet, free of charge.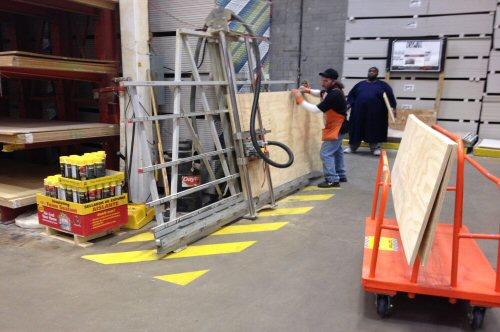 Simpson Ties: Simpson ties are usually found in the metal building brackets rack. These rigid tie connectors are used to secure two wood members (forming a 90° corner) to a vertical post. If that sounds confusing, just imagine three 2×4's intersecting to form a corner.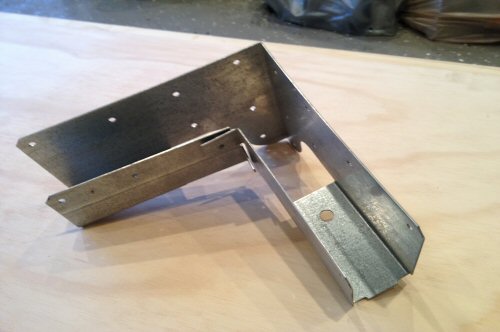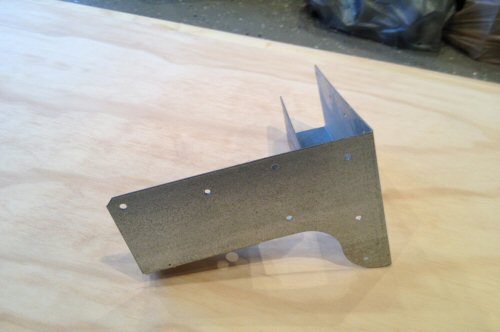 Screws: Make sure the screws you select have a large, flat head that will sit tightly against the Simpson ties without going through the pre-drilled holes. These Simpson ties are designed for #8 screws, which were sold in a rack right next to the ties.
Flat Iron Bar: The flat, iron bar is a thick strap measuring approximately 6′ long x 1″ wide. We used two bars on the top shelf to improve the horizontal rigidity of our workbench. It can be found with other pieces of angle iron at most home improvement centers.
Tools
Drill/driver
Impact driver (if not available, a drill/driver will suffice)
Metal drill bit (for drilling the reinforcing strap. If no straps are used, this isn't required)
Miter saw (preferable for cutting 2x4s, although a hand saw or circular saw would also work)
Jigsaw (or a hand saw)
Step 1: Cut the Lumber to Length
Like I mentioned, we had a Home Depot associate rip the plywood sheet in half lengthwise, creating two 2′ x 8′ pieces. Almost all of the remaining cuts involve trimming 2×4's to the appropriate length.
Here are the 2×4 lengths you'll need:
(5) 93″ for the lengthwise supports
(4) 17″ for the width-wise supports
(4) 36″ for the legs
(2) 24″ for the caster supports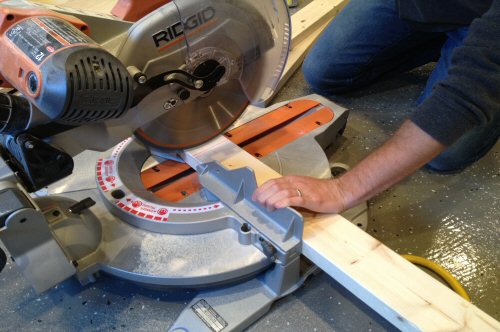 Tip (Updated 1/15/2012): We've begun building workbenches for specific tools (like our miter saw), and we have adjusted the leg height so that the top of miter saw cutting surface perfectly matches our other workbenches. This is beneficial because now any of our workbenches can act as an infeed or outfeed support. For this an other workbench ideas, check out our four workbench mod suggestions.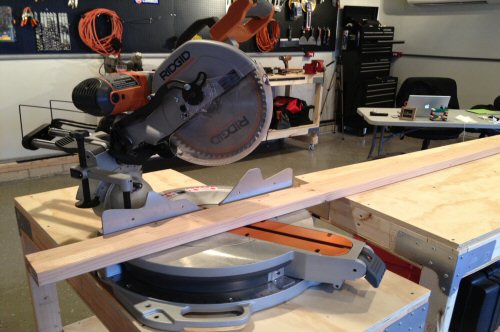 Step 2: Add Reinforcing Iron Supports
Our biggest complaint with many DIY workbenches is their limited vertical rigidity. Most other workbenches will sag in the middle, because it's difficult to support an 8′ span without some deflection. Furthermore, adding extra width-wise members does not increase vertical support over the entire length. To address this problem, we used the flat, iron bars to reinforce two of the lengthwise 2×4's.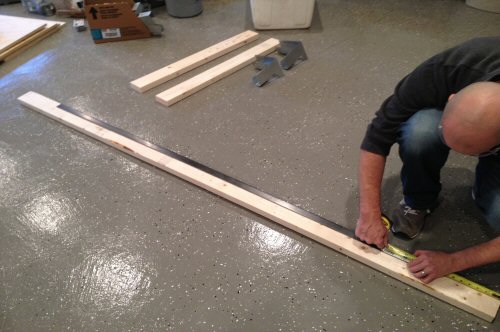 Using a metal drill bit, we drilled five pilot holes through the iron.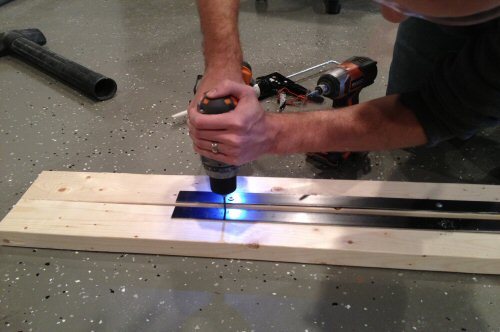 Next, we put down a bead of Liquid Nails adhesive.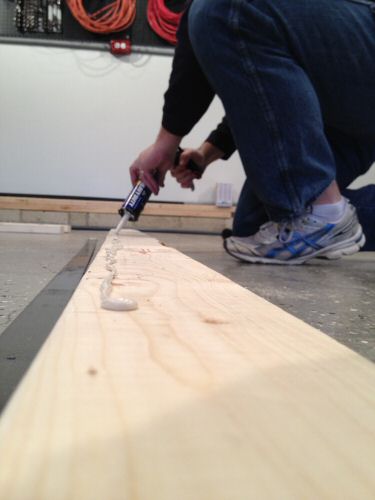 We followed that up with five screws, keeping the iron flush with the edge.

Step 3: Build the Workbench Frame
It's time to start assembling the frame, and we began with the workbench top (rather than the shelf). Placing a Simpson tie at each corner, we used an impact driver to put in the screws. If you find the 2×4's are bowed, put them in crown-side up (meaning, arched down). It's helpful to use a scrap piece of 2×4 to ensure that adjacent pieces line up at the same height.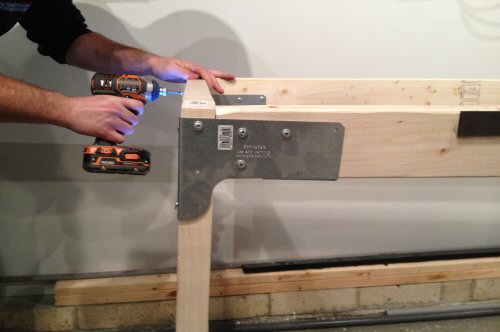 You can see in the picture below that the table legs come all the way up even with the top of the adjacent 2×4 supports. This is important. If they are not aligned, your dimensions will be wrong, and the corners will be weaker.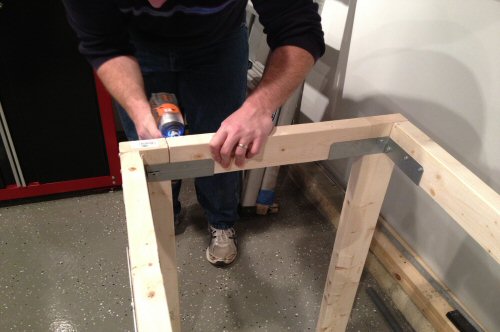 We secured another lengthwise support down the middle of the workbench (12″ on center). We put two 3″ screws on each end to hold it in place.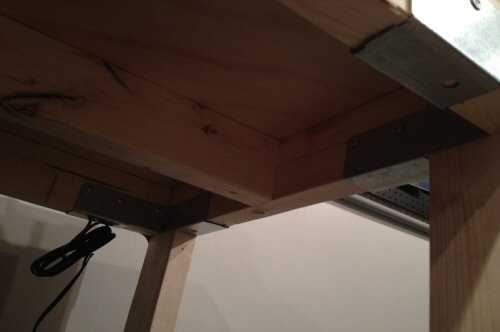 Step 4: Build the Shelf Frame
We constructed the shelf in a very similar fashion using Simpson ties at all four corners. We flipped the table upside-down to slide the ties on, and then positioned them 7″ up the leg. The location is flexible, but they all should be kept consistent. One difference between the lower shelf and upper shelf is that we didn't use the iron or the extra support member on the lower shelf. This shelf will be plenty strong, and we weren't concerned with a little bit of deflection here.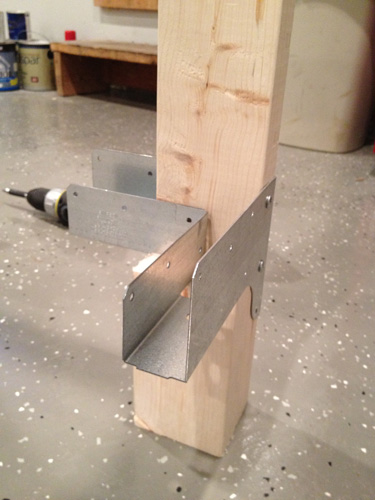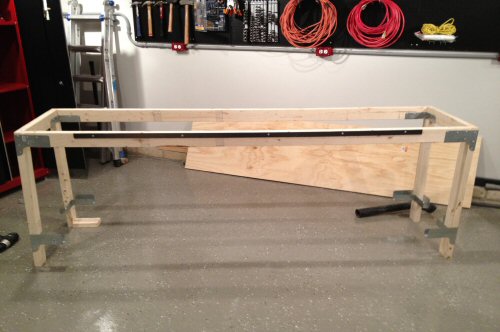 Use the remaining lengthwise and width-wise supports to build the shelf frame.
Step 5: Cut the Shelf Corners
The plywood shelf needs to have notches cut from each corner to account for the table legs. Grab a scrap piece of 2×4 and trace the outline, being careful to orient it correctly. Use a jigsaw to cut them out.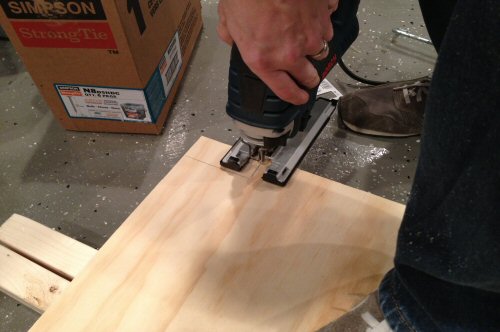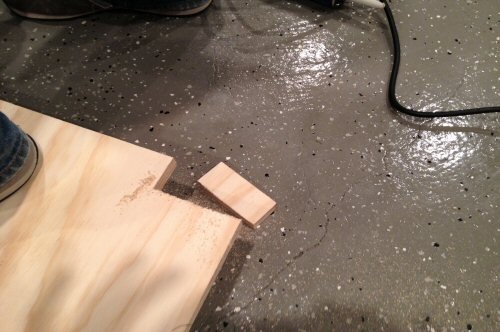 Step 6: Screw Down the Plywood
Slide the shelf in place and put screws around the perimeter every 20″ or so. Countersink the screws below the surface to prevent things getting snagged on them. Do the same for the workbench top, and remember to put screws in the middle support as well. You may find that you'll need to wrack the frame a bit to keep everything square and all the edges lined up.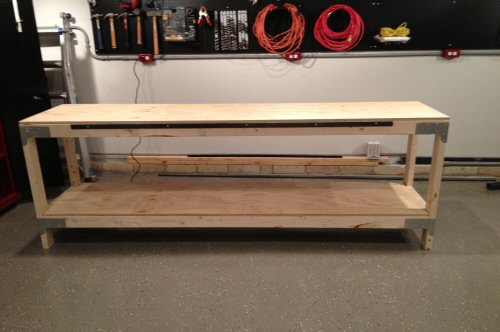 Tip: We've incorporated some reader feedback and found that creating torsion boxes further improves the rigidity of the top shelf. This is an easy addition because all it involves is gluing and screwing another piece of plywood to the underside of the top shelf. To see more pictures and information, check out our update with four workbench modifications.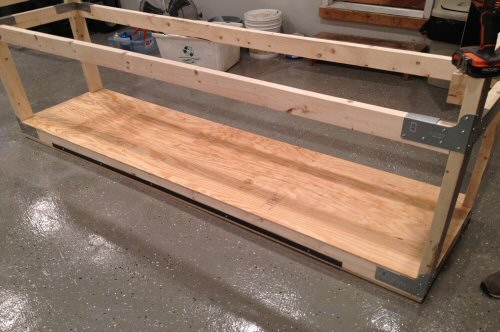 Step 7: Caster Supports and Casters
We wanted to install casters so that our workbench could move about the shop as necessary. We found 3″, locking casters that were rated for 110 lbs each (440 lbs combined). Screwing them into the end-grain of the table legs doesn't provide the best hold so we added a cross member between the two legs.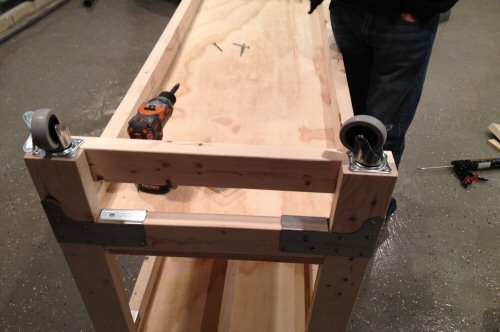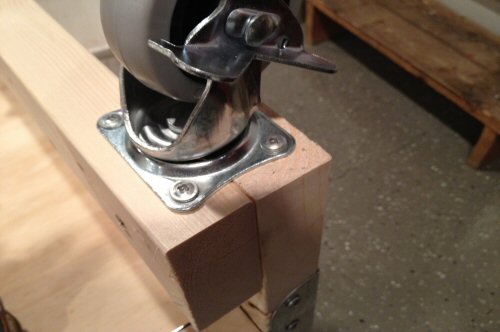 The Finished Product
We're really pleased with the finished product; the workbench top feels very solid. Even with a couple of hundred pounds on the surface, we didn't notice any sagging. It'll be a great surface for future projects, and the shelf is already getting loaded up.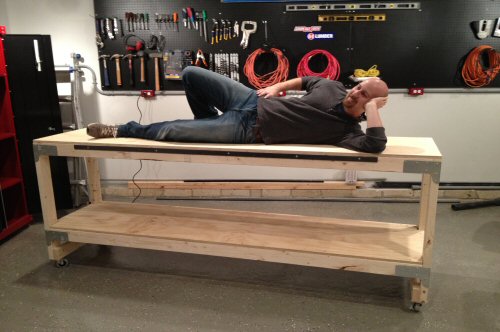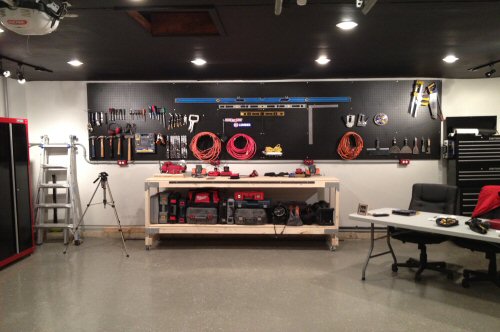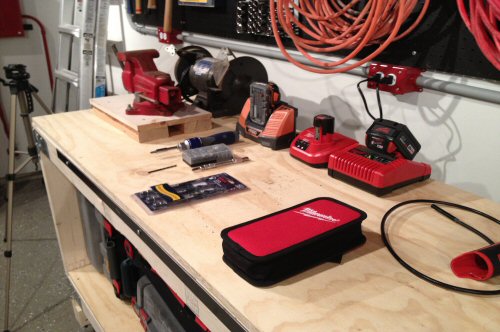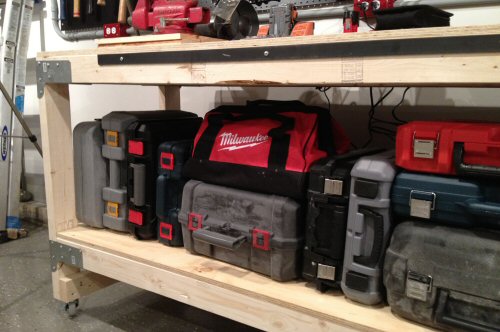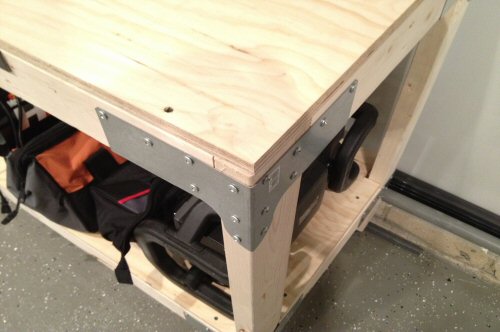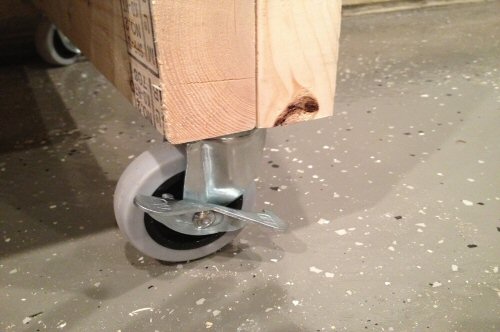 For additional ideas about building shelves, check out our other article describing how we built shed storage shelves.
Reader Workbenches
We've had a significant number of readers let us know that they've built workbenches from our design, and they all love 'em! If anyone else has built (or is planning on building) one of these workbenches, we hope you'll send in pictures so that we can feature them here.
From Todd B.
I just finished and this workbench is awesome. It is super sturdy and rugged. Thanks for the idea! This thing will last forever.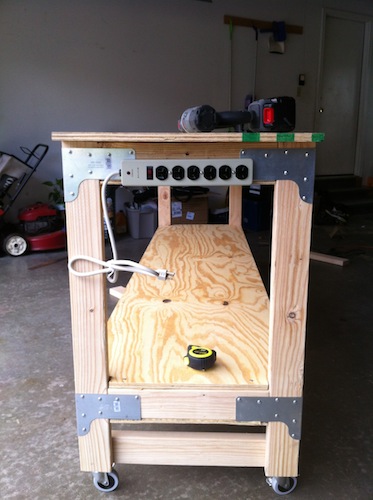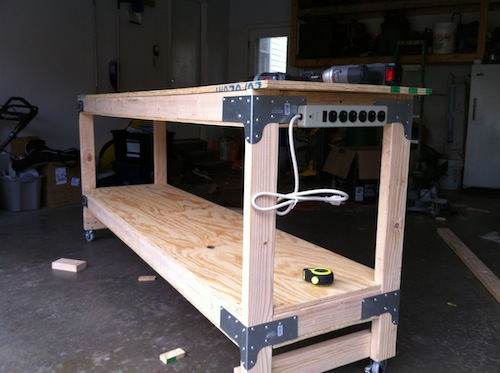 From Ryan M.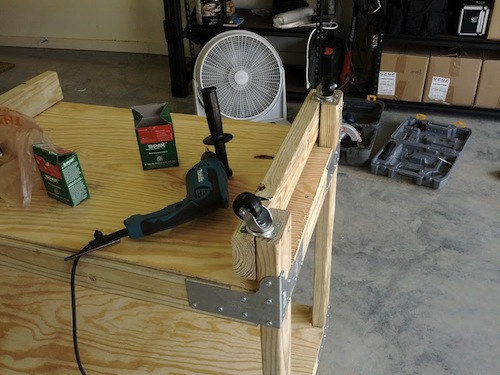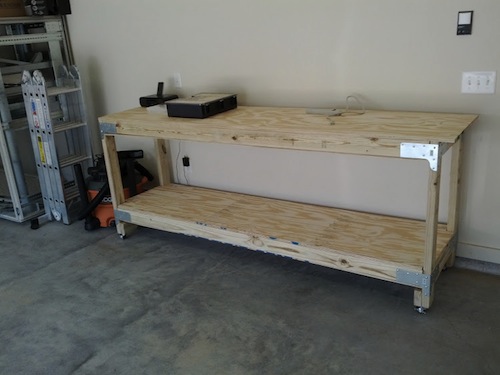 From Mark S.
This is probably one of many but I really enjoyed the design you created.
I needed a custom size for my motorcycle shed to allow for a lift between the workbenches. I decided to go with 4×4 supports so used the Simpson Strong-ties to fit that, then I had a local powder coating shop color them gloss black. I also used the Simpson post base (that comes in black already) so I could anchor the bench to the floor if I wanted.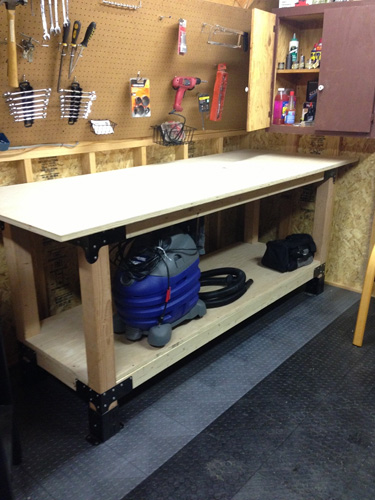 From Kyle D.
I built the bench from the design from above. I love it. Very strong and mobile. Perfect fit for my garage.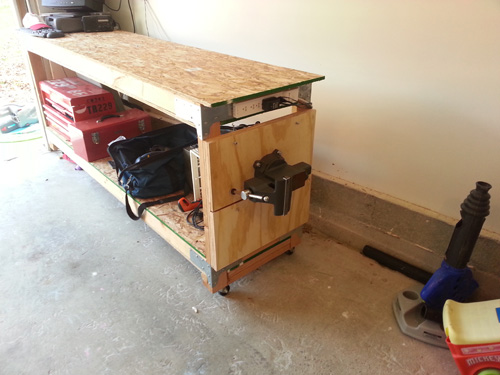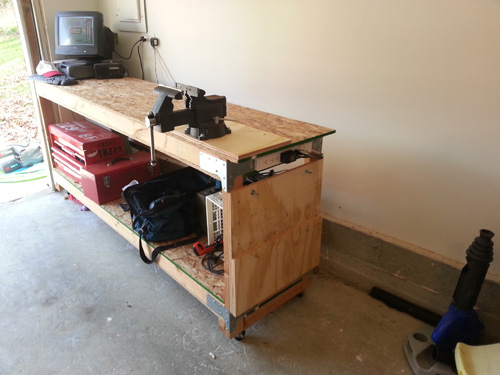 From Matt D.
I love the wheels, great to be able to move it to the middle of the garage when using it for big projects and put it aside when not in use.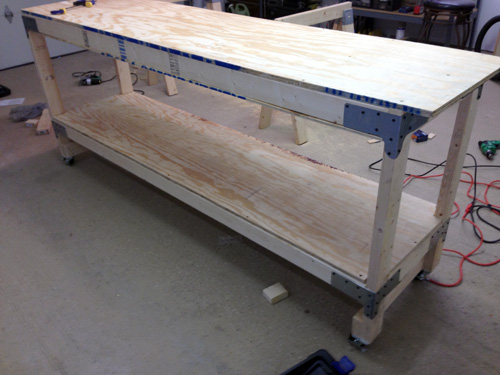 From Jared
"Used your plans with a little modification to build my workbench. Added a 12 plug strip to the underside, and gave the brackets a coat of paint before starting."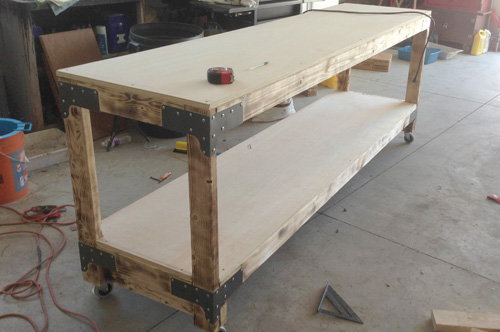 Pin for later
Enjoyed this tutorial but want to reference it for later? Pin this image and share with with your friends also. THANK YOU!