Editors Note: One of our regular readers, Trebor, mentioned how much he enjoyed that we include references to building code in our Pro-Follows. Understanding and following local regulations are an important part of any home improvement project, and Trebor's comment reminded me that we have these great instructions for obtaining free access to the 2011 NEC. In addition, here are links for free access to the 2012 International Residential Code (IRC) and International Building Code (IBC), and don't forget to have underground lines located before you dig.
The National Electric Code (NEC) is published by the National Fire Protection Association (NFPA). The NFPA recovers part of its code development costs by selling code books. However, they do make available a limited-use online copy of the 2011 NEC. Unfortunately, the NFPA intentionally makes this free online version difficult to find and use. (If the free online version were easy to use, no one would buy the books!) I tell you how to access the free version below.
New! If you are a Google Plus User and find this how-to helpful, we would appreciate it if you would give us a "+1" using the button on the left. It tells Google that this information was valuable for us to publish!
Before I give you the steps, you should know that the best way to get access to the code for free is to go to your local library's reference section. Most libraries will have every recent version of the code on their shelves, and you can make photocopies of the sections you need for your job. I actually used this approach for a recent wall oven installation. I didn't have any cash on hand for the photocopies, so I took photos with my iPhone and printed them when I got back home. It worked great, and our wall oven is installed to code specifications!
Many districts will be phasing in the 2011 NEC as their electric code standard over the next few years. You should always check with your local Government to determine what code is enforced in your area. For instance, when I started my basement project in 2007, Baltimore Co. MD was still enforcing the 2005 NEC, but had included several amendments. Some jurisdictions don't use NFPA's codes at all.
Step by Step Instructions to Get the Code
To obtain limited free access to the NEC, you must sign up for a free NFPA account. Here's how:
Step 1: Click here to go to the NFPA's NEC home page.
Step 2: Scroll down the page and click View the 2011 Edition Online. See this image for help.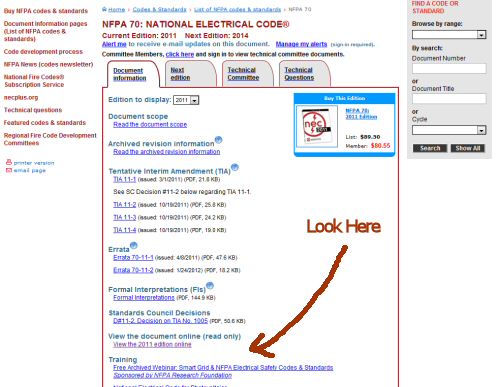 If you aren't already logged in (and you likely aren't at this point), this link will take you to a login or sign-up page.
Step 3: Click the Create an account link.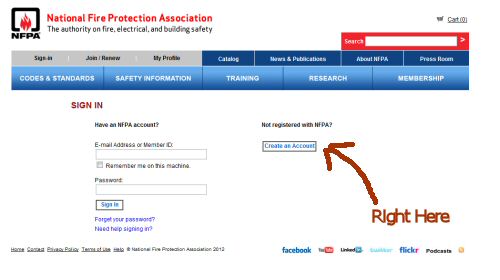 Step 4: Enter your data into the resulting forms. NOTE: Make sure to use a valid e-mail address. You will need to confirm your membership email address before you can proceed.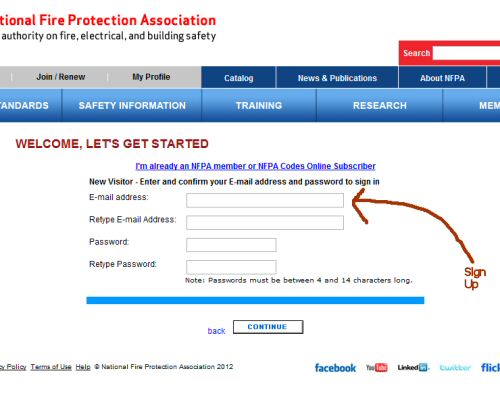 Step 5: NFPA will send you an email to confirm your account. Open the email and click the included verify link.
Step 6: Upon completing Step 5, your browser should be taken back to the NFPA site to load the code in a new window. Click the Open link. If your browser does not return to the site, simply go back to the link in Step 1 above, select the link at the bottom of the resulting page for "Read the 2011 online" and sign in with your username and password. You should then be taken to this screen.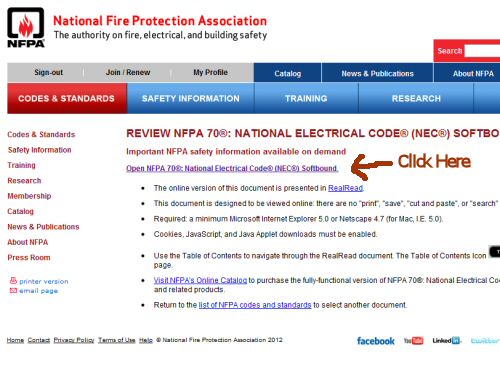 NOTE: You MUST have JAVA installed to run the plugin that loads the NEC. If you do not have JAVA installed, your browser should prompt you to install it.
If you've been successful, you'll see the NEC 2011 in a window that looks like this: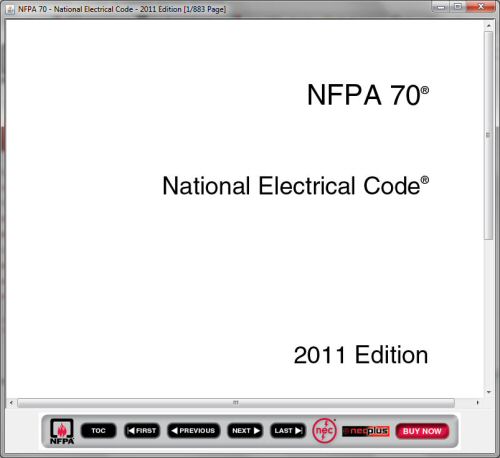 Limitations of the Online Version of the NEC
Single page scrolling back and forth through the document
No search
No printing
No saving
Viewing Older Versions (2008, 2005) of the Code
After you've created an account, older versions of the code can be viewed via the drop down box on the code home page.