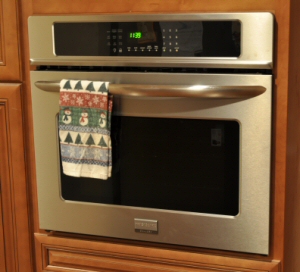 The inexpensive RTA cabinets we chose for our kitchen had only one wall oven cabinet design, limiting our options for the type of wall oven appliance we might install. The cabinet featured a single 29.75 inch wide by 28.50 inch high opening inside a floor-to-ceiling box that included three drawers beneath and a cabinet overhead.
While we would have preferred to install a wall oven and microwave combination unit (called a "one and a half"), this box didn't allow for that, and we were restricted to single oven units. This was a trade we knew we made by selecting Closeout Cabinet's line of Society Hill cabinets. (Despite the drawback, we still felt the trade was worth it for the price).
We looked at wall ovens from a wide variety of brands and retailers. Our main criteria for choosing an oven included (1) proper size for our cabinet opening, (2) stainless steel finish and overall good looks, (3) good reviews. Beyond these three main requirements, we also preferred an oven with a self cleaning feature and a convection fan.
We chose AJ Madison as our retailer or choice. They had a number of ovens that met our criteria and all of them were in stock. Since we were buying the wall oven and cook top at the same time, we avoided shipping costs with AJ (free shipping on $2,000+ orders). Plus, we used a 10% off AJ Madison Coupon from our coupons list that happen to coincide with our purchase dates.
We finally settled on the Frigidaire Gallery Model #FGEW3065KF, which we later discovered is actually manufacturer by Electrolux. The unit arrived in a week, and we installed the oven without a hitch. You probably saw from our article last Monday that since the installation, we already ran into one problem with the unit heating up slowly after the self cleaning cycle tripped a thermal breaker on the back of the unit. Other than this issue, the wall oven is performing pretty well.
Frigidaire Gallery Wall Oven Review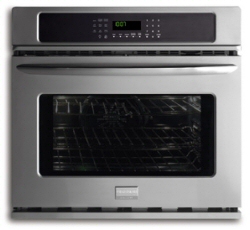 The Highs: Striking good looks; simple operation; convection mode; quick heat-up; includes three racks (one of which is a half rack); self-cleaning function that works*; covered bottom-element enables easy clean-up; sufficient size to bake a 20lb. turkey.
The Lows: *self cleaning may trip thermal breaker on unit back; inexplicably, quick preheat function hides actual heat-up temperature; pizza "quick button" fails to properly cook frozen pizza.
The Verdict: A great-looking, great-performing unit… but if the self cleaning problem persists, this unit will have to go back to the store.
Features Review
Rather than duplicate the manufacturer's specifications for this machine here, let me point out a few features that really attracted us to this oven. You can read the spec sheet for all the fine print, dimensions, etc.
Real Stainless Steel: This oven is real stainless steel as opposed to a brushed or synthetic finish. While we actually love the synthetic finishes, we've found that for mixing and matching appliances, there is no good alternative to true stainless. By going with a true stainless / black accent finish, you can put 4 different brands of appliances in your kitchen and they can all look like they go together. Synthetic stainless finishes vary from one brand to the next and create visual distinctions if you decide on a Bosch refrigerator but prefer a Kenmore Elite dishwasher.
Convection Fan: The convection fan on our unit was a little loose when it initially shipped, creating a rattling sound inside the oven. I searched around online and found a quick fix (just tighten the bolt on the fan). Since we fixed that bolt, no problems with sound. The fan itself moves air quite well throughout the oven, and the fan includes its own convection element that surrounds the fan, making it easy to circulate warm air throughout the interior.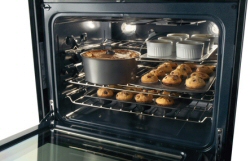 Half Rack: The half rack is a nice add-in if you're cooking a tall, narrow item as well as one or two casserole type dishes. You can actually fit three items in the oven instead of two. The stock photo on the right gives a notional idea of how this might work.
Digital Display: For the most part, the oven tells you everything you need to know on the digital display. It has crisp, clear lettering that is easy to read from across the room. The one drawback of the display is that Frigidaire inexplicably omits the temperature when using the "quick preheat" feature, but shows the temperature during normal preheat. This makes it hard to tell if "quick preheat" is any faster than regular preheat. We haven't run a timed test yet.
Pizza and Chicken Nuggets Button: Several of us joked that only in America do we need special buttons for pizza and chicken nuggets. We've tried both. The chicken nuggets button works fine. The pizza button sets the oven in convection mode, which isn't ideal for pizza – it ended up browning the cheese too much. You can actually program these buttons to your preference.
Performance Review
Baking and Broiling: In terms of traditional baking and broiling – the most common tasks for a wall oven, the Frigidaire performs great. We've used both functions in the last month several times. Warm-up time is good (about 6 minutes to get to 350 degrees), and the oven holds temperature well. We have noticed that the built in digital display is designed to mask moderate changes to temperature, but rarely does the oven get too far away from the target. If you want a perfectly accurate reading, opening and closing the door quickly does the trick. We expect this probably won't be a problem for 99% of users.
Self Cleaning: The self cleaning function worked great to pulverize spill-overs into ash and enable easy wipe up. Unfortunately, the self clean function also tripped the thermal breaker on the back of the oven towards the end of the cycle, which required a technician to reset. The technician said that if the oven had been placed on an exterior wall, this might not have been a problem. If this continues to be an issue, we'll need to return this unit in favor of one that doesn't suffer this problem.
Price and Where to Buy
Expect to pay around $1,100 for this model. We purchased ours from AJ Madison using one of our home improvement coupons, and would recommend looking at our list if you're interested in buying. You can also find this model at Home Depot, Lowes, Sears, and other places that sell Frigidaire products.