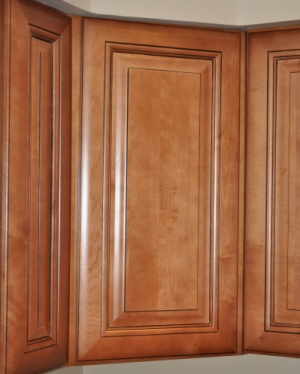 Two months ago when we finished our wood floor installation, I told you that we would be tackling the remodel of our kitchen shortly thereafter. Well, we've been very busy bees, working hard on all the planning, layouts, and initial design considerations for our new kitchen. I have much to tell you about the kitchen project and I plan to get you caught up on where we are in articles over the next two weeks.
But first, I wanted to tell you about our experience buying discount cabinets from a Chinese cabinet distributor that operates under several names: In Stock Kitchens (@ instockkitchens.com), Closeout Cabinets (@ closeoutcabinets.com), and Interstock Premium Cabinetry (IPC) (interstockcabinets.com)  From here on out, I'll refer to the company as IPC.
IPC's basic claim to fame is that they offer premium, solid wood cabinetry at "half the cost" of traditional custom cabinets. Their business model to achieve this discount is pretty straightforward: they offer only 10 lines of cabinets that cannot be customized, and they do the bulk of their manufacturing and preliminary assembly in China, with optional final assembly in the U.S. (although they encourage you to "do it yourself" and save 20% more, which attracted us to IPC… we like savings!)
The 10 lines of cabinetry IPC offers are all pretty attractive, but each offers pros and cons. For example, one line offers soft close drawers (a feature we wanted), while another line offers a premium all-wood lazy susan corner cabinet (a feature we also wanted). Unfortunately, both of these options weren't available in one of the 3 color options that we thought would look good with our Brazilian Walnut floors.
Ultimately, we chose IPC's Society Hill line of cabinets. This line of cabinets is maple wood stained mocha and highlighted with a chocolate glaze. Overall, we're very happy with the look, construction and quality of the cabinets, but the company's service was lacking. Read on for our complete review.
Update: We wrote a follow up article with a detailed overview of building these kitchen cabinets that walks through the assembly of one of the 15 inch base cabinets.
In Stock Kitchens / Closeout Cabinets / Interstock Cabinetry Review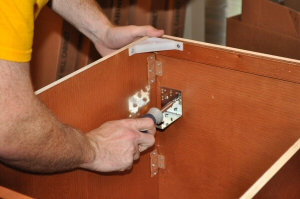 The Highs: Solid wood construction; sturdy design; wide variety of cabinet sizes; premium features (like soft close drawers, dovetail drawer boxes, etc.); attractive look; easy assembly; exceptional price.
The Lows: Poor customer service; sometimes everything isn't "in stock"; limited set of styles and finishes.
The Verdict: If you can deal with the customer service, IPC offers a very compelling package.
Product Review, by Feature
Solid Wood Construction: All IPC cabinets are solid wood construction, meaning that there is no MDF or particle board in the cabinets. The sides, tops, and bottoms of the cabinets are 1/2 inch plywood. The face and doors of the cabinet are solid wood, and the shelves are 3/4 inch plywood.  All base cabinet and full-size cabinets have 1/2 inch plywood backs. Wall cabinets have 1/4 inch plywood backs with 1/2 inch top and bottom mounting plates.  Overall, these features create a very, very solid cabinet.
Dovetail Drawer Boxes: All drawer boxes are made with dovetail joints and are very solid. The drawer boxes ship fully assembled.
Routed Top and Bottom Shelves: The tops and bottoms of all cabinets fit into routed slots on the edges, sides, and front of the cabinet. This is a standard feature in good cabinet construction and we were happy to find it in IPC's cabinets.  For base cabinets, since there is no top, there are 4 triangular brackets that secure the top.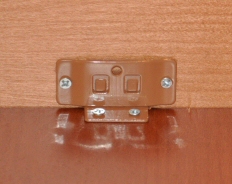 Strong L-bracket Fasteners: The sides and backs of the cabinets (and most tops and bottoms) are connected via a very innovative snap-first, screw-second, L-bracket connector (pictured right), with half of the bracket pre-installed on matching pieces. The brackets "snap" together and then are screwed into place, making assembly very fast.
Soft-close Drawers: Most cabinet lines from IPC, including the Society Hill line we chose, come with soft-close, undermount drawer slides. The slides are pretty stable and so far we've been impressed with them. These aren't the most solid drawer glides we've tested, but we think they will hold up pretty well over time.
Reversible Top Cabinets: The top cabinets are top/bottom symmetrical, which means they can be flipped to allow the door to open on the opposite side if desired.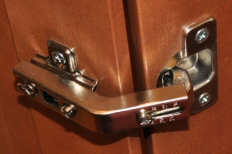 Pre-Mounted Doors & European Hinges: Perhaps the nicest feature for speeding construction are IPC's pre-mounted doors. For all cabinets, the doors are pre-mounted on the front of the cabinet on European-style hinges, saving a lot of assembly time.
Service Review – Our Experience
Unfortunately, we found IPC's service to be lacking. We placed our order at their local Owings Mills, MD warehouse. At our original order the salesman told us all cabinets except for one would arrive in two weeks.  The last cabinet would require 4 weeks. Our first delivery was missing 3 cabinets (the 1 expected to be delayed and 2 others).
We had also made a change order 4 days after we placed our original order that we were told would be incorporated into the order without any effect on the shipping date. That change was not reflected in our order, so we received 3 incorrect cabinets and were missing 2 additional cabinets we ordered as part of the change. These cabinets were to be installed in our laundry room adjacent to the kitchen.
After 10 days of attempting to contact the local warehouse without a response, we decided to return the 3 incorrect cabinets ourselves and just cancel the 2 additional cabinets we ordered. We ran out of time to do the laundry room before the start of autumn. The salesman took possession of the cabinets and agreed to the changes but failed to credit our VISA for the returns/cancellations.  At this time we also returned 6 sample doors we ordered originally. We were told we would receive a credit for these doors but this was delayed along with the other credit.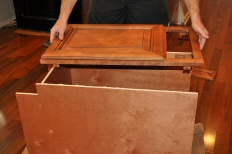 Two weeks later we were able to get in touch with the main customer service manager at IPC and explain that we had not received our 4 cabinets, and still needed a credit for the returned cabinets and sample doors. To IPC's credit, the customer service manager did get everything settled within about 4 days. Unfortunately, the whole situation delayed our project about three weeks.
The customer service manager explained that IPC was in the process of a significant expansion to their warehouse base and was moving a lot of product around. I appreciated that he said this was no excuse for our customer service experience and made it right quickly. He also noted that this wasn't their normal way of doing business and that once they got the warehouse situation squared away, these problems would become far less frequent. We hope that's true!
Price Comparison
We obtained prices for comparable kitchen cabinets from Home Depot and Columbia Kitchens. Home Depot quoted us a price of $9,500, and Columbia Kitchens quoted us $10,500. The total price tag from IPC was $6,200, or about 40% less. Of course, we had to assemble the IPC cabinets ourselves, but the project was actually pretty fun.
Overall Review
Now that we have all of the cabinets and have assembled all but one, we're pleased with our decision to go with IPC, despite our customer service experience. For 40% savings, they're tough to beat… the only cheaper alternative might be painting your kitchen cabinets.
If you're considering IPC but aren't sure, we suggest ordering a few sample doors to see the quality for yourself… that's what we did and we were impressed.
Update >> Here's a picture of the kitchen after we had DuPont Zodiaq countertops installed on them.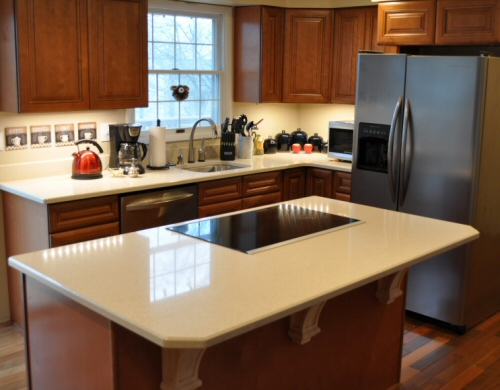 Where to Buy
You can purchase IPC cabinets directly from their web site @ instockkitchens.com, or you can call the 800 number listed at the top of that site.
What do you think? If you've had an experience with IPC or would like to ask a question about our installation, feel free to use the comments below!