Its been a long time coming, but I am so excited to finally reveal the Habitat for Humanity home I helped decorate, along with 5 other bloggers, for the GMC Hidden Treasure Adventure! I shared with you last week (or maybe the week before) about our travels along the World's Longest Yardsale in the GMC Acadia Denali. We each had a budget of $250 to spend decorating and furnishing this Habitat for Humanity house for the amazing Leetoya S. and her 4 kids.
If you love supporting Habitat for Humanity, be sure to check out our Before and After DIY contest supporting Habitat for Humanity!
(left to right) Liz from LizMarie Blog, Courtney from French Country Cottage, Christine from The DIY Dreamer, Carissa from Good n Crazy, ME (Jocie),and Kirsten from Simply Grove!
Here is the house: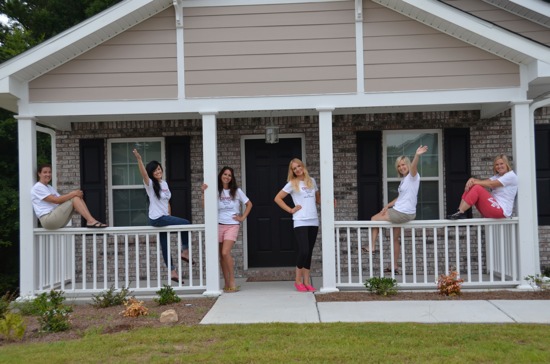 Living Room from One Project Closer
I was in charge of the living room, by far the biggest room in the house.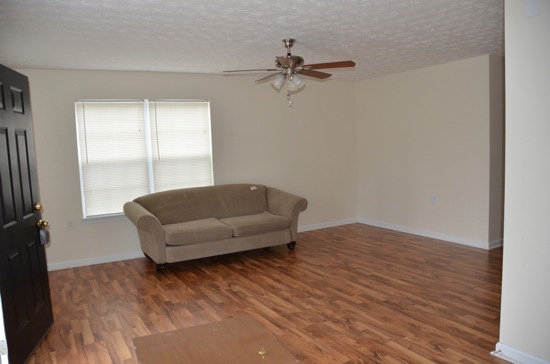 Because I love to haggle (and a good deal), plus my love of painting and Rust-Oleum, I bought super cheap stuff and painted as much as I could. What do you think?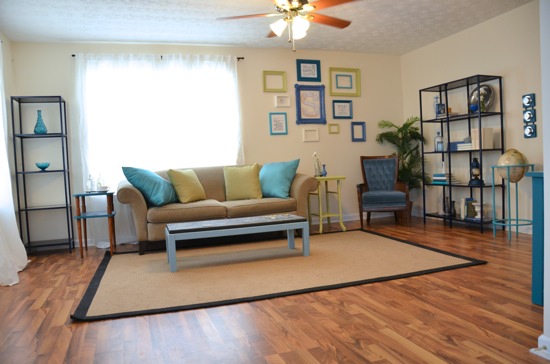 Here was my favorite little corner. I bought this chair for $20 – more than I would have liked, but I loved it so much, I couldn't walk away. And the shelves were generously donated by Rustoleum, but decorated by the fabulous Brooke from All Things Thrifty.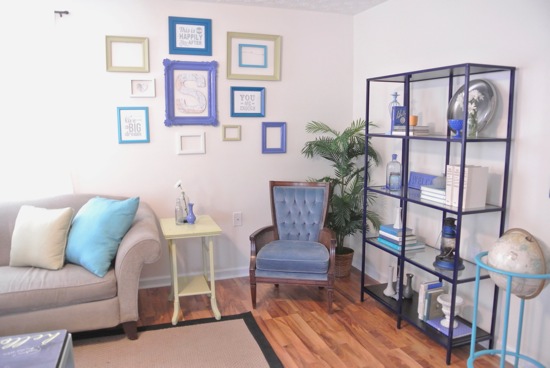 The gallery wall was made up of lots of cheap (or free frames) that I painted. I also brought some printables from home, for just in case.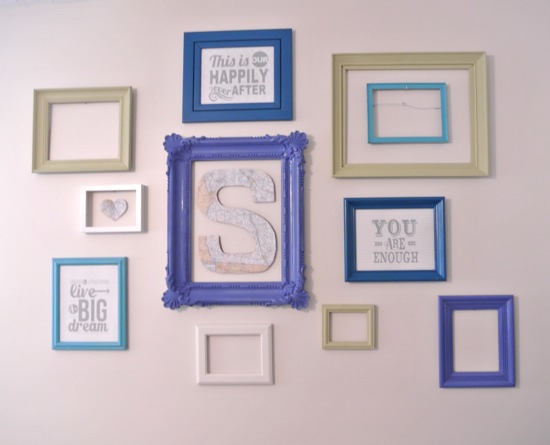 Then I cut out an "S" using cardboard, and covered it in a Georgia Map.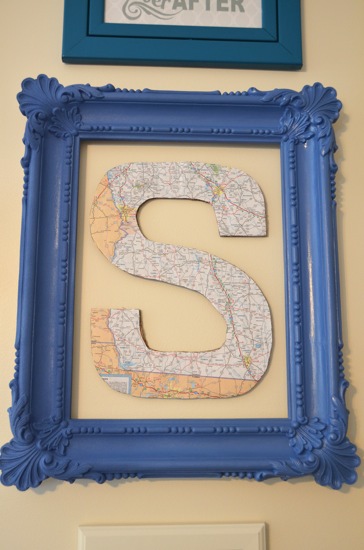 This is a little heart map-cut out with their town in the center.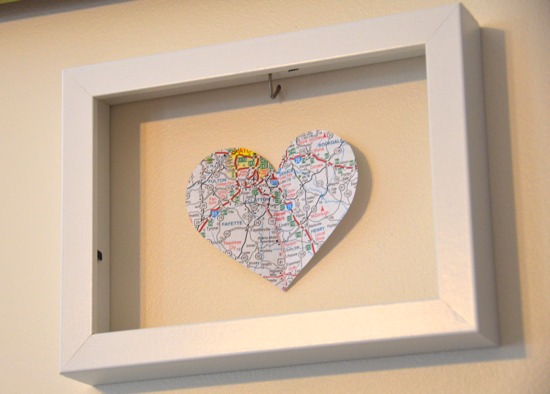 Oh, and did you see my fabulous globe? That was generously donated by the Habitat Restore outside of Detroit.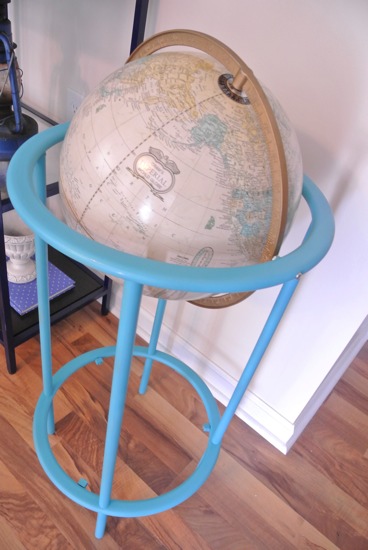 Here's the coffee table that Brittany from Pretty Handy Girl painted and donated to the cause. Turned out so great in the rom. We all signed the chalkboard top, too!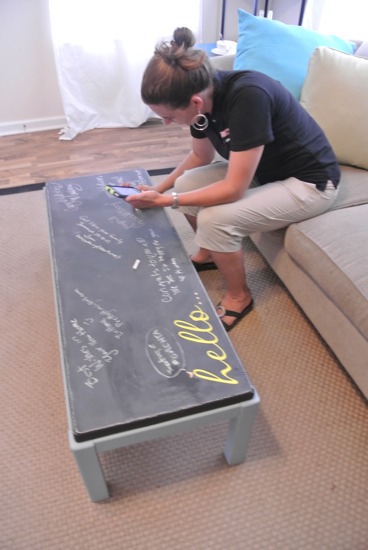 If you followed along on FB, Twitter, or Instagram, you know that I spent a lot of time painting and sometimes re-painted furniture….here is the infamous $2 coffee table that I spent LOTS of time on. lol.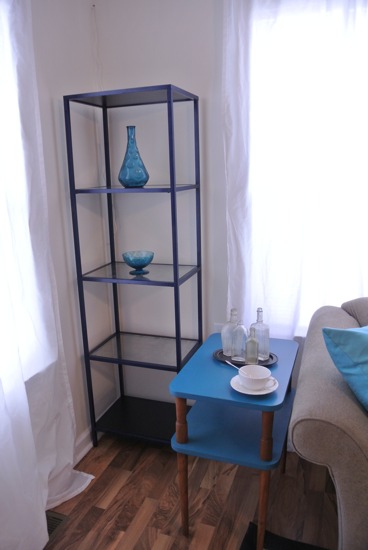 Leetoya, the home owner, loves the Lord and I wanted to honor that in the room. So I found two unfinished words, "Faith" and "Hope," painted them (along with the mirror) and placed them on this fabulous antique sewing table.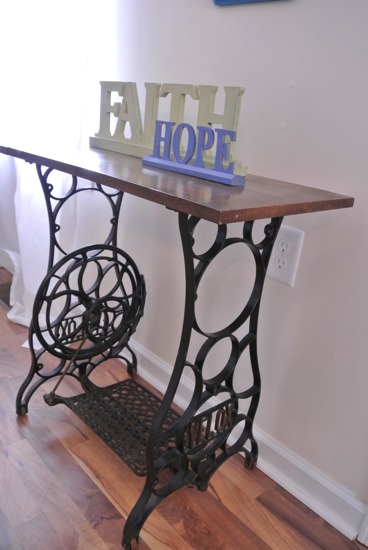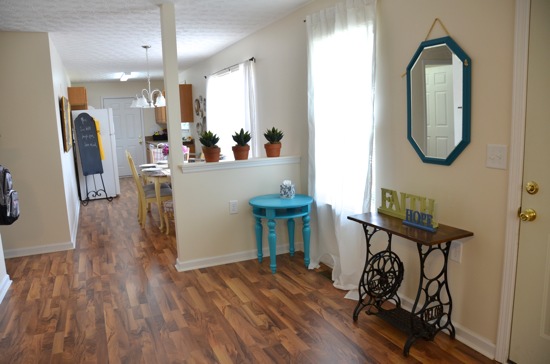 On the other side of the door, the wall seemed a bit empty, so I spray painted some random candlesticks that were lying around unused and hung it along side my $2 subway art!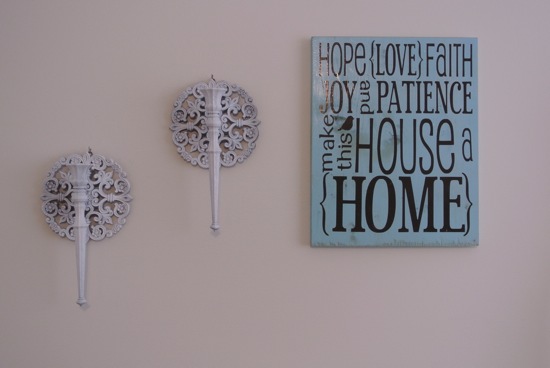 Finally, the most important part of any room the TV! I painted this stand and used my leftover budget to buy a tv!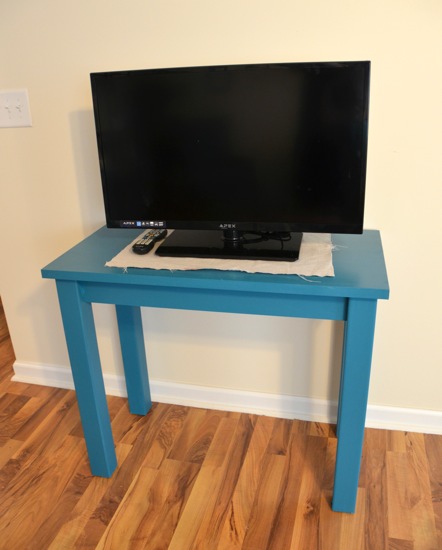 Dining Room from French Country Cottage
Courtney from the French Country Cottage made the most beautiful kitchen and dining room, while also providing the important practicals like dishes and silverware!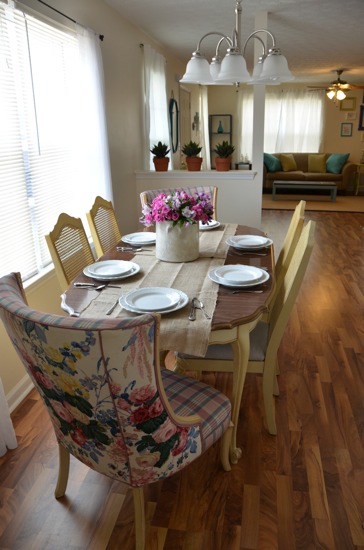 Boys Room from LizMarie Blog
What a perfect boy's room from Liz Marie Blog, complete with a basketball hoop!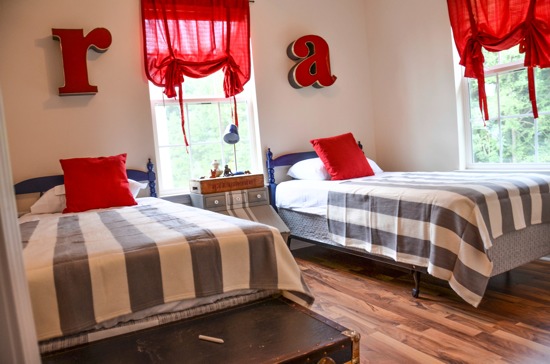 Music Room from the DIY Dreamer
My partner, the fabulous DIY Dreamer put together this amazing music room/office for Leetoya!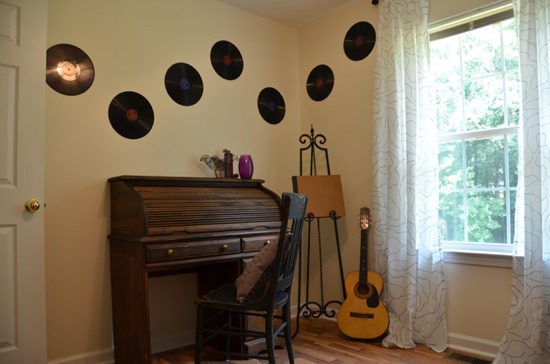 Girl's Room from Good N Crazy
I love this bright and cheerful girl's room designed by Carissa from Good N Crazy!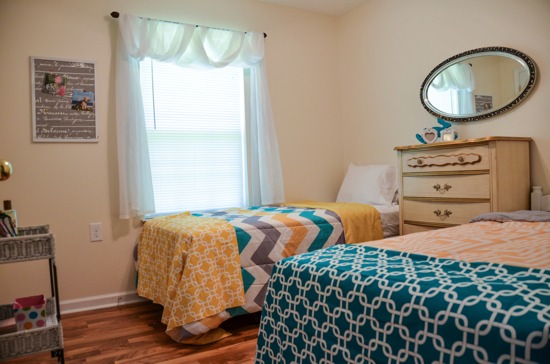 Mom's Room from Simply Grove
Kirsten from Simply Grove came up with a bedroom right out of a magazine for Leetoya. I LOVE IT!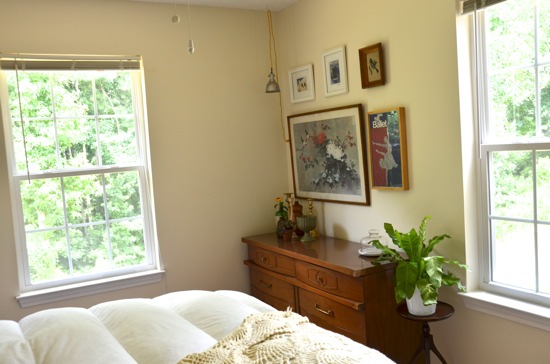 And that's it! What an amazing experience! I loved all the bloggers who were a part of this and hope we get to do it again one day. Thank you so much to GMC and Habitat for Humanity for making it all possible!!
What do you think? How would you have added your own style into thrifting?
As Always, thanks for reading!