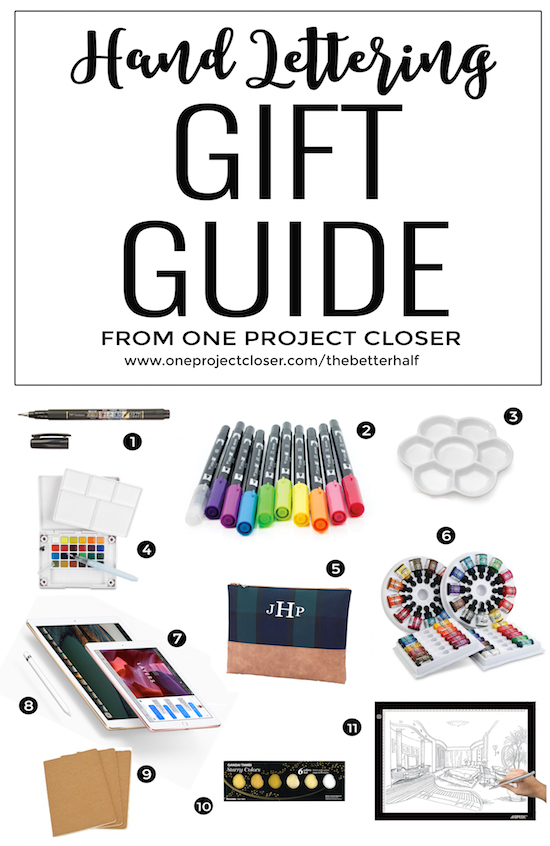 This Hand Lettering Gift Guide contains affiliate links. While it costs you nothing, I appreciate you clicking and buying so that I can better support my family! I hope you enjoy all my hand lettering favorites, and be sure to comment and let me know your favorites too!
This Hand Lettering Gift Guide is perfect for the beginner artist and includes everything you need to get started with watercolor and marker hand lettering. I hope you enjoy getting started on your hand lettering journey, as I have, and please let me know if there is anything you would like to learn or see included on the blog or Etsy Shop in the future! And don't forget to follow me on Instagram to see all my hand lettering fun!
1. Busy Girl's Guide to Hand Lettering
Love hand lettered art and decor but not sure where to get started? Or maybe you have a friend who is just dying to start? Look no further! This is the perfect course – it walks you through the basics of hand lettering with HOURS of detailed video instruction, printable shopping lists and practice sheets, and features an exclusive Facebook group with the teacher to answer questions and provide lots of bonus materials!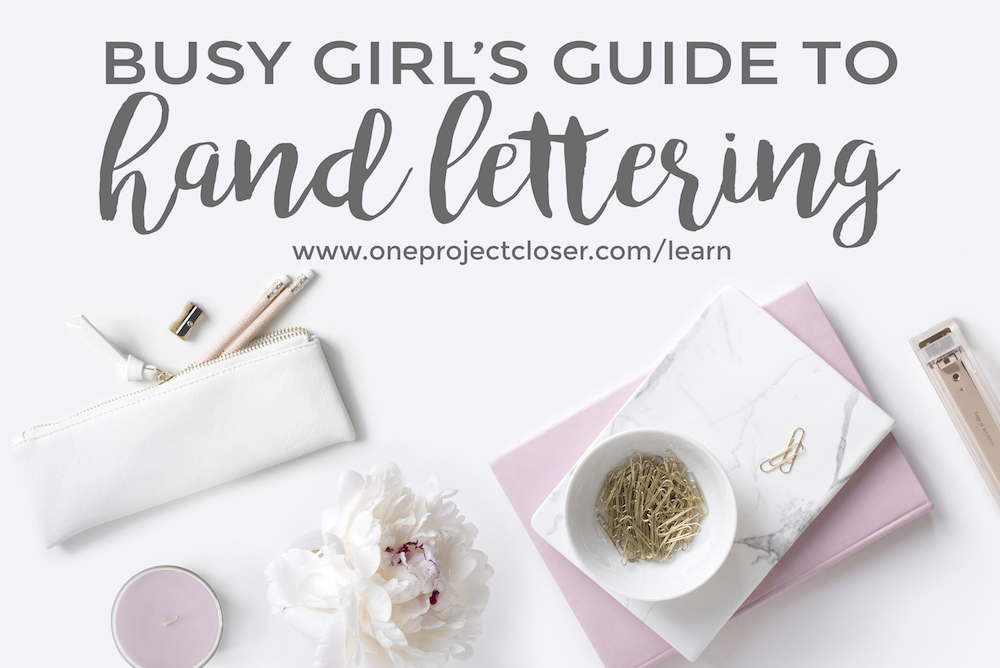 2. Tombow Fude Brush Pen, Fudenosuke, Soft
I love this Brush Pen! It is a great pen for beginners and create dark, smooth lines. A definite must!
3. Tombow Dual Brush Pen Art Markers
These brush markers are HOT right now. You can mix colors and create both thick and fine lines using this two-sided marker. I also love taking these with me on-the-go for no-mess art. They are meant for use on regular, copy paper, so the world is you canvas!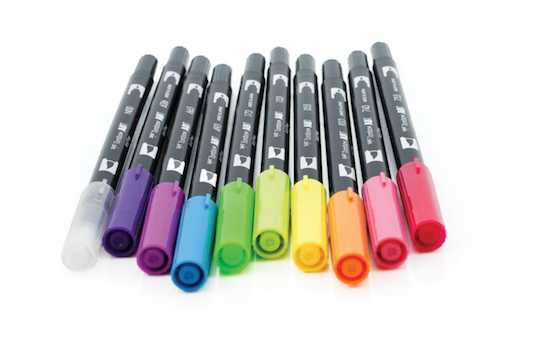 4. Porcelain Palette
Unlike plastic palettes, this beautiful porcelain palette cleans up to look like new each and every time, without staining. Also, if makes for a great photo prop when you share your amazing creation on Instagram!
5. Koi Travel Watercolor Set
This little watercolor set creates such smooth and vibrant colors, and since it comes with its own water brush, all you need to do is grab this and some paper and enjoy creating where ever you go. This summer, I loved using this set to watercolor on vacation, overlooking the ocean.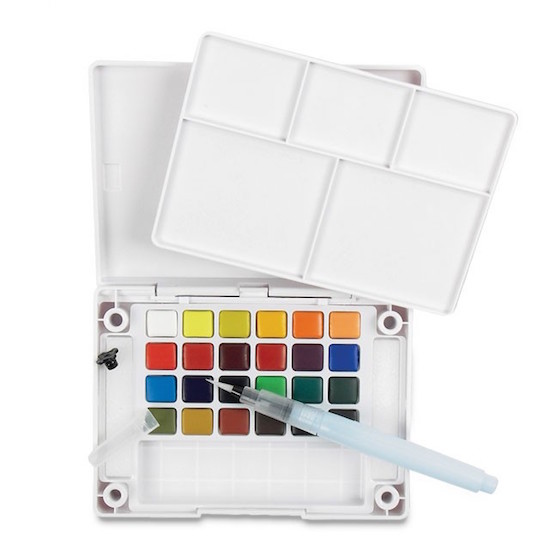 6. Monogrammed Plaid Zip Pouch
Okay, not sure why I threw this one in there, right? Well, this is the perfect size pouch to carry paper, your Tombow markers, and the travel watercolor set…all while looking super cute. Trust me, you need one.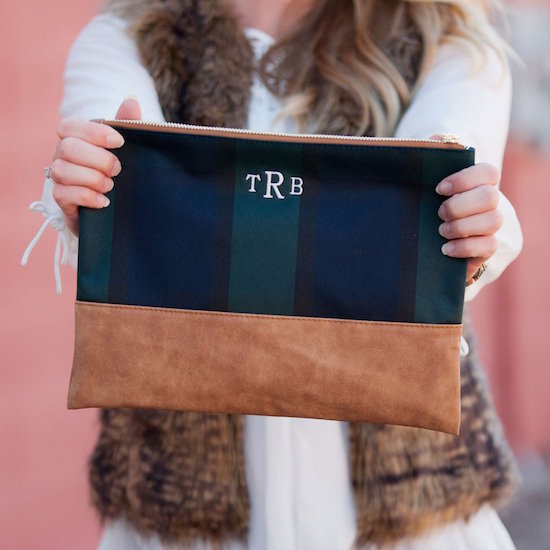 7. Dr Ph Martin's Hydrus Watercolors
Dr. Ph Martin's Hydrus watercolors seem a bit pricey, but they really do make for the most vibrant and beautiful watercolor letters. I also enjoy the india inks for a permanent color when I do washes or lettering that isn't blended.
8. Gold iPad Pro, 12.9 inch
Real talk? This is on my Christmas list this year too. The iPad Pro allows you to create on the go and instantly translate your art into a digital form. I like the larger size since it is the "canvas."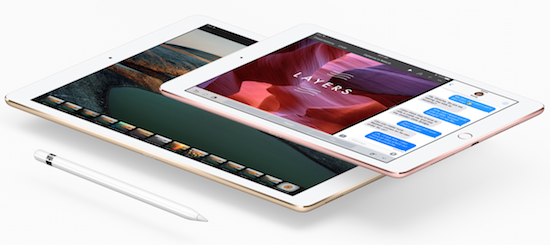 9. Apple Pencil for iPad Pro
This goes hand-in-hand with number 7, but the Apple Pencil is a must-have for lettering on the iPad Pro.
10. Kraft Notebooks, 5×8
These Kraft notebooks with blank pages are the perfect size for throwing in your zipper pouch, along with your Tombow Dual Brush Markers. They make for wonderful hand-lettered gifts and are the best price I have found.
11. Metallic, Starry Colors Watercolors
Who doesn't love a little sparkle? I know I do. These metallic watercolors are perfect for white or dark papers and make beautiful letters!

12. 17 inch Light Box/ Light Pad
You can use your iPad Pro as a light box in a pinch, but I love having a larger light box to sketch out my design, then transfer the final onto a fresh sheet. Goodbye pencil lines!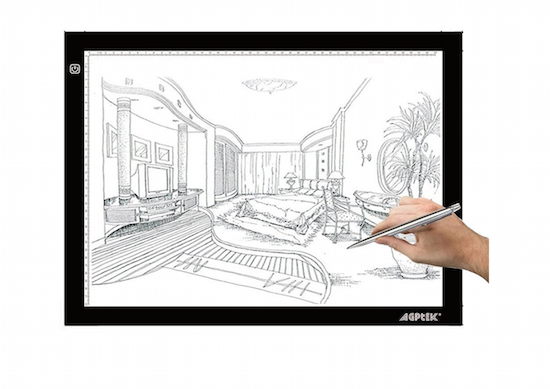 13. Hand Lettering Practice Sheets
If you are new to lettering, the biggest key to success is lots of practice. Here are 6 sheets of hand lettering practice to help get you started!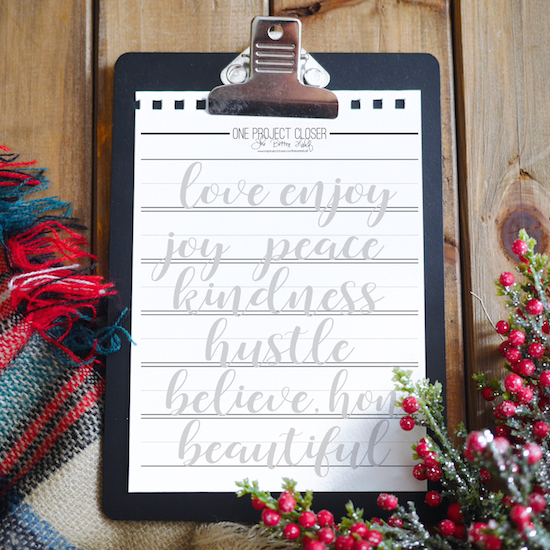 14. Watercolor paper
You can easily get watercolor paper at Michaels or Hobby Lobby (Don't forgot your coupon!), but I often order this paper off Amazon because I don't have to go to the store and I like this size (and price).
15. Mixed Media Paper
Mixed media paper is nice to have on hand because its smoother than watercolor paper but thicker than printer paper. For me, its the perfect paper for marker art and hand-lettering.
16. Liquid Frisket
If you want to do relief hand lettering, this is what you need! You paint on the liquid frisket, let it dry, then paint a watercolor wash over top. When it is dry, you peel off the frisket and have beautiful white lettering!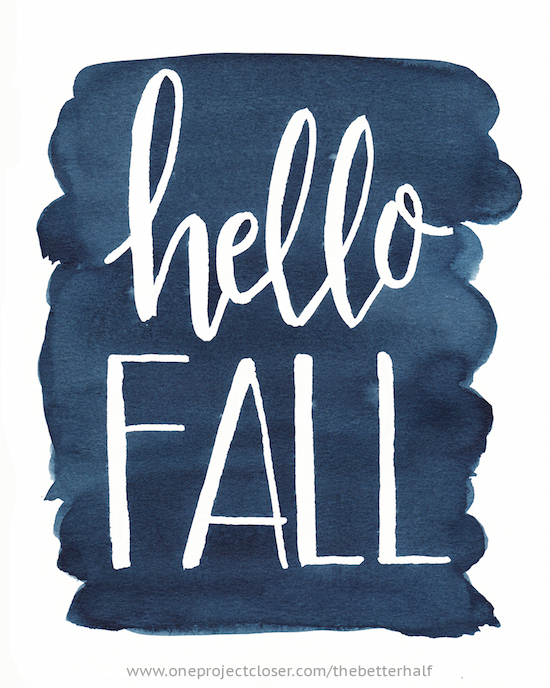 17. Watercolor Brush for Hand Lettering
Again, Michael's sells some great brushes and they are cheaper than online if you have a 50% coupon, but I LOVE this brush and amazon is so much more convenient.
What do you think? What are your favorites in this Hand Lettering Gift Guide 2016?
As Always, thanks for reading!

Don't forget to check us out on Facebook , Instagram, & Pinterest!