Hey there OPC readers! It's Keri from Shaken Together and I am so excited to be sharing my first recipe as an OPC contributor!! 'Tis the season for cupcakes and candies, cookies and cheesecakes, and all things holiday desserts! And today, I've got a dessert that is sure to bring smiles to your holiday guests' faces. Heavenly, rich triple chocolate cookie bars topped with creamy peppermint no-bake cheesecake!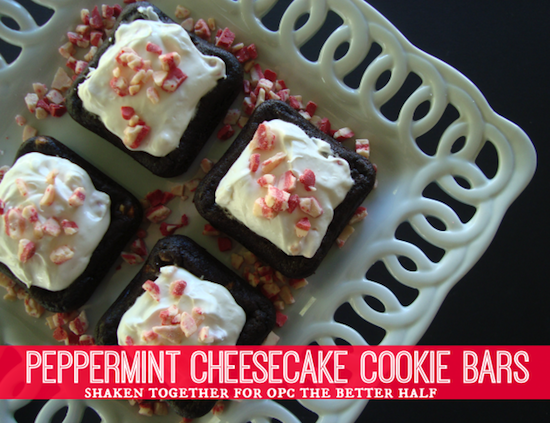 Chocolate and peppermint is one of my all-time favorite combinations, especially around the holiday! These peppermint cheesecake cookie bars start with a pre-made cookie dough but feel free to make a batch of your favorite chocolate cookie dough. Whatever you decide, the chocolate cookie base is the perfect partner to the creamy, no-bake peppermint cheesecake!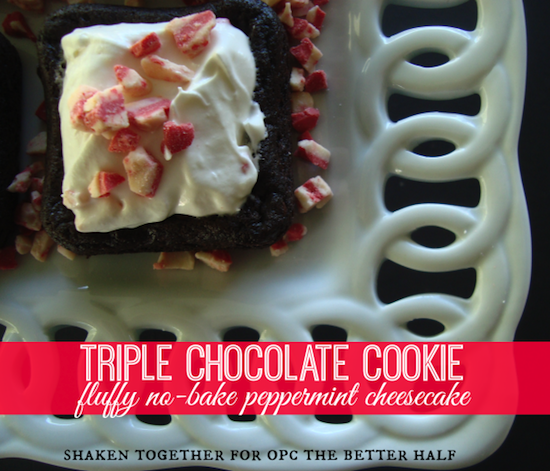 Let's get baking – the sooner these are done, the sooner you can nibble!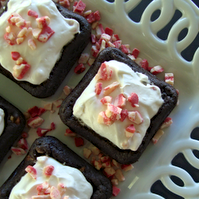 Peppermint Cheesecake Cookie Bars
2013-12-03 20:00:46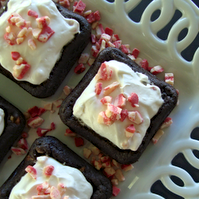 Heavenly, rich triple chocolate cookie bars topped with creamy peppermint no-bake cheesecake!
Ingredients
One package of Immaculate Baking Co. triple chocolate chip cookie dough OR a batch of your favorite chocolate cookie dough
One 8 oz. tub of Cool Whip, thawed (I used lite)
One 8 oz. block of cream cheese, softened (I used reduced fat)
1/2 teaspoon vanilla extract
1/2 teaspoon peppermint extract
1/2 cup granulated sugar
6 tablespoons Andes peppermint chips + additional chips for garnish
Instructions
Press two balls of cookie dough into each well of a 12 square compartment baking pan. I used a pan with 12 square compartments but you can also press the cookie dough together to cover the bottom of a 9x9 baking dish prepared with non-stick cooking spray.
Bake cookies according to package directions
While the cookies cool, prepare the no-bake peppermint cheesecake.
In a large bowl, mix together the cream cheese and granulated sugar until light and fluffy. Then, mix in the extracts. On the lowest speed of your mixer, add the thawed Cool Whip just until incorporated. Finally, fold the Andes chips in with a spatula.
The cheesecake filling can be refrigerated until ready to serve. Before serving, spoon the peppermint no-bake cheesecake on top of each cookie bar and garnish with additional Andes chips.
One Project Closer https://www.oneprojectcloser.com/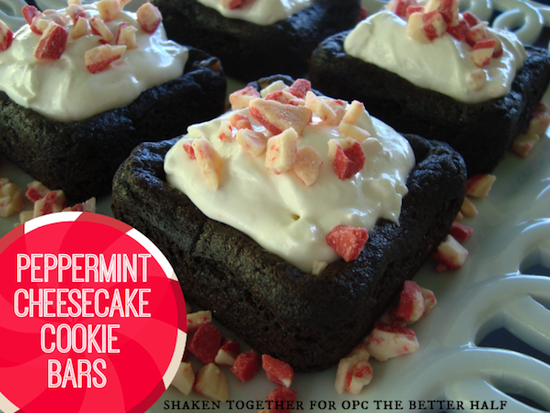 If you are a fellow mint + chocolate fan, then you'll love these recipes:
Chocolate Peppermint Krispie Treats
Thin Mint Ice Cream Sandwiches
Thanks for reading and hope you love these delicious holiday desserts including Peppermint Cheesecake Cookie Bars!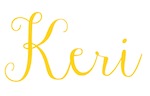 Note from Jocie: Keri is one of three new contributors to One Project Closer. We hope you'll show her a warm welcome to OPC and visit her at Shaken Together and on FB to show her some love. To find out more about her, and other other contributors, check out last week's introduction to Keri from Shaken Together, Kathryn from Blessed Life Atop a Cake Stand, and Katie from Upcycled Treasures! We hope you will visit again next week for another great contributing article.