A couple of years ago, a friend of mine gave me a recipe for granola bars that was SUPER yummy, plus it was more healthy and hearty than most store-bought granola bars. Recently, I decided to adapt the recipe to make granola for cereal and yogurt, and it has been a hit. I'm not usually a fan of almonds or coconut (in fact, I usually hate coconut), but both flavors are very light and add to the heartiness of the granola. Even my daughters, ages 1 and 3, LOVE it and eat it most mornings either plain, with cereal, or on yogurt. I love them eating it because it lots of whole grains and added protein with the almonds.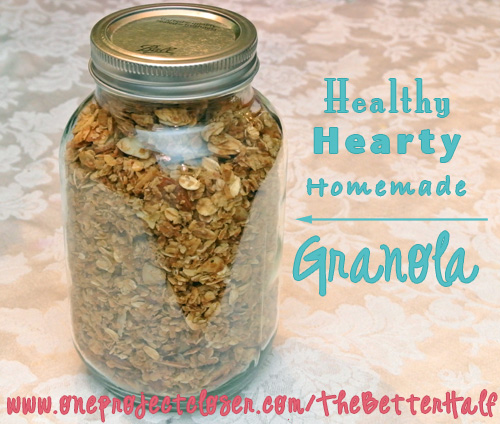 While this recipe is super yummy and makes a lot, it is more labor intensive than some other recipes. My friend, Carol over at Weeknight Dish has a recipe with less ingredients and less labor, leaving the granola in the oven overnight after cooking for 10 minutes. Next time I make my granola, I'm going to try this method but with my ingredients.
Here is my recipe, which I hope you will love as much as we do!
Ingredients:
4 cups Old Fashioned Oats (not quick oats)
1 cup Slivered Almonds
1 cup Coconut, lightly packed
2/3 cup Toasted Wheat Germ
1/4 cup Brown Sugar
2/3 cup Honey
3 Tbsp Butter
1/4 tsp Kosher Salt
1 1/2 tsp Vanilla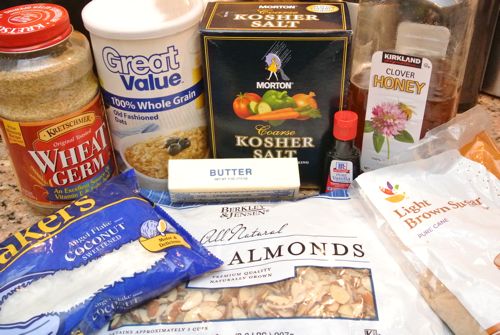 Directions:
Preheat oven to 350 degrees.
Mix together oats, almonds, and coconut onto a jelly roll pan (or some other large baking sheet with sides) and place in oven. Bake for 12 -15 minutes, stirring halfway through. Remove from heat and reduce oven temperature to 300 degrees.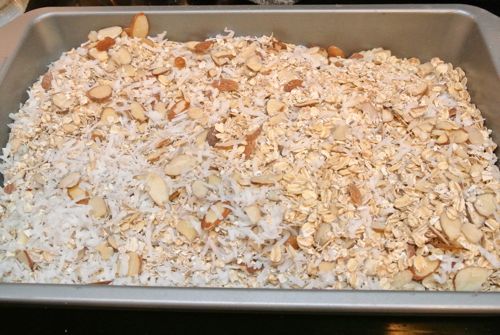 While the dry mixture is toasting in the oven, using a medium saucepan, heat the brown sugar, honey, butter, salt, and vanilla over medium/high heat. Bring to a low boil and cook for one additional minute once boiling, stirring constantly. Remove from heat and place to the side.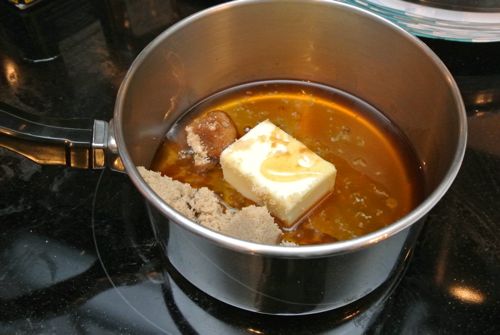 Combine toasted dry ingredients and wheat germ in a large mixing bowl. Add wet mixture from saucepan and mix with large spoon until dry mixture is evenly coated.
Place granola mixture back onto jelly roll pan and place in oven. This is my favorite use for my Pampered Chef bar pan! Bake at 300 degrees for 40 minutes, stirring every 10 minutes to allow mixture to cook evenly and prevent it from sticking to the pan.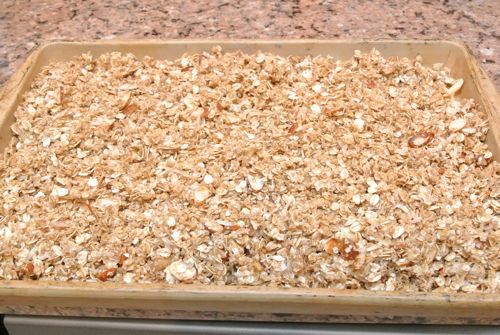 30 minutes into baking, add any dried fruit desired. We really love craisins or dried cherries. And stir one final time.
Remove from heat when turning light brown in color, and allow to cool.
Store in an air-tight container.
What do you think? What do you like to put in your granola? Any granola tips?
As Always, thanks for reading!


Don't forget to check out our weekly Link-up Parties every Friday, where you can submit your own DIY projects and crafts!