I'm really excited to launch into another Pro-Follow. There's no better way to learn how to complete a home improvement project than seeing professional contractors in action. Stay current with all of our Pro-Follows by subscribing to our feed, liking us on Facebook and following us on Twitter.
As Fred mentioned yesterday, we were planning a different article about installing recessed lighting. However, after documenting the lighting job, we decided it wasn't good enough to publish.
Today we're back with general contractor and carpenter Steve Wartman as he builds a new deck. If you've read our How to Build a Shed series, then you've already met Steve and have seen the experience and expertise he brings to every job.
How to Build a Composite Deck
The same homeowners that had Steve build the shed have contracted him to construct a new, composite deck on the back of their home. They went with composite materials because they're virtually maintenance free, meaning the homeowners won't ever need to be seal, brighten or strip the decking boards.
This is going to be a great series as many DIYers do not understand the challenges and requirements associated with this project. Furthermore, there are many dishonest decking companies that will cut corners in an installation, resulting in problems down the road. Stick with us as we guide you through the right way to build a deck.
The Plan
Here's Steve to give you a short introduction to this project.
So the plan is to build a new, 12 x 24′ deck and a 4′ set of stairs. It'll have two rows of buried-post piers, Trex composite deck boards and a white vinyl rail system.
Step 1: Plan, Dig and Pour the Footers
Determining the location of the deck is easy. It's more difficult to determine how many footers are required and where they are going to be located. Here's Steve with another video sharing some details about footer and ledger board requirements.
So if you missed it in the video, how the deck attaches to the house is one of the factors that determines the required number of deck piers and footers. Other considerations include the size and shape of your deck, how much weight it will hold, and the size of the beams. This deck will be rectangular in shape, and the homeowners aren't planning on adding a hot tub (or other heavy objects). Since Steve's crew cannot through-bolt the ledger board, they're installing two rows of piers, which results in a "free-standing deck."
The first row of piers will be placed 3′ off the house, and the second row of piers will be 8′ after that. Piers should be spaced no more than 8′ apart so that means we have 4 piers per row, with the first row having 1 additional pier to account for the stairs. Here's a sketch of the deck and piers.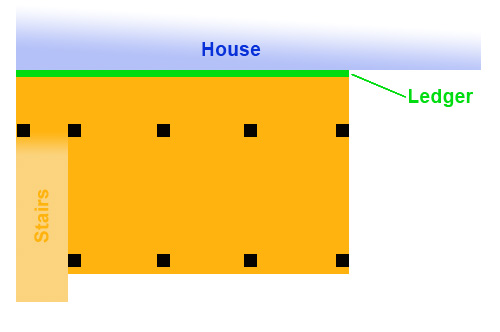 After they determined the footer locations, the crew ran a couple of string guides and started digging. This was no small task because they decided to cut through the brick patio and underlying concrete before learning it was 5-1/2″ thick.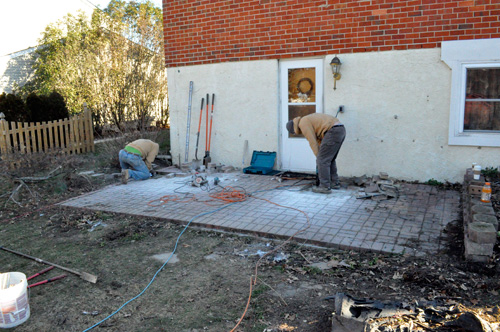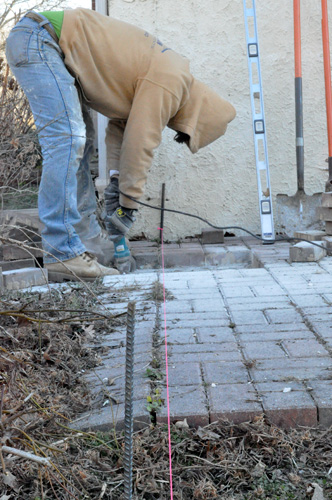 Each footer needs to be deeper than the frost line, and here in Maryland that means footers are at least 30″ deep. Each hole was that deep and about 24″ across. At this point, all the footers need to pass inspection to ensure they will be capable of supporting the deck.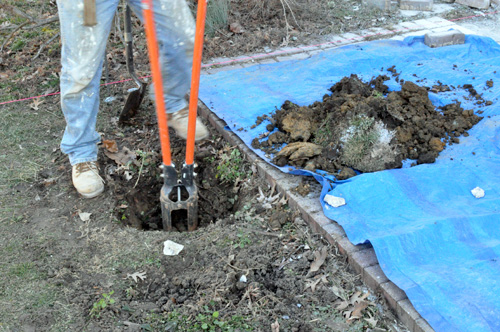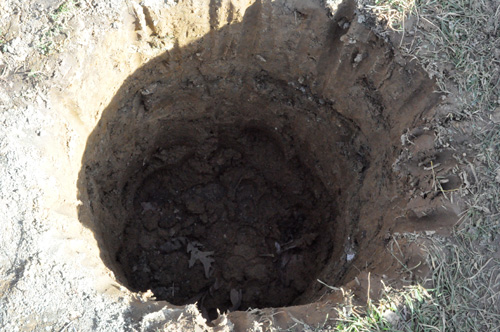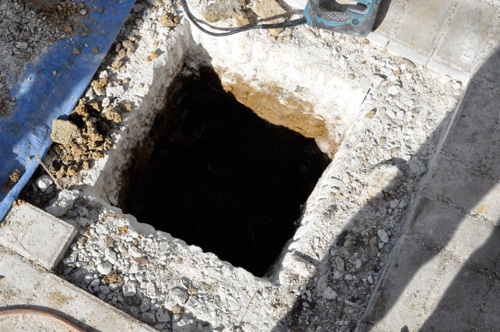 After inspection, Steve and his crew poured the footers. Using 80lb. bags, they mixed enough concrete to achieve an 8″ thick pad.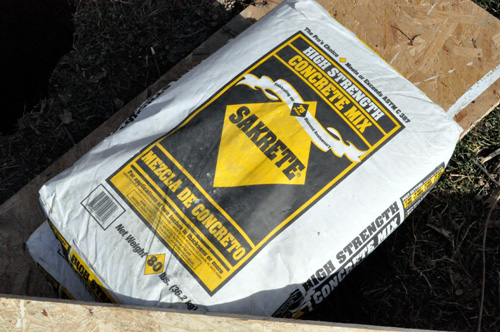 They used a garden hoe to make sure the concrete would set with a nice, flat surface.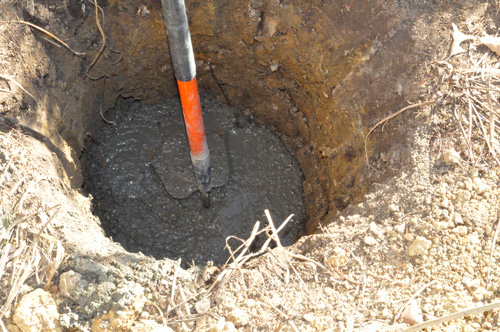 Step 2: The Ledger Board
While the concrete cured, they got started on the ledger board. They installed a 2 x 10′ ledger along the entire length of the deck, taking care to ensure it was completely level. Steve and his crew temporarily secured it in place using a powder charge nailer. Here's a quick demonstration:
Next, they marked the locations of their joists. Often you'll see joists spaced at 24″ on center (oc), however with composite decking, you're joists need to be closer together. Steve's crew marked their joists at 12″ oc. Determining the joist locations ensures that none of the concrete anchors will create an obstruction, and it allows them to place an anchor in every bay (between each joist).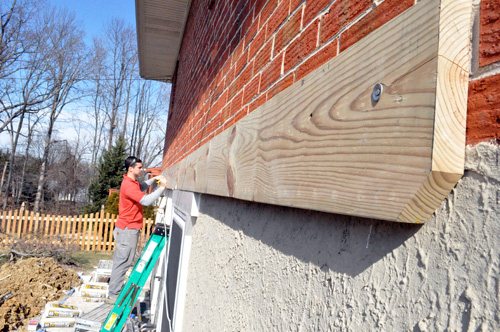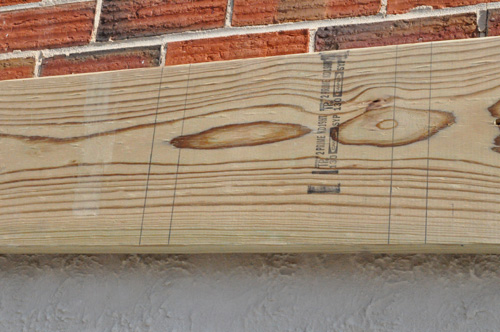 They can use concrete anchors called Red Heads to secure the ledger board.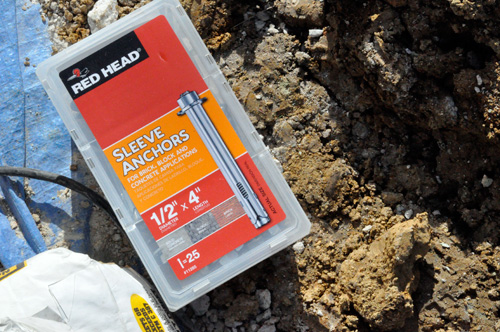 The concrete anchors need to be positioned so that they are driven into the mortar between bricks and staggered. For each Red Head, they predrilled a hole, used a hammer to drive them in place, and a socket wrench to tighten them down.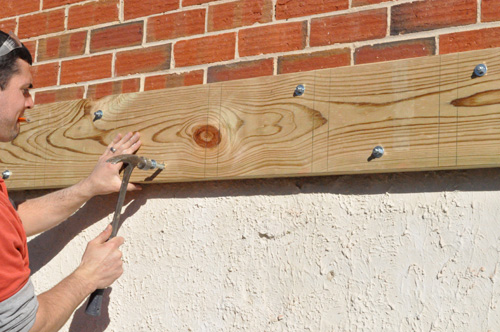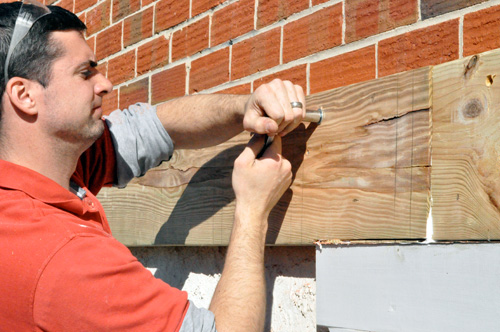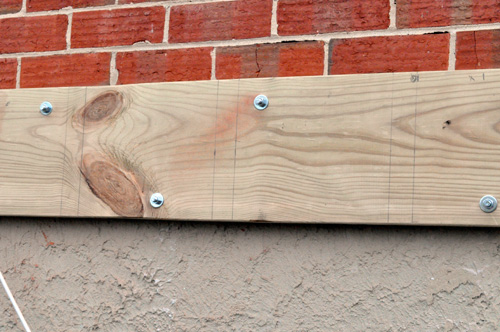 That's it for today. I hope you'll join us next time as we discuss setting the piers in place, running the support beams and installing the joists.