If you've ever thought, "I wish I had another switch for this bunch of lights," then you're not alone. You can actually achieve that functionality by converting a single-switched circuit to a 3-way switched circuit without too much work. 3-way switches allow you to control a circuit from two different locations, and they're commonly used for lighting to conveniently turn the lights on and off from two different places.
How 3-Way Switches Work
3-way switches are named for the fact that each switch has three hot terminals- two traveler terminals and one common terminal. The traveler terminals are used to interconnect two 3-way switches on the same circuit, and the common terminal supplies (or dumps) power. Rather than off and on, the switch toggles power between the two traveler terminals.
Pro-Tip: The common terminal is always a different color than the other two hot terminals.
Converting a Single-Switch Circuit to a 3-Way Switched Circuit
In today's article, I'm going to show you a common lighting scenario with a single-switch and how to incorporate two 3-way switches. There are actually several ways to install 3-way switches, and here's a good resource with diagrams to explain alternate options.
Permits
While not required for a tabletop demonstration, most jurisdictions will require you to obtain a permit for electrical work that includes a new or extended circuit. In some jurisdictions, only licensed master electricians can obtain these permits. You can usually find where to file for permits via links on your county government's or state government's licensing and permits web page.
Tools & Materials
(2) 15 amp, 3-way switches

14/3 NM-B
Wire nuts
Wire staples
Hammer
Lineman's pliers
Wire strippers
Utility knife
Screwdriver
In the tabletop demonstration below, I have 14/2 wire starting at a circuit breaker (position 1) and going to a single-switch (position 2) that controls a bank of recessed lights (position 3). Pretend the breaker is housed within a breaker panel and the switch is in an appropriately sized box.
Pro-Tip: NEC 370-16 states that the volume of electrical boxes shall be sufficient for the number of conductors, devices, and cable clamps contained within the box. Nonmetallic boxes are marked with their cubic inch capacity. Use the following table to calculate necessary box size:

| Conductor Size | 14 gauge | 12 gauge |
| --- | --- | --- |
| For each separate insulated wire | 2 cu in | 2.25 cu in |
| All ground wires (combined) | 2 cu in | 2.25 cu in |
| For each device (switch/receptacle) | 4 cu in | 4.5 cu in |
| All internal cable clamps (combined) | 2 cu in | 2.25 cu in |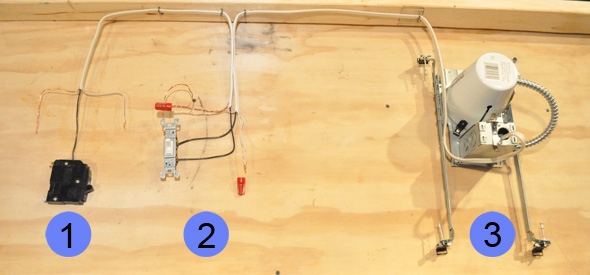 Here's a closeup of position 2, and you can see that all the copper ground wires are spliced together with a pigtail going to the switch ground screw. The white, neutral wires are spliced and ready for a wire nut to be screwed in place. The black, hot wires are connected to the switch terminals.
Pro-Tip: On a single-switch, the hot wires and interchangeable so use a voltmeter to determine which hot wire is supplying power.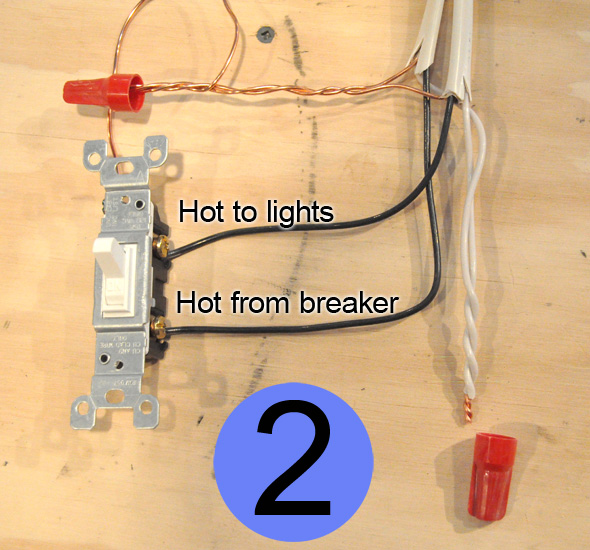 To install 3-way switches, I need to run 3-wire between the existing switch box and the new switch box. 3-wire (pictured below) bundles a hot, neutral, ground and traveler wire together.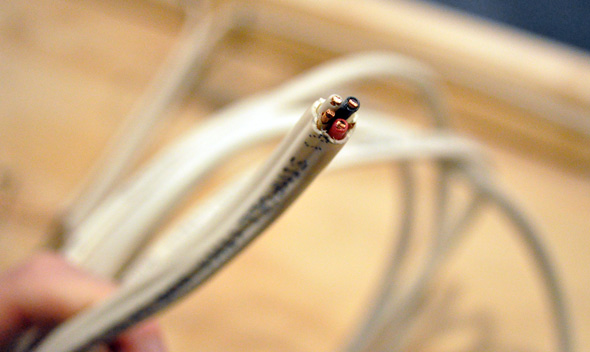 In the picture below you can see that I've run a new 14/3 wire and connected two 3-way switches. While fishing the wires can be a laborious task, making the proper connections is often more confusing so lets take a closer look at the two new switches.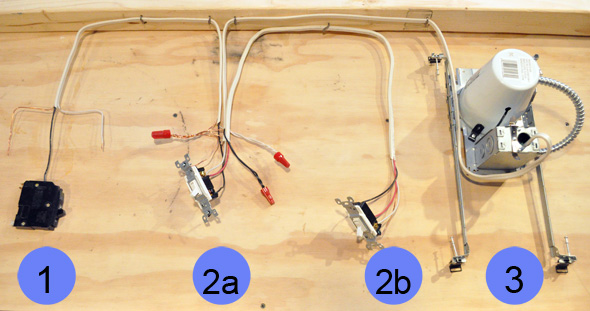 The first switch has three cables coming in- one from the breaker, one going to the lights, and one going to the second switch.
All the ground wires are spliced together and pigtailed to the switch
Like before, the neutral wires from the breaker and lights are spliced together
The hot wire from the breaker is connected to the common terminal on the switch
The white and red wires from the 3-wire cable are connected to the traveler terminals going to the second switch
The switched-hot wires from the second switch and lights are spliced together
Pro-Tip: Identify the white wire as a switch leg by striping it with some electrical tape (not pictured).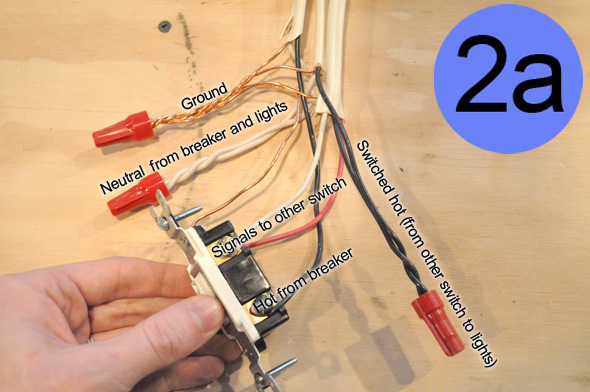 The second switch is much simpler because there's one 3-way cable coming into the box. On this switch, the white and red wires are connected to the traveler terminals, the switched-hot wire goes to the common terminal, and the copper wire to the ground screw.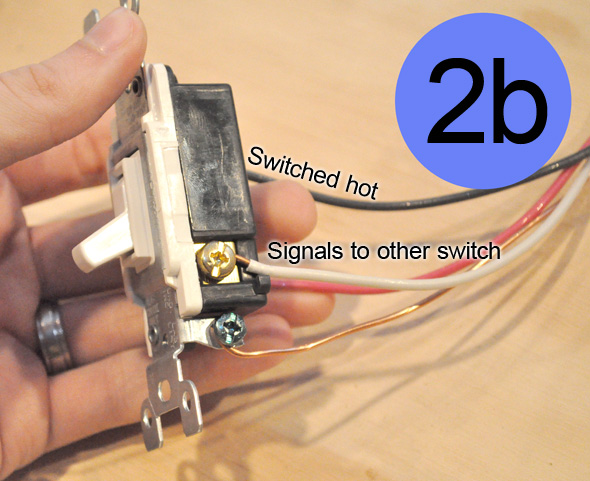 A beautiful thing about the OPC workshop is that I can easily test this tabletop demonstration to make sure everything works. As expected, I can turn the light on and off from either switch.