Months before we started putting together our workshop, I came across a very simple idea for making a wooden beer tote. I've never delved deeply into woodworking, and this tote seemed like a great place to start. Now that our shop is up and running, I decided to try my hand at building one.
If you're looking for a great beginner's woodworking project, this tote is a great place to start. It's simple, can be completed in just a few hours, and can add a rustic look to any space.
The original concept for this tote came from a user at LumberJocks; you can see the details he provided here. The tote consists of four sides, a bottom, and a rope handle. I deviated from the original template a little bit because I couldn't find some materials, and I think my design is simpler.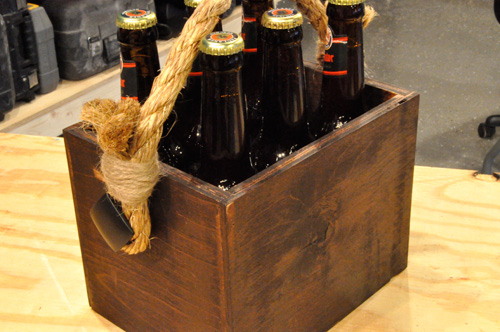 Step 1: Purchase All Required Materials
I went to my local Lowe's and picked up all the materials for this project except for the spare Romex. Altogether the tote cost about $25 to build. If you're interested in building multiple totes, the cost per unit can be decreased by buying full sheets of plywood, which are less expensive per square foot than the 2×2 sheets I purchased.
Wood glue
Twine
2′ Manilla rope
Cabinet door knobs
1/2″ Birch Plywood (sides – 2×2 sheet)
1/4″ Birch Plywood (bottom – 2×2 sheet)
Minwax stain
Spare Romex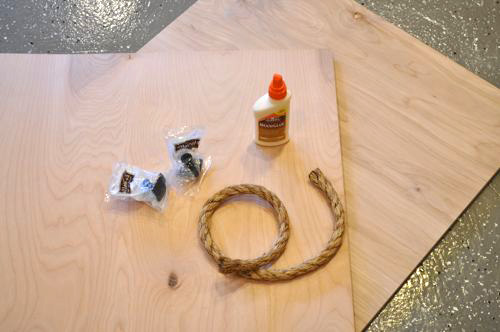 Step 2: Cut the Plywood for the Sides and Bottom
Both pieces of Birch plywood came in 2 foot square sections, and I needed to cut them down to size with my table saw (for longer cuts) and miter saw (for shorter cuts). Here are the dimensions:
1/2″ Birch
(2) 6-1/8″ X 6-1/2″ for the short sides
(2) 8-5/8″ X 6-1/2″ for the long sides
1/4″ Birch
(1) 6-1/8″ X 8-1/8″ for the bottom
My numbers differ from the LumberJock template, because I used 1/2″ plywood instead of the suggested 3/4," and because I chose not to add the divider insert.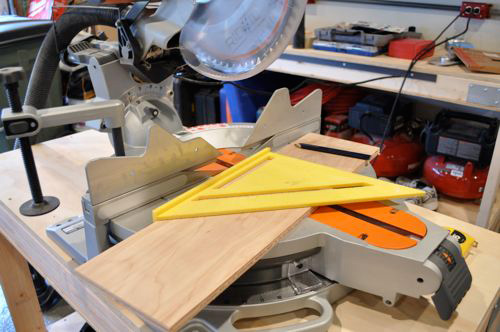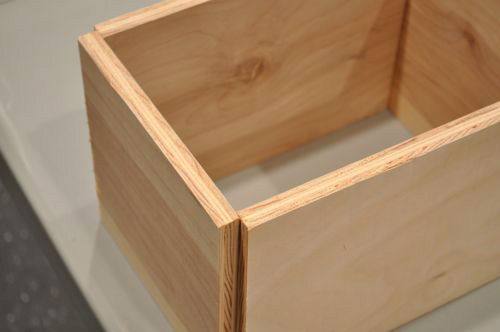 Step 3: Route the Rabbet and Dadoes
There are many different ways to form wood joints. For this tote, I used rabbet joints at the corners and a groove joint to secure the bottom. Both of these can be made using a router with a straight bit or a table saw using the appropriate dado blades. Either way, the result is a moderately strong joint.
I used our SKIL RAS900 Router Table with a 1/2″ straight flute bit for the rabbets, and a 1/4″ straight flute bit for the grooves. These bits route a flat groove out of the surface of the wood. After setting up the router, I tested everything on a piece of scrap wood to make minor tweaks and ensure I would achieve the expected cut.
Tip: Routing is somewhat of a trial-and-error science. If you can, always use a spare piece of wood to test the router setup after each bit or height change prior to using it on your final pieces.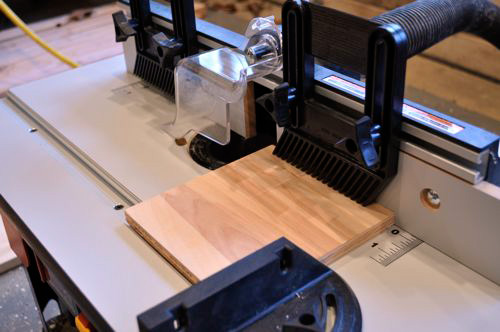 The bottom groove is located 1/2″ away from the bottom on each piece.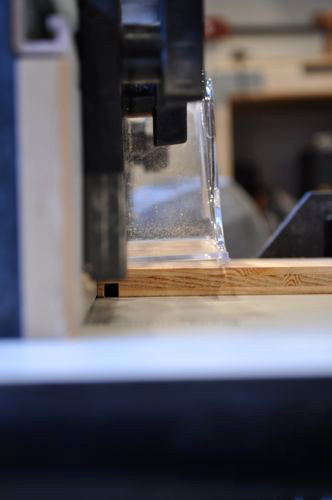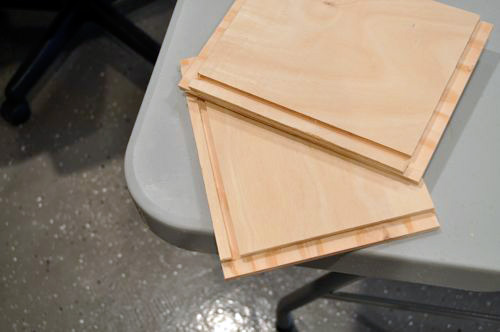 Step 4: Glue and Clamp the Sides and Bottom
After making all the necessary cuts, I put the pieces together to see how they fit, and I ended up shaving off a blade's width from the bottom piece.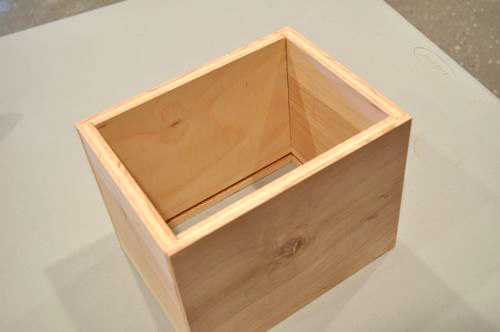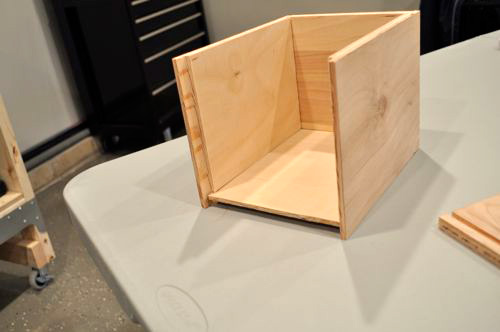 Next, I glued everything together and clamped it all in place, wiping away excess with a damp paper towel.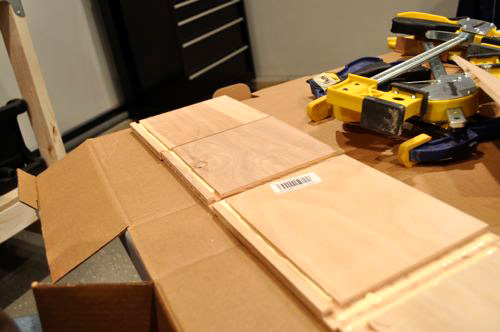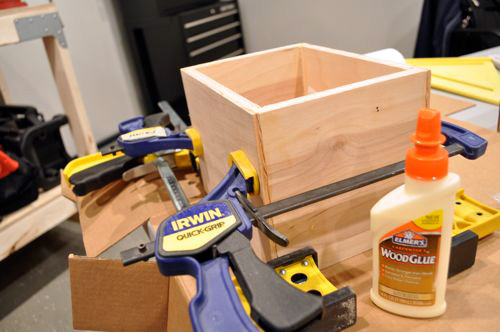 While it was drying, I put in a few pin nails at the corners for good measure.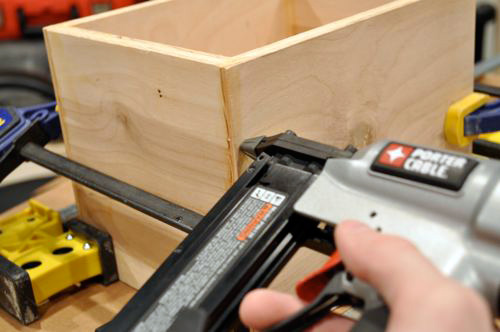 Step 5: Sand, Prepare Knob Holes, and Stain the Tote (If Desired)
The next day, I took off all the clamps and was pleased to find that everything felt solid. My tote had very slight gaps at two of the corners, and I believe they would have been avoided if I used a few more clamps.
I used our Rockwell Sonicrafter to sand everything until it was nice and smooth. Sanding also eliminated any slight misalignment/imperfections at the corners.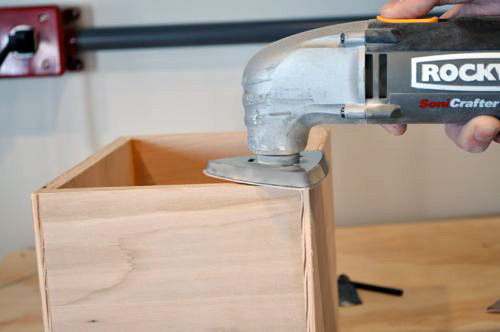 At this point, I marked and drilled the holes for the knobs using masking tape to protect the wood and help prevent tear-out.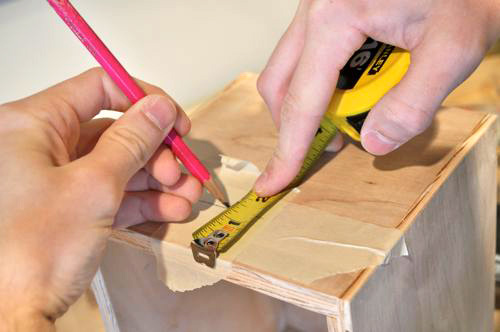 The stain I chose was Minwax Red Mahogany 225, and I let it dry overnight.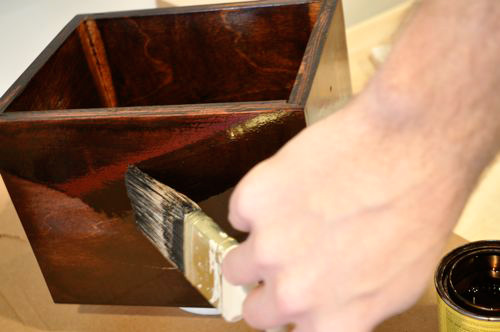 Step 6: Install The Rope Handle
The thing that really gives this tote some character is the manilla rope handle. My original plan was to use the eye splice knots like the guy from LumberJocks. I abandoned this idea after finding out how intricate those knots are, and eventually decided to secure the manilla rope with black wire from some spare Romex.
The knob is what you'd expect to see on a kitchen cabinet, and I actually needed to use my linemen's to cut the screw length down a little.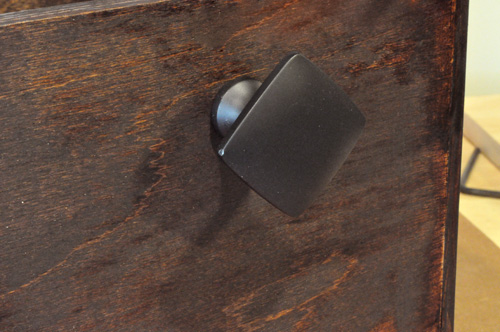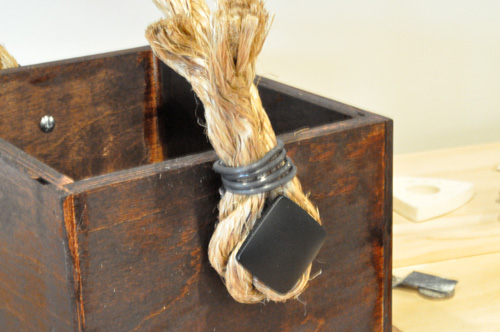 I concealed the wire by wrapping twine around it and tucking the end underneath.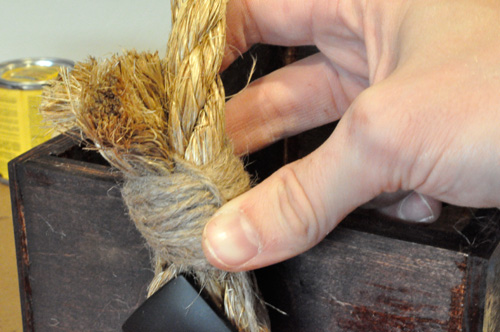 Final Pictures
I think this was a successful venture into woodworking. The tote looks good and a six-pack of beer fits very snugly. What do you think?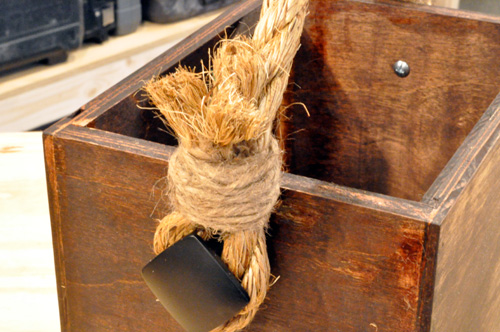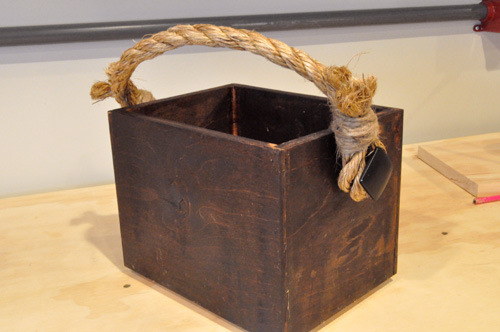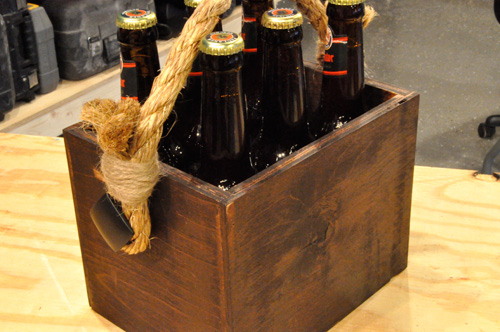 Shared on the following cool sites & parties: