It's good to be back on a Pro-Follow, and I'm pleased to introduce you to Larry Smith. Larry is a professional painter, and his company also installs wall coverings (wall paper, fabrics, etc.). Larry brings almost 40 years of experience in the industry, and I'm excited to be on a job site with him. If you live in Maryland and are need in of a painter or someone to install wallpaper or other wall coverings, give Larry a call at 443-250-4899.
Today's article is all about repainting an existing room, and it's loaded with helpful Pro-Tips including recommended tools and materials. I hope you enjoy this Pro-Follow, and look for more to come.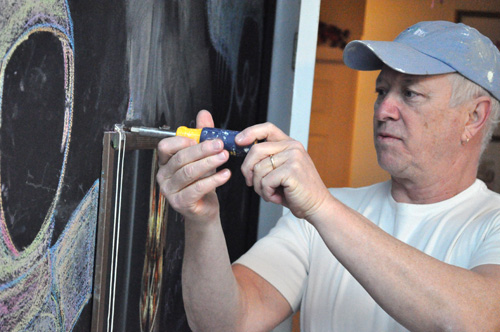 Tools & Materials
Larry couldn't stress enough that using the right tools and materials makes it much easier to paint and achieve good results. He said DIYers and homeowners often skimp on brushes and roller covers to save a few bucks. However, that often results in extra work or a sub-par finished product. Here's what Larry recommends:
2-1/2″ angled brush (see below)
3/8″ nap roller cover (see below)
Painters tool
Drywall knife
Sandpaper / sand sponge
Extension poll
Drop-cloths
Screwdriver
Goof-off wipes
Microfiber dust cloth
Spackle
Paint Brush
It's important that the paint brush bristles are compatible with the paint being used. For instance, a China bristle is appropriate for oil-based products but not latex products. A synthetic bristle brush composed of nylon and/or polyester can be used for all types of paint. Angled brushes are useful because the bristles spread out better when cutting-in and painting trim. Larry recommends Purdy brand paint brushes. He feels they make a quality brush that holds a better edge.
Pro-Tip: Clean brushes with warm water and store them in the original manufacturer keeper to protect the bristles. Larry uses a few brushes almost daily, and by performing simple maintenance, he only needs to replace his brushes about once a year!
Pro-Tip: While synthetic brushes can tackle all types of paint, consider using one set for oil-base paints and another set for water-base paints. This makes it easier to clean the brushes.
Roller Cover
Larry prefers a 3/8″ nap, and he likes Purdy Colossus roller covers. Larry feels they hold a lot of paint, and they don't create ridges often seen with lower-quality roller covers.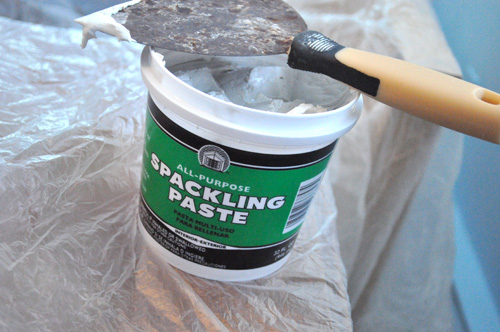 Primer
A good primer is important because it hides whatever is underneath (paint, chalk, lipstick, smoke, water-spot, etc.), seals the wall and provides a good surface for the paint to adhere. Larry used Glidden Gripper to prime the chalkboard paint, and Gripper is especially useful for tough-to-bond surfaces. It also ensured that the chalk didn't "burn through". Larry chose not to prime the rest of the walls because it wasn't necessary going from light blue to a sage green color.
Pro-Tip: Tinting primer can reduce the sealing capabilities.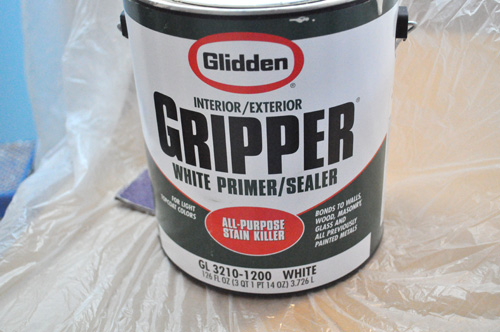 Paint
I've mentioned before that people often have very strong feelings about paint so I was curious what brand Larry recommends, and his answer surprised me. Larry feels that different brands excel at making different types of paint. For instance, for this project Larry used Behr interior flat enamel. However, Larry would never use Behr semi-gloss. When I pressed Larry for his favorite brand, he said Sherwin Williams is often a top choice and Ben Moore is a close second. He also said he doesn't believe any manufacturer makes a "one-coat wonder".
Larry likes Behr Premium Plus because it has good coverage and is a low VOC option. Flat enamel has a slight sheen, provides some wash-ability, and decent hiding. The paint + primer (or self-priming) makes it a better choice on this project for covering over some candle smoke on the walls.
Pro-Tip: Larry usually avoids oil-based paints because of the odor and more difficult cleanup. However, sometimes people request oil-based paint because it creates a more durable finish.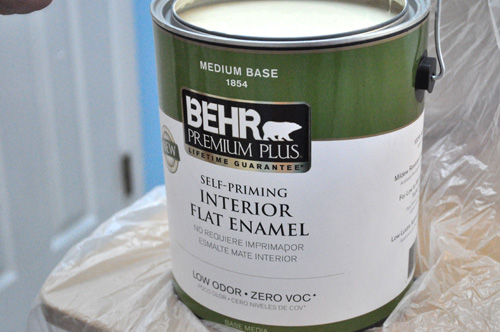 Step 1: Prep the Walls and Ceiling
Larry started work by prepping the walls and ceiling. He removed the light switch and electrical outlet plates, and he removed a mirror mounted to the wall. Larry used Goof-Off rags to clean away sticker residue, and he used a microfiber cloth to eliminate dust.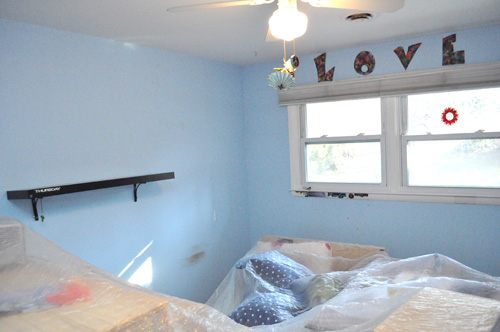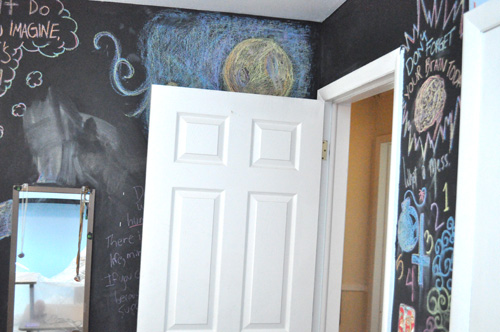 Larry filled nailed holes and gouges with spackle which doesn't shrink very much as it dries. The trade-off is that it takes longer to dry, and it's tougher to sand than alternate products (like Durabond).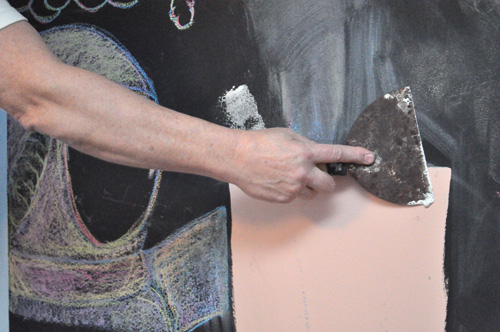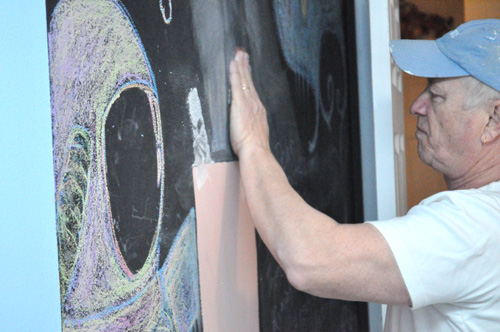 At some point there was a problem with the HVAC, and the ceiling drywall shows a crack from excess moisture. To fix the crack, Larry scored it with the edge of his drywall knife and scraped away any loose debris.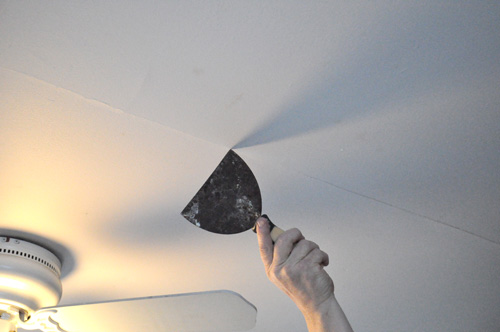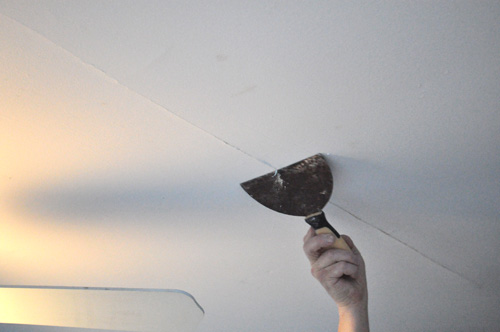 Next, Larry applied a coat of spackle.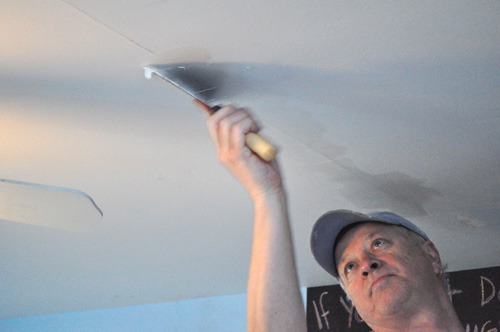 When it was dry, Larry used a sand-sponge to sand it down.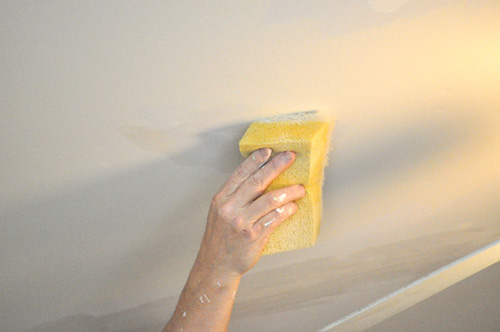 This repair will need more than one coat of spackle so Larry worked around it until the repair was completed and he could prime and paint over it.
Step 2: Prime
Next, Larry applied a coat of primer to the chalkboard paint. He cut-in around the ceiling with a brush and rolled the walls.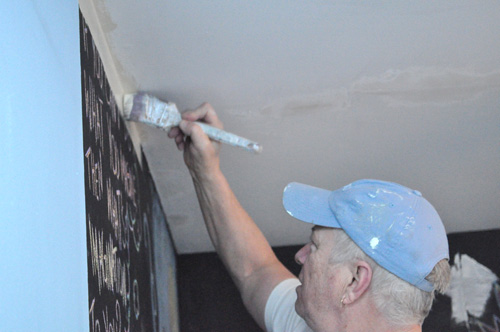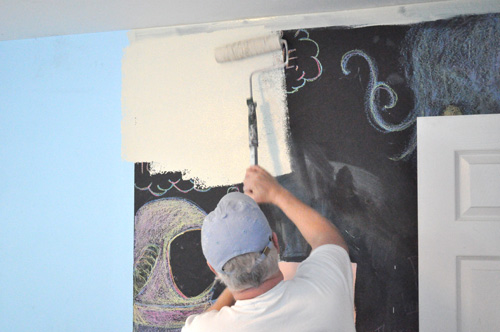 Step 3: Cut-In and Roll Ceiling
While the primer was drying, Larry cut-in around the ceiling with a ceiling paint and paint brush. The ceiling moved quickly because he didn't need to worry about avoiding the walls.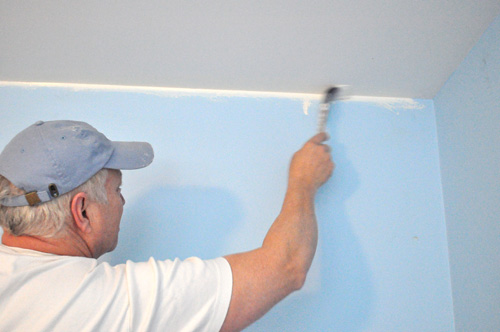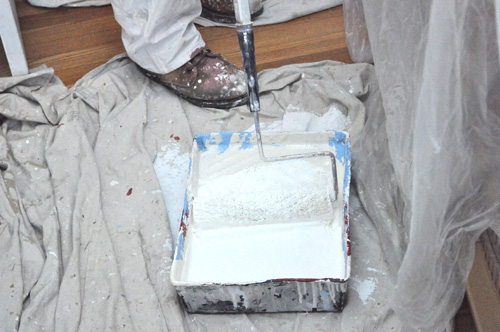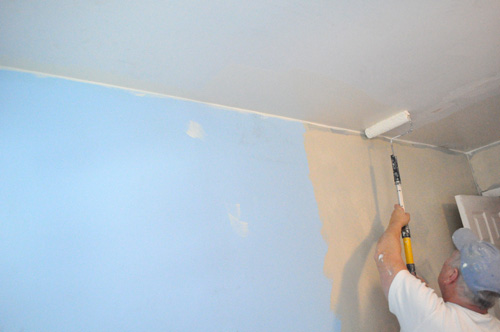 Step 4: Cut-In and Roll Walls
Next, Larry began cutting-in around the doors and window.
Pro-Tip: Paint should always be mixed thoroughly, and deep tone colors should be remixed periodically to ensure uniform color.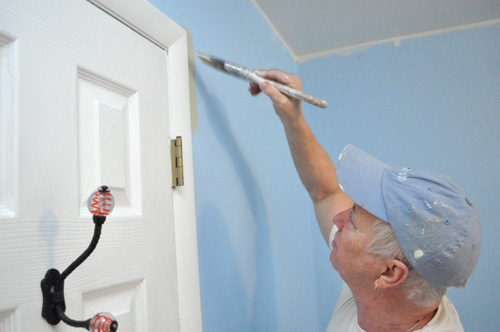 Cutting-in has always been difficult for me so I watched Larry closely, and here's what he did:
Loaded his brush with paint
Starting off the trim (or ceiling), he would spread the bristles and define the edge of the brush
Pushing the brush away from him, Larry would make a short pass coming along side the trim (or ceiling)
Go back and spread excess paint and eliminate drips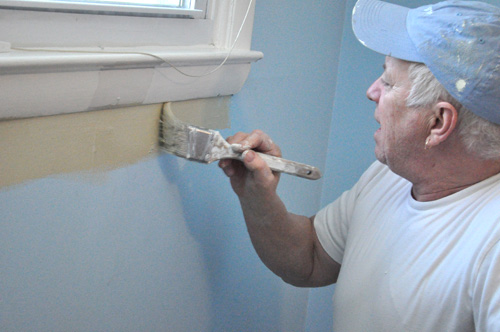 Larry said that one thing that makes cutting-in more difficult is a poorly defined corner. For instance, if the window installers used a lot of caulk, it's tough to follow the edge of the corner. In those scenarios, Larry said he will sometimes use Frog tape to create a nice, straight edge.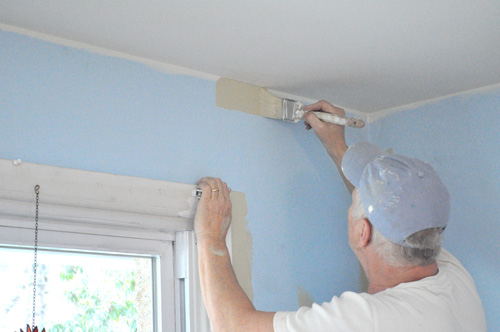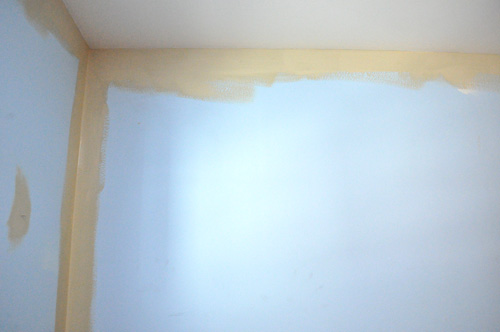 Next, Larry rolled his first coat and the Behr flat enamel covered very well. He almost didn't need a second coat.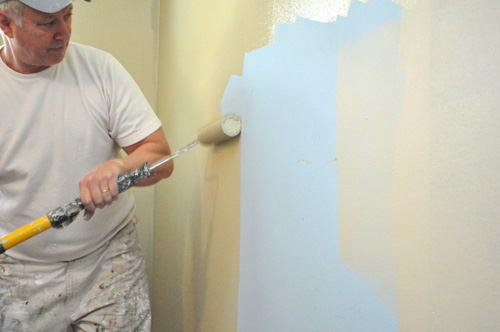 Step 5: Second Coat
It's important for the first coat of paint to be dry before applying the second coat of paint. Otherwise it can peel away while you're working. Before painting, Larry sanded down a few areas.
Pro-Tip: Paint with more tint can require longer drying time.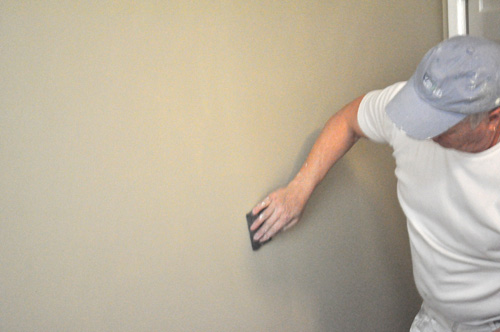 Next, Larry applied a quick second coat to the walls. In addition to ensuring complete coverage, the second coat also increases wipe-ability.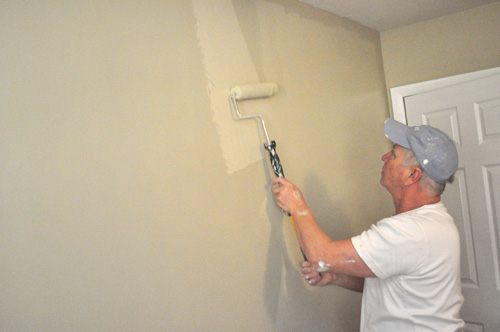 Pro-Tip: Touch-ups don't require much paint so Larry often advises clients to save only a small amount, and baby food jars work well to preserve paint.
Step 6: Paint Doors and Trim
Larry painted the doors, casing and baseboards last, and he started by cleaning the doors with Goof-Off rags.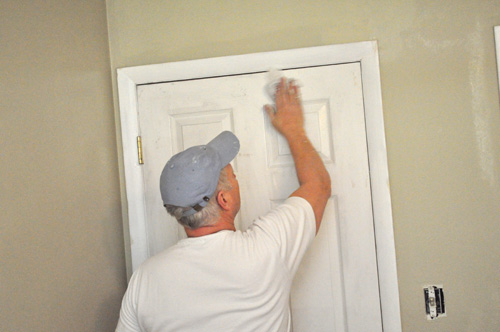 When they were dry, Larry applied an enamel paint that will create a protective surface.
Pro-Tip: When painting doors, always paint with the grain.
It's more common to find an oil-based paint on trim, and unless it's sanded off or a bonding primer is applied, latex paint won't adhere properly. If you're having problems with trim, Larry advises that can be a likely culprit.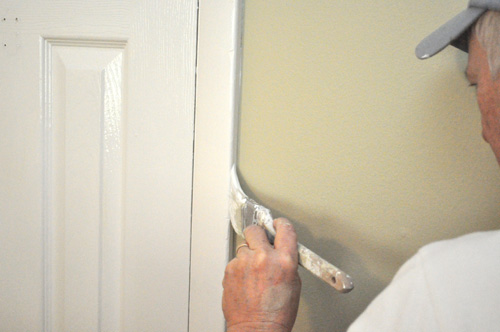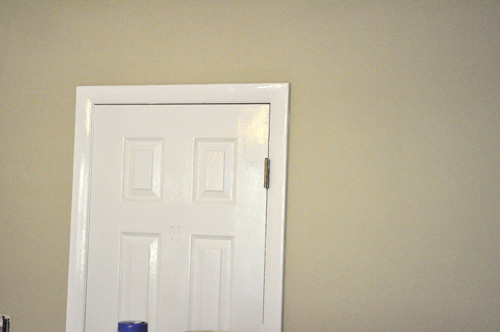 Finished
Here are a couple of shots of the finished room. Look for more pictures in the next few days.