Last weekend, Jocie and I spent time with her sister and sister's family working on their kitchen. They have solid wood cabinets, and structurally they're in great shape. Unfortunately, visually they looked a little worn out and in need of updating. That's where Rust-Oleum helped us out.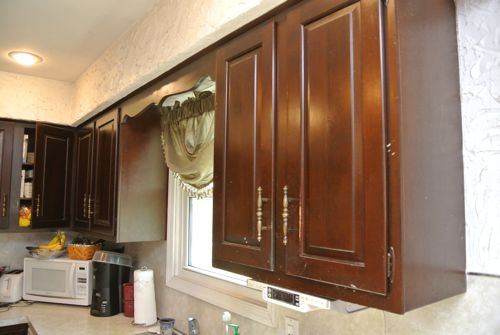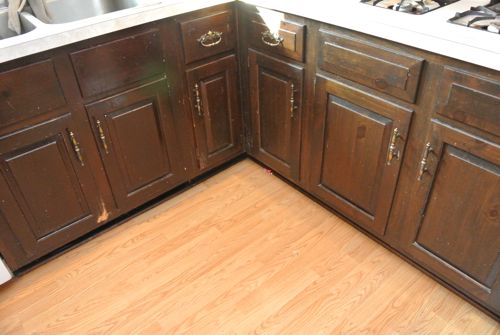 Cabinet Transformations is a part of Rust-Oleum's Transformations line up. The DIY kits include almost everything you need to give your kitchen cabinets (or other wood, laminate, or melamine surface) a fresh new look, and there are 70 colors and finishes to choose from. We went with unglazed, Quilter's White, and you can see all the options here.
Measurements
Before you purchase anything, figure out how much product you'll need. Rust-Oleum provides a handy calculator that assumes 2 coats and excludes the insides of the cabinets. The kits are available in 100 sq. ft and 200 sq. ft. sizes. Also, make sure you add in a little extra so you're not scraping the bottom of the paint can.
Tip: We applied more than 2 coats, and maybe it was because the original cabinet color was so dark. Regardless, factor in some extra bond coat because it's better to have too much than too little.
Tools and Materials
Each kit includes deglosser, bond coat, optional decorative glaze, protective top coat, glazing cloths, scrub pads and stir sticks.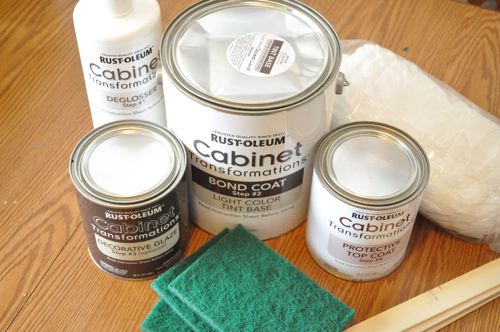 In addition, we picked up a degreaser, wood filler, painter's tape, synthetic paint brushes and a box of rags.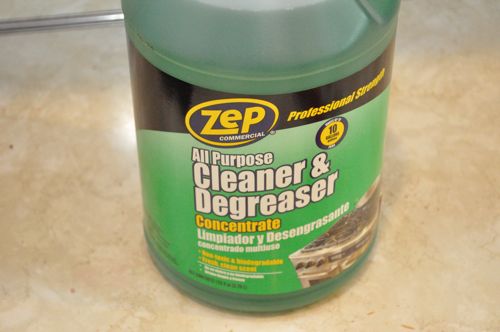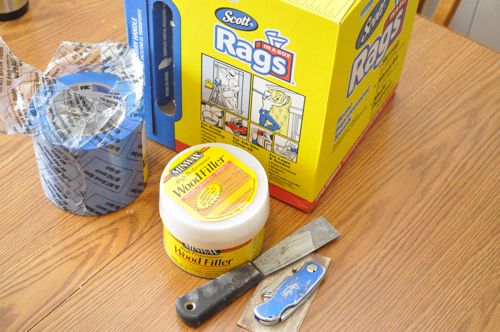 Tip: If you're skipping the glaze coat and you've got the equipment, consider using a sprayer. Both the bond coat and top coat can be cut with water and applied with an HVLP paint sprayer. Taping and covering everything will take time, but it'll be faster overall and the results will look great.
Step 1: Remove Cabinet Doors and Hardware
Before Jocie and I even arrived, the cabinet doors, hinges, drawer pulls, and handles had already been removed.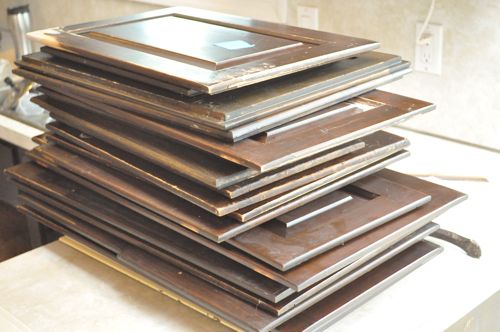 Each door was labeled with a number corresponding to a rough sketch of the kitchen. That way, when we were done, it would be easy to replace the door in its original location.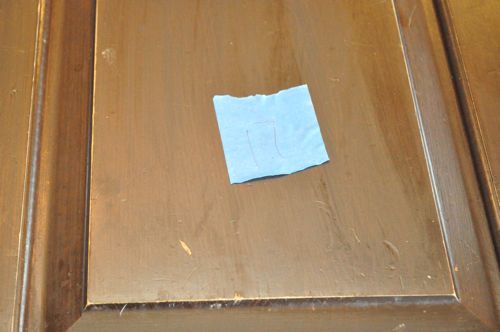 Step 2: Fill Holes and Repair Damaged Wood
You can tell from the pictures that these cabinets were in need of some TLC. Defects on the cabinet doors, face frames, and drawer fronts were repaired using wood filler and sanded smooth.
Step 3: Clean and Degloss
We used the degreaser and deglosser to clean and prepare all the surfaces. This was a really important step because leftover finish would affect the look of the bond coat. Rust-Oleum states there is no need for sanding, stripping or priming with Cabinet Transformations so this was the majority of the prep work. The only exception is if you're working with raw wood. In that case, Rust-Oleum recommends using a stain blocking primer.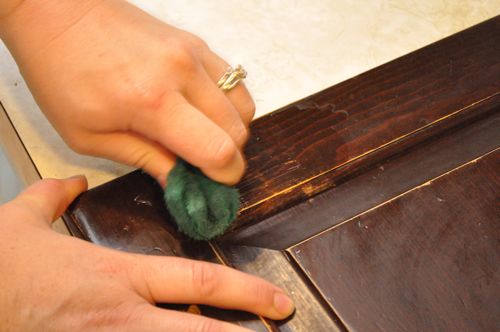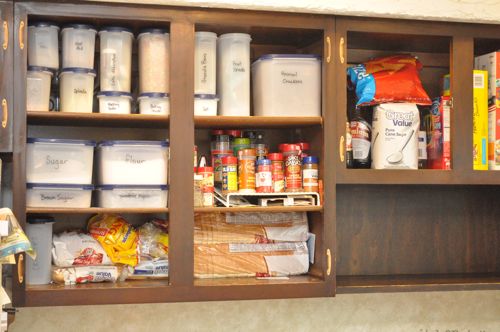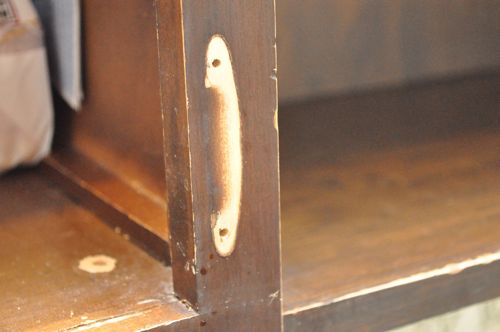 Step 4: Tape Off Ceiling, Shelves, Appliances, Etc.
Just like a painting project, we taped off all the edges being really careful to create a good seal. In my experience, painter's tape is hit-or-miss so I try to cut in by hand and use the painter's tape as an extra precaution.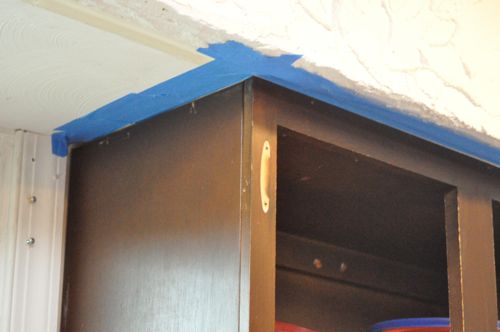 Step 5: Apply the Bond Coat
The bond coat is the solid color, and it's probably an acrylic latex paint. We setup the cabinet doors in the garage on some sawhorses and started with the backsides.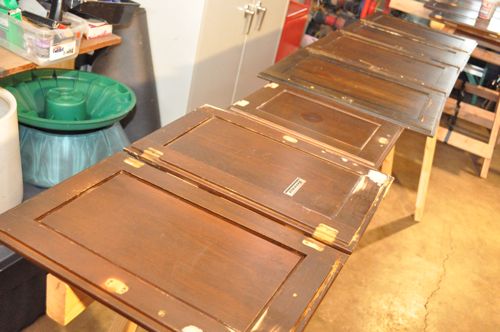 We applied the bond coat with the grain of the wood.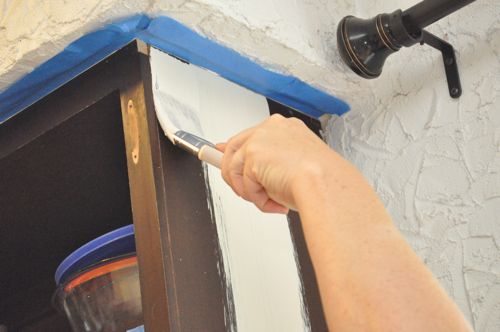 Each bond coat takes 2-3 hours to dry, and we applied at least 3 coats to fully cover. Not only was it slow going, but we were also concerned that we wouldn't have enough for the entire project! Here's a look after the first coat.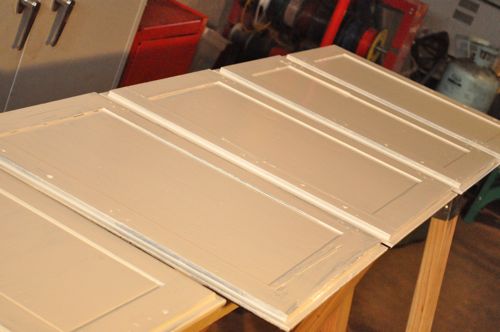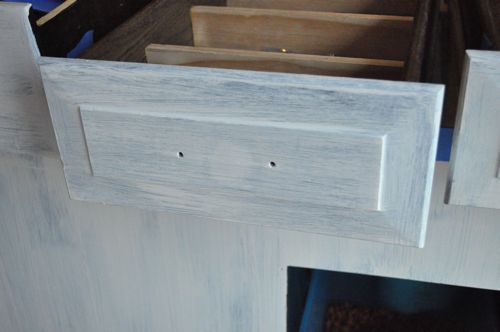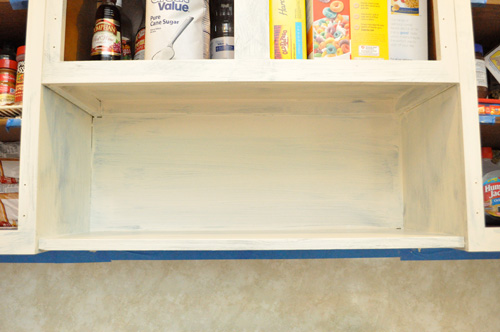 As we continued to work, we noticed a few areas that looked like this. I'm not sure if the bond coat shrank or what happened. It was in these instances that we needed to apply a quick fourth coat.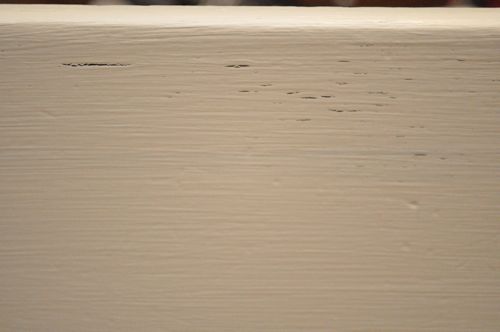 Here's a look after we finished all of the bond coat.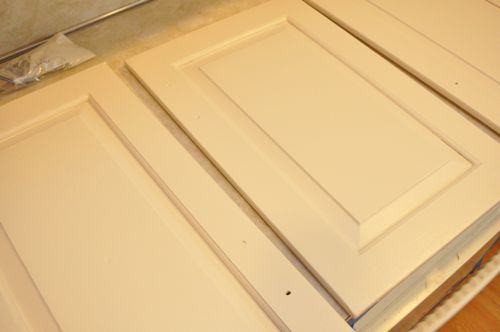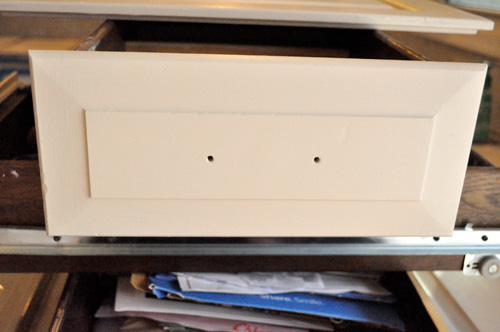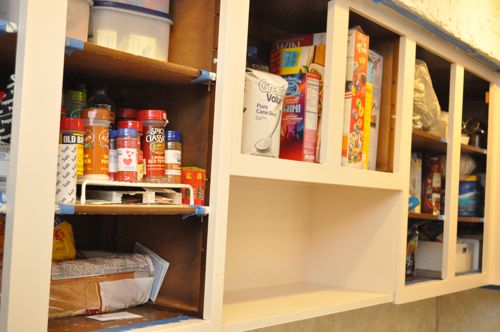 Step 6: Apply Protective Top Coat
If you remember, we skipped the optional glaze coat. The glaze really brings out the wood grain, and that wasn't the look we wanted. As a bonus, that means we also eliminated the minimum 8 hours dry time for the glaze.
The top coat is a thin, milky liquid, and the small, 32 fl. oz. can goes a long way. When we applied the top coat, it was difficult to see the brush strokes, so make sure you have plenty of light.
Tip: Uneven application can cause discoloration and streaking.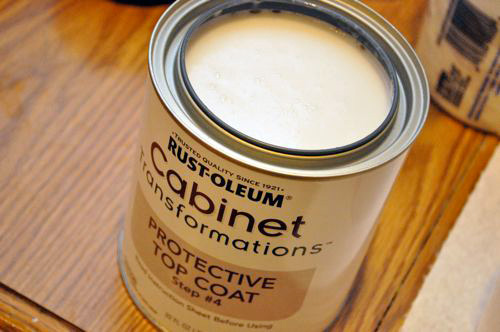 Doors and hardware can be installed 12 hours after application. Everything is ready for light use after 24 hours, and the top coat is fully cured 7 – 10 days later.
Step 7: Clean Door Hardware
We opted to reuse the existing door hinges, drawer pulls, and handles. First, we used acetone to clean off all the gunk. We scrubbed everything until it had an "antique brass" look.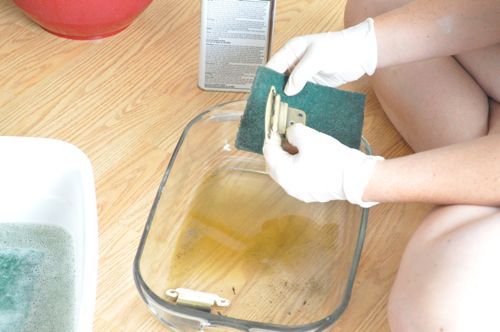 After the hardware was clean and dry, we started re-installing everything.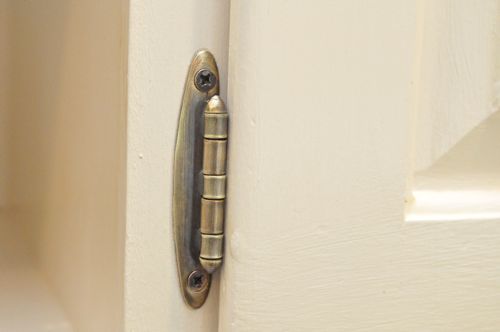 For a look at the finished product, you'll have to head over to "our finer side" which we call The Better Half. Stay tuned as we will be tackling the countertop soon too!