Crown molding is like, well, a crown for a room. It's one of the first things I notice about a home because it's such a beautiful accent, and it adds a lot of visual interest. Installing crown molding is a project that I've wanted to share with you for some time, and when a friend told me that he was putting crown up at his parents house, I immediately offered to help.
For some reason it seems that homeowners shy away from installing crown molding themselves. I think the combination of miter and bevel cuts intimidates the average DIYer. Well this article will put all those fears to rest. I'll cover how to cut those tricky corners, scarf joints, nailing the crown molding and a few tricks to help along the way. The result is a beautiful, seamless installation that you can brag about to all your friends.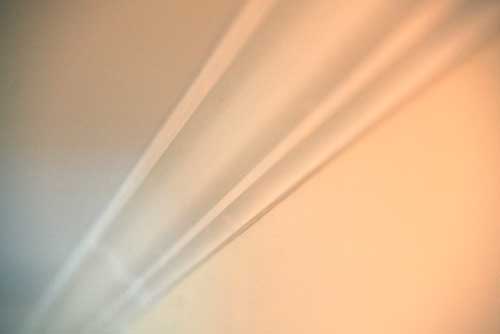 Installing Crown Molding
The Gear
Let's start this project by discussing the tools you'll need to install crown molding. We used:
Porter Cable finish nailer
16 ga. finish nails
Porter Cable compressor (review)
Ridgid compound miter saw (MS1290LZA)
Stud finder
Ladder / mini scaffold
Tape measure
Tip: You can use a coping saw and sandpaper to cut inside corners but we chose to use the miter saw instead.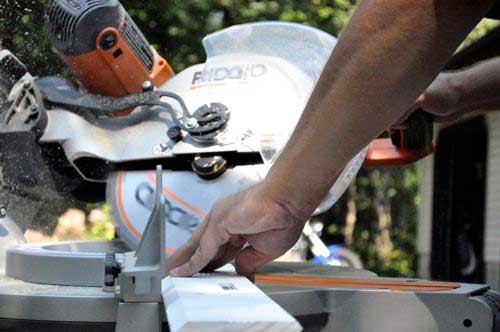 Cutting Corners
By far the toughest part of installing crown molding is translating the mental image of a corner into accurate cuts. Ridgid recognizes this and included a handy reference on the side of their miter saw (and in the manual) that gives you the correct miter and bevel angles. If you need to work faster, you can achieve just about every cut without making multiple adjustments to the saw, however you'll need to rotate your workpiece into the correct orientation. For the first time installer, I'd suggest following the basic guide else you may end up with a lot of wasted molding.
The easier setup starts with the backside of the molding flat against the miter table and the top edge against the fence:
Inside corner, left side: miter 31.6° right, bevel 33.9° left
Inside corner, right side: miter 31.6° left, bevel 33.9° right
Outside corner, left side: miter 31.6° left, bevel 33.9° right
Outside corner, right side: miter 31.6° right, bevel 33.9° left
OR
Here are settings for the more adventurous installer. With a constant bevel of 33.9° left:
Inside corner, left side: Set top edge of molding against fence, miter 31.6° right, save left piece
Inside corner, right side: Set bottom edge of molding against fence, miter 31.6° left, save left piece
Outside corner, left side: Set bottom edge of molding against fence, miter 31.6° left, save right piece
Outside corner, right side: Set top edge of molding against fence, miter 31.62° right, save right piece

Tip: Especially with bevel angles, it's tough to see exactly where the blade will cut the workpiece. Make your cuts a little longer, and then carefully trim to size.
Tip: Some installers prefer not to miter inside corners. Instead, they'll run the first piece square against the wall and cope cut the second piece to fit the contours of the molding.
Here's a picture of one side of an outside corner.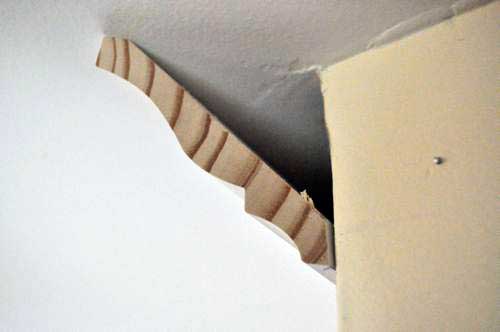 Cutting Scarf Joints
Scarf joints have nothing to do with keeping you warm in the winter, but they will help your molding look nice. For long straight runs, two pieces of molding overlap at a scarf joint. By overlapping the two pieces and not simply butting the ends together, the transition is almost undetectable. Furthermore, if the molding shifts or shrinks, a scarf joint will remain hidden. We chose to create a 45° overlap scarf joint although many people will opt for a compound angle cut.
Tip: Scarf joints should occur on a stud and it's not a bad idea to use wood glue on the ends.
You can see how the two piece overlap,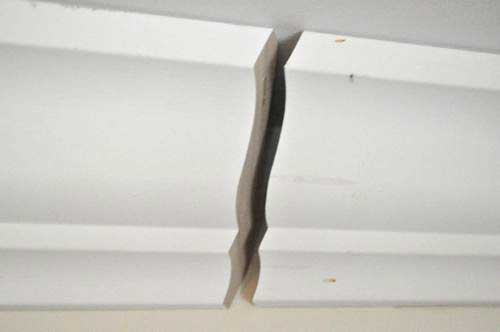 and how they look after we nailed them in place.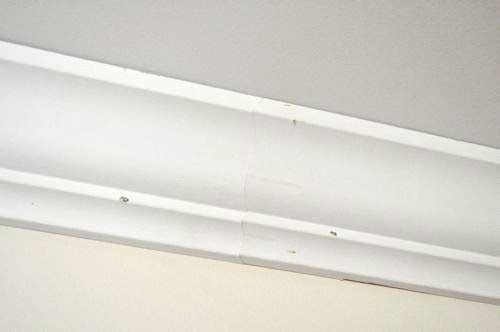 Nailing the Crown Molding
We secured all the pieces with 16 gauge finish nails through the flat part of the molding. Use the first couple nails to adjust your compressor pressure so that each nail is properly countersunk below the surface of the molding (roughly 80 psi). Nail into a stud whenever possible, and use a stud finder to locate them. If you've ever done any home improvement work, you know that walls and corners are never perfect. As we nailed everything in place, we found it necessary to bend the molding to fit tightly against the ceiling and wall. This is a dangerous game as that can make corners and scarf joints even more difficult. To ensure that everything fit together snug, we would only drive a few nails and then dry fit the next piece.
Tip: If you install a backer board that hides behind the crown molding, you won't need to find studs as you work. You nail the molding to the backboard wherever it's convenient.
Pictures of Crown Molding Installed
Here's how everything looked before we started.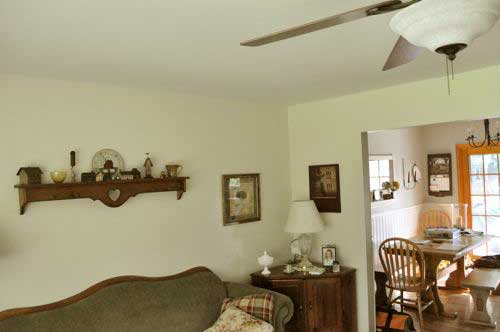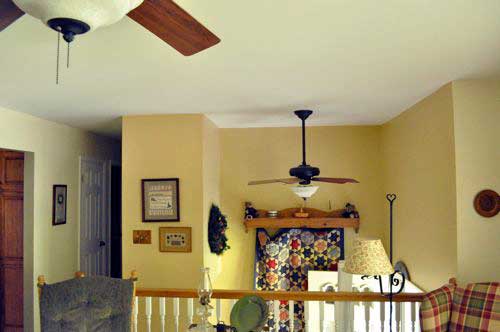 You can see how nice it looks even before caulk and touch-up paint.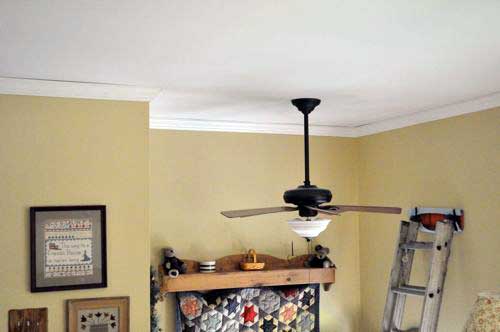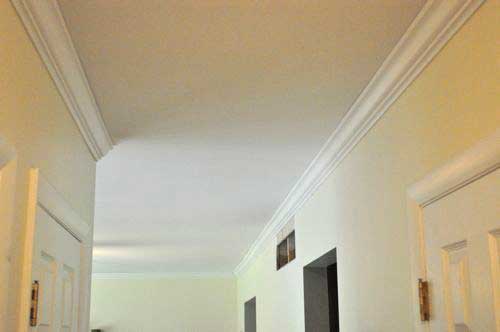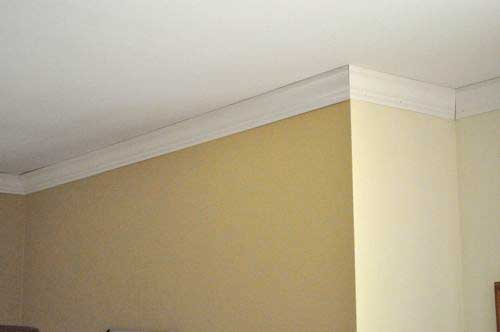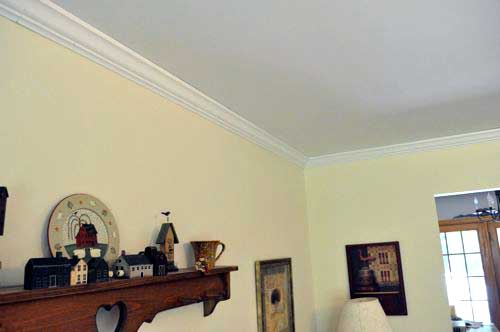 Tiny gaps like these occur when the walls / ceiling aren't straight or square. Fortunately, caulk heals many wounds.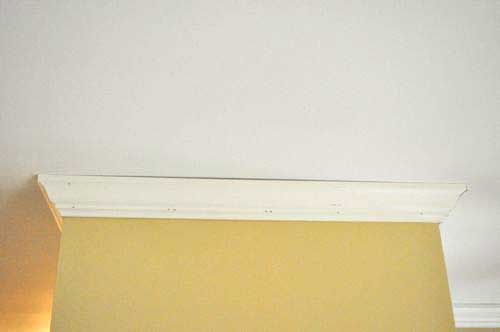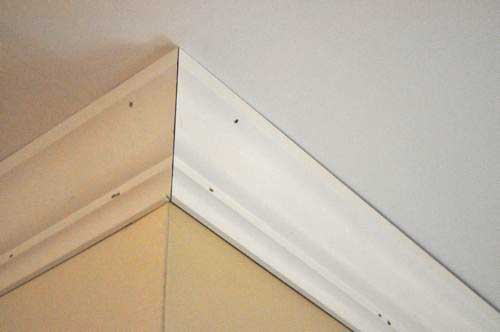 And after caulk (without touch-up paint)…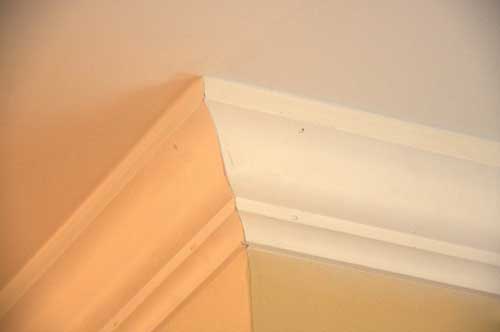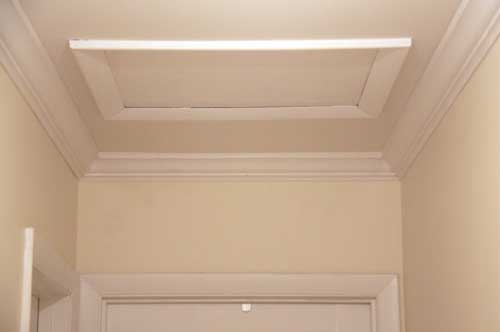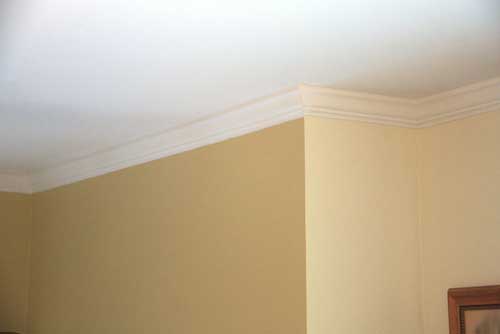 I think the crown molding looks pretty good. Have you ever installed crown molding? What tips can you offer? Did you go the extra mile and cope cut the inside corners?