I hooked up my new Honeywell Programmable Thermostat today and it was surprisingly easy. Honeywell includes a great set of instructions that was easy to follow.
Installing a New Thermostat
Note: Follow all the instructions that were included with your thermostat.  These instructions are only a summary.
Step 1: Before you start, make sure to turn off the power to your heating and cooling system.
Step 2: Next, you need to get the old thermostat off. Ours had two screws securing the faceplate and two more screws anchoring it to the wall. I saved these screws and was able to reuse the same drywall anchors.
Step 3: Honeywell included some small stickers to label all the wires. Tag each wire with it's corresponding terminal. You might notice that some wires are not connected. This is common because thermostat wiring comes in different varieties and the wiring depends on your type of HVAC system.  The instructions will help you identify the right wires.
Step 4: Attach the new thermostat wallplate and feed the wires through the opening in the back.
Step 5: Now it's time to connect the wires to the programmable thermostat. Match up the tags with the correct terminals. Loosen the terminal screws and insert the wires. Tighten the terminal screws and make sure the wire is secure.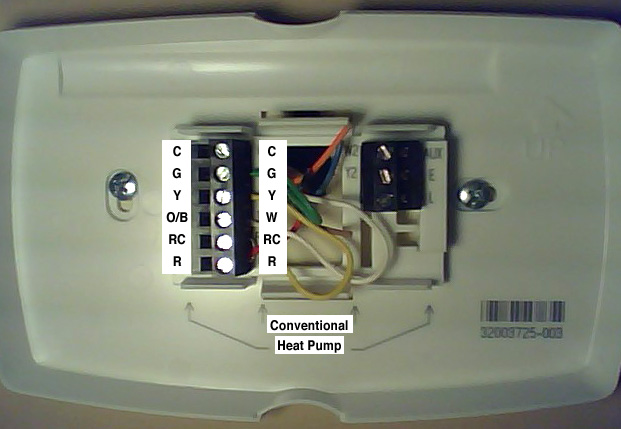 I've relabeled the terminals so you can see them better. Notice that conventional HVAC systems differ from heat pump systems, but a programmable thermostat will work with both.
These are the wires I connected:
Green – This is connected to the G terminal. This controls the furnace fan.
Yellow – This is connected to the Y terminal and this controls the compressor for the air conditioning.
White – This is connected to the W terminal and controls the heat.
Red – Lastly, this is connected to the R terminal and mine is jumpered to the RC terminal. This is the source hot wire from the transformer.
Step 6: Insert any required batteries and snap the programmable thermostat onto the wallplate. Turn the power back on and start programming your temperatures.
Recommended Programmable Thermostat
If you're in the market for a new thermostat, we like this 7-Day Touchscreen Programmable Thermostat from Honeywell, available from Home Depot at that link.  That's the model we installed here, and as you can see, Honeywell really made the install easy.
What do you think? Ever install a thermostat?