Are you ready to grill out this Summer? Is your grill ready? With the unofficial first day of Summer behind us, grilling is back in season! We're excited for all the smells and tastes that come with grilling out our favorite dishes. We're also excited to share with you a recent red-hot release from the folks at Sears: the Kenmore 3-Burner Gas Grill with Rotisserie & Side Burner.
Sears recently shipped us this new-for-2010 grill to review and share with you. We used it for the first time on Memorial Day to cook 10 cheeseburgers and heat Bush's baked beans on the side burner for a group of friends helping out on the renovation.  Yesterday, we used it again to prepare spaghetti (we rotated pots of noodles and sauce on the side burner and chicken breasts (for the sauce) cooked up on the main burners). With the house in disarray from the renovation and the recent failure of our 8-year-old stainless grill, the new Kenmore has been a real lifesaver. Read on for our complete review.
Kenmore Red Gas Grill Review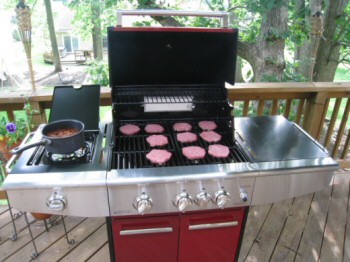 The Highs: Heats up very fast for quick grilling; integrated wide-range thermometer; wide porcelain-coated iron grates; sturdy construction; attractive deep red, black, and stainless color scheme; good price; good assembly instructions; integrated rotisserie; electric ignition.
The Lows: "Low" setting on side burner hotter than we would prefer. Main grill is hotter in back than in front. Cover not included.
The Verdict: A beautiful grill to complement any outdoor eating area…
Features Review
Three independently-controlled main burners making 12,000 BTUs each.
Rotisserie burner making 8,000 BTUs.
Side burner (estimated to make 3000 BTUs)
3.2 square feet of main cooking area (enough for about 12 frozen/raw hamburgers or as many as 20 after they cook down a bit)
Warming rack (about 1/2 size of cooking area, elevated 3 inches above cooking surface).
Large shelf (opposite the side burner)
Thermometer that reads up to 700 degrees F.
5-year Burner Warranty (1 year on entire grill)
Performance Review
Assembly: It took us about 2 hours to assemble and a few steps require two people. The grill comes tightly packed in a box about half its size. Sears provides extra screws and the required Phillips-head screwdriver (the only tool required for assembly).  We're pretty sure that you can pick up this grill completely assembled at your local Sears store if you choose that route.
Cooking (Main Burners): We tested the main burners and side burner, but didn't have a chance to try the rotisserie.  The main burners heat up very fast – from 80 to 300 degrees in well under 5 minutes. The back of the main grill area gets hotter than the front unless you leave the top down on the grill while cooking. We've found this true for almost every grill we've used. It's caused primarily by the top of the grill reflecting heat back onto the surface, and the fact that less heat escapes than in the front which is more open to air. You can rotate food while you cook or leave the top down most of the time to combat this effect.
We enjoyed the heavy black porcelain-coated iron cooking grates. The holes in the grates are small enough that its not easy to drop food between them (a big plus for easy clean-up), and they appear to allow plenty of heat to the surface.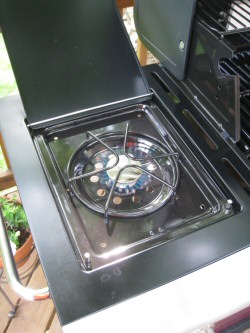 Cooking (Side Burner): The side burner performs similar to interior gas stove top. On our grill, even the "low" setting on the side burner still produced a sizable flame. We're not sure if this is an anomaly in our test model, but it makes it difficult to simmer a dish on the side burner unless you turn the propane down. The good news is that we generally use the side burner to boil water for pasta or to cook corn on the cob, neither of which require a simmer setting.
Thermometer: We resisted the temptation to get out our infrared thermometer to put the built in thermometer to the test. Even without that scrutiny, we can say it's easy to read and appears to be sufficiently dynamic.  We're sure it's close enough for any grilling application we'd undertake.
The Looks: At the end of the day, one of the biggest claims to fame this grill has is its outstanding red, black, and stainless color scheme. This grill is a great complement to our outdoor deck. We really like the way it looks and have already gotten compliments on it.
Price & Where to Buy
The Kenmore Red 3-Burner Grill is sold exclusively at Sears (and Sears.com).
Expect to pay between $249-299.  If you buy online, shipping is free from Sears.com with a mail-in rebate.
Current list price is $299 and we've been told there will be a special around Father's Day for $249, putting this grill in a strong competitive price range with comparable models. We're sure any dad in your life would appreciate getting this grill!
What do you think? Do you already own this grill? Is there a question we left unanswered? Leave us your opinion in the comments!