Thank you so much for joining us at One Project Closer for this Kitchen Remodel: Coffee Bar DIY and Fridge Cutout. This post is sponsored by the Home Depot Prospective Campaign. Post may also contain affiliate links. Opinions (and typos) are 100% our own, and we appreciate you supporting our site in order to continue to provide free content to our readers.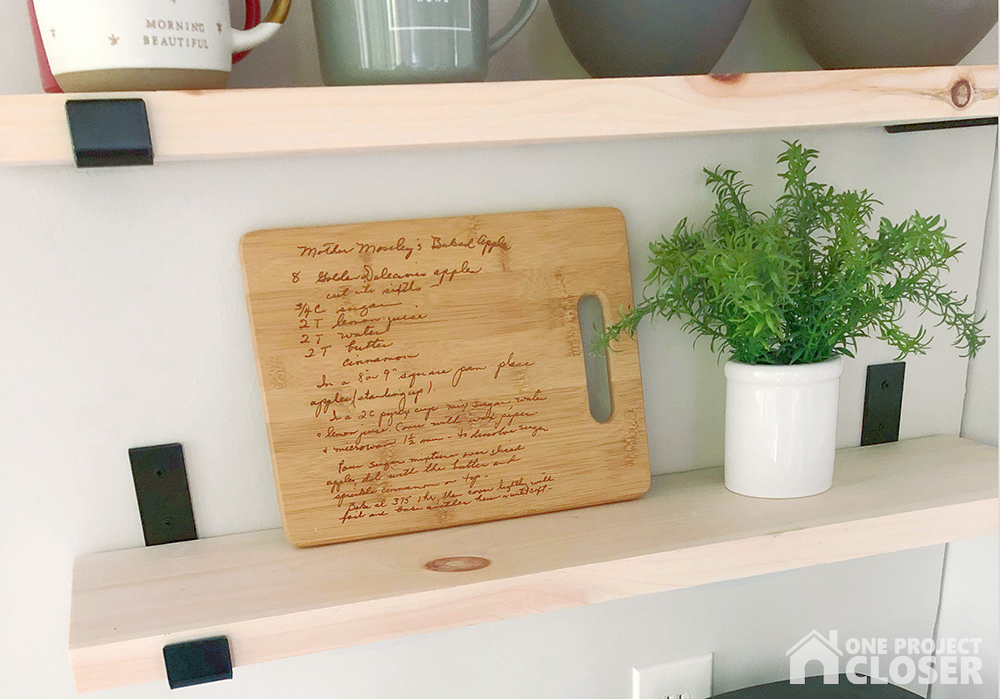 If you've been following our Insta-stories you may have seen that we are remodeling our kitchen. It has been on our to-do list since we moved into this house in 2014. The kitchen was original, small and the cabinets were made of particle board. Now, I'm not complaining. It was painted white and functional. But over the past year, we had more and more things breaking – the faucet, drawers falling off and unable to be reattached for the 100th time. It was time!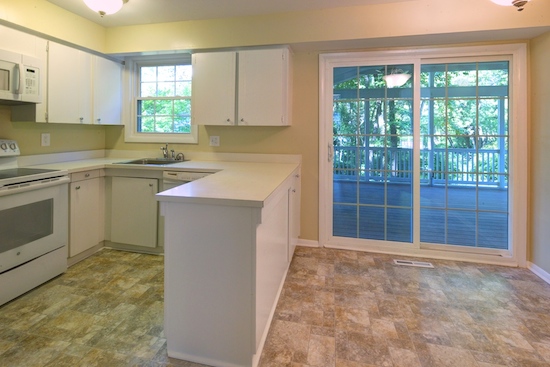 We decided to work in sections so we wouldn't live without a functional kitchen for too long. Part of our kitchen remodel meant moving the fridge across the kitchen to what was the breakfast nook. This wall was actually the very first project I did when we moved into this house, a stenciled wall: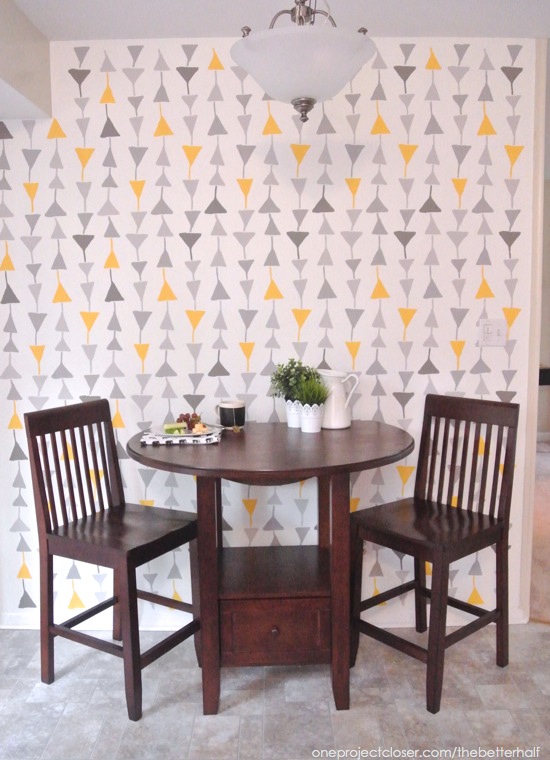 Behind that wall is a half bath (on the left) and a pantry (on the right). We decided to knock out the pantry wall in order to recess the fridge and fridge cabinet, maximizing our space in the room (Special thanks to my sister, Erin for that genius idea!).
The kids had a GREAT time knocking down the wall, convincing my oldest that she would like to be a Contractor when she grows up!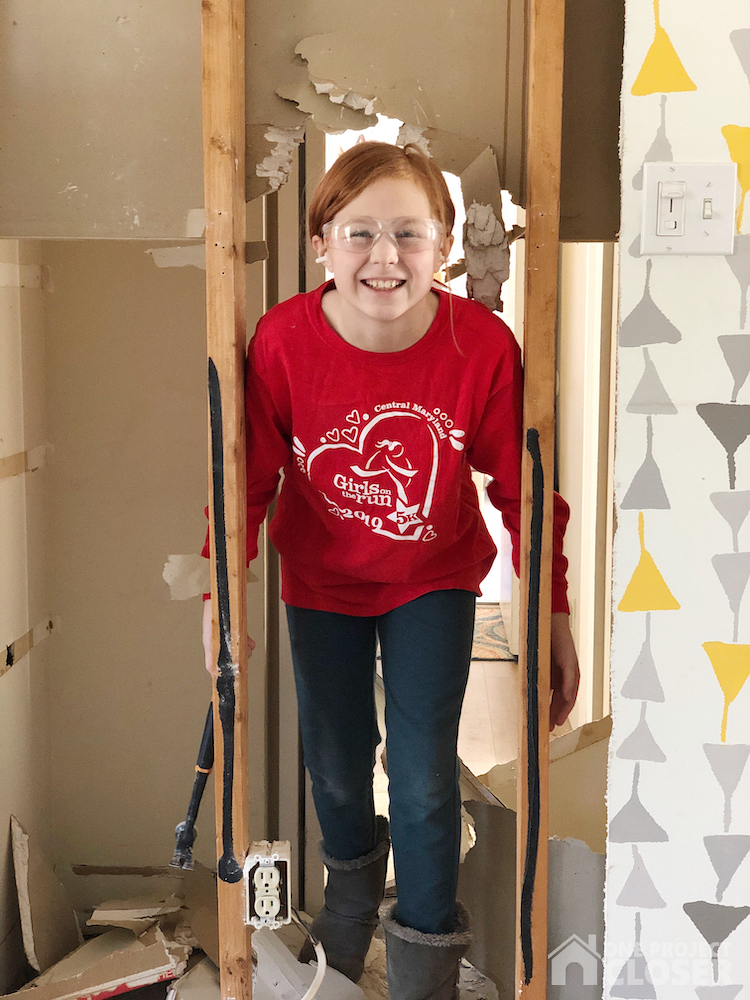 Once the wall was down, Ethan moved studs, moved electrical, replaced floor boards, and moved the fridge water line. Fortunately, we had tons of leftover vinyl planks from when we installed vinyl flooring two years ago.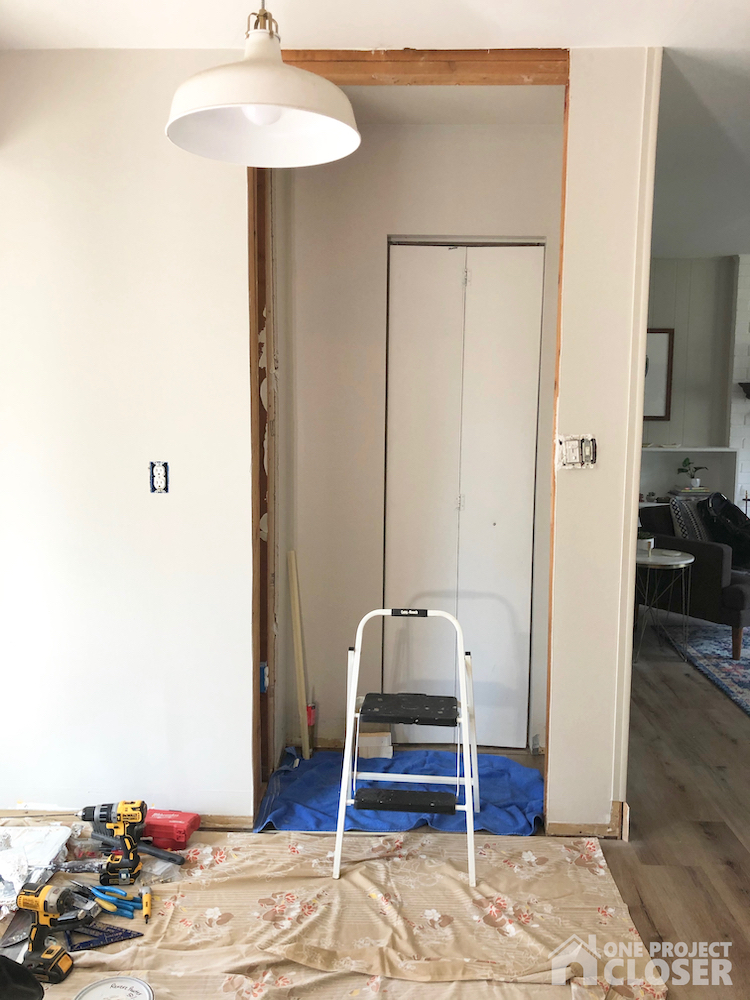 Finally, before placing the cabinet and fridge, Ethan put up a false wall so we could preserve a small broom closet on the other side. This involved cutting the existing drywall from the old pantry. He tried scoring, using a drywall saw, so many things. Then he remembered that Home Depot had sent us this handy Dremel Multi-Max Universal Wood and Drywall Saw Blade. It was a GAME CHANGER! Cut smooth and easy, and made it a much quicker and cleaner job. Well worth the $11 investment!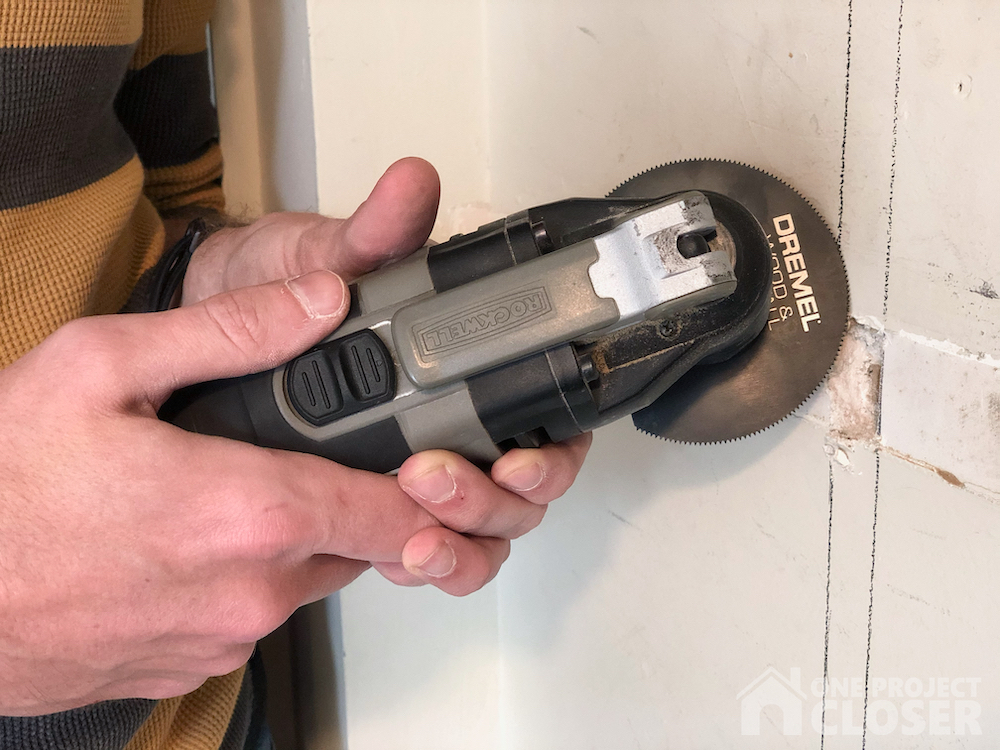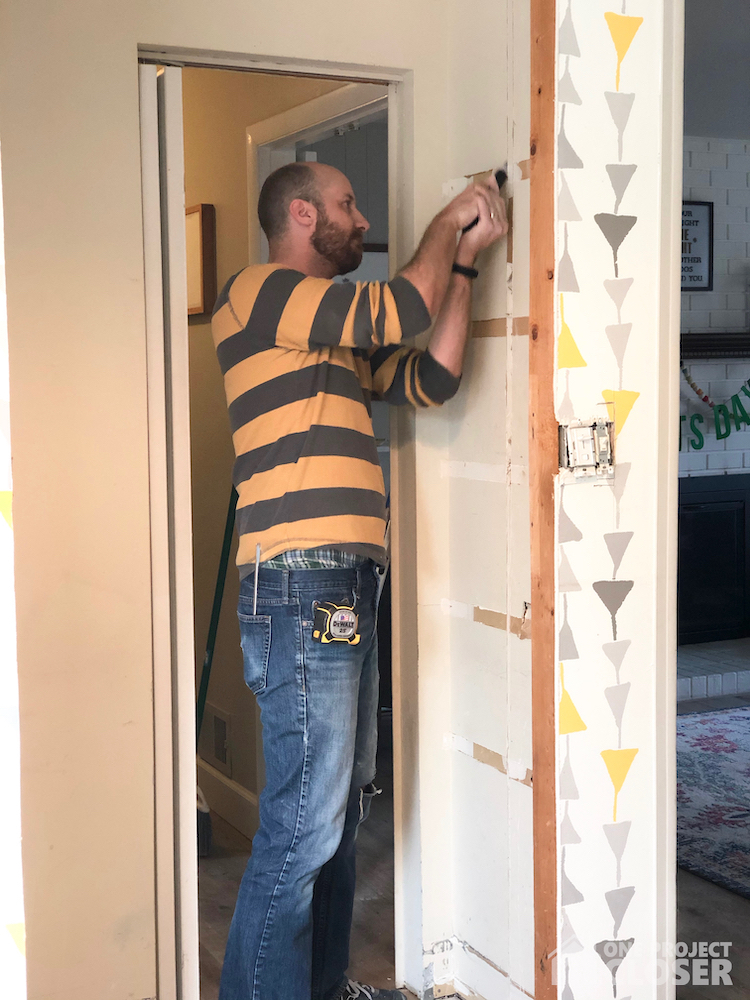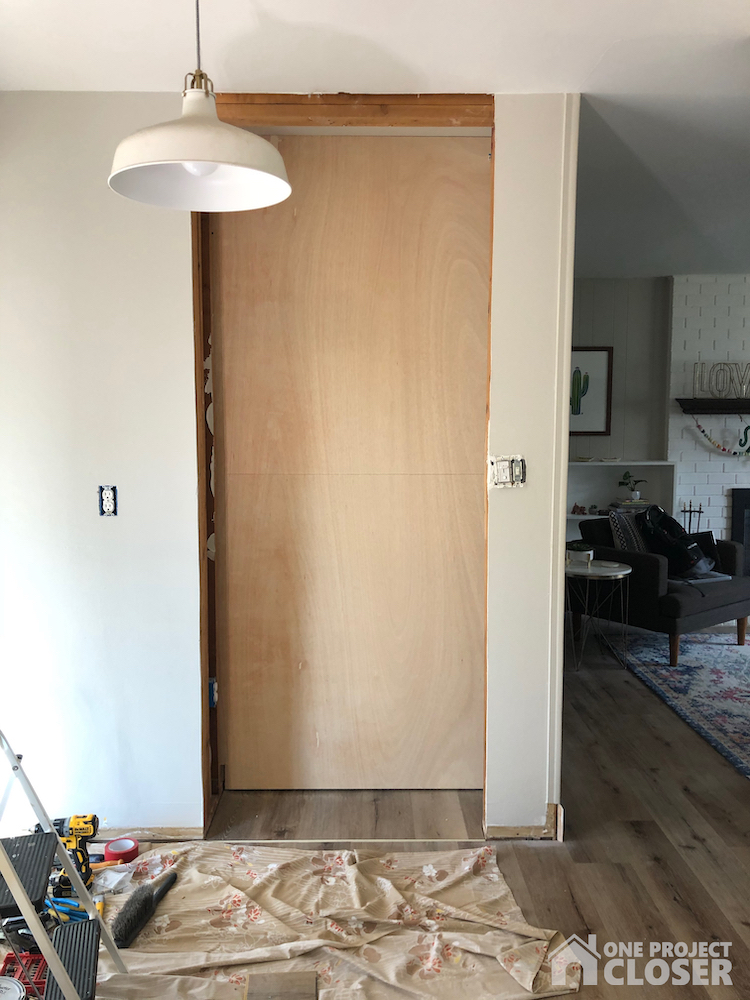 Next came the exciting part – the cabinet installation! Ethan recessed the entire fridge and cabinet into the wall in order to maximize the room available in the kitchen and doorway to the living room.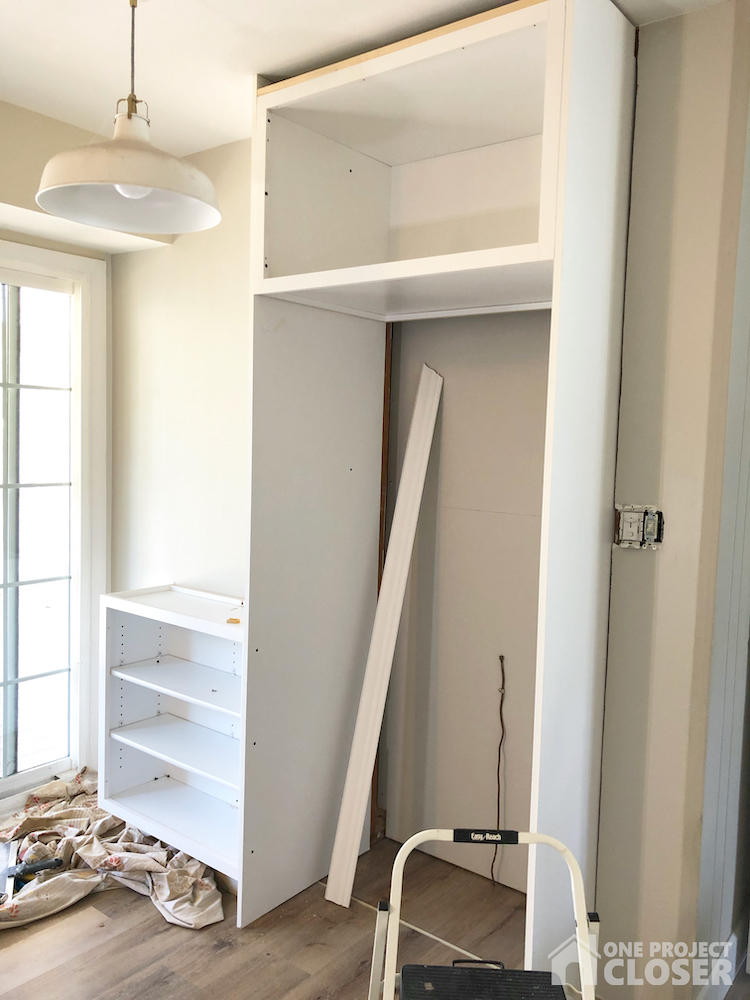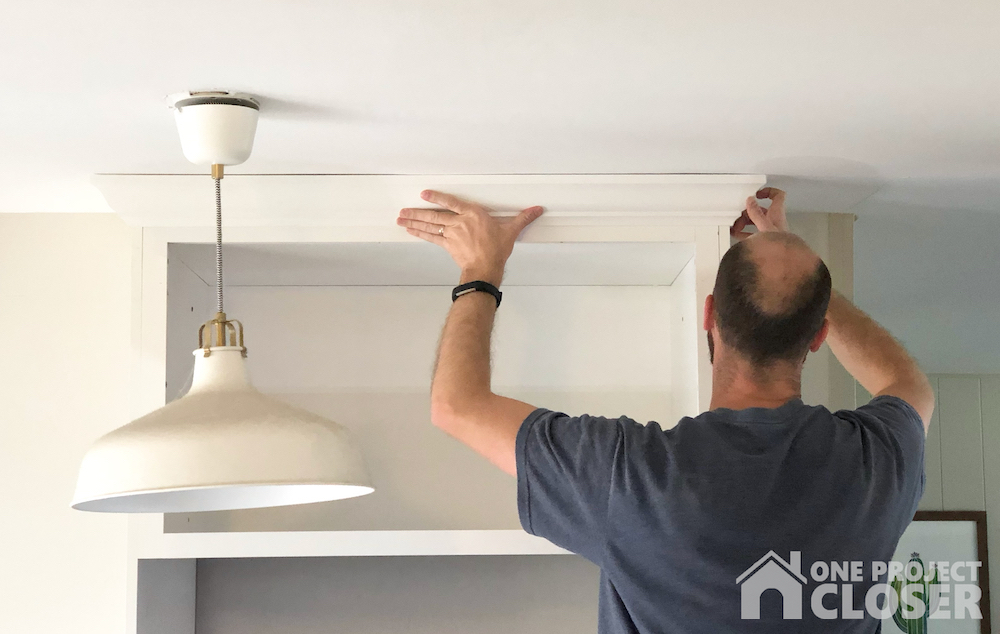 Next, we installed shelves to the left of the fridge to create a small coffee bar. The cabinet of the coffee bar is actually a 12-inch wall cabinet we created a floor box for. This saved us a bunch of money since we didn't need a custom cabinet. I love these brackets from amazon (a fraction of the price compared to the ones at HD) but the hardware was junk. Do yourself a favor and buy good screws at Home Depot.
Finally, once we finished the rest of the kitchen a few weeks ago, we had these beautiful Quartz countertops installed! <3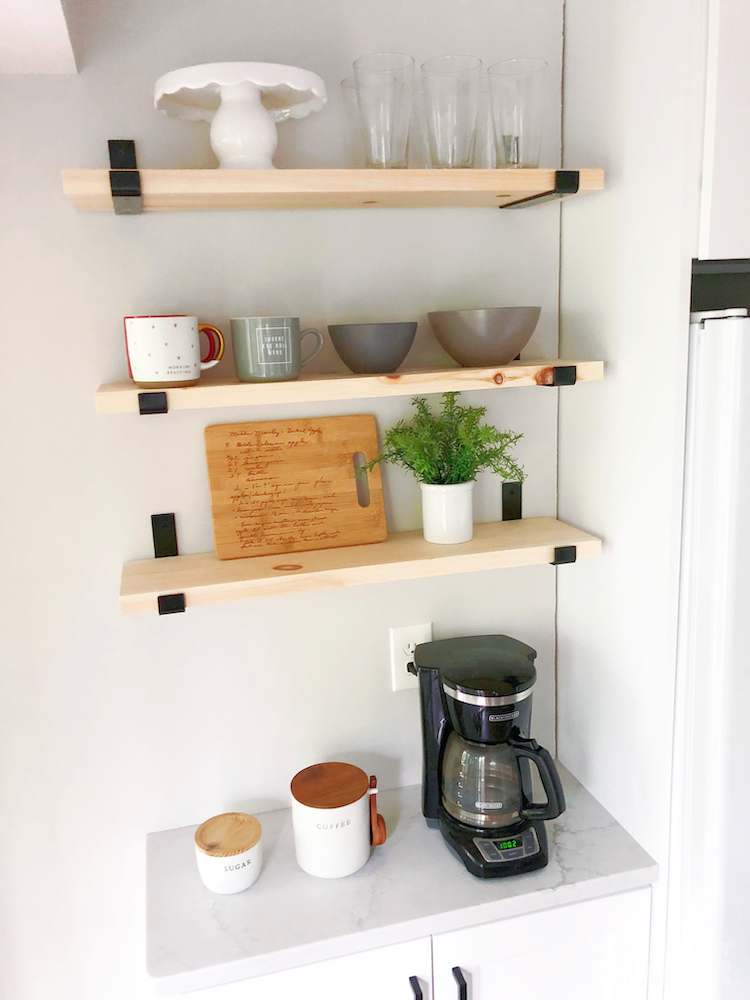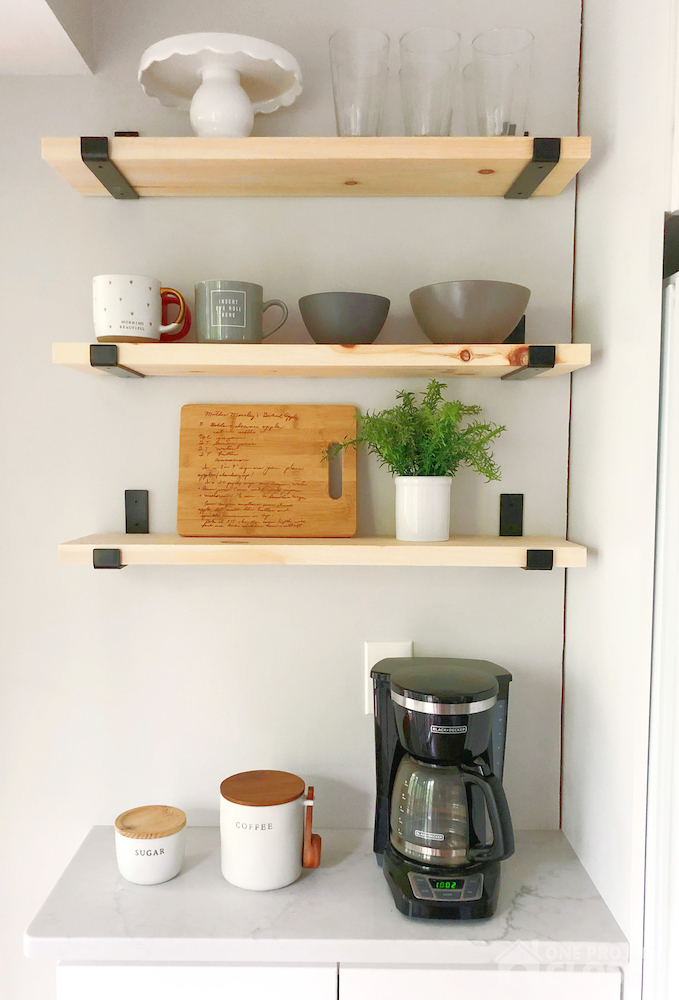 One small note, we do plan to get rid of the pendant light and put in recessed lighting but that probably won't happen until later this summer. What do you think?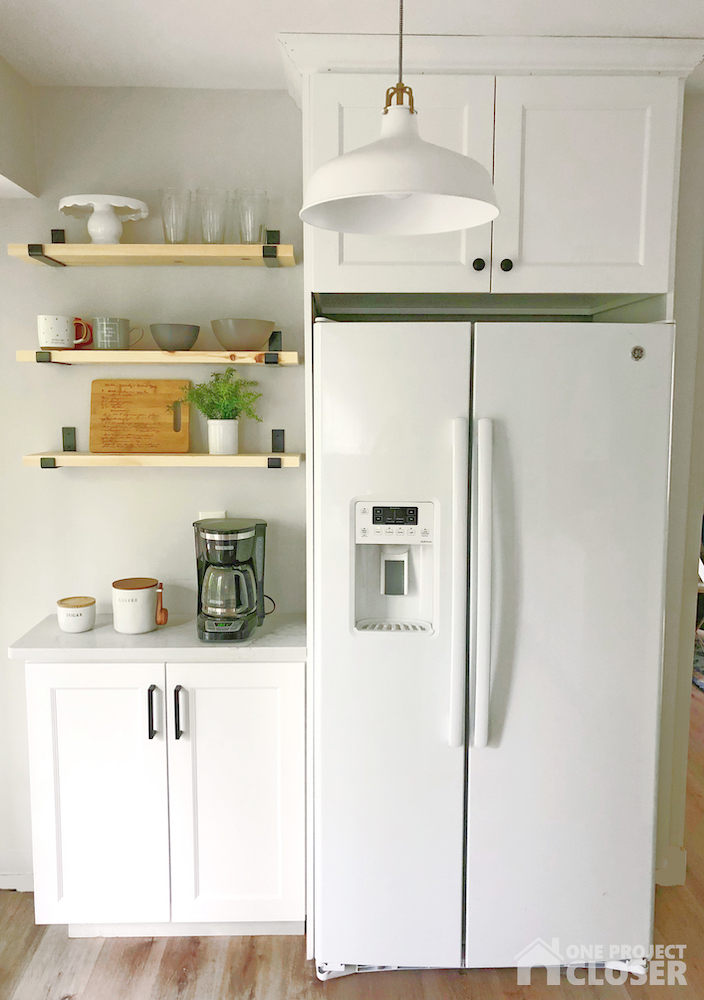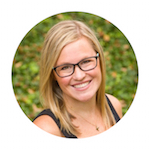 Jocie Hagan | One Project Closer