Hardwood flooring is a beautiful addition to any home, and if you're interested, Fred has an excellent guide for installing hardwood flooring available at that link. After you finish the install, you can return any unopened boxes to the distributor. I suggest you keep a number of spare boards in case the worst should happen and you need to make a repair. What does any of this have to do with cutting boards? When I decided to make one, I dipped into Fred and Kim's stash for the materials.
Fred and Kim installed Brazilian Walnut flooring which is another name for Ipe. Ipe is extremely hard and for that reason it may not be the best choice for this project. I've read that it can dull kitchen knives, and it's difficult to use for woodworking. Even so, it features several color variations, and I went ahead with it for this project. Other viable wood species for this project include hard maple, purple heart, black cherry and more. If you're following along, pick something hard, non-toxic and easy to seal.
In addition to the wood, I picked up some Elmer's wood glue and cutting board mineral oil. Mineral oil is safe for food contact unlike some other oil options. Also, you don't have to worry about allergies like with Walnut oil. In hindsight, Elmer's Max wood glue would have been a better option since it's waterproof.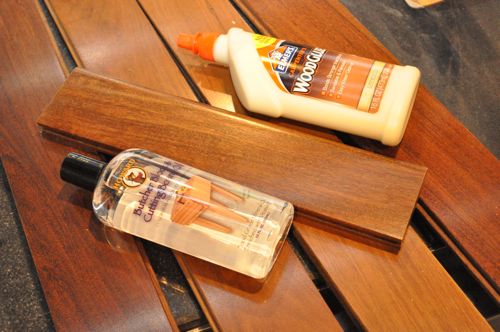 Step 1: Rip the Boards
I grabbed a few pieces of flooring and ran them through the table saw to cut off the tongues and grooves.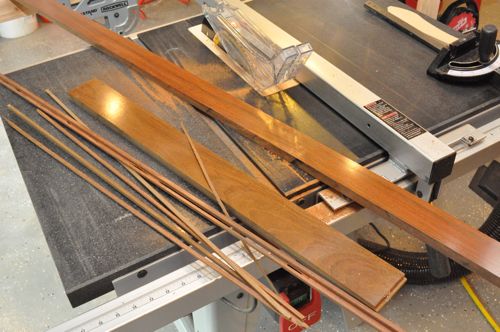 I cut them again at irregular widths to add some randomness, and then I mitered them all into approximately 15″ pieces.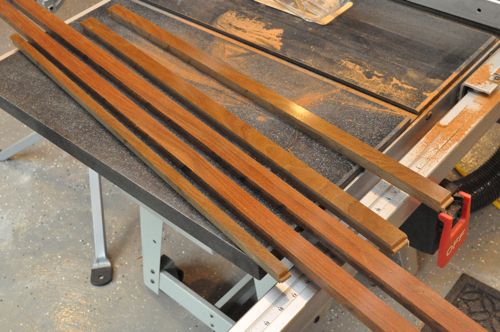 Step 2: Glue the Boards Together
I laid out my cutting board and began gluing each piece together.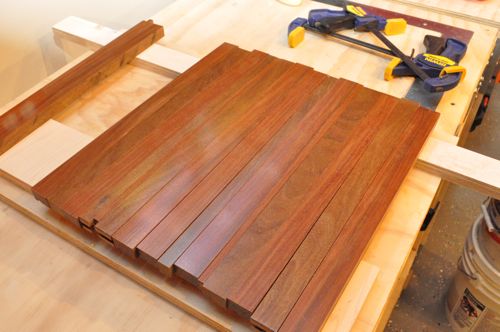 I used plenty of wood glue and made sure to fully coat both sides of each joint. After everything was glued, I setup a few clamps to squeeze everything tight.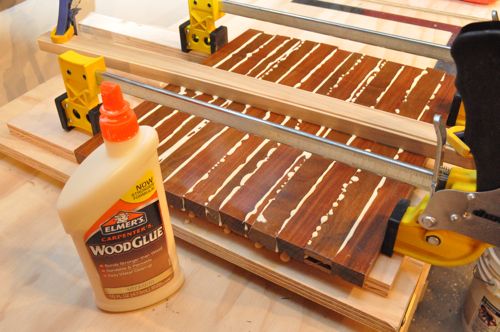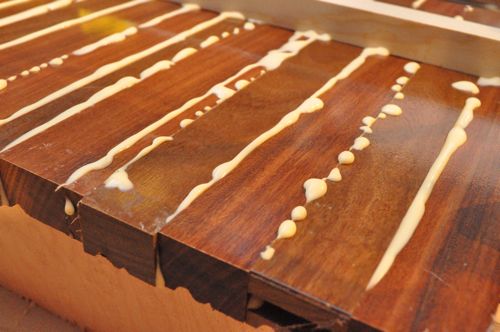 Step 3: Scrape Excess Glue
After the glue dried, I scrapped away any excess.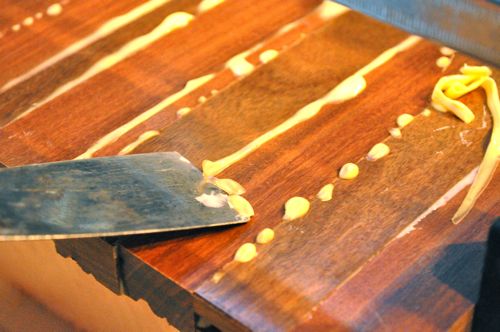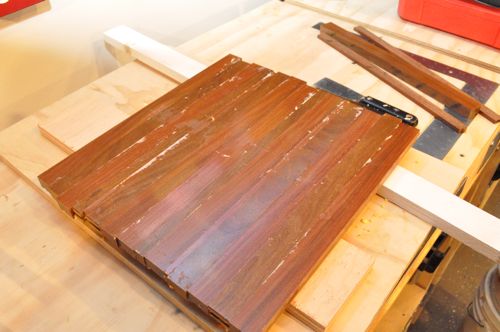 Step 4: Trim Edges
I ran the glued boards through my table saw again to cut the sides even.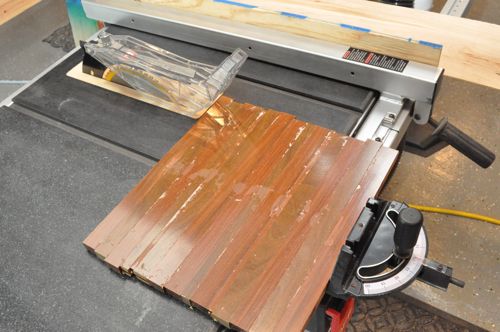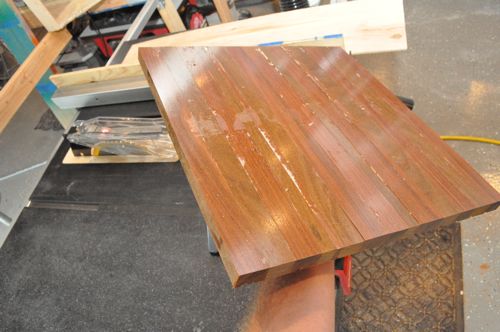 Step 5: Sand (or Plane)
I could have really used a planer for this step!
I tried using an orbital sander with 60 grit paper, and that didn't even make a scratch. So I broke out a grinder with a 40 grit sanding wheel, and the grinder did a good job removing the finish. I followed that up with a belt sander to smooth all the boards flush. Lastly, I grabbed that orbital sander again for one last pass.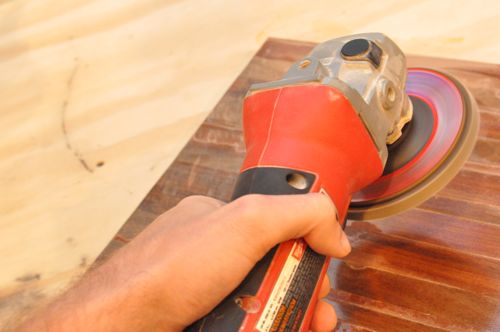 It took a lot of sanding to get to this point.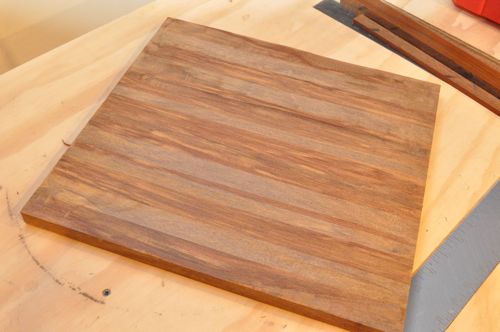 Step 6: Rout the Edge
I used my router to cut a curved edge on each side to make it a little fancier.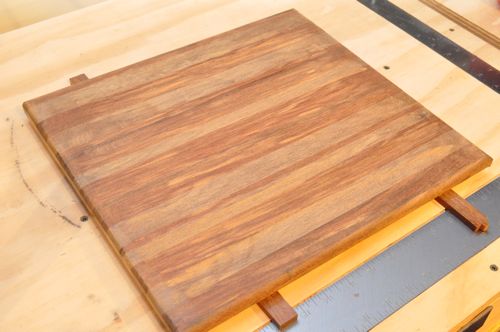 Step 7: Apply Mineral Oil
It takes a few coats of mineral oil to season the wood. Just follow the instructions and let it dry.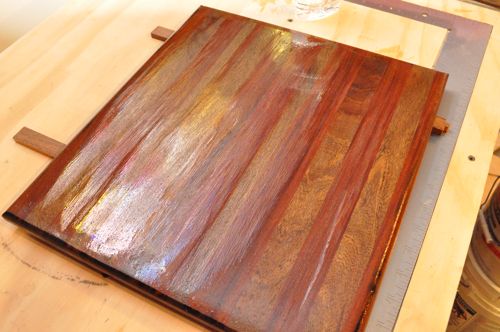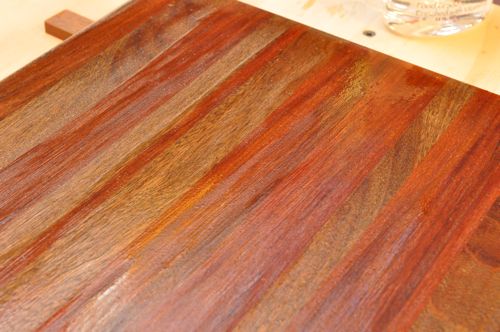 Finished!