Two weeks ago I told you about a few significant changes here at OPC, and you all responded with some great feedback on our ideas and changes. We certainly appreciate all the perspectives you added, and especially appreciate the few dozen of you who comment on the majority of articles we write. We have been making a few minor changes I wanted to communicate, and we have some new ideas I'd like to get your feedback on.
First up, the minor changes:
RSS Snippets: We've decided to publish only snippets of our articles in our RSS feed. For years, OPC has been the target of rampant content theft by spam web sites. We have taken many steps to try and combat these sites. Unfortunately, this theft is made easier by publishing full copies of our articles in our RSS feed. Robots read the feed and then republish the articles in their entirety on spam web sites, sometimes by the dozens. Occasionally, search engines will rank copied versions of our articles ahead of our own, which robs us of readers and revenue. We hope this doesn't inconvenience any of you too much.
Discontinued Coupon Newsletter: You may or may not have known that we published a weekly coupon e-newsletter that had more than 8,000 subscribers. We've decided to discontinue that newsletter because our statistics indicated our time was better spent elsewhere. If any of you were subscribed to the newsletter, you should have received a final email 10 days ago. Our home improvement coupons section will continue to provide this information on our site.
And now, the future plans I'd love your feedback on:
1. New Subscription Categories Coming This Week
When you subscribe to us via RSS or email, you get every post we publish delivered to your reader or inbox. The reality is that topics on OPC are somewhat diverse, appealing to different interests. Our subscribe button is over on the right hand side of almost every page. If you subscribe today using this button, you'll get everything…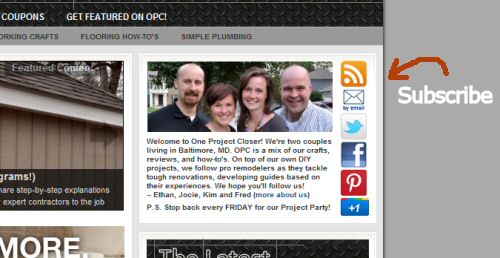 We think that DIY can broadly be divided into two categories: the "harder side" (e.g., construction projects, tool reviews, and material reviews), and the "finer side" (e.g., crafts, decorating, and style). On our site, most of the "harder side" is written by Ethan or me–it's where our talents and interests lie, while most of the "finer side" is written by our wives–it's where their talents and interest lie.
In less than a week, we're planning an upgrade to our subscription system will allow you to choose whether you want to receive every article we publish, or only articles in one of these two groups. Of course, some articles span both of these areas, and those articles will be published to both subscription feeds.
2. New Layout for the Finer Side
We've asked dozens of people over the years what they think of our site design. Almost universally, people describe the design as "masculine". We think our masculine layout looks great for the "harder side" of our site, but for the finer things that Jocie and Kim write about, it really doesn't resonate with readers.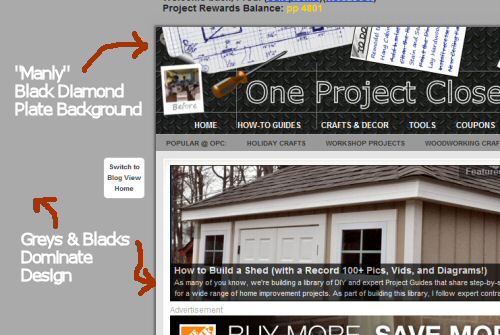 Our plan is to divide the site broadly into two components. The current home page will retain its masculine theme and will house most of our "harder side" articles. Our "finer side" articles will get a new, more feminine look, as well as a homepage dedicated to the topic. The entire site will still be called One Project Closer, but the finer side home page, which will be a re-make of our current crafts home page, will have some type of differentiating sub-brand attached.
There are a few sites who successfully achieve this division online today. One is John and Sherry Petersik's Young House Love, which offers its readers a companion site Young House Life that focuses on John & Sherry's (and their daughter Clara's) life. We're shooting for something similar to what they've done, although we likely won't use a sub-domain, as they have.
What do you think?
Let us know what you think about these changes. As always, we love to hear your suggestions about what we can do to improve your visiting experience! (Wow, that makes us sound like a hotel or something :-))