Need a fabulously easy and sweet Mother's Day craft for kids…plus a little extra gift money for your mom (or yourself!)?? Look no further! First up, find out how Izzie made an adorable bouquet of paper flowers. Second, enter to win a $300 Visa Gift Card!! woot woot.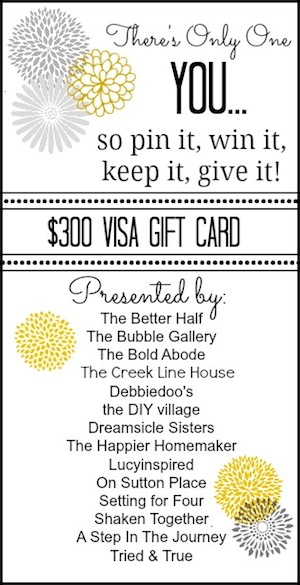 Paper Bouquet Craft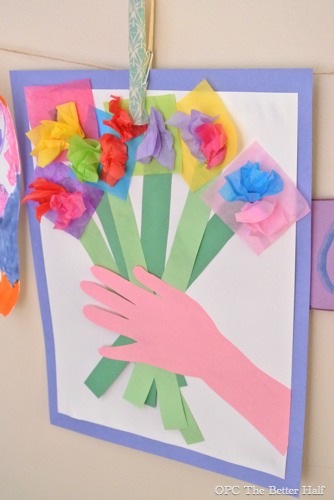 Not sure if I have shared this before, but the first Tuesday of the month, I go with a group on moms and toddlers to our local senior center to do a craft and sing some songs. It is a sweet sweet time for all of us – the seniors love the laughter and excitement the kids bring, and the kids learn to care for, value, and relate to an older and wiser generation. Growing up, my mother and grandmother often took us to visit shut-ins and people in the nursing home. It taught me so much and gave me many wonderful memories! I home my girls take away the same.
I planned this month's craft to celebrate upcoming Mother's Day and May Flowers! Thanks to Artrageous Afternoon for the idea. 🙂
Izzie loved making this bouquet of flowers, plus, these flowers will last a lot longer than the real deal. haha
Supplies Needed:
6 green strips of green construction paper
3″ squares of tissue paper
2 other pieces of paper
glue
scissors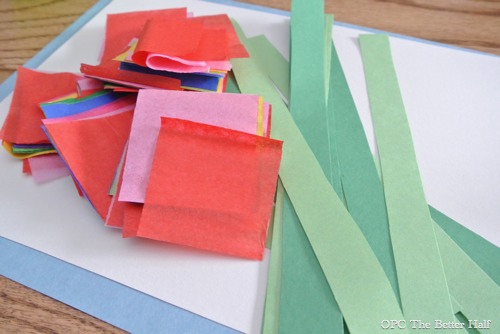 First, I cut lots of lots of strips of green construction paper about 3/4′ wide. I was super exact about it. I then cut A TON of 3″ squares of a variety of different color tissue paper.
Then, Izzie glued 6 strips of green paper on to the paper. Izzie then put dots of glue at the top of each strip of paper.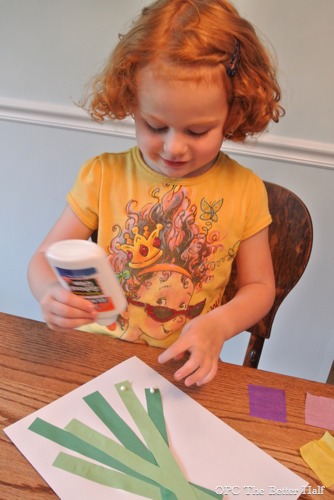 She then placed tissue paper squares, both flat and crumpled at the top. This was all her genius – she had a very definite idea of how she wanted to do things! (I don't know where she gets that from, lol)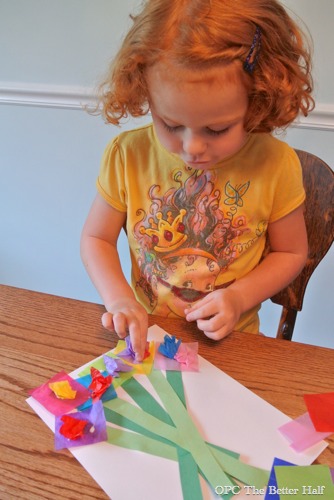 I then traced Izzie's hand and forearm, cut it out, and glued it on top to look like the hand was holding the flowers.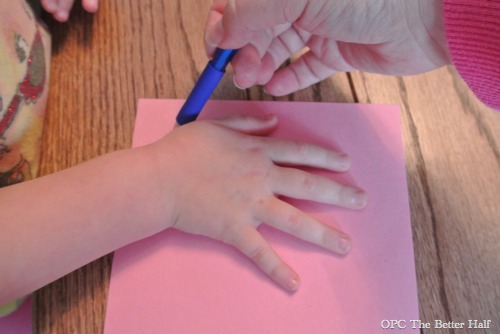 Finally, I hung it on our Washi Tape clothes line art display.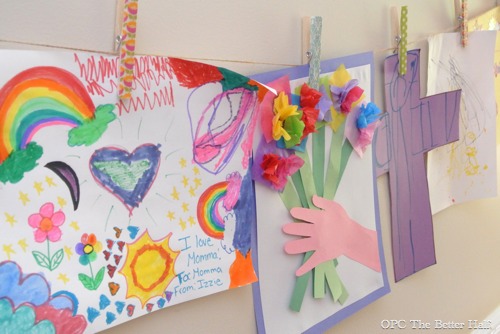 Visa Giveaway
Need some extra cash to buy your mom a gift…or better yet, one for yourself? Personally I would love a new lawn chair, a spa day, or that new gold and turquoise Michael Kors watch. Feel free to tell Ethan! heehee
Me and some bloggy pals want to help you out by giving one lucky person a $300 Visa Gift card! Pretty crazy, right? All you have to do is follow us on PINTEREST! woot woot.
a Rafflecopter giveaway
What do you think? What are you doing for Mother's Day?!
Thanks so much for reading along about my paper flower bouquet and Mother's Day Giveaway,