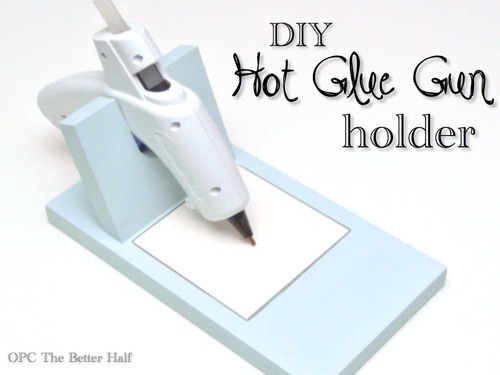 Awhile ago I asked Ethan to make me a hot glue gun holder and he made it seem effortless! The glue gun holder has become, by far, my craft desk accessory. It's not only functional, but super pretty! Be sure to check out Ethan's original glue gun holder tutorial on the main OPC site for the full details on making your own.
Did I mention, I asked Ethan to make me a hot glue gun holder? When Ethan shared this on OPC, some guys wondered why I needed a glue gun holder. To them, maybe it seemed a little excessive…until I shared what my old glue gun looked like. *shame*
I'm not proud of it. I know it's out of control and a bit of a fire hazard. I probably should have used a new tile, at minimum, but was just too lazy. And yes, the glue gun comes with a metal stand, but those are flimsy and the glue gun still falls over 50% of the time.
So, my number #1 man and resident tool guru came to my rescue!
Tools & Materials
Ethan used these materials, all from stuff he had lying around the shop:
3/4″ cabinet grade plywood
1 x 2″ poplar
1 x 4″ pine
Old bathroom tile
Wood glue
Wood filler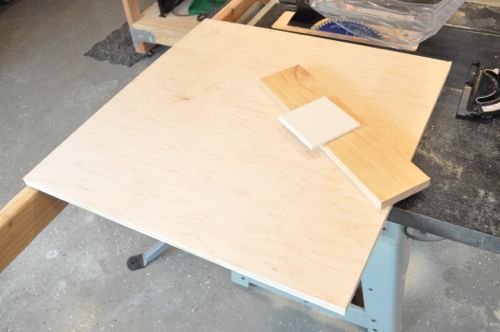 Since Ethan used materials already on hand, he started with plywood (even though it's not the nicest) and cut to the size he wanted. In the end, the plywood measured about 4-1/2 x 8-1/2″.
He then traced an outline where the tile would be inlaid. He then drilled a hole in the center of the square so that the tile can be removed.
The inlaid tile is genius! It protects the wood from the melting hot glue and can be switched out with new tile when it starts getting yucky.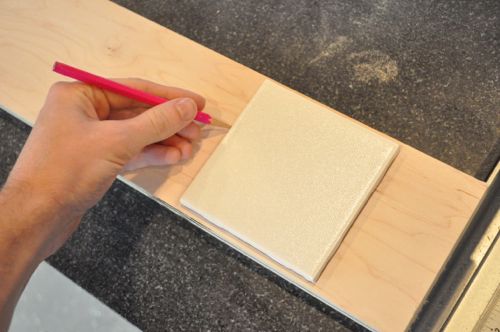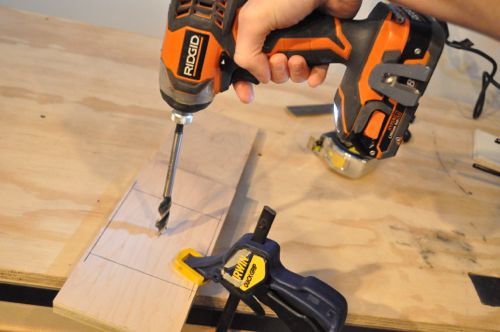 Then, starting at the push-hole, Ethan cut the tile recess using a palm router and cleaned up the corners with a chisel.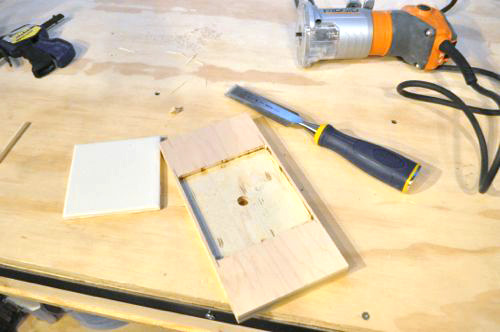 Ethan, being the thoughtful hubby he is, realized that the cut edges of the plywood would have taken paint differently than the rest so he made a picture frame border for the base out of poplar wood.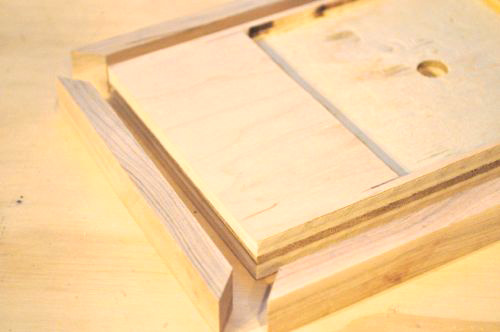 Next, Ethan used wood glue on all the pieces and held it in place with clamps while he waited for it to dry. Those are some serious clamps!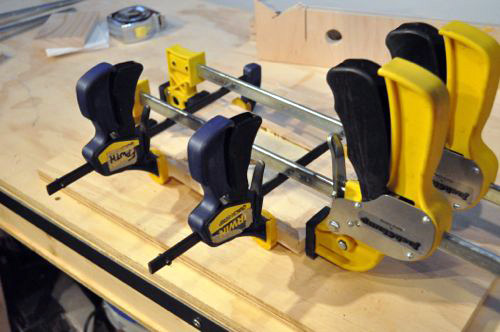 After it was dry, Ethan cleaned up the edges with a little wood filler, and then sanded the whole base down.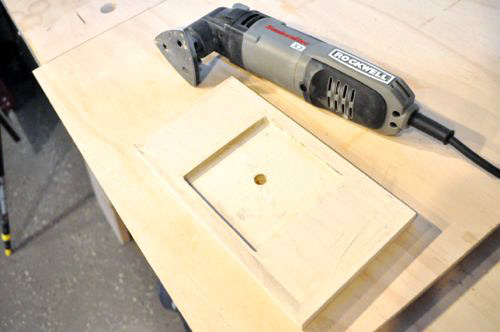 For the actual part that holds the glue gun, Ethan used pine for making the U-shaped holder, measuring 4-3/4 x 3-3/4″ and used a miter saw to cut about a 45 degree angle.
The groove is centered on the board and measures about 1-1/2 x 2-1/4″. He used the glue gun to test for fit and sanded it as needed.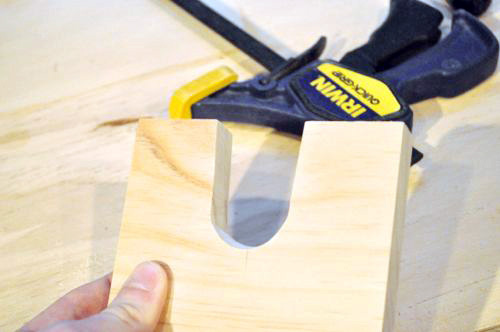 Next, he predrilled and countersunk two holes through the base and up into the holder.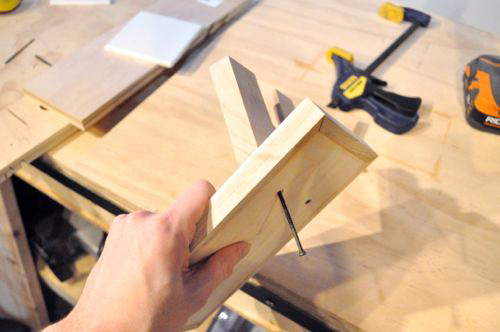 Finally, Ethan handed it over to me to paint and finish. I used some pretty light blue paint I had on hand and then sprayed it with finishing matte glaze to protect the finish.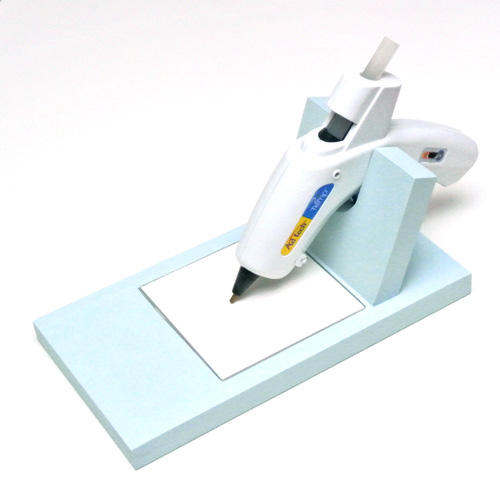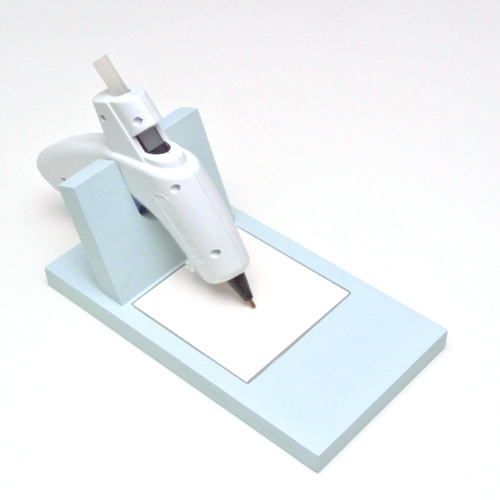 It looks awfully pretty sitting on my new craft desk, right?!
What do you think? What should I ask Ethan to make for me next?
Thanks so much for reading along about my hot glue gun holder dream come true!